Abstract
Purpose
The occurrence of prosthesis-related complications (PRCs) after total hip arthroplasty (THA) is devastating, commonly meaning implant failure and revision surgery. The purpose was to examine the incidence and risk factors of in-hospital PRCs following THA using a large-scale national database.
Methods
A retrospective database analysis was performed based on Nationwide Inpatient Sample (NIS) from 2005 to 2014. Patients who underwent THA were included. Patient demographics, hospital characteristics, length of stay (LOS), economic indicators, in-hospital mortality, comorbidities, and peri-operative complications were evaluated.
Results
A total of 590,122 THAs were obtained from the NIS database. The general incidence of in-hospital PRCs after THA was 1.96%, with a slight downward trend annually. Dislocation was the most common PRCs (0.23%). Patients with PRCs after THA demonstrated increased LOS, total charges, usage of Medicare, and in-hospital mortality. Risk factors of PRCs included advanced age, female, the Hispanic, the Native American, large hospital, teaching hospital, hospital in the South, Medicaid, Self-pay, alcohol abuse, anemia, coagulopathy, rheumatoid diseases, neurological disorders, depression, paralysis, psychosis, diabetes, fluid and electrolyte disorders, congestive heart failure, chronic pulmonary disease, liver disease, metastatic cancer, and weight loss. Additionally, PRCs were associated with avascular necrosis, ankylosing spondylitis, rheumatoid arthritis, femoral neck fracture, dementia, osteoporosis, acute renal failure, acute myocardial infarction, pneumonia, post-operative delirium, urinary tract infection, deep vein thrombosis, transfusion, sepsis, post-operative shock, wound dehiscence, haemorrhage/seroma/haematoma, and nerve injury.
Conclusion
A relatively low incidence of in-hospital PRCs after THA was identified. It is of benefit to study risk factors of PRCs to ensure the appropriate management and moderate consequences.
Access options
Buy single article
Instant access to the full article PDF.
US$ 39.95
Tax calculation will be finalised during checkout.
Subscribe to journal
Immediate online access to all issues from 2019. Subscription will auto renew annually.
US$ 119
Tax calculation will be finalised during checkout.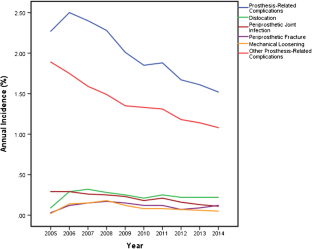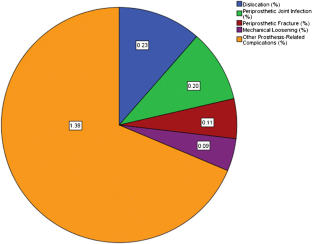 Data availability
This study is based on data provided by Nationwide Inpatient Sample (NIS) database, part of the Healthcare Cost and Utilization Project, Agency for Healthcare Research and Quality. The NIS database is a large publicly available all-payer inpatient care database in the USA. Therefore, individual or grouped data cannot be shared by the authors.
Abbreviations
THA:

total hip arthroplasty

THR:

total hip revision

PRCs:

prosthesis-related complications

PJI:

periprosthetic joint infection

PPF:

periprosthetic fracture

LOS:

length of stay

NIS:

Nationwide Inpatient Sample

ICD-9-CM:

International Classification of Diseases (ninth revision) Clinical Modification

OR:

odds ratio

CI:

confidence interval

AVN:

avascular necrosis

AS:

ankylosing spondylitis

RA:

rheumatoid arthritis

FNF:

femoral neck fracture
Ethics declarations
Conflict of interest
The authors declare that they have no conflict of interest.
Ethics approval
This article does not contain any studies with human participants or animals performed by any of the authors. This observational study was deemed exempt because it used deidentified publicly available data.
Code availability
R version 3.5.3 (The R Foundation Inc).
Additional information
Publisher's note
Springer Nature remains neutral with regard to jurisdictional claims in published maps and institutional affiliations.
About this article
Cite this article
Yang, Q., Wang, J., Xu, Y. et al. Incidence and risk factors of in-hospital prosthesis-related complications following total hip arthroplasty: a retrospective Nationwide Inpatient Sample database study. International Orthopaedics (SICOT) 44, 2243–2252 (2020). https://doi.org/10.1007/s00264-020-04682-y
Received:

Accepted:

Published:

Issue Date:
Keywords
Prosthesis-related complications

Total hip arthroplasty

Nationwide Inpatient Sample