Abstract
Purpose
The biological action of platelet-rich plasma (PRP) could slow down the osteoarthritis progression, resulting in a delay of joint replacement. This work aims to evaluate the ability of PRP to postpone and even avoid knee replacement in patients with knee osteoarthritis (KOA) analyzing, on the one hand, the time of delay and on the other hand the percentage of patients without undergoing total knee arthroplasty (TKA).
Methods
A retrospective analysis and a survival analysis were conducted. KOA patients who underwent knee replacement between 2014 and 2019 and previously received PRP infiltrations were included in the retrospective analysis. Regarding survival analysis, KOA patients who received PRP treatment during 2014 and with follow-up until 2019 were included. The dates of PRP treatment and TKA, KOA severity, age of the patients, number of PRP cycles, and administration route were analyzed.
Results
This work included 1084 patients of which 667 met the inclusion criteria. 74.1% of the patients in the retrospective study achieved a delay in the TKA of more than 1.5 years, with a median delay of 5.3 years. The survival analysis showed that 85.7% of the patients did not undergo TKA during the five year follow-up. The severity degree, age, PRP cycles, and administration route had a statistically significant influence on the efficacy of PRP in delaying surgery.
Conclusion
These data suggest that the application of PRP in KOA patients is a treatment that could delay TKA, although further studies are needed to understand and improve this therapy.
Access options
Buy single article
Instant access to the full article PDF.
US$ 39.95
Tax calculation will be finalised during checkout.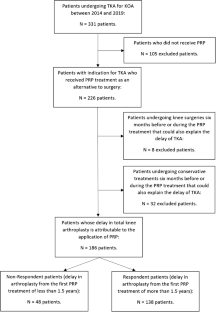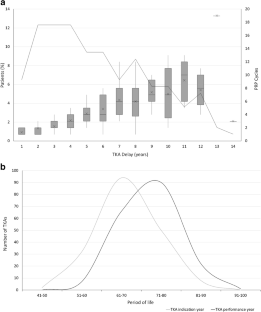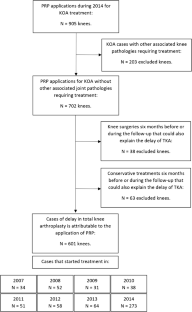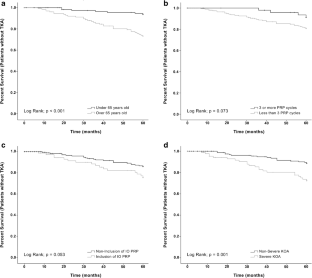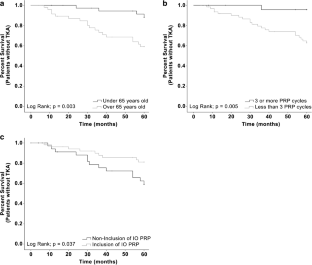 Ethics declarations
Conflict of interest
The authors declare that they have no conflict of interest.
Ethics approval
The present study was carried out in accordance with the international standard on clinical studies: Declaration of Helsinki in its latest revised version (Fortaleza, Brazil; 2013), and Good Clinical Practice Regulations (International Conference for Harmonization). Ethical approval for this study was obtained from the Ethics Committee of the Basque Country.
Consent to participate
Not applicable.
Consent for publication
Not applicable.
Code availability
Not applicable.
Additional information
Publisher's note
Springer Nature remains neutral with regard to jurisdictional claims in published maps and institutional affiliations.
About this article
Cite this article
Sánchez, M., Jorquera, C., Sánchez, P. et al. Platelet-rich plasma injections delay the need for knee arthroplasty: a retrospective study and survival analysis. International Orthopaedics (SICOT) 45, 401–410 (2021). https://doi.org/10.1007/s00264-020-04669-9
Received:

Accepted:

Published:

Issue Date:
Keywords
Knee osteoarthritis

Platelet-rich plasma

Growth factors

Total knee arthroplasty

Joint replacement