Abstract
Aim of the study
Management of metaphyseal bone loss in complex primary and revision TKA is a challenge for surgeons. Out of various types of bony defects, large metaphyseal bone loss (AORI types IIB and III) requires special augments in the form of cones or sleeves. The aim of this study is to assess the reliability of metaphyseal sleeves, in dealing with massive bone defects to provide stability for immediate weight bearing and also to check short to mid-term survivorship of metaphyseal sleeves in Asian population by assessing various parameters and complications.
Methods
This is a retrospective study that includes 36 patients (43 knees), operated from 2011 to 2019. Patients with AORI type IIB (large metaphyseal bone defect) and AORI type III (metaphyseal defect with compromised collateral ligaments) were included. We included both the primary and revision knee arthroplasties in our study. Our interest in this study was to look for incidence of intra-operative iatrogenic fracture on the one hand, and post-operative complications in the form of peri-prosthetic joint infection and aseptic loosening on the other hand. Knee Society Score (KSS) was used to assess improvement in patient's clinical outcome. SPSS version 23 was used to process data.
Results
The average age of patients in our study was 59.4 (SD 9.78) years. Male to female ratio was 21:15. The average follow-up was 5.42 (SD 2.24) years with the longest follow up of nine years. Metaphyseal sleeves were used in 12 primary TKA and 31 revision TKA. During surgery, iatrogenic fracture of tibial condyle was encountered in three patients (6.9%), all were managed without any intervention and union was achieved in all cases. There was not a single case with aseptic loosening as per radiological criteria in our study. Peri-prosthetic joint infection (PJI) was encountered in a single case (2.3%). Pre-op Knee Society Score (KSS) was 36.21 (SD 7.43) where as it improved to 92.00 (SD 5.66), six months after surgery. Also the range of flexion was increased from 76.83o (SD 14.07o) to 122.91o (SD 4.84o).
Conclusion
In our study, metaphyseal sleeves showed excellent short to mid-term survivorship in AORI types IIB and III boneloss in Asian population. These results are comparable to various studies conducted on North American and European population. Metaphyseal sleeve is a reliable tool in the armamentarium of the arthroplasty surgeon. It is user friendly implant and provides immediate stability to allow full weight-bearing mobilization.
Access options
Buy single article
Instant access to the full article PDF.
US$ 39.95
Tax calculation will be finalised during checkout.
Subscribe to journal
Immediate online access to all issues from 2019. Subscription will auto renew annually.
US$ 119
Tax calculation will be finalised during checkout.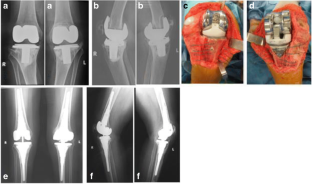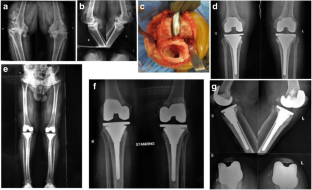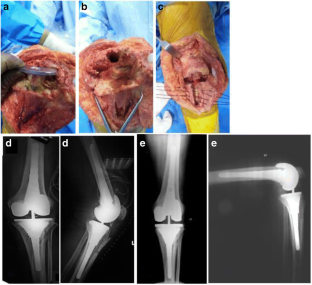 References
1.

Kurtz SM, Lau E, Ong K, Zhao K, Kelly M, Bozic KJ (2009) Future young patient demand for primary and revision joint replacement: national projections from 2010 to 2030. Clin Orthop 467:2606–2612

2.

Causero A, Di Benedetto P, Beltrame A, Gisonni R, Cainero V, Pagano M (2014) Design evolution in total knee replacement: which is the future? Acta Biomed 85(2):5–19

3.

Kurtz SM, Ong KL, Schmier J, Zhao K, Mowat F, Lau E (2009) Primary and revision arthroplasty surgery caseloads in the United States from 1990 to 2004. J Arthroplasty 24:195–203

4.

Ponzio DY, Austin MS (2015) Metaphyseal bone loss in revision knee arthroplasty. Curr Rev Musculoskelet Med 8:361–367

5.

Engh GA, Parks NL (1997) The management of bone defects in revision total knee arthroplasty. Instr Course Lect 46:227–236

6.

Alexander GE, Bernasek TL, Crank RL, Haidukewych GJ (2013) Cementless metaphyseal sleeves used for large tibial defects in revision total knee arthroplasty. J Arthroplasty 28:604–607

7.

Daines BK, Dennis DA (2013) Management of bone defects in revision total knee arthroplasty. Instr Course Lect 62:341–348

8.

Lee JK, Choi CH (2011) Management of tibial bone defects with metal augmentation in primary total knee replacement: a minimum five-year review. J Bone Joint Surg 93:1493–1496

9.

Chun CH, Kim JW, Kim SH, Kim BG, Chun KC, Kim KM (2014) Clinical and radiological results of femoral head structural allograft for severe bone defects in revision TKA—a minimum 8-year follow-up. Knee 21:420–423

10.

Potter GD 3rd, Abdel MP, Lewallen DG, Hanssen AD (2016) Midterm results of porous tantalum femoral cones in revision Total knee Arthroplasty. J Bone Joint Surg 98:1286–1291

11.

Chalmers BP, Desy NM, Pagnano MW, Trousdale RT, Taunton MJ (2016) Survivorship of Metaphyseal sleeves in revision Total knee Arthroplasty. J Arthroplasty 32(5):1565–1570

12.

Graichen H, Scior W, Strauch M (2015) Direct, Cementless, Metaphyseal fixation in knee revision Arthroplasty with sleeves-short-term results. J Arthroplasty 30:2256–2259

13.

Martin-Hernandez C, Floria-Arnal LJ, Muniesa-Herrero MP et al (2016) Mid-term results for metaphyseal sleeves in revision knee surgery. Knee Surg Sports Traumatol Arthrosc 25(12):3779–3785

14.

Agarwal S, Azam A, Morgan-Jones R (2013) Metal metaphyseal sleeves in revision total knee replacement. Bone Joint J 95:1640–1644

15.

Formica M, Cavagnaro L, Basso M, Zanirato A, Palermo A, Felli L (2017) What is the fate of the neck after a collum femoris preserving prosthesis? A nineteen years single center experience. Int Orthop 41(7):1329–1335

16.

Graichen H, Scior W, Strauch M (2015) Direct, cementless, metaphyseal fixation in knee revision arthroplasty with sleeves-short term results. J Arthroplasty 30(12):2256–2259

17.

Fedorka CJ, Chen AF, Pagnotto MR, Crossett LS, Klatt BA (2017) Revision total knee arthroplasty with porous-coated metaphyseal sleeves provides radiographic ingrowth and stable fixation. Knee Surg Sports Traumatol Arthrosc 26(5):1500–1505

18.

Fehring TK, Odum S, Olekson C et al (2003) Stem fixation in revision total knee arthroplasty: a comparative analysis. Clin Orthop Relat Res 416:217–224

19.

Bugler KE, Maheshwari R, Ahmed I, Brenkel IJ, Walmsley PJ (2015) Metaphyseal sleeves for revision total knee arthroplasty: good short-term outcomes. Arthroplasty 30(11):1990–1994

20.

Gøttsche D, Lind T, Christiansen T, Schrøder HM (2016) Cementless metaphyseal sleeves without stem in revision total knee arthroplasty. Arch Orthop Trauma Surg 136(12):1761–1766
Funding
This study was not funded by any individual or organization.
Ethics declarations
Conflict of interest
The authors declare that they have no conflict of interest.
Ethics approval
This retrospective study involving human participants was in accordance with the ethical standards of the institutional and national research committee and with the 1964 Helsinki Declaration and its later amendments or comparable ethical standards. The Human Investigation Committee (IRB) of Liaqat National Hospital approved this study.
Consent to participate
Both verbal and written consent were obtained from all the patients included in this study.
Additional information
Publisher's note
Springer Nature remains neutral with regard to jurisdictional claims in published maps and institutional affiliations.
About this article
Cite this article
Gill, U.N., Ahmed, N., Noor, S.S. et al. Management of the bone loss by metaphyseal sleeves in primary and revision knee arthroplasty: clinical experience and outcome after forty three cases. International Orthopaedics (SICOT) 44, 2315–2320 (2020). https://doi.org/10.1007/s00264-020-04663-1
Received:

Accepted:

Published:

Issue Date:
Keywords
Total knee arthroplasty

Metaphyseal sleeves

AORI classification

Revision TKA