Abstract
Purpose
The objective of this study was the functional recovery analysis of patients treated in two-staged short-interval procedure due to knee periprosthetic joint infection (PJI).
Materials and methods
In the period from January 2015 to December 2018, a two-stage short-interval revision TKA was performed in 35 patients with PJI. Synovial fluid analysis, tissue samples and sonication method were used to diagnose PJI. Active range of motion (AROM) and Hospital for Special Surgery (HSS) score were analysed.
Results
Functional recovery analysis demonstrated higher AROM and HSS score after the revision TKA. Median pre-operative active flexion motion was 80° with full active extension, and median post-operative active flexion was 105° with full active extension. Median HSS score pre-operatively was 22 and post-operatively was 48. Isolated bacteria in both tissue and sonication fluid were S. epidermidis (27%) and other coagulase-negative staphylococci (25%), followed by S. aureus (10%).
Conclusion
Two-stage short-interval procedure of chronic knee PJI significantly improved functional status of patients in a short period of time. Thirty three out of 35 patients returned to their everyday activities. Adequate surgical technique and implant selection can lead to satisfactory functional outcome.
Access options
Buy single article
Instant access to the full article PDF.
US$ 39.95
Tax calculation will be finalised during checkout.
Subscribe to journal
Immediate online access to all issues from 2019. Subscription will auto renew annually.
US$ 119
Tax calculation will be finalised during checkout.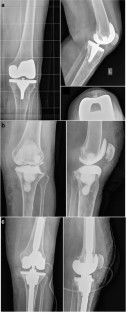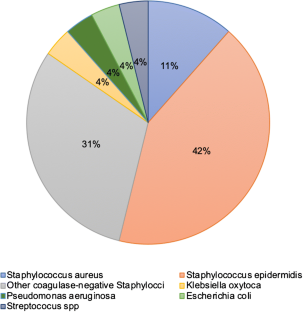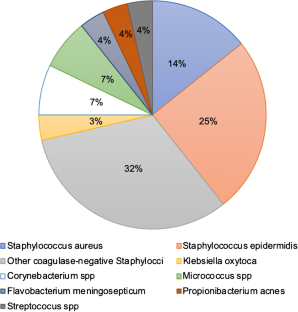 References
1.

Namba RS, Inacio MC, Paxton EW (2013) Risk factors associated with deep surgical site infections after primary total knee arthroplasty: an analysis of 56,216 knees. J Bone Joint Surg Am 95(9):775–782

2.

Izakovicova P, Borens O, Trampuz A (2019) Periprosthetic joint infection: current concepts and outlook. EFORT Open Rev 4(7):482–494. https://doi.org/10.1302/2058-5241.4.180092

3.

Kurtz SM, Ong KL, Lau E, Bozic KJ, Berry D, Parvizi J (2010) Prosthetic joint infection risk after TKA in the Medicare population. Clin Orthop Relat Res 468:52–56

4.

Boelch SP, Jakuscheit A (2018) Periprosthetic infection is the major indication for TKA revision -experiences from a university referral arthroplasty center. BMC Musculoskelet Disord 19(1):395–400

5.

Ulrich SD, Seyler TM, Bennett D, Delanois RE, Saleh KJ, Thongtrangan I et al (2008) Total hip arthroplasties: what are the reasons for revision? Int Orthop 32:597–604

6.

Kurtz SM, Lau E, Schmier J, Ong KL, Zhao K, Parvizi J (2008) Infection burden for hip and knee arthroplasty in the United States. J Arthroplast 23:984–991

7.

Diaz-Ledezma C, Higuera CA, Parvizi J (2013) Success after treatment of periprosthetic joint infection: a delphi-based international multidisciplinary consensus. Clin Orthop Relat Res 471:2374–2382. https://doi.org/10.1007/s11999-013-2866-1

8.

Winkler T, Stuhlert MG, Lieb E, Muller M, von Roth P, Preininger B et al (2018) Outcome of short versus long interval in two-stage exchange for periprosthetic joint infection: a prospective cohort study. Arch Orthop Trauma Surg 139(3):295.303. https://doi.org/10.1007/s00402-018-3052-4

9.

Zimmerli W, Trampuz A, Ochsner PE (2004) Prosthetic-joint infections. N Engl J Med 351:1645–1654

10.

Preobrazhensky PM, Bozhkova SA, Kazemirsky AV, Tikhilov RM, Kulaba TA, Kornilov NN (2019) Functional outcome of two-stage reimplantation in patients with periprothetic joint infection after primary total knee arthroplasty. Int Orthop 43(11):2503–2509. https://doi.org/10.1007/s00264-019-04296-z

11.

Bach CM, Nogler M, Steingruber IE et al (2002) Scoring systems in total knee arthroplasty. Clin Orthop Relat Res 399:184–196

12.

Bury M (1982) Chronic illness as biographical disruption. Sociol Health Illn 4(2):167–182

13.

Barrack RL, Engh G, Rorabeck C, Sawhney J, Woolfrey M (2000) Patient satisfaction and outcome after septic versus aseptic revision total knee arthroplasty. J Arthroplast 15:990–993

14.

Li C, Renz N, Trampuz A (2018) Management of periprosthetic joint infection. Hip Pelvis 30(3):138–146

15.

Li C, Renz N, Trampuz A, Ojede-Thies C (2019) Twenty common errors in the diagnosis and treatment of periprothetic infection. Int Orthop 44:3–14

16.

Silvestre A, Almeida F, Renovell P, Morante E, Lopez R (2013) Revision of infected total knee arthroplasty: two-stage reimplantation using an antiobiotic-impregnated static spacer. Clin Orthop Surg 5(3):180–187

17.

Vasso M, Regno C, Corona K, Apolito R, Schiavone Panni A (2016) Articulated spacer provides long-term knee improvement after two-stage reimplantation. Knee Surg Sports Traumatol Arthrosc 24(10):3100–3105

18.

Mallon CM, Gooberman-Hill R, Moore AJ (2018) Infection after knee replacement: a qualitative study of impact of periprothetic knee infection. BMC Musculoskelet Disord 19:352–362

19.

Castelli CC, Gotti V, Ferrari R (2014) Two-stage treatment of infected total knee arthroplasty: two to thirteen year experience using an articular prefomed spacer. Int Orthop 38:405–412

20.

Parvizi J, Gehrke T, Chen AF (2013) Proceedings of the international consensus on periprothetic joint infection. J Bone Joint 95-B(11):1450–1452

21.

Azzam K, McHale K, Austin M, Purtill JJ, Parvizi J (2009) Outcome of a second two-stage reimplantation for periprothetic knee infection. Clin Orthop Relat Res 467:1706–1714. https://doi.org/10.1007/s11999-009-0739-4

22.

Kubista B, Hartzler RU, Wood Christina M, Osmon DR, Hanssen AD, Lewallen DG (2011) Reinfection after two-stage revision for periprosthetic infection of total knee arthroplasty. Int Orthop 36:65–71
Ethics declarations
Conflict of interest
The authors declare that they have no conflict of interest.
Additional information
Publisher's note
Springer Nature remains neutral with regard to jurisdictional claims in published maps and institutional affiliations.
The original version of this article was revised: The authors first name and last name have been corrected accordingly in this version.
The study was performed at University Hospital for Orthopaedic Surgery Lovran, School of Medicine, University of Rijeka, Rijeka, Croatia
About this article
Cite this article
Madarevic, T., Buterin, A., Jelicic, J. et al. Functional recovery after two-stage short-interval revision of chronic periprosthetic knee joint infection. International Orthopaedics (SICOT) 45, 985–989 (2021). https://doi.org/10.1007/s00264-020-04566-1
Received:

Accepted:

Published:

Issue Date:
Keywords
Periprostethic joint infection

Total knee arthroplasty

Two-stage revision

Functional recovery