Abstract
Purpose
Recommendations arising from existing literature regarding restrictions and benefits of sporting activities after joint replacement surgery vary widely. As hip arthroplasty patients are becoming increasingly active, their expectations about post-operative function are constantly evolving. The aim of this study is to identify the perception of patients regarding their performance in sports activities after hip arthroplasty.
Methods
This cross-sectional study included all patients undergoing primary hip arthroplasty, for any diagnosis, between January 2009 and January 2016. By applying a telephone survey, practice of sports before surgery, resumption after surgery, level of performance, and causes of non-resumption of sports activities were assessed.
Results
Data of 531 patients were obtained. Of these, 13% were engaged in sports before surgery. The most frequently practiced sports were golf (27.5%) and tennis (22%). Of the 72 patients that practiced sports, only 44.4% (30 patients) returned to this activity after surgery. Nonetheless, 71% of these patients reported to have an equal or better athletic performance than before surgery. The main causes reported by patients not to return to sports were the fear of injury and recommendation of the surgeon.
Conclusions
A significant number of patients return to sports after hip arthroplasty and most of them perceive a good athletic performance after surgery. These findings should enrich the pre-operative assessment of patient's expectations, particularly for those who wish to resume physical activity.
This is a preview of subscription content, log in to check access.
Access options
Buy single article
Instant access to the full article PDF.
US$ 39.95
Price includes VAT for USA
Subscribe to journal
Immediate online access to all issues from 2019. Subscription will auto renew annually.
US$ 199
This is the net price. Taxes to be calculated in checkout.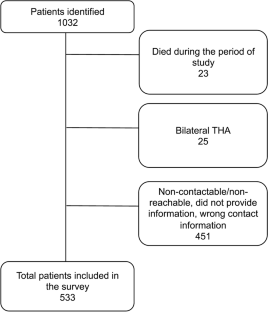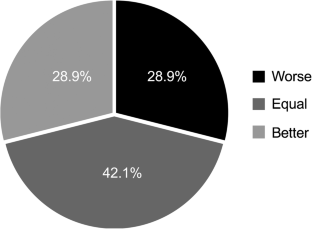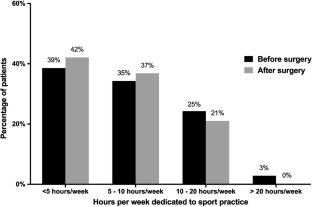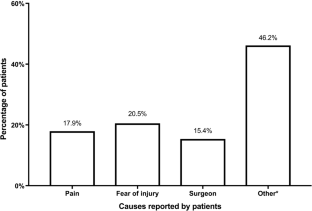 References
1.

Crowninshield RD, Rosenberg AG, Sporer SM (2006) Changing demographics of patients with total joint replacement. Clin Orthop Relat Res 443:266–272. https://doi.org/10.1097/01.blo.0000188066.01833.4f

2.

Kurtz S, Ong K, Lau E et al (2007) Projections of primary and revision hip and knee arthroplasty in the United States from 2005 to 2030. J Bone Joint Surg Am 89:780–785

3.

Wylde V, Blom a, Dieppe P et al (2008) Return to sport after joint replacement. J Bone Joint Surg Br 90–B:920–923. https://doi.org/10.1302/0301-620X.90B7.20614

4.

Neuprez A, Delcour JP, Fatemi F et al (2016) Patients' expectations impact their satisfaction following total hip or knee arthroplasty. PLoS One 11:1–14. https://doi.org/10.1371/journal.pone.0167911

5.

Kuster MS (2002) Exercise recommendations after total joint replacement: a review of the current literature and proposal of scientifically based guidelines. Sports Med 32:433–445

6.

Chatterji U, Ashworth MJ, Lewis PL, Dobson PJ (2005) Effect of total knee arthroplasty on recreational and sporting activity. ANZ J Surg 75:405–408. https://doi.org/10.1111/j.1445-2197.2005.03400.x

7.

Vogel LA, Carotenuto G, Basti JJ, Levine WN (2011) Physical activity after total joint arthroplasty. Sports Health 3:441–450. https://doi.org/10.1177/1941738111415826

8.

Golant A, Christoforou DC, Slover JD, Zuckerman JD (2010) Athletic participation after hip and knee arthroplasty. Bull NYU Hosp Jt Dis 68:76–83

9.

Visuri T, Honkanen R (1980) Total hip replacement: its influence on spontaneous recreation exercise habits. Arch Phys Med Rehabil 61:325–328

10.

Buckworth J (2016) Start where the client is: assessment to support behavior change. ACSM's Health Fit J:28–30

11.

Filho VCB, Minatto G, Mota J et al (2016) Promoting physical activity for children and adolescents in low- and middle-income countries: an umbrella systematic review. Prev Med 88:115–126. https://doi.org/10.1016/j.ypmed.2016.03.025

12.

Caspersen CJ, Powell KE, Christenson GM (1985) Physical activity, exercise, and physical fitness: definitions and distinctions for health-related research. Public Health Rep 100:126–131. https://doi.org/10.2307/20056429

13.

Altman RD (2010) Early management of osteoarthritis. Am J Manag Care 16(Suppl M):S41–S47

14.

Dekker J, van Dijk GM, Veenhof C (2009) Risk factors for functional decline in osteoarthritis of the hip or knee. Curr Opin Rheumatol 21:520–524. https://doi.org/10.1097/BOR.0b013e32832e6eaa

15.

Ethgen O, Bruyere O, Richy F (2004) Health-related quality of life in total hip and total knee arthroplasty: a qualitative and systematic review of the literature. J Bone Joint Surg Am 86–A:963–974

16.

Dubs L, Gschwend N, Munzinger U (1983) Sport after total hip arthroplasty. Arch Orth Traum Surg 101:161–169

17.

Ollivier M, Frey S, Parratte S et al (2012) Does impact sport activity influence total hip arthroplasty durability? Clin Orthop Relat Res 470:3060–3066. https://doi.org/10.1007/s11999-012-2362-z

18.

Wylde V, Livesey C, Blom AW (2012) Restriction in participation in leisure activities after joint replacement: an exploratory study. Age Ageing 41:246–249. https://doi.org/10.1093/ageing/afr180

19.

Huch K (2005) Sports activities 5 years after total knee or hip arthroplasty: the Ulm Osteoarthritis Study. Ann Rheum Dis 64:1715–1720. https://doi.org/10.1136/ard.2004.033266

20.

Klein GR, Levine BR, Hozack WJ et al (2007) Return to athletic activity after total hip arthroplasty. J Arthroplast 22:171–175. https://doi.org/10.1016/j.arth.2006.09.001

21.

Schmidutz F, Grote S, Pietschmann M et al (2012) Sports activity after short-stem hip arthroplasty. Am J Sports Med 40:425–432. https://doi.org/10.1177/0363546511424386

22.

Williams DH, Greidanus NV, Masri BA et al (2012) Predictors of participation in sports after hip and knee arthroplasty. Clin Orthop Relat Res 470:555–561. https://doi.org/10.1007/s11999-011-2198-y

23.

Mont MA, LaPorte DM, Mullick T et al (1999) Tennis after total hip arthroplasty. Am J Sports Med 27:60–64. https://doi.org/10.1177/03635465990270011801

24.

Zahiri A, Zahiri CA, Schmalzried TP et al (1998) Assessing activity in joint replacement patients. J Arthroplast 13:890–895. https://doi.org/10.1016/S0883-5403(98)90195-4

25.

Jb A, Jl W, Ke F (2016) Does physical activity increase after total hip or knee arthroplasty for osteoarthritis ? A systematic review. PubMed Commons. doi: https://doi.org/10.2519/jospt.2016.6449.KEYWORDS

26.

Nicholls MA, Selby JBHJ (2002) Athletic activity after total joint replacement. Orthopedics 25:1283–1287

27.

Flecher X, Argenson JN, Aubaniac JM (2004) Hip and knee replacement and sport. Ann Readapt Med Phys 47:382–388

28.

Schmitt-Sody M, Pilger V, Gerdesmeyer L (2011) Rehabilitation and sport following total hip replacement. Orthopade 40:513–519. https://doi.org/10.1007/s00132-011-1761-2

29.

Healy WL, Iorio R, Lemos MJ (2001) Athletic activity after joint replacement. Am J Sports Med 29:377–388

30.

Hara D, Nakashima Y, Hamai S et al (2016) Dynamic hip kinematics during the golf swing after total hip arthroplasty. Am J Sports Med 44:1801–1809. https://doi.org/10.1177/0363546516637179

31.

Cowie JG, Turnball GS, Ker a M, Breusch SJ (2013) Return to work and sports after total hip replacement. Arch Orthop Trauma Surg 133:695–700. https://doi.org/10.1007/s00402-013-1700-2

32.

Mallon WJ, Callaghan JJ (1993) Total knee arthroplasty in active golfers. J Arthroplast 8:299–306. https://doi.org/10.1016/S0883-5403(07)80022-2
Additional information
Publisher's note
Springer Nature remains neutral with regard to jurisdictional claims in published maps and institutional affiliations.
About this article
Cite this article
Madrid, J., Bautista, M., Guio, J.F. et al. Perceived skills for sports performance after primary hip arthroplasty: a cross-sectional study. International Orthopaedics (SICOT) 43, 2725–2730 (2019). https://doi.org/10.1007/s00264-019-04311-3
Received:

Accepted:

Published:

Issue Date:
Keywords
Arthroplasty, replacement, hip

Long-term care

Sports

Sports medicine