Abstract
Introduction
There is no gold standard for performing a two-stage exchange arthroplasty to treat periprosthetic joint infection (PJI). The use of spacers and the anchorage principles of the revision prosthesis remain controversial. Herein, we report the success rate of a two-stage total hip replacement procedure without using a spacer and only pressfit cementless implants.
Methods
Between 2009 and 2015, 57 patients with chronic late-onset PJI were treated using a two-stage prostheses exchange without spacer. The average age was 66.7 years (47–83 years). The mean follow-up was 53.9 ± 25 months. Treatment included microbiologic diagnostics and a high-efficiency antimicrobial therapy in between the operations for six weeks and a two week antibiotic-free interval before reimplantation of the cementless prostheses. After implantation, antibiotics were stopped. This study was approved by the institutional review board.
Results
Ninety-six percent of the patients had prior unsuccessful PJI treatment in other hospitals. The most common microorganism was Staphylococcus epidermidis (50.9%), followed by Propionibacterium acnes (17.5%) and Staphylococcus aureus (14%). In 42.1% cases, mixed infections were found. All patients could be treated using a cementless implant. In 91.2%, PJI remission was achieved, while 8.6% had chronic PJI with implant retention. Overall, nine prostheses (15.8%) were replaced owing to ongoing PJI or fractures. Mean modified Harris Hip Score was 60.85 (range: 22–88). None of the patients died.
Conclusion
We demonstrated a high success rate for two-stage exchange of infected total hip arthroplasty. Spacer-free treatment does not negatively affect success rate or function. Implantation of an uncemented pressfit prosthesis was possible in all patients.
This is a preview of subscription content, log in to check access.
Access options
Buy single article
Instant access to the full article PDF.
US$ 39.95
Price includes VAT for USA
Subscribe to journal
Immediate online access to all issues from 2019. Subscription will auto renew annually.
US$ 199
This is the net price. Taxes to be calculated in checkout.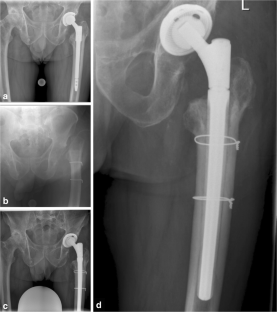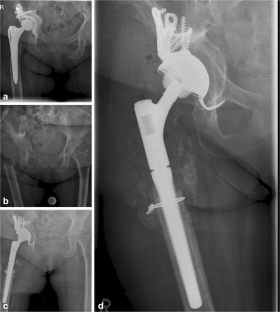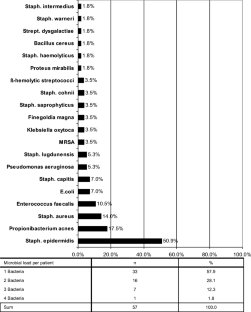 References
1.

Kurtz SM, Lau E, Watson H, Schmier JK, Parvizi J (2012) Economic burden of periprosthetic joint infection in the United States. J Arthroplast 27(8 Suppl):61–65

2.

Kapadia BH, Banerjee S, Cherian JJ, Bozic KJ, Mont MA (2016) The economic impact of Periprosthetic infections after total hip arthroplasty at a specialized tertiary-care center. J Arthroplast. https://doi.org/10.1016/j.arth.2016.01.021

3.

Kapadia BH, Berg RA, Daley JA, Fritz J, Bhave A, Mont MA (2016) Periprosthetic joint infection. Lancet 387(10016):386–394

4.

Osmon D, Berbari E, Berendt A, Lew D, Zimmerli W, Steckelberg J, Rao N, Hanssen A, Wilson W (2013) Infectious diseases society of a: diagnosis and management of prosthetic joint infection: clinical practice guidelines by the Infectious Diseases Society of America. Clin Infect Dis 56(1):e1–e25

5.

Jung J, Schmid NV, Kelm J, Schmitt E, Anagnostakos K (2009) Complications after spacer implantation in the treatment of hip joint infections. Int J Med Sci 6(5):265

6.

Ma D, Shanks RM, Davis CM III, Craft DW, Wood TK, Hamlin BR, Urish KL (2018) Viable bacteria persist on antibiotic spacers following two-stage revision for periprosthetic joint infection. J Orthop Res 36(1):452–458

7.

Neut D, van de Belt H, Stokroos I, van Horn JR, van der Mei HC, Busscher HJ (2001) Biomaterial-associated infection of gentamicin-loaded PMMA beads in orthopaedic revision surgery. J Antimicrob Chemother 47(6):885–891

8.

DiCicco M, Duong T, Chu A, Jansen SA (2003) Tobramycin and gentamycin elution analysis between two in situ polymerizable orthopedic composites. J Biomed Mater Res B Appl Biomater 65(1):137–149. https://doi.org/10.1002/jbm.b.10528

9.

Gramlich Y (2018) Procedure for single stage implant retention for chronic periprosthetic infection using topical degradable calcium-based antibiotics. Int Orthop. https://doi.org/10.1007/s00264-018-4066-9

10.

Gramlich Y, Walter G, Gils J, Hoffmann R (2017) Early results of adjuvant topical treatment of recurrent osteomyelitis with absorbable antibiotic carriers. Z Orthop Unfall 12(10):0042–112228

11.

Fleiter N, Walter G, Bosebeck H, Vogt S, Buchner H, Hirschberger W, Hoffmann R (2014) Clinical use and safety of a novel gentamicin-releasing resorbable bone graft substitute in the treatment of osteomyelitis/osteitis. Bone Joint Res 3(7):223–229

12.

Gromov K, Pedersen AB, Overgaard S, Gebuhr P, Malchau H, Troelsen A (2015) Do Rerevision rates differ after first-time revision of primary THA with a cemented and cementless femoral component? Clin Orthop Relat Res 473(11):3391–3398

13.

Mäkelä KT, Matilainen M, Pulkkinen P, Fenstad AM, Havelin L, Engesaeter L, Furnes O, Pedersen AB, Overgaard S, Kärrholm J (2014) Failure rate of cemented and uncemented total hip replacements: register study of combined Nordic database of four nations. BMJ 348:f7592

14.

Maggs J, Wilson M (2017) The relative merits of cemented and uncemented prostheses in total hip arthroplasty. Indian J Orthop 51(4):377–385

15.

Dohmae Y, Bechtold JE, Sherman RE, Puno RM, Gustilo RB (1988) Reduction in cement-bone interface shear strength between primary and revision arthroplasty. Clin Orthop Relat Res (236):214–220

16.

Schinsky MF, Della Valle CJ, Sporer SM, Paprosky WG (2008) Perioperative testing for joint infection in patients undergoing revision total hip arthroplasty. J Bone Joint Surg Am 90(9):1869–1875

17.

Gehrke T, Parvizi J (2014) Proceedings of the international consensus meeting on periprosthetic joint infection. J Arthroplast 29(2):4

18.

Parvizi J, Zmistowski B, Berbari EF, Bauer TW, Springer BD, Della Valle CJ, Garvin KL, Mont MA, Wongworawat MD, Zalavras CG (2011) New definition for periprosthetic joint infection: from the workgroup of the musculoskeletal infection society. Clin Orthop Relat Res 469(11):2992–2994. https://doi.org/10.1007/s11999-011-2102-9

19.

Zimmerli W, Trampuz A, Ochsner PE (2004) Prosthetic-joint infections. N Engl J Med 351(16):1645–1654

20.

Tande AJ, Gomez-Urena EO, Berbari EF, Osmon DR (2017) Management of prosthetic joint infection. Infect Dis Clin N Am 31(2):237–252

21.

Bejon P, Berendt A, Atkins B, Green N, Parry H, Masters S, McLardy-Smith P, Gundle R, Byren I (2010) Two-stage revision for prosthetic joint infection: predictors of outcome and the role of reimplantation microbiology. J Antimicrob Chemother 65(3):569–575

22.

Frommelt L (2004) Guidelines on antimicrobial therapy in situations of periprosthetic THR infection. Orthopade 33(7):822–828. https://doi.org/10.1007/s00132-004-0677-5

23.

Tande AJ, Patel R (2014) Prosthetic joint infection. Clin Microbiol Rev 27(2):302–345

24.

Tice AD, Rehm SJ, Dalovisio JR, Bradley JS, Martinelli LP, Graham DR, Gainer RB, Kunkel MJ, Yancey RW, Williams DN (2004) Practice guidelines for outpatient parenteral antimicrobial therapy. Clin Infect Dis 38(12):1651–1671

25.

Gramlich Y, Walter G, Klug A, Harbering J, Kemmerer M, Hoffmann R (2018) Procedure for single-stage implant retention for chronic periprosthetic infection using topical degradable calcium-based antibiotics. Int Orthop:1–8. https://doi.org/10.1007/s00264-018-4066-9

26.

Nilsdotter A, Bremander A (2011) Measures of hip function and symptoms: Harris hip score (HHS), hip disability and osteoarthritis outcome score (HOOS), Oxford hip score (OHS), Lequesne index of severity for osteoarthritis of the hip (LISOH), and American Academy of Orthopedic Surgeons (AAOS) hip and knee questionnaire. Arthritis Care Res 63(S11):S200–S207

27.

Edwards PK, Queen RM, Butler RJ, Bolognesi MP, Lowry Barnes C (2016) Are range of motion measurements needed when calculating the Harris hip score? J Arthroplast 31(4):815–819

28.

Wang J, Wang Q, Shen H, Zhang X (2018) Comparable outcome of culture-negative and culture-positive periprosthetic hip joint infection for patients undergoing two-stage revision. Int Orthop 42(3):469–477

29.

Renz N, Trampuz A (2015) Periprothetische Infektionen: aktueller Stand der Diagnostik und Therapie. Orthopädie & Rheuma 18(6):20–28

30.

Giulieri SG, Graber P, Ochsner PE, Zimmerli W (2004) Management of infection associated with total hip arthroplasty according to a treatment algorithm. Infection 32(4):222–228

31.

Pulcini C, Couadau T, Bernard E, Lorthat-Jacob A, Bauer T, Cua E, Mondain V, Chichmanian R-M, Dellamonica P, Roger P-M (2008) Adverse effects of parenteral antimicrobial therapy for chronic bone infections. Eur J Clin Microbiol Infect Dis 27(12):1227–1232

32.

Nguyen S, Robineau O, Titecat M, Blondiaux N, Valette M, Loiez C, Beltrand E, Migaud H, Senneville E (2015) Influence of daily dosage and frequency of administration of rifampicin–levofloxacin therapy on tolerance and effectiveness in 154 patients treated for prosthetic joint infections. Eur J Clin Microbiol Infect Dis 34(8):1675–1682

33.

Valour F, Karsenty J, Bouaziz A, Ader F, Tod M, Lustig S, Laurent F, Ecochard R, Chidiac C, Ferry T (2014) Antimicrobial-related severe adverse events during treatment of bone and joint infection due to methicillin-susceptible Staphylococcus aureus. Antimicrob Agents Chemother 58(2):746–755

34.

Mabry TM, Hanssen AD (2007) Articulating antibiotic spacers: a matter of personal preference. Orthopedics 30(9):783–785

35.

Bloomfield MR, Klika AK, Barsoum WK (2010) Antibiotic-coated spacers for total hip arthroplasty infection. Orthopedics 33(9):649. https://doi.org/10.3928/01477447-20100722-21

36.

Ferguson JY, Dudareva M, Riley ND, Stubbs D, Atkins BL, McNally MA (2014) The use of a biodegradable antibiotic-loaded calcium sulphate carrier containing tobramycin for the treatment of chronic osteomyelitis: a series of 195 cases. Bone Joint J 96-B(6):829–836. https://doi.org/10.1302/0301-620X.96B6.32756

37.

Turner TM, Urban RM, Hall DJ, Chye PC, Segreti J, Gitelis S (2005) Local and systemic levels of tobramycin delivered from calcium sulfate bone graft substitute pellets. Clin Orthop Relat Res 437(1976–2007):97–104

38.

Chang W, Colangeli M, Colangeli S, Di Bella C, Gozzi E, Donati D (2007) Adult osteomyelitis: debridement versus debridement plus Osteoset T pellets. Acta Orthop Belg 73(2):238–243

39.

Gramlich Y, Walter G, Gils J, Hoffmann R (2017) Early results of adjuvant topical treatment of recurrent osteomyelitis with absorbable antibiotic carriers. Z Orthop Unfall 155(1):35–44

40.

Marczak D, Synder M, Sibiński M, Polguj M, Dudka J, Kowalczewski J (2017) Two stage revision hip arthroplasty in periprosthetic joint infection. Comparison study: with or without the use of a spacer. Int Orthop 41(11):2253–2258

41.

Tikhilov R, Bozhkova S, Denisov A, Labutin D, Shubnyakov I, Razorenov V, Artyukh V, Klitsenko O (2016) Risk factors and a prognostic model of hip periprosthetic infection recurrence after surgical treatment using articulating and non-articulating spacers. Int Orthop 40(7):1381–1387

42.

Cabrita HB, Croci AT, Camargo OP, Lima AL (2007) Prospective study of the treatment of infected hip arthroplasties with or without the use of an antibiotic-loaded cement spacer. Clinics 62(2):99–108

43.

Du YQ, Zhou YG, Hao LB, Wu WM, Ma HY, Zheng C, Piao S, Gao ZS, Sun JY, Wang S (2017) Mechanical complications with self-made, antibiotic-loaded cement articulating spacers in the treatment of the infected hip replacement. Zhongguo Gu Shang 30(5):436–440

44.

Gomez MM, Tan TL, Manrique J, Deirmengian GK, Parvizi J (2015) The fate of spacers in the treatment of periprosthetic joint infection. J Bone Joint Surg Am 97(18):1495–1502

45.

Kahlenberg CA, Hernandez-Soria A, Cross MB (2017) Poor prognosis of patients treated for Periprosthetic joint infection. HSS J 13(1):96–99

46.

Bordini B, Stea S, Castagnini F, Busanelli L, Giardina F, Toni A (2018) The influence of bearing surfaces on periprosthetic hip infections: analysis of thirty nine thousand, two hundred and six cementless total hip arthroplasties. Int Orthop 11(10):018–4097

47.

Wirtz D, Niethard F (1997) Etiology, diagnosis and therapy of aseptic hip prosthesis loosening--a status assessment. Z Orthop Grenzgeb 135(4):270–280

48.

Masri BA, Panagiotopoulos KP, Greidanus NV, Garbuz DS, Duncan CP (2007) Cementless two-stage exchange arthroplasty for infection after total hip arthroplasty. J Arthroplast 22(1):72–78
Ethics declarations
Study is based on institutional review board (IRB) approval.
Conflict of interest
The authors declare that they have no conflict of interest.
Additional information
Publisher's Note
Springer Nature remains neutral with regard to jurisdictional claims in published maps and institutional affiliations.
About this article
Cite this article
Gramlich, Y., Hagebusch, P., Faul, P. et al. Two-stage hip revision arthroplasty for periprosthetic joint infection without the use of spacer or cemented implants. International Orthopaedics (SICOT) 43, 2457–2466 (2019). https://doi.org/10.1007/s00264-019-04297-y
Received:

Accepted:

Published:

Issue Date:
Keywords
PJI

Periprosthetic joint infection

Two-stage exchange

Cementless

Pressfit

Spacer