Abstract
Purpose
Dislocation and peri-prosthetic fracture (PPF) are major reasons for revision THA (total hip arthroplasty). The main advantage of dual mobility (DM) cups is to minimize the incidence of dislocation compared to single mobility (SM) cups. We hypothesized that the use of DM would lead to an increased risk of PPF because of its greater stability. In contrast, standard cups would be at higher risk of dislocation.
Methods
A retrospective comparative study was performed in our institution including 126 revision THAs between January 2013 and December 2017. Collected data included gender, age, BMI, Parker score, ASA score, the etiology for primary THA, type of cup (SM or DM), cortical index, Noble index, and the stem fixation.
Results
Overall, 53 standard and 73 DM cups were included for study. In the dislocation group, 29 had standard cups (83%) and 6 had DM cups (17%). Dislocation was 12-fold higher in SM cups (p < 0.001). In the PPF group, 24 had standard cups (26%) and 67 had DM cups (74%). PFF was 12-fold higher for DM cups (p < 0.001). A higher Parker score and a higher cortical index had a protective effect on the risk of PPF (OR = 0.76 (p = 0.03), OR = 0.57 (p = 0.048)).
Conclusion
The use of DM increased hip stability but led to a higher rate of PPF by load transfer on the femur. Further studies with larger cohort and follow-up are needed to confirm these findings and measure the incidence of these complications.
This is a preview of subscription content, log in to check access.
Access options
Buy single article
Instant access to the full article PDF.
US$ 39.95
Price includes VAT for USA
Subscribe to journal
Immediate online access to all issues from 2019. Subscription will auto renew annually.
US$ 199
This is the net price. Taxes to be calculated in checkout.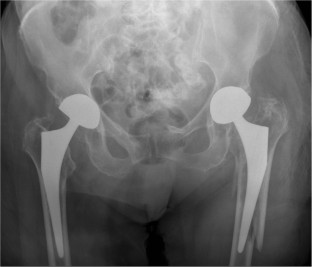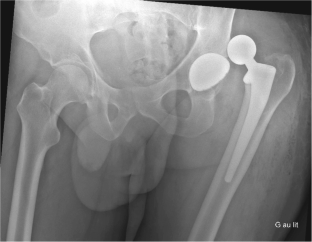 References
1.

Learmonth ID, Young C, Rorabeck C (2007) The operation of the century: total hip replacement. Lancet Lond Engl 370:1508–1519. https://doi.org/10.1016/S0140-6736(07)60457-7

2.

Ehlinger M, Delaunay C, Karoubi M et al (2014) Revision of primary total hip arthroplasty for peri-prosthetic fracture: a prospective epidemiological study of 249 consecutive cases in France. Orthop Traumatol Surg Res OTSR 100:657–662. https://doi.org/10.1016/j.otsr.2014.03.030

3.

Ong KL, Mowat FS, Chan N et al (2006) Economic burden of revision hip and knee arthroplasty in Medicare enrollees. Clin Orthop 446:22–28. https://doi.org/10.1097/01.blo.0000214439.95268.59

4.

Ko LM, Hozack WJ (2016) The dual mobility cup: what problems does it solve? Bone Jt J 98–B:60–63. https://doi.org/10.1302/0301-620X.98B1.36332

5.

Plummer DR, Haughom BD, Della Valle CJ (2014) Dual mobility in total hip arthroplasty. Orthop Clin North Am 45:1–8. https://doi.org/10.1016/j.ocl.2013.08.004

6.

Viste A, Desmarchelier R, Fessy M-H (2017) Dual mobility cups in revision total hip arthroplasty. Int Orthop 41:535–542. https://doi.org/10.1007/s00264-016-3363-4

7.

Vermersch T, Viste A, Desmarchelier R, Fessy M-H (2015) Prospective longitudinal study of one hundred patients with total hip arthroplasty using a second-generation cementless dual-mobility cup. Int Orthop 39:2097–2101. https://doi.org/10.1007/s00264-015-2985-2

8.

Swedish Hip Arthroplasty Register. Annual Report 2010. Available at: http://www.shpr.se/Libraries/Documents/AnnualReport2010-2-eng.sflb.ashx. Accessed March 8, 2012

9.

Bozic KJ, Kurtz SM, Lau E et al (2009) The epidemiology of revision total hip arthroplasty in the United States. J Bone Joint Surg Am 91:128–133. https://doi.org/10.2106/JBJS.H.00155

10.

Australian Orthopaedic Association. National Joint Replacement Report 2011. Available at: http://www.dmac.adelaide.edu.au/aoanjirr/publications. Accessed October 25, 2012

11.

New Zealand Orthopaedic Association. The New Zealand Joint Registry: thirteen year report. Available at: www.cdhb.govt.nz/njr/. Accessed January 27, 2013

12.

National Joint Registry for England and Wales. 9th Annual Report 2012. Available at : http://www.njrcentre.org.uk. Accessed January 27, 2013

13.

Delaunay C, Hamadouche M, Girard J et al (2013) What are the causes for failures of primary hip arthroplasties in France? Clin Orthop 471:3863–3869. https://doi.org/10.1007/s11999-013-2935-5

14.

Parker MJ, Palmer CR (1993) A new mobility score for predicting mortality after hip fracture. J Bone Joint Surg Br 75:797–798. https://doi.org/10.1302/0301-620x.75b5.8376443

15.

Noble PC, Alexander JW, Lindahl LJ, Yew DT, Granberry WM, Tullos HS (1988) The anatomic basis of femoral component design. Clin Orthop Relat Res (235):148–65. https://doi.org/10.1097/00003086-198810000-00015

16.

Kim Y-H, Choi Y, Kim J-S (2009) Influence of patient-, design-, and surgery-related factors on rate of dislocation after primary cementless total hip arthroplasty. J Arthroplast 24:1258–1263. https://doi.org/10.1016/j.arth.2009.03.017

17.

Fessy MH, Putman S, Viste A et al (2017) What are the risk factors for dislocation in primary total hip arthroplasty? A multicenter case-control study of 128 unstable and 438 stable hips. Orthop Traumatol Surg Res OTSR 103:663–668. https://doi.org/10.1016/j.otsr.2017.05.014

18.

Hamadouche M, Arnould H, Bouxin B (2012) Is a cementless dual mobility socket in primary THA a reasonable option? Clin Orthop 470:3048–3053. https://doi.org/10.1007/s11999-012-2395-3

19.

Romagnoli M, Grassi A, Costa GG et al (2018) The efficacy of dual-mobility cup in preventing dislocation after total hip arthroplasty: a systematic review and meta-analysis of comparative studies. Int Orthop. https://doi.org/10.1007/s00264-018-4062-0

20.

Civinini R, Carulli C, Matassi F et al (2012) A dual-mobility cup reduces risk of dislocation in isolated acetabular revisions. Clin Orthop 470:3542–3548. https://doi.org/10.1007/s11999-012-2428-y

21.

Zagra L, Caboni E (2017) Total hip arthroplasty instability treatment without dual mobility cups: brief overview and experience of other options. Int Orthop 41:661–668. https://doi.org/10.1007/s00264-016-3383-0

22.

Stucinskas J, Kalvaitis T, Smailys A et al (2018) Comparison of dual mobility cup and other surgical construts used for three hundred and sixty two first time hip revisions due to recurrent dislocations: five year results from Lithuanian arthroplasty register. Int Orthop 42:1015–1020. https://doi.org/10.1007/s00264-017-3702-0

23.

Assi C, Caton J, Fawaz W et al (2018) Revision total hip arthroplasty with a Kerboull plate: comparative outcomes using standard versus dual mobility cups. Int Orthop. https://doi.org/10.1007/s00264-018-4209-z

24.

Prudhon J-L, Ferreira A, Verdier R (2013) Dual mobility cup: dislocation rate and survivorship at ten years of follow-up. Int Orthop 37:2345–2350. https://doi.org/10.1007/s00264-013-2067-2

25.

Girard J, Kern G, Migaud H et al (2013) Primary total hip arthroplasty revision due to dislocation: prospective French multicenter study. Orthop Traumatol Surg Res OTSR 99:549–553. https://doi.org/10.1016/j.otsr.2013.03.026

26.

Younger AS, Dunwoody J, Duncan CP (1998) Periprosthetic hip and knee fractures: the scope of the problem. Instr Course Lect 47:251–256

27.

Meek RMD, Norwood T, Smith R et al (2011) The risk of peri-prosthetic fracture after primary and revision total hip and knee replacement. J Bone Joint Surg Br 93:96–101. https://doi.org/10.1302/0301-620X.93B1.25087

28.

Gjertsen J-E, Lie SA, Fevang JM et al (2007) Total hip replacement after femoral neck fractures in elderly patients: results of 8,577 fractures reported to the Norwegian Arthroplasty Register. Acta Orthop 78:491–497. https://doi.org/10.1080/17453670710014130

29.

Watts CD, Abdel MP, Lewallen DG et al (2015) Increased risk of periprosthetic femur fractures associated with a unique cementless stem design. Clin Orthop 473:2045–2053. https://doi.org/10.1007/s11999-014-4077-9
Ethics declarations
Conflict of interest
M-H. Fessy received royalties from Serf and Depuy. The other authors declare that they have no conflict of interest.
Additional information
Publisher's Note
Springer Nature remains neutral with regard to jurisdictional claims in published maps and institutional affiliations.
Level of evidence: Retrospective case study, Level IV.
About this article
Cite this article
Sappey-Marinier, E., Viste, A., Blangero, Y. et al. A comparative study about the incidence of dislocation and peri-prosthetic fracture between dual mobility versus standard cups after primary total hip arthroplasty. International Orthopaedics (SICOT) 43, 2691–2695 (2019). https://doi.org/10.1007/s00264-018-4279-y
Received:

Accepted:

Published:

Issue Date:
Keywords
Total hip arthroplasty

Dual mobility

Peri-prosthetic fracture

Dislocation

Standard cups