Abstract
Background
Cementless femoral stems are currently used in revision total hip arthroplasty (THA) with the surgeon choosing between various fixation modes. The outcomes are good in the medium term; however, some failures have been attributed to technical errors during implantation. When the decision has been made to use a press-fit implant, the impact of the surgeon's technique on the functional outcomes have not been explored in-depth. This led us to carry out a retrospective study on a large population of total hip arthroplasty patients which aims were achieved press-fit to (1) determine the impact of the type of primary fixation (with and without press-fit) on the functional outcomes; (2) specify the effect of stem length on the functional scores when diaphyseal press-fit is achieved and (3) analyse the main reasons why a true press-fit effect was not achieved (three-point fixation).
Hypothesis
There is a relationship between the primary fixation method by press-fit of a revision femoral stem and the functional outcomes.
Patients and methods
We performed a retrospective analysis of a continuous cohort of 244 THA revision cases with a mean follow-up of 6.1 ± 3.5 years (range, 2–18). The femoral area in which close contact was achieved (shared interface between the bone and implant) was used to define various types of press-fit fixation. The functional outcomes were determined using the Harris Hip Score (HHS) and the Merle d'AubignéPostel score (MAP score) out of 12 points (pain and walking items).
Results
The post-operative HHS averaged 90.83 ± 7.51 for proximal press-fit and 80.14 ± 14.93 with no press-fit (p = 0.01). The MAP averaged 10.83 ± 1.03 for proximal press-fit and 9.75 ± 2.09 with no press-fit (p = 0.09). The MAP score was worse for long diaphyseal press-fit than for short press-fit (p = 0.02). Use of a long stem with an endofemoral route or an overly small femoral window in patients with a curved femur is the main reason that three-point fixation occurred instead of press-fit.
Conclusions
While press-fit is an effective concept, it is a demanding one that requires the surgeon to choose the correct surgical strategy for the patient's anatomy. A meticulous surgical technique is required to achieve proximal press-fit or at a minimum, short diaphyseal press-fit.
Access options
Buy single article
Instant access to the full article PDF.
US$ 39.95
Tax calculation will be finalised during checkout.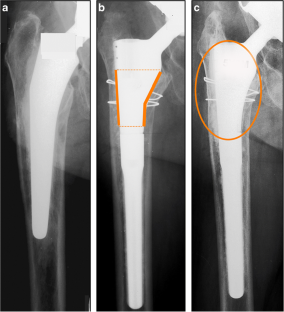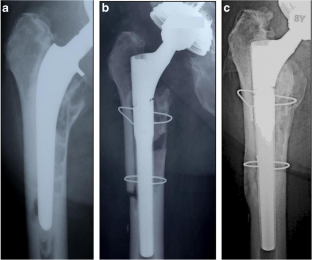 References
1.

Mertl P, Philippot R, Rosset P, Migaud H, Tabutin J, Van de Velde D (2011) Distal locking stem for revision femoral loosening and peri-prosthetic fractures. Int Orthop 35:275–282

2.

Daiki I, Nishii T, Miki H, Sugano N, Sakai T (2008) Proximal bone remodelling differed between two types of titanium long femoral components after cementless revision arthroplasty. Int Orthop 32:431–436

3.

Engh CA, Bobyn JD, Glassman (1987) Porous-coated hip replacement. The factors governing bone ingrowth, stress shielding, and clinical results. J Bone Joint Surg 69B:45–55

4.

Paprosky WG, Greidanus NV, Antoniou J (1999) Minimum 10-year-results of extensively porous-coated stems in revision hip arthroplasty. Clin Orthop Relat Res 369:230–242

5.

Amanatullah DF, Howard JL, Siman H, Trousdale RT, Mabry TM, Berry DJ (2015) Revision total hip arthroplasty in patients with extensive proximal femoral bone loss using a flutedtapered modular femoral component. Bone Joint J 97-B:312–317

6.

Böhm P, Bischel O (2001) Femoral revision with the Wagner SL revision stem. Evaluation of one hundred and twenty-nine revisions followed for a mean of 4,8 years. J Bone Joint Surg Am 83-A:1023–1031

7.

Van Houwelingen AP, Duncan CP, Masri BA, Greidanus NV, Garbuz DS (2013) High survival of modular tapered stems for proximal femoral bone defects at 5 to 10 years followup. Clin Orthop Relat Res 471:454–462

8.

Wirtz DC, Gravius S, Ascherl R, Forst R, Noeth U (2014) Uncemented femoral revision arthroplasty using a modular tapered, fluted titanium stem. 5- to 16- year results of 163 cases. Acta Orthop 85:562–569

9.

Korovessis P, Repantis T (2009) High medium-term survival of Zweymüller SLR-plus® stem used in femoral revision. Clin Orthop Relat Res 467(8):2032–2040

10.

Brown NM, Tetreault M, Cipriano CA, Della Valle CJ, Paprosky W, Sporer S (2015) Modular tapered implants for severe femoral bone loss in THA: reliable osseointegration but frequent complications. Clin Orthop Relat Res 473:555–560

11.

Cross MB, Paprosky WG (2013) Managing femoral bone loss in revision total hip replacement. Fluted tapered modular stems. Bone Joint J 95-B(Supple A):95–97

12.

Fink B, Grossmann A, Fuerst M (2010) Distal interlocking screws with a modular revision stem for revision total hip arthroplasty in severe bone defect. J Arthroplast 25:759–765. https://doi.org/10.1016/j.arth.2009.05.019

13.

Le Béguec P, Canovas F, Roche O, Goldschild M, Batard J (2015) uncemented femoral stems for revision surgery. Springer international Publishing, Heidelberg

14.

Morscher E (1991) Experience with the press-fit cup and press-fit gliding stem. In: Kusswetter W (ed) Noncemented total hip replacement. Proceedings of International Symposium. Tübingen, Germany. New York, Stuttgard: Thieme. p 221–31

15.

Harris WH (1969) Traumatic arthritis of the hip after dislocation and acetabular fracture. Treatment by moldarthroplasty. An end result study using new method of result evaluation. J Bone Joint Surg Am 51:737–754

16.

D'Aubigné RM, Postel M (1954) Functional results of hip arthroplasty with acrylic prosthesis. J Bone Joint Surg Am 36A:451–475

17.

Canovas F, Le Beguec P, Batard J, Gaillard F, Dagneaux L (2017) Global fit concept in revision hip arthroplasty for cementless press-fit femoral stems. Orthop Traumatol Surg Res 103(4):579–581. https://doi.org/10.1016/j.otsr.2017.01.015

18.

De Menezes DF, Le Béguec P, Sieber HP, Goldschild M (2012) Stem and osteotomy length are critical for success of the transfemoral approach and cementless stem revision. Clin Orthop Relat Res 470:883–888

19.

Canovas F, Girard J, Roche O, Migaud H, Bonnomet F, Goldschild M, Le Béguec P (2015) Bone stock in revision femoral arthroplasty: a newevaluation. Int Orthop 39:1487–1494

20.

Canovas F, Putman S, Girard J, Roche O, Bonnomet F, Le Béguec P (2018) Global radiological score for femoral cementless revision stem. Int Orthop 42(5):1007–1013

21.

Roche O, Girard J, Canovas F, Migaud H, Bonnomet F, Goldschild M, Le Béguec P (2016) Assessment of fixation in cementless femoral revision of total hip arthroplasty:comparison of the Engh score versus radiolucent line measurement. Int Orthop 40:907–912

22.

Canovas F, Roche O, Girard J, Bonnomet F, Goldschild M, Le Béguec P (2015) Bone density and functional results after femoral revision with a cementless press-fit stem. Orthop Traumatol Surg Res 101:195–199

23.

Girard J, Roche O, Wavreille G, Canovas F, Le Béguec P (2011) Enfoncement secondaire d'une tige de révision fémorale: à propos d'une série de 183 cas au recul moyen de 5.5 ans. Orthop Trauma Surg Res 97:121–126

24.

Bugbee WD, Culpepper WJ, Engh CA Jr, Engh CA Sr (1997) Long-term clinical consequences of stress-shielding after total hip arthroplasty without cement. J Bone Joint Surg Am 79-A:1007–1012

25.

Konan S, Garbuz DS, Masri BA, Duncan CP (2016) Modular tapered titanium stems in revision arthroplasty of the hip: the risk and causes of stem fracture. Bone Joint J 98-B(1 Suppl A):50–53

26.

Lakstein D, Eliaz N, Levi O, Backstein D, Kosashvili Y, Safir O, Gross AE (2011) Fracture of cementless femoral stems at the mid-stem junction in modular revision hip arthroplasty systems. J Bone Joint Surg Am 93:57–65

27.

Le Béguec P, Goldschild M, Roche O, Sieber HP (2008) The press-fit concept : an effective but demanding concept. Interact Surg 3:89–96
Acknowledgements
We are grateful to Daniel F.A. de Menezes and Mathias Goldschild for their advice on this study, Anne Ingels for the statistical analysis and Joanne Archambault for the English translation.
Ethics declarations
Conflict of interest
FC certifies that he has or may receive payments or benefits from a commercial entity (Zimmer Educational).
SP certifies that he has or may receive payments or benefits from a commercial entity (Tornier Corin).
LD and LC have nothing to declare.
PLB certifies that he has or may receive payments or benefits from a commercial entity (Zimmer GmbH) that may be perceived as a potential conflict of interest.
Ethical board review statement
Each author certifies that his or her institution has approved or waived approval for the human protocol for this investigation and that all investigations were conducted in conformity with ethical principles of research.
Location of the work
This work was performed at CHU Montpellier.
Additional information
Level of Evidence: Level IV, therapeutic study
About this article
Cite this article
Canovas, F., Putman, S., Dagneaux, L. et al. Cementless revision femoral stems application of press-fit principles and clinical outcomes. International Orthopaedics (SICOT) 43, 2261–2267 (2019). https://doi.org/10.1007/s00264-018-4265-4
Received:

Accepted:

Published:

Issue Date:
Keywords
Arthroplasty

Revision

Press-fit stem

Fixation zone

Functional results