Abstract
Purpose
Osteoarthritis (OA) is one of the most common causes of disability and a prevalent chronic disease. The use of collagen is growing due to the satisfactory results in the treatment of OA. However, the possible beneficial effects of collagen for the treatment of OA are currently controversial. The aim of the present meta-analysis was to evaluate the effect of collagen-based supplements on OA symptoms.
Methods
PubMed-Medline, Scopus, and Google Scholar databases were searched for randomized placebo-controlled trials evaluating the effect of orally administered collagen on OA symptoms using the Western Ontario and McMaster Universities Osteoarthritis Index (WOMAC) scale and/or the Visual Analog Scale (VAS). Meta-analysis was conducted using a random-effects model and a generic inverse variance method. Heterogeneity was tested using the I2 statistic index.
Results
Collagen treatment showed a significant reduction in the score of total WOMAC index (WMD − 8.00; 95% CI − 13.04, − 2.95; p = 0.002). After subgroup analysis of the WOMAC subscores, the collagen supplementation revealed a significant decrease in the stiffness subscore (WMD − 0.41; 95% CI − 0.74, − 0.08; p = 0.01), whereas the pain (WMD − 0.22; 95% CI − 1.58, 1.13; p = 0.75) and functional limitation (WMD − 0.62; 95% CI − 5.77, 4.52; p = 0.81) subscores did not have significant differences. Finally, a significant reduction was found in the VAS score after collagen administration (WMD − 16.57; 95% CI − 26.24, − 6.89; p < 0.001).
Conclusion
The results of this meta-analysis showed that collagen is effective in improving OA symptoms by the decrease of both total WOMAC index and VAS score.
This is a preview of subscription content,
to check access.
Access this article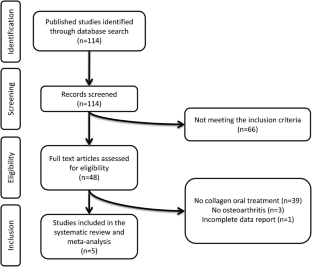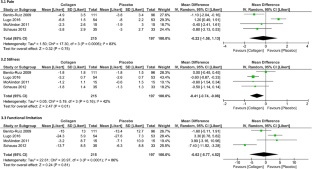 References
Lane NE, Brandt K, Hawker G et al (2011) OARSI-FDA initiative: defining the disease state of osteoarthritis. Osteoarthr Cartil 19:478–482. https://doi.org/10.1016/j.joca.2010.09.013

Vos T, Flaxman AD, Naghavi M et al (2012) Years lived with disability (YLDs) for 1160 sequelae of 289 diseases and injuries 1990–2010: a systematic analysis for the global burden of disease study 2010. Lancet 380:2163–2196. https://doi.org/10.1016/S0140-6736(12)61729-2

Sacks JJ, Luo YH, Helmick CG (2010) Prevalence of specific types of arthritis and other rheumatic conditions in the ambulatory health care system in the United States, 2001-2005. Arthritis Care Res 62:460–464. https://doi.org/10.1002/acr.20041

Lawrence RC, Felson DT, Helmick CG et al (2008) NIH public estimates of the prevalence of arthritis and other rheumatic conditions in the United States, Part II Reva. Arthritis Rheum 58:26–35. https://doi.org/10.1002/art.23176.Estimates

Nelson AE, Allen KD, Golightly YM et al (2014) A systematic review of recommendations and guidelines for the management of osteoarthritis: the chronic osteoarthritis management initiative of the U.S. bone and joint initiative. Semin Arthritis Rheum 43:701–712. https://doi.org/10.1016/j.semarthrit.2013.11.012

Hochberg MC, Altman RD, April KT et al (2012) American College of Rheumatology 2012 recommendations for the use of nonpharmacologic and pharmacologic therapies in osteoarthritis of the hand, hip, and knee. Arthritis Care Res (Hoboken) 64:465–474. https://doi.org/10.1002/acr.21596

Kwoh CK, Roemer FW, Hannon MJ et al (2014) Effect of oral glucosamine on joint structure in individuals with chronic knee pain: a randomized, placebo-controlled clinical trial. Arthritis Rheumatol 66:930–939. https://doi.org/10.1002/art.38314

Zegels B, Crozes P, Uebelhart D et al (2013) Equivalence of a single dose (1200 mg) compared to a three-time a day dose (400 mg) of chondroitin 4&6 sulfate in patients with knee osteoarthritis. Results of a randomized double blind placebo controlled study. Osteoarthr Cartil 21:22–27. https://doi.org/10.1016/j.joca.2012.09.017

Tashiro T, Seino S, Sato T et al (2012) Oral Administration of Polymer Hyaluronic Acid Alleviates Symptoms of knee osteoarthritis: a double-blind, placebo-controlled study over a 12-month period. Sci World J 2012:1–8. https://doi.org/10.1100/2012/167928

Hussain S, Singh A, Akhtar M, Najmi AK (2017) Vitamin D supplementation for the management of knee osteoarthritis: a systematic review of randomized controlled trials. Rheumatol Int 37:1489–1498. https://doi.org/10.1007/s00296-017-3719-0

Benito-Ruiz P, Camacho-Zambrano MM, Carrillo-Arcentales JN et al (2009) A randomized controlled trial on the efficacy and safety of a food ingredient, collagen hydrolysate, for improving joint comfort. Int J Food Sci Nutr 60:99–113. https://doi.org/10.1080/09637480802498820

Lugo JP, Saiyed ZM, Lane NE (2016) Efficacy and tolerability of an undenatured type II collagen supplement in modulating knee osteoarthritis symptoms: a multicenter randomized, double-blind, placebo-controlled study. Nutr J 15:14. https://doi.org/10.1186/s12937-016-0130-8

Akhtar N, Haqqi TM (2012) Current nutraceuticals in the management of osteoarthritis: a review. Ther Adv Musculoskelet Dis 4:181–207. https://doi.org/10.1177/1759720X11436238

Oesser S, Adam M, Babel W, Seifert J (1999) Oral administration of (14)C labeled gelatin hydrolysate leads to an accumulation of radioactivity in cartilage of mice (C57/BL). J Nutr 129:1891–1895

Sibilla S, Godfrey M, Brewer S et al (2015) An overview of the beneficial effects of hydrolysed collagen as a nutraceutical on skin properties: scientific background and clinical studies. Open Nutraceuticals J 8:29–42. https://doi.org/10.2174/1876396001508010029

Adam M (1991) WelcheWirkung Haben Gelantineparaprate? Therapie Der Osteoarthrose Therapiewoche 41:2456–2461

Castrogiovanni P, Trovato FM, Loreto C et al (2016) Nutraceutical supplements in the management and prevention of osteoarthritis. Int J Mol Sci 17:2042. https://doi.org/10.3390/ijms17122042

Broere F, Wieten L, Klein Koerkamp EI et al (2008) Oral or nasal antigen induces regulatory T cells that suppress arthritis and proliferation of arthritogenic T cells in joint draining lymph nodes. J Immunol 181:899–906

Müller RD, John T, Kohl B et al (2008) IL-10 overexpression differentially affects cartilage matrix gene expression in response to TNF-α in human articular chondrocytes in vitro. Cytokine 44:377–385. https://doi.org/10.1016/j.cyto.2008.10.012

van Meegeren MER, Roosendaal G, Jansen NWD et al (2012) IL-4 alone and in combination with IL-10 protects against blood-induced cartilage damage. Osteoarthr Cartil 20:764–772. https://doi.org/10.1016/j.joca.2012.04.002

Higgins J, Green S (2009) Cochrane handbook for systematic reviews of interventions Version 5.0.2. London

Kumar S, Sugihara F, Suzuki K et al (2014) A double-blind, placebo-controlled, randomised, clinical study on the effectiveness of collagen peptide on osteoarthritis. J Sci Food Agric 95:702–707. https://doi.org/10.1002/jsfa.6752

McAlindon TE, Nuite M, Krishnan N et al (2011) Change in knee osteoarthritis cartilage detected by delayed gadolinium enhanced magnetic resonance imaging following treatment with collagen hydrolysate: a pilot randomized controlled trial. Osteoarthr Cartil 19:399–405. https://doi.org/10.1016/j.joca.2011.01.001

Schauss AG, Stenehjem J, Park J et al (2012) Effect of the novel low molecular weight hydrolyzed chicken sternal cartilage extract, biocell collagen, on improving osteoarthritis-related symptoms: a randomized, double-blind, placebo-controlled trial. J Agric Food Chem 60:4096–4101. https://doi.org/10.1021/jf205295u

Van Vijven JPJ, Luijsterburg PAJ, Verhagen AP et al (2012) Symptomatic and chondroprotective treatment with collagen derivatives in osteoarthritis: a systematic review. Osteoarthr Cartil 20:809–821. https://doi.org/10.1016/j.joca.2012.04.008

Nagler-Anderson C, Bober LA, Robinson ME et al (1986) Suppression of type II collagen-induced arthritis by intragastric administration of soluble type II collagen. Proc Natl Acad Sci U S A 83:7443–7446. https://doi.org/10.1073/pnas.83.19.7443

Di Cesare Mannelli L, Micheli L, Zanardelli M, Ghelardini C (2013) Low dose native type II collagen prevents pain in a rat osteoarthritis model. BMC Musculoskelet Disord 14:228. https://doi.org/10.1186/1471-2474-14-228

Iwai K, Hasegawa T, Taguchi Y et al (2005) Identification of food-derived collagen peptides in human blood after oral ingestion of gelatin hydrolysates. J Agric Food Chem 53:6531–6536. https://doi.org/10.1021/jf050206p

Ohara H, IidaA H, Ito K et al (2010) Effects of pro-Hyp, a collagen hydrolysate-derived peptide, on hyaluronic acid synthesis using in vitro cultured synovium cells and Oral ingestion of collagen hydrolysates in a Guinea pig model of osteoarthritis. Biosci Biotechnol Biochem 74:2096–2099. https://doi.org/10.1271/bbb.100193

Oesser S, Seifert J (2003) Stimulation of type II collagen biosynthesis and secretion in bovine chondrocytes cultured with degraded collagen. Cell Tissue Res 311:393–399. https://doi.org/10.1007/s00441-003-0702-8

Bellamy N, Buchanan W, Goldsmith C et al (1998) Validation study of WOMAC: a health status instrument for measuring clinically important patient relevant outcomes to antirheumatic drug therapy in patients with osteoarthritis of the hip or knee. J Rheumatol 15:1833–1840

Bellamy N (1995) Outcome measurement in osteoarthritis clinical trials. J Rheumatol Suppl 43:49–51

Bolognese JA, Schnitzer TJ, Ehrich EW (2003) Response relationship of VAS and Likert scales in osteoarthritis efficacy measurement. Osteoarthr Cartil 11:499–507. https://doi.org/10.1016/S1063-4584(03)00082-7

Saleh KJ, Davis A (2016) Measures for pain and function assessments for patients with osteoarthritis. J Am Acad Orthop Surg 24:e148–e162. https://doi.org/10.5435/JAAOS-D-16-00303

McConnell S, Kolopack P, Davis AM (2001) The Western Ontario and McMaster universities osteoarthritis index ( WOMAC ): a review of its utility and measurement properties. Arthritis Rheum 45:453–461
Ethics declarations
Conflict of interest
The authors declare that they have no conflict of interest.
About this article
Cite this article
García-Coronado, J.M., Martínez-Olvera, L., Elizondo-Omaña, R.E. et al. Effect of collagen supplementation on osteoarthritis symptoms: a meta-analysis of randomized placebo-controlled trials. International Orthopaedics (SICOT) 43, 531–538 (2019). https://doi.org/10.1007/s00264-018-4211-5
Received:

Accepted:

Published:

Issue Date:

DOI: https://doi.org/10.1007/s00264-018-4211-5
Keywords