Abstract
Purpose
Although many studies have been performed to evaluate the quality of life (QOL) and patient satisfaction after total knee arthroplasty (TKA), almost all evaluations were performed in patients after unilateral TKA or in patients after mixed unilateral and bilateral TKA. Accordingly, this study aimed to evaluate QOL after staged bilateral TKA.
Methods
A total of 78 patients who underwent staged bilateral TKA for varus knee osteoarthritis were included in this study. All patients had longitudinal follow-up evaluations for at least five years. QOL was assessed by the Japanese Knee Osteoarthritis Measure (JKOM), a disease-specific and patient-derived QOL measure for Japanese patients. Conventional objective outcome scales, including the Knee Society Score and the Timed Up and Go test, were also assessed. In addition, QOL and objective outcomes were compared between the younger (≤ 80 years, average 75.8 years) and older (> 80 years, average 84.7 years) age groups at the final follow-up.
Results
Improvements in both JKOM and objective outcomes reached a plateau one year after staged bilateral TKA. Improvements were prolonged for more than five years. There were no statistically significant differences in JKOM or objective outcomes between the younger and older age groups, despite an 8.9-year difference in the average age.
Conclusions
This was the first longitudinal study to evaluate QOL and objective outcomes after staged bilateral TKA for a period of at least five years. Improvements in QOL and objective outcomes reached a plateau one year after staged bilateral TKA and were prolonged for more than five years. No significant differences were observed in outcome scores between the younger and older age groups.
This is a preview of subscription content, log in to check access.
Access options
Buy single article
Instant access to the full article PDF.
US$ 39.95
Price includes VAT for USA
Subscribe to journal
Immediate online access to all issues from 2019. Subscription will auto renew annually.
US$ 199
This is the net price. Taxes to be calculated in checkout.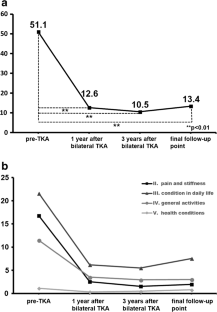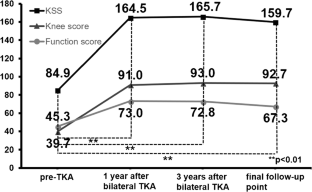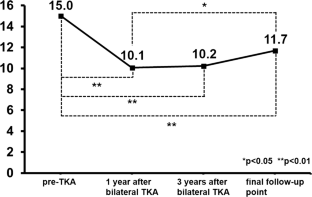 References
1.

Insall JN, Dorr LD, Scott RD, Scott WN (1989) Rationale of the knee society clinical rating system. Clin Orthop Relat Res 248:13–14

2.

Podsiadol D, Richardson S (1991) The timed "up & go": a test of basic functional mobility for frail elderly persons. J Am Geriatr Soc 39(2):142–148

3.

Bellamy N, Buchanan WW, Goldsmith CH, Campbell J, Stitt LW (1988) Validation study of WOMAC: a health status instrument for measuring clinically important patient relevant outcomes to antirheumatic drug therapy in patients with osteoarthritis of the hip or knee. J Rheumatol 15(12):1833–1840

4.

Ware JE, Sherbourne CD (1992) The MOS 36-item short-form health survey (SF-36). Med Care 30(6):473–483

5.

Anderson JG, Wixson RL, Tsai D, Stulberg SD, Chang RW (1996) Functional outcome and patient satisfaction in total knee patients over the age of 75. J Arthroplast 11(7):831–840

6.

Lingard EA, Katz JN, Wright RJ, Wright EA, Sledge CB, the Kinemax outcomes group (2001) Validity and responsiveness of the knee society clinical rating system in comparison with the SF-36 and WOMAC. J Bone Joint Surg Am 83(12):1856–1864

7.

Miner AL, Lingard EA, Wright EA, Sledge CB, Katz JN, the Kinemax outcomes group (2003) Knee range of motion after total knee arthroplasty: how important is this as an outcome measure? J Arthroplast 18(3):286–294

8.

Kwon SK, Kang YG, Kim SJ, Chang CB, Seong SC, Kim TK (2010) Correlation between commonly used clinical outcome scales and patient satisfaction after total knee arthroplasty. J Arthroplast 25(7):1125–1130

9.

Mizner RL, Petterson SC, Clements KE, Zeni JA Jr, Irrgang JJ, Snyder-Mackler L (2011) Measuring functional improvement after total knee arthroplasty requires both performance-based and patient-report assessments: a longitudinal analysis of outcomes. J Arthroplast 26(5):728–737

10.

Lozano-Calderon SA, Shen J, Doumato DF, Greene DA, Zelicof SB (2013) Cruciate-retaining vs posterior-substituting inserts in total knee arthroplasty: functional outcome comparison. J Arthroplasty 28(2):234–242

11.

Gandhi R, Dhotar H, Razak F, Tso P, Davey JR, Mahomed NN (2010) Predicting the longer term outcomes of total knee arthroplasty. Knee 17(1):15–18

12.

Vissers MM, Bussmann JB, de Groot IB, Verhaar JAN, Reijman M (2013) Physical functioning four years after total hip and knee arthroplasty. Gait Posture 38(2):310–315

13.

Ali A, Sundberg M, Robertsson O, Dahlberg LE, Thorstensson CA, Redlund-Johnell I et al (2014) Dissatisfied patients after total knee arthroplasty: a registry study involving 114 patients with 8-13 years of follow-up. Acta Orthop 85(3):229–233

14.

Sugita T, Kikuchi Y, Aizawa T, Sasaki A, Miyatake N, Maeda I (2015) Quality of life after bilateral total knee arthroplasty determined by a 3-year longitudinal evaluation using the Japanese knee osteoarthritis measure. J Orthop Sci 20(1):137–142

15.

Pivec R, Issa K, Given K, Harwin SF, Greene KA, Hitt KD et al (2015) A prospective, longitudinal study of patient satisfaction following total knee arthroplasty using the short-form 36 (SF-36) survey stratified by various demographic and comorbid factors. J Arthroplast 30(3):374–378

16.

Elmallah RK, Cherian JJ, Jauregui JJ, Bhowmik-Stoker M, Beaver WB, Mont MA (2015) Determining health-related quality-of-life outcomes using the SF-6D preference-based measure in patients following total knee arthroplasty. J Arthroplast 30(7):1150–1153

17.

Cherian JJ, O'Connor MI, Robinson K, Jauregui JJ, Adleberg JA, Mont MA (2015) A prospective, longitudinal study of outcomes following total knee arthroplasty stratified by gender. J Arthroplast 30(8):1372–1377

18.

Sasaki E, Tsuda E, Yamamoto Y, Maeda S, Otsuka H, Ishibashi Y (2014) Relationship between patient-based outcome score and conventional objective outcome scales in post-operative total knee arthroplasty patients. Int Orthop 38(2):373–378

19.

da Silva RR, Santos AAM, Carvalho Junior JS, Matos MA (2014) Quality of life after total knee arthroplasty: systematic review. Rev Bras Ortop 49(5):520–527

20.

Lizaur-Utrilla A, Martinez-Mendez D, Miralles-Muñoz FA, Marco-Gomez L, Lopez-Prats FA (2016) Negative impact of waiting time for primary total knee arthroplasty on satisfaction and patient-reported outcome. Int Orthop 40(11):2303–2307

21.

Baier C, Wolfsteiner J, Otto F, Zeman F, Renkawitz T, Springorum HR, Maderbacher G, Grifka J (2017) Clinical, radiological and survivorship results after ten years comparing navigated and conventional total knee arthroplasty: a matched-pair analysis. Int Orthop 41(10):2037–2044

22.

Panni AS, Falez F, D'Apolito R, Corona K, Perisano C, Vasso M (2017) Long-term follow-up of a non-randomised prospective cohort of one hundred and ninety two total knee arthroplasties using the NexGen implant. Int Orthop 41(6):1155–1162

23.

Predescu V, Prescura C, Olaru R, Savin L, Botez P, Deleanu B (2017) Patient specific instrumentation versus conventional knee arthroplasty: comparative study. Int Orthop 41(7):1361–1367

24.

Akai M, Doi T, Fujino K, Iwaya T, Kurosawa H, Nasu T (2005) An outcome measure for Japanese people with knee osteoarthritis. J Rheumatol 32(8):1524–1532

25.

Kahn TL, Soheili AC, Schwarzkopf R (2014) Poor WOMAC scores in contralateral knee negatively impact TKA outcomes: data from the osteoarthritis initiative. J Arthroplast 29(8):1580–1585

26.

Davinelli S, Willcox DC, Scapagnini G (2012) Extending healthy ageing: nutrient sensitive pathway and centenarian population. Immun Ageing. https://doi.org/10.1186/1742-4933-9-9

27.

Blagosklonny MV (2012) How to save Medicare: the anti-aging remedy. Aging 4(8):547–552

28.

Neogi T (2013) The epidemiology and impact of pain in osteoarthritis. Osteoarthr Cartil 21(9):1145–1153

29.

Guccione AA, Felson DT, Anderson JJ, Anthony JM, Zhang Y, Wilson PWF, Kelly-Hayes M, Wolf PA, Kreger BE, Kannel WB (1994) The effects of specific medical conditions on the functional limitations of elders in the Framingham study. Am J Public Health 84(3):351–358
Acknowledgments
We thank Mr. Yasuhiro Kikuchi for his help with data collection.
Ethics declarations
Conflict of interest
The authors declare that they have no conflict of interest.
Ethical approval
The study protocol was approved by the Institutional Review Board of Tohoku Orthopaedic Clinic (approval number 2006-003). Written informed consent for the use of data in the study was obtained from all patients.
Informed consent
Informed consent was obtained from all individual participants included in the study.
About this article
Cite this article
Sugita, T., Miyatake, N., Aizawa, T. et al. Quality of life after staged bilateral total knee arthroplasty: a minimum five-year follow-up study of seventy-eight patients. International Orthopaedics (SICOT) 43, 2309–2314 (2019). https://doi.org/10.1007/s00264-018-4196-0
Received:

Accepted:

Published:

Issue Date:
Keywords
Total knee arthroplasty

Osteoarthritis

Quality of life

Longitudinal evaluation

Japanese Knee Osteoarthritis Measure