Abstract
Objective
To investigate the effect of knee arthroscopic synovectomy (AS) on the disease activity, quality-of-life (QoL), and the functional status of patients with rheumatoid arthritis (RA).
Materials and methods
A retrospective analysis was conducted on the outcomes of AS performed on 138 RA patients; pre-surgery assessments were done using Disease Activity score (DAS 28) and Routine Assessment of Patient Index Data З (RAPID-3) on а multidimensional health-assessment questionnaire for disease activity, EuroQol-5D (EQ-5D) and the Short-Form Medical Outcomes Study (SF-36) for quality of life, and the Health Assessment Questionnaire (HAQ) for functional status. The pain response to SA was measured by а visual analogue score (VAS) and the Knee Society Score (KSS).
Results
All parameters assessed in the study showed significant positive changes: the activity of the disease decreased, and patients' functional status and QoL improved.
Conclusion
AS is effective treatment for recurrent synovitis of the knee in RA patients. This technique improves the functional status of patients and their quality of life and reduces the activity of the disease.
Access options
Buy single article
Instant access to the full article PDF.
US$ 39.95
Tax calculation will be finalised during checkout.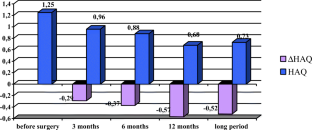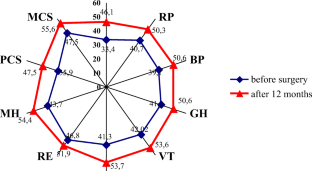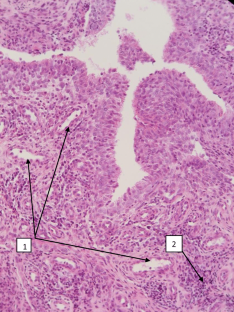 References
1.

Nasonov EL (2014) Achievements in rheumatology in the XXI century. Rheumatology Science and Practice 52(2):133–140. https://doi.org/10.14412/1995-4484-2014-133-140

2.

Chen GQ et al (2011) A 2-year follow-up results of knee arthroscopic synovectomy plus disease modifying antirheumatic drugs for the treatment of rheumatoid arthritis. Zhonghua Yi Xue Za Zhi 91(29):2034–2037

3.

Karateev DE, Radenska-Lopovok SG, Nasonova VA, Ivanova MM (2003) Synovial membrane in the early stage of rheumatoid arthritis: clinico-morphological comparisons. Ter Arkh 75(5):12–20

4.

Kosinski M et al (2000) Determining minimally important changes in general and disease-specific health-related quality of life questionnaires in clinical trials of rheumatoid arthritis. Arthritis Rheum 43(7):1478–1487

5.

van der Heijde DM et al (1992) Validity of single variables and composite indices for measuring diseases activity in rheumatoid arthritis. Ann Rheum Dis 51(2):177–181

6.

Ogilvie-Harris DJ, Weisleder L (1995) Arthroscopic synovectomy of the knee: is it helpful? Arthroscopy 11(1):91–95

7.

Judas F et al (2007) Surgical procedures for treatment of the rheumatoid knee. Acta Reumatol Port 32(4):333–339

8.

Carl HD (2008) Effectiveness of arthroscopic synovectomy in rheumatoid arthritis. Z Rheumatol 67(6):485–490

9.

Ware JE Jr, Shernourne CD (1992) The MOS 36-item short-form health survey (SF-36). I Conceptual framework and item selection. Med Care 30(6):473–483

10.

Masłoń A et al (2007) Early clinical results of open and arthroscopic synovectomy in knee inflammation. Ortop Traumatol Rehabil 9(5):520–526

11.

Kerschbaumer F et al (1998) Combined arthroscopic and radiation synovectomy in rheumatoid arthritis. Orthopade 27(3):188–196

12.

Lipina M, Makarov M, Makarov S, Novikov A (2017) The degree of cartilage degradation assessed by serum biomarker levels changes after arthroscopic knee synovectomy in rheumatoid arthritis patients. Int Orthop 41(11):2259–2264. https://doi.org/10.1007/s00264-017-3634-8

13.

Outerbridge RE (1961) The etiology of chondromalacia patellae. J Bone Joint Surg Br 43(4:752–757

14.

Pincus T et al (2009) RAPID3—an index of physical function, pain, and global status as «vital signs» to improve care for people with chronic rheumatic diseases. Bull NYU Hosp Jt Dis 67(2):211–225

15.

Fiocco U et al (2005) Rheumatoid and psoriatic knee synovitis: clinical, grey scale, and power Doppler ultrasound assessment of the response to etanercept. Ann Rheum Dis 64(6):899–905

16.

Kanbe K, Inoue K (2006) Efficacy of arthroscopic synovectomy for the effect attenuation cases of infliximab in rheumatoid arthritis. Clin Rheumatol 25(6):877–881

17.

Kubacki J et al (2006) The value of synovectomy of the knee in the treatment of rheumatoid arthritis. Ortop Traumatol Rehabil 8(1):99–105

18.

Murgo A, Paresce E, Fantini F (2003) Arthroscopic synovectomy in chronic inflammatory rheumatism: clinical and functional aspects. Reumatismo 55(1):39–44

19.

Georgiannos D, Boutsiadis A, Agathangelidis F, Papastergiou S, Karataglis D, Bisbinas I (2017) Arthroscopically-assisted mini open partial synovectomy for the treatment of localized pigmented villonodular synovitis of the knee. A retrospective comparative study with long-term follow up. Int Orthop 41(5):925–930. https://doi.org/10.1007/s00264-016-3348-3

20.

van der Heijden L, Piner SR, van de Sande MA (2016) Pigmented villonodular synovitis: a crowdsourcing study of two hundred and seventy two patients. Int Orthop 40(12):2459–2468. https://doi.org/10.1007/s00264-016-3208-1

21.

Jain JK, Vidyasagar JV, Sagar R, Patel H, Chetan ML, Bajaj A (2013) Arthroscopic synovectomy in pigmented villonodular synovitis of the knee: clinical series and outcome. Int Orthop 37(12):2363–2369. https://doi.org/10.1007/s00264-013-2003-5

22.

Insall JN et al (1989) Rationale of the Knee Society clinical rating system. Clin Ortop Relat Res 248:13–14

23.

Larsen A, Dale K, Ee M (1977) Radiographic evaluation of rheumatoid arthritis and related conditions by standard reference films. Acta Radiol Diagn 18(4):481–491

24.

Prevoo ML et al (1995) Modified disease activity scores that include twenty-eight-joint counts. Development and validation in a prospective longitudinal study of patients with rheumatoid arthritis. Arthritis Rheum 38(1):44–48

25.

Rao SK, Rao S, Naik AM (2006) A descriptive clinical evaluation of arthroscopic synovectomy in rheumatoid knees: a prospective study. Ceylon Med J 51(1):7–9

26.

Kelley WN, Harris ED, Ruddy S, Sledge CB (1993) Textbook of rheumatology, 4th ed. Philadelphia WB Saunders Company 779–9

27.

Brooks R (1996) EuroQol: the current state of play. Health Policy 37(1):53–72
Ethics declarations
Conflict of interests
The authors declare that they have no conflict of interest.
Ethical approval
All procedures performed in studies involving human participants were in accordance with the ethical standards of the institutional and/or national research committee and with the 1964 Helsinki Declaration ant its later amendments or comparable ethical standards.
About this article
Cite this article
Lipina, M., Makarov, M., Mukhanov, V. et al. Arthroscopic synovectomy of the knee joint for rheumatoid arthritis. International Orthopaedics (SICOT) 43, 1859–1863 (2019). https://doi.org/10.1007/s00264-018-4160-z
Received:

Accepted:

Published:

Issue Date:
Keywords
Rheumatoid arthritis

Synovectomy

Knee

Arthroscopy

Quality of life

Synovitis

ᅟ