Abstract
Aims
To determine the baseline clinical characteristics of recreational marijuana users undergoing outpatient orthopaedic surgery. We hypothesized that patients who report marijuana use would have worse pain, function, and general health status.
Patients and methods
Nine-hundred and thirty-seven patients undergoing outpatient orthopaedic surgery were asked to fill out patient-reported outcome (PRO) tools. These PROs included the Patient-Reported Outcomes Measurement Information Systems (PROMIS) computer adaptive tests and legacy PROs unique to each patients' surgical site.
Results
Forty patients (4.2%) reported marijuana use. Marijuana use was associated with younger age (33 vs. 43 years, p < 0.001), having a history of fewer operations (1.8 vs. 3.2, p < 0.05), single marital status (68 vs. 38%, p < 0.01), and having a history of smoking cigarettes (63 vs. 31%, p < 0.0001). Marijuana use was found to be significantly associated with greater Marx lower extremity activity rating scale scores (8.5 points vs. 6.1 points, p < 0.05) and decreased pain intensity in the operative site (3.7 points vs. 5.0 points, p < 0.05). Multivariable analysis found that marijuana use was an independent factor associated with less pain intensity in the operative site (p < 0.05).
Conclusion
Our studies support other national studies that report increased marijuana use among younger patients and those who smoke cigarettes. The results do not support our hypothesis, as marijuana use was associated with less pain and better lower extremity activity rating scale scores when compared to non-users. Further research is warranted to analyze the effects of marijuana use on orthopaedic surgery patients.
Study design
Cross-sectional study.
Access options
Buy single article
Instant access to the full article PDF.
US$ 39.95
Tax calculation will be finalised during checkout.
Subscribe to journal
Immediate online access to all issues from 2019. Subscription will auto renew annually.
US$ 119
Tax calculation will be finalised during checkout.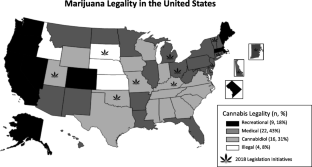 References
1.

Substance Abuse Mental Health Services Administration ("SAMHSA") (2007a) Results from the 2006 National Survey on drug use and health: National Findings (2010). SAMHSA, Rockville, MD

2.

Cerda M, Wall M, Keyes KM, Galea S, Hasin D (2012) Medical marijuana laws in 50 states: investigating the relationship between state legalization of medical marijuana and marijuana use, abuse and dependence. Drug Alcohol Depend 120(1–3):22–27. https://doi.org/10.1016/j.drugalcdep.2011.06.011

3.

Gallup AM, Newport F (2010) The Gallup poll: public opinion 2009. Rowman & Littlefield Publishers,

4.

Phillips TJ, Cherry CL, Cox S, Marshall SJ, Rice AS (2010) Pharmacological treatment of painful HIV-associated sensory neuropathy: a systematic review and meta-analysis of randomised controlled trials. PLoS One 5(12):e14433. https://doi.org/10.1371/journal.pone.0014433

5.

Martin-Sanchez E, Furukawa TA, Taylor J, Martin JL (2009) Systematic review and meta-analysis of cannabis treatment for chronic pain. Pain Med 10(8):1353–1368. https://doi.org/10.1111/j.1526-4637.2009.00703.x

6.

Machado Rocha FC, Stefano SC, De Cassia HR, Rosa Oliveira LM, Da Silveira DX (2008) Therapeutic use of Cannabis sativa on chemotherapy-induced nausea and vomiting among cancer patients: systematic review and meta-analysis. Eur J Cancer Care (Engl) 17(5):431–443. https://doi.org/10.1111/j.1365-2354.2008.00917.x

7.

Flachenecker P (2013) A new multiple sclerosis spasticity treatment option: effect in everyday clinical practice and cost-effectiveness in Germany. Expert Rev Neurother 13(3 Suppl 1):15–19. https://doi.org/10.1586/ern.13.1

8.

Jensen B, Chen J, Furnish T, Wallace M (2015) Medical marijuana and chronic pain: a review of basic science and clinical evidence. Curr Pain Headache Rep 19(10):50. https://doi.org/10.1007/s11916-015-0524-x

9.

Lynch ME, Campbell F (2011) Cannabinoids for treatment of chronic non-cancer pain; a systematic review of randomized trials. Br J Clin Pharmacol 72(5):735–744. https://doi.org/10.1111/j.1365-2125.2011.03970.x

10.

Robson P (2001) Therapeutic aspects of cannabis and cannabinoids. Br J Psychiatry 178:107–115

11.

Polen MR, Sidney S, Tekawa IS, Sadler M, Friedman GD (1993) Health care use by frequent marijuana smokers who do not smoke tobacco. West J Med 158(6):596–601

12.

Benson MK, Bentley AM (1995) Lung disease induced by drug addiction. Thorax 50(11):1125–1127

13.

Sridhar KS, Raub WA Jr, Weatherby NL, Metsch LR, Surratt HL, Inciardi JA, Duncan RC, Anwyl RS, McCoy CB (1994) Possible role of marijuana smoking as a carcinogen in the development of lung cancer at a young age. J Psychoactive Drugs 26(3):285–288. https://doi.org/10.1080/02791072.1994.10472442

14.

Flisberg P, Paech MJ, Shah T, Ledowski T, Kurowski I, Parsons R (2009) Induction dose of propofol in patients using cannabis. Eur J Anaesthesiol 26(3):192–195. https://doi.org/10.1097/EJA.0b013e328319be59

15.

Lawson TM, Rees A (1996) Stroke and transient ischaemic attacks in association with substance abuse in a young man. Postgrad Med J 72(853):692–693

16.

Mallat A, Roberson J, Brock-Utne JG (1996) Preoperative marijuana inhalation—an airway concern. Can J Anaesth 43(7):691–693. https://doi.org/10.1007/BF03017953

17.

Heng M, McTague MF, Lucas RC, Harris MB, Vrahas MS, Weaver MJ (2018) Patient perceptions of the use of medical marijuana in the treatment of pain after musculoskeletal trauma: a survey of patients at 2 trauma centers in Massachusetts. J Orthop Trauma 32(1):e25–e30. https://doi.org/10.1097/BOT.0000000000001002

18.

Henn RF 3rd, Dubina AG, Jauregui JJ, Smuda MP, Tracy JK (2017) The Maryland Orthopaedic Registry (MOR): design and baseline characteristics of a prospective registry. J Clin Orthop Trauma 8(4):301–307. https://doi.org/10.1016/j.jcot.2017.04.003

19.

Iannotti JP, Deutsch A, Green A, Rudicel S, Christensen J, Marraffino S, Rodeo S (2013) Time to failure after rotator cuff repair: a prospective imaging study. J Bone Joint Surg Am 95(11):965–971. https://doi.org/10.2106/JBJS.L.00708

20.

Bartl C, Kouloumentas P, Holzapfel K, Eichhorn S, Wortler K, Imhoff A, Salzmann GM (2012) Long-term outcome and structural integrity following open repair of massive rotator cuff tears. Int J Shoulder Surg 6(1):1–8. https://doi.org/10.4103/0973-6042.94304

21.

Agrawal A, Lynskey MT (2009) Tobacco and cannabis co-occurrence: does route of administration matter? Drug Alcohol Depend 99(1–3):240–247. https://doi.org/10.1016/j.drugalcdep.2008.08.007

22.

Weinberger AH, Funk AP, Goodwin RD (2016) A review of epidemiologic research on smoking behavior among persons with alcohol and illicit substance use disorders. Prev Med 92:148–159. https://doi.org/10.1016/j.ypmed.2016.05.011

23.

Schauer GL, Berg CJ, Kegler MC, Donovan DM, Windle M (2015) Assessing the overlap between tobacco and marijuana: trends in patterns of co-use of tobacco and marijuana in adults from 2003-2012. Addict Behav 49:26–32. https://doi.org/10.1016/j.addbeh.2015.05.012

24.

Hindocha C, Shaban ND, Freeman TP, Das RK, Gale G, Schafer G, Falconer CJ, Morgan CJ, Curran HV (2015) Associations between cigarette smoking and cannabis dependence: a longitudinal study of young cannabis users in the United Kingdom. Drug Alcohol Depend 148:165–171. https://doi.org/10.1016/j.drugalcdep.2015.01.004

25.

Ramo DE, Liu H, Prochaska JJ (2012) Tobacco and marijuana use among adolescents and young adults: a systematic review of their co-use. Clin Psychol Rev 32(2):105–121. https://doi.org/10.1016/j.cpr.2011.12.002

26.

Goodwin RD, Sheffer CE, Chartrand H, Bhaskaran J, Hart CL, Sareen J, Bolton J (2014) Drug use, abuse, and dependence and the persistence of nicotine dependence. Nicotine Tob Res 16(12):1606–1612. https://doi.org/10.1093/ntr/ntu115

27.

Prudius D, Weber P, Matejovska Kubesova H, Meluzinova H, Polcarova V, Bielakova K (2017) Pulmonary embolism in the hospitalized patients 65+ in relation to presence of diabetes in 2007-2015. Adv Gerontol 30(5):703–708

28.

Goodwin RD, Pacek LR, Copeland J, Moeller SJ, Dierker L, Weinberger A, Gbedemah M, Zvolensky MJ, Wall MM, Hasin DS (2018) Trends in daily cannabis use among cigarette smokers: United States, 2002-2014. Am J Public Health 108(1):137–142. https://doi.org/10.2105/AJPH.2017.304050

29.

Bryson EO, Frost EA (2011) The perioperative implications of tobacco, marijuana, and other inhaled toxins. Int Anesthesiol Clin 49(1):103–118. https://doi.org/10.1097/AIA.0b013e3181dd4f53

30.

Campbell FA, Tramer MR, Carroll D, Reynolds DJ, Moore RA, McQuay HJ (2001) Are cannabinoids an effective and safe treatment option in the management of pain? A qualitative systematic review. BMJ 323(7303):13–16

31.

Fitzcharles MA, Baerwald C, Ablin J, Hauser W (2016) Efficacy, tolerability and safety of cannabinoids in chronic pain associated with rheumatic diseases (fibromyalgia syndrome, back pain, osteoarthritis, rheumatoid arthritis): a systematic review of randomized controlled trials. Schmerz 30(1):47–61. https://doi.org/10.1007/s00482-015-0084-3

32.

Hill KP (2015) Medical marijuana for treatment of chronic pain and other medical and psychiatric problems: a clinical review. JAMA 313(24):2474–2483. https://doi.org/10.1001/jama.2015.6199

33.

Whiting PF, Wolff RF, Deshpande S, Di Nisio M, Duffy S, Hernandez AV, Keurentjes JC, Lang S, Misso K, Ryder S, Schmidlkofer S, Westwood M, Kleijnen J (2015) Cannabinoids for medical use: a systematic review and meta-analysis. Jama 313(24):2456–2473. https://doi.org/10.1001/jama.2015.6358

34.

Jamison RN, Sbrocco T, Parris WC (1989) The influence of physical and psychosocial factors on accuracy of memory for pain in chronic pain patients. Pain 37(3):289–294

35.

Eich E, Reeves JL, Jaeger B, Graff-Radford SB (1985) Memory for pain: relation between past and present pain intensity. Pain 23(4):375–380

36.

Bernstein DN, Sood A, Mellema JJ, Li Y, Ring D (2017) Lifetime prevalence of and factors associated with non-traumatic musculoskeletal pains amongst surgeons and patients. Int Orthop 41(1):31–38. https://doi.org/10.1007/s00264-016-3338-5

37.

Deshpande A, Mailis-Gagnon A, Zoheiry N, Lakha SF (2015) Efficacy and adverse effects of medical marijuana for chronic noncancer pain: systematic review of randomized controlled trials. Can Fam Physician 61(8):e372–e381

38.

Pritchett JW (2018) Outcome of surgery for nerve injury following total hip arthroplasty. Int Orthop 42(2):289–295. https://doi.org/10.1007/s00264-017-3724-7

39.

Andrei D, Popa I, Brad S, Iancu A, Oprea M, Vasilian C, Poenaru DV (2017) The variability of vertebral body volume and pain associated with osteoporotic vertebral fractures: conservative treatment versus percutaneous transpedicular vertebroplasty. Int Orthop 41(5):963–968. https://doi.org/10.1007/s00264-017-3409-2

40.

Motififard M, Omidian A, Badiei S (2017) Pre-emptive injection of peri-articular-multimodal drug for post-operative pain management in total knee arthroplasty: a double-blind randomized clinical trial. Int Orthop 41(5):939–947. https://doi.org/10.1007/s00264-016-3357-2

41.

Li D, Tan Z, Kang P, Shen B, Pei F (2017) Effects of multi-site infiltration analgesia on pain management and early rehabilitation compared with femoral nerve or adductor canal block for patients undergoing total knee arthroplasty: a prospective randomized controlled trial. Int Orthop 41(1):75–83. https://doi.org/10.1007/s00264-016-3278-0

42.

Song MH, Kim BH, Ahn SJ, Yoo SH, Kang SW, Kim YJ, Kim DH (2016) Peri-articular injections of local anaesthesia can replace patient-controlled analgesia after total knee arthroplasty: a randomised controlled study. Int Orthop 40(2):295–299. https://doi.org/10.1007/s00264-015-2940-2

43.

Menendez ME, Ring D, Bateman BT (2015) Preoperative opioid misuse is associated with increased morbidity and mortality after elective orthopaedic surgery. Clin Orthop Relat Res 473(7):2402–2412. https://doi.org/10.1007/s11999-015-4173-5

44.

Rozell JC, Courtney PM, Dattilo JR, Wu CH, Lee GC (2017) Preoperative opiate use independently predicts narcotic consumption and complications after total joint arthroplasty. J Arthroplast 32(9):2658–2662. https://doi.org/10.1016/j.arth.2017.04.002

45.

Bachhuber MA, Saloner B, Cunningham CO, Barry CL (2014) Medical cannabis laws and opioid analgesic overdose mortality in the United States, 1999-2010. JAMA Intern Med 174(10):1668–1673. https://doi.org/10.1001/jamainternmed.2014.4005

46.

Gable RS (2004) Comparison of acute lethal toxicity of commonly abused psychoactive substances. Addiction 99(6):686–696. https://doi.org/10.1111/j.1360-0443.2004.00744.x

47.

Hall W, Degenhardt L (2009) Adverse health effects of non-medical cannabis use. Lancet 374(9698):1383–1391. https://doi.org/10.1016/S0140-6736(09)61037-0

48.

Lopez-Quintero C, de los Perez CJ, Hasin DS, Okuda M, Wang S, Grant BF, Blanco C (2011) Probability and predictors of transition from first use to dependence on nicotine, alcohol, cannabis, and cocaine: results of the National Epidemiologic Survey on Alcohol and Related Conditions (NESARC). Drug Alcohol Depend 115(1–2):120–130. https://doi.org/10.1016/j.drugalcdep.2010.11.004

49.

Ramaekers JG, Berghaus G, van Laar M, Drummer OH (2004) Dose related risk of motor vehicle crashes after cannabis use. Drug Alcohol Depend 73(2):109–119

50.

Brady JE, Li G (2014) Trends in alcohol and other drugs detected in fatally injured drivers in the United States, 1999-2010. Am J Epidemiol 179(6):692–699. https://doi.org/10.1093/aje/kwt327

51.

Volkow ND, Baler RD, Compton WM, Weiss SR (2014) Adverse health effects of marijuana use. N Engl J Med 370(23):2219–2227. https://doi.org/10.1056/NEJMra1402309
Funding
This work was supported by a grant from The James Lawrence Kernan Hospital Endowment Fund, Incorporated.
Ethics declarations
Conflict of interest
On behalf of all authors, the corresponding author states that there is no conflict of interest.
Approval
This study was approved by the Institutional Review Board (IRB) Committee at the University of Maryland, Baltimore (HP-00062261).
About this article
Cite this article
Medina, S.H., Nadarajah, V., Jauregui, J.J. et al. Orthopaedic surgery patients who use recreational marijuana have less pre-operative pain. International Orthopaedics (SICOT) 43, 283–292 (2019). https://doi.org/10.1007/s00264-018-4101-x
Received:

Accepted:

Published:

Issue Date:
Keywords
Marijuana

Orthopaedic surgery

Clinical characteristics

Substance use