Abstract
Objects
The purpose of this study is to investigate the role of exosomal lncRNAs from plasma and from synovial fluid in patients with osteoarthritis (OA) and to determine their diagnostic value in distinguishing the early stage of OA from progressive stage of OA.
Methods
Participants were divided into three groups. The control  group included 20 pre-arthritic patients, early OA group included 20 patients in the early OA, and late-stage OA group included 22 patients in the late-stage OA. For all subjects, blood sample from cubital vein and synovial fluid sample from knee joint were collected. Exosomes were extracted by ultracentrifugation. LncRNAs were extracted from exosomes using RNeasy kit, and the expression of several exosomal lncRNAs, including HOTAIR, PCGEM1, and GAS5, was measured using quantitative real-time polymerase chain reaction (qPCR). Also, Spearman's correlation test was performed to determine the correlation between exosomal lncRNA PCGEM1 and WOMAC index. Last, the receiver operating characteristic (ROC) curve was performed to determine the diagnostic value of exosomal lncRNA PCGEM1 in distinguishing the different stages of OA.
Results
First, for plasma, both the expression of exosomes in three groups and the relative expression of exosomal lncRNAs chosen showed no significant difference among three groups, while for synovial fluid sample, the expression of exosomes in early OA and late-stage OA was much markedly higher than that in controls; and the expression of exosomal lncRNA PCGEM1 was markedly higher in late-stage OA than in early OA, and markedly higher in early OA than controls. Both the expression of exosomal lncRNA HOTAIR and GAS5 showed no significant difference among these groups. Second, there was a positive relationship between exosomal lncRNA PCGEM1 and WOMAC Index. Last, ROC curve showed that the area values under the curve of exosomal lncRNA PCGEM1 were 0.879, 0.757, and 0.593, respectively.
Conclusion
Our study demonstrated that exosomal lncRNA PCGEM1 might be a powerful indicator in distinguishing the early OA from the late-stage OA.
This is a preview of subscription content, log in to check access.
Access options
Buy single article
Instant access to the full article PDF.
US$ 39.95
Price includes VAT for USA
Subscribe to journal
Immediate online access to all issues from 2019. Subscription will auto renew annually.
US$ 199
This is the net price. Taxes to be calculated in checkout.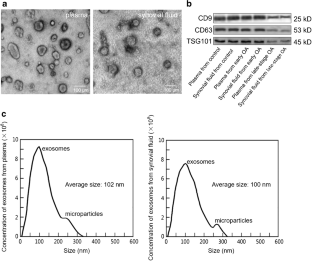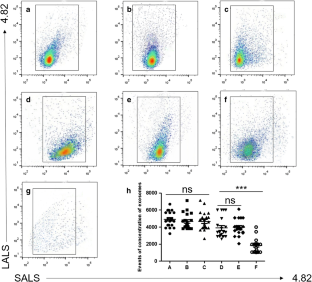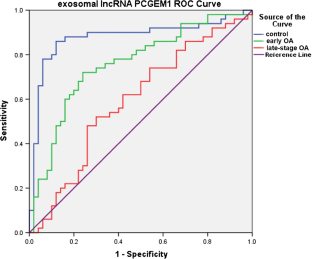 References
1.

Newberry SJ, FitzGerald J, SooHoo NF, Booth M, Marks J, Motala A, Apaydin E, Chen C, Raaen L, Shanman R, Shekelle PG (2017) Treatment of osteoarthritis of the knee: an update review. Rockville (MD). https://www.ncbi.nlm.nih.gov/pubmed/28825779

2.

Rahmati M, Nalesso G, Mobasheri A, Mozafari M (2017) Aging and osteoarthritis: central role of the extracellular matrix. Ageing Res Rev 40:20–30

3.

Flemming DJ, Gustas-French CN (2017) Rapidly progressive osteoarthritis: a review of the clinical and radiologic presentation. Curr Rheumatol Rep 19:42

4.

Shang X, Wang Z, Tao H (2017) Mechanism and therapeutic effectiveness of nerve growth factor in osteoarthritis pain. Ther Clin Risk Manag 13:951–956

5.

Azamar-Llamas D, Hernandez-Molina G, Ramos-Avalos B, Furuzawa-Carballeda J (2017) Adipokine contribution to the pathogenesis of osteoarthritis. Mediat Inflamm 2017:5468023

6.

Jorgensen AEM, Kjaer M, Heinemeier KM (2017) The effect of aging and mechanical loading on the metabolism of articular cartilage. J Rheumatol 44:410–417

7.

Kolhe R, Hunter M, Liu S, Jadeja RN, Pundkar C, Mondal AK, Mendhe B, Drewry M, Rojiani MV, Liu Y, Isales CM, Guldberg RE, Hamrick MW, Fulzele S (2017) Gender-specific differential expression of exosomal miRNA in synovial fluid of patients with osteoarthritis. Sci Rep 7:2029

8.

Blackwell RH, Foreman KE, Gupta GN (2017) The role of Cancer-derived exosomes in tumorigenicity & epithelial-to-mesenchymal transition. Cancers 9:105–115

9.

Moris D, Beal EW, Chakedis J, Burkhart RA, Schmidt C, Dillhoff M, Zhang X, Theocharis S, Pawlik TM (2017) Role of exosomes in treatment of hepatocellular carcinoma. Surg Oncol 26:219–228

10.

Silva A, Bullock M, Calin G (2015) The clinical relevance of long non-coding RNAs in cancer. Cancers 7:2169–2182

11.

Liu Q, Zhang X, Dai L, Hu X, Zhu J, Li L, Zhou C, Ao Y (2014) Long noncoding RNA related to cartilage injury promotes chondrocyte extracellular matrix degradation in osteoarthritis. Arthritis Rheum 66:969–978

12.

Jiang SD, Lu J, Deng ZH, Li YS, Lei GH (2016) Long noncoding RNAs in osteoarthritis. Joint Bone Spine 84: 553–556

13.

Liu T, Zhang X, Gao S, Jing F, Yang Y, Du L, Zheng G, Li P, Li C, Wang C (2016) Exosomal long noncoding RNA CRNDE-h as a novel serum-based biomarker for diagnosis and prognosis of colorectal cancer. Oncotarget 7:85551–85563

14.

Dong L, Lin W, Qi P, Xu MD, Wu X, Ni S, Huang D, Weng WW, Tan C, Sheng W, Zhou X, Du X (2016) Circulating long RNAs in serum extracellular vesicles: their characterization and potential application as biomarkers for diagnosis of colorectal Cancer. Cancer Epidemiol Biomark Prev 25:1158–1166

15.

Song J, Ahn C, Chun CH, Jin EJ (2014) A long non-coding RNA, GAS5, plays a critical role in the regulation of miR-21 during osteoarthritis. J Orthop Res 32:1628–1635

16.

Kang Y, Song J, Kim D, Ahn C, Park S, Chun CH, Jin EJ (2016) PCGEM1 stimulates proliferation of osteoarthritic synoviocytes by acting as a sponge for miR-770. J Orthop Res 34:412–418

17.

Zhang C, Wang P, Jiang P, Lv Y, Dong C, Dai X, Tan L, Wang Z (2016) Upregulation of lncRNA HOTAIR contributes to IL-1beta-induced MMP overexpression and chondrocytes apoptosis in temporomandibular joint osteoarthritis. Gene 586:248–253

18.

Kellgren JH, Lawrence JS (1957) Radiological assessment of osteo-arthrosis. Ann Rheum Dis 16:494

19.

Zhang A, Zhao JC, Kim J, Fong KW, Yang YA, Chakravarti D, Mo YY, Yu J (2015) LncRNA HOTAIR enhances the androgen-receptor-mediated transcriptional program and drives castration-resistant prostate cancer. Cell Rep 13:209–221

20.

Zhang Z, Zhou N, Huang J, Ho TT, Zhu Z, Qiu Z, Zhou X, Bai C, Wu F, Xu M, Mo YY (2016) Regulation of androgen receptor splice variant AR3 by PCGEM1. Oncotarget 7:15481–15491

21.

Chen L, Yang H, Xiao Y, Tang X, Li Y, Han Q, Fu J, Yang Y, Zhu Y (2016) LncRNA GAS5 is a critical regulator of metastasis phenotype of melanoma cells and inhibits tumor growth in vivo. OncoTargets Ther 9:4075–4087

22.

Chu CR, Williams AA, Coyle CH, Bowers ME (2012) Early diagnosis to enable early treatment of pre-osteoarthritis. Arthritis Res Ther 14:212

23.

Cross M, Smith E, Hoy D, Nolte S, Ackerman I, Fransen M, Bridgett L, Williams S, Guillemin F, Hill CL, Laslett LL, Jones G, Cicuttini F, Osborne R, Vos T, Buchbinder R, Woolf A, March L (2014) The global burden of hip and knee osteoarthritis: estimates from the global burden of disease 2010 study. Ann Rheum Dis 73:1323–1330

24.

Martel-Pelletier J, Barr AJ, Cicuttini FM, Conaghan PG, Cooper C, Goldring MB, Goldring SR, Jones G, Teichtahl AJ, Pelletier JP (2016) Osteoarthritis. Nat Rev Dis Primers 2:16072

25.

Dong T, Chang H, Zhang F, Chen W, Zhu Y, Wu T, Zhang Y (2015) Calcitonin gene-related peptide can be selected as a predictive biomarker on progression and prognosis of knee osteoarthritis. Int Orthop 39:1237–1243

26.

Mabey T, Honsawek S, Saetan N, Poovorawan Y, Tanavalee A, Yuktanandana P (2014) Angiogenic cytokine expression profiles in plasma and synovial fluid of primary knee osteoarthritis. Int Orthop 38:1885–1892

27.

Lipina M, Makarov M, Makarov S, Novikov A (2017) The degree of cartilage degradation assessed by serum biomarker levels changes after arthroscopic knee synovectomy in rheumatoid arthritis patients. Int Orthop 41:1–6

28.

Prensner JR, Sahu A, Iyer MK, Malik R, Chandler B, Asangani IA, Poliakov A, Vergara IA, Alshalalfa M, Jenkins RB (2014) The IncRNAs PCGEM1 and PRNCR1 are not implicated in castration resistant prostate cancer. Oncotarget 5:1434–1438
Funding
This work was supported by the Hebei Science and Technology Science and Technology Support Program (1123038ZD).
Ethics declarations
Conflict of interest
The authors declare that they have no conflict of interest.
Ethical approval
Ethical approval was approved by the Ethics Committee of Cangzhou Central Hospital.
Informed consent
Informed consent was obtained from all individual participants included in the study.
Electronic supplementary material
About this article
Cite this article
Zhao, Y., Xu, J. Synovial fluid-derived exosomal lncRNA PCGEM1 as biomarker for the different stages of osteoarthritis. International Orthopaedics (SICOT) 42, 2865–2872 (2018). https://doi.org/10.1007/s00264-018-4093-6
Received:

Accepted:

Published:

Issue Date:
Keywords
lncRNA

Osteoarthritis

Exosomes