Abstract
Purpose
The long-term donor site outcome of non vascularized fibular harvest in paediatric age group is not well studied. We evaluated clinical and radiological characteristics of fibular harvest site in children at a minimum five year follow-up.
Methods
The patients with donor legs underwent both physical and radiographic examination. Clinical parameters evaluated were pain, neuromuscular weakness, and standing tibiocalcaneal hindfoot valgus in the donor limb. Radiologically, longitudinal non continuity in regeneration, medullary canal reformation, Malhotra grading, and lateral distal tibial angle (LDTA) were documented.
Results
Sixteen patients (18 legs) were available for follow-up. The average follow-up was 6.23 ± 1.1 years. None of the patients reported pain or neuromuscular weakness related to the donor leg. Five patients reported cosmesis issues related to exaggerated ankle valgus. Medullary canal restoration was seen in 3/14 regenerated fibulae. Harvested legs had overall higher fibular station than contralateral unintervened ankles. Non continuity in regeneration were seen in 4/18 legs. There was clinical hindfoot valgus, abnormal LDTA, and fibular station in these patients. Clinical valgus matched better with a combination of fibular station and LDTA (83.3%) rather than fibular station or LDTA (75%) alone.
Conclusions
Fibular regeneration was complete in more than 75% legs at follow-up of > five years but remodeling and reformation of medullary canal was delayed. Long-term fibular non regeneration was persistently responsible for development of ankle valgus deformity. Middle lower third fibular junction is critical area for non restoration of medullary canal and non continuity.
This is a preview of subscription content, log in to check access.
Access options
Buy single article
Instant access to the full article PDF.
US$ 39.95
Price includes VAT for USA
Subscribe to journal
Immediate online access to all issues from 2019. Subscription will auto renew annually.
US$ 199
This is the net price. Taxes to be calculated in checkout.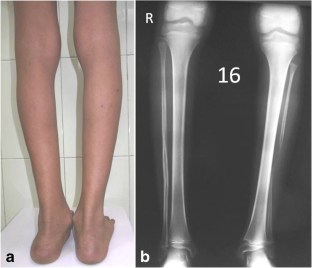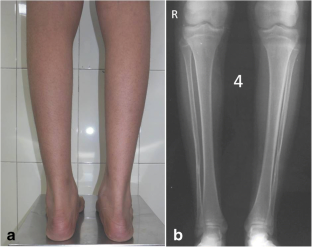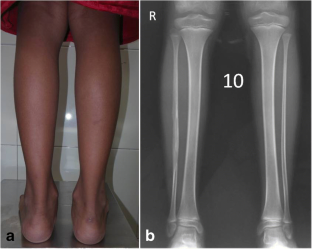 References
1.

González-Herranz P, del Río A, Burgos J, López-Mondejar JA, Rapariz JM (2003) Valgus deformity after fibular resection in children. J Pediatr Orthop 23:55–59

2.

Kang SH, Rhee SK, Song SW, Chung JW, Kim YC, Suhl KH (2010) Ankle deformity secondary to acquired fibular segmental defect in children. Clin Orthop Surg 2:179–185

3.

Agarwal A, Kumar D, Agrawal N, Gupta N (2017) Ankle valgus following non-vascularized fibular grafts in children - an outcome evaluation minimum two years after fibular harvest. Int Orthop 4:949–955

4.

Sulaiman AR, Wan Z, Awang S, Che Ahmad A, Halim AS, Ahmad Mohd Zain R (2015) Long-term effect on foot and ankle donor site following vascularized fibular graft resection in children. J Pediatr Orthop B 24:450–455

5.

Nathan SS, Athanasian E, Boland PJ, Healey JH (2009) Valgus ankle deformity after vascularized fibular reconstruction for oncologic disease. Ann Surg Oncol 16:1938–1945

6.

Pacelli LL, Gillard J, McLoughlin SW, Buehler MJ (2003) A biomechanical analysis of donor-site ankle instability following free fibular graft harvest. J Bone Joint Surg Am 85:597–603

7.

Bettin D, Böhm H, Clatworthy M, Zurakowski D, Link TM (2003) Regeneration of the donor side after autogenous fibula transplantation in 53 patients: evaluation by dual x-ray absorptiometry. Acta Orthop Scand 74:332–336

8.

Xin Z, Kim K, Jung S (2009) Regeneration of the fibula using a periosteum-preserving technique in children. Orthopedics 32:820

9.

Soejima O, Ogata K, Ishinishi T, Fukahori Y, Miyauchi R (1994) Anatomic considerations of the peroneal nerve for division of the fibula during high tibial osteotomy. Orthop Rev 23:244–247

10.

Haight HJ, Dahm DL, Smith J, Krause DA (2005) Measuring standing hindfoot alignment: reliability of goniometric and visual measurements. Arch Phys Med Rehabil 86:571–575

11.

Slullitel G, Álvarez V, Lopez V, Calvi JP, Calvo AB (2017) How accurate is clinical evaluation in hindfoot coronal alignment? Foot Ankle Orthop 2:1–7. https://doi.org/10.1177/2473011417731563

12.

Malhotra D, Puri R, Owen R (1984) Valgus deformity of the ankle in children with spina bifida aperta. J Bone Joint Surg Br 66:381–385

13.

Stevens PM (2015) Pediatric ankle valgus: background, anatomy, pathophysiology. emedicine.medscape.com/article/1358051-overview. Accessed 15 March 2018

14.

Burchardt H (1983) The biology of bone graft repair. Clin Orthop Relat Res 174:28–42

15.

Steinlechner CW, Mkandawire NC (2005) Non-vascularised fibular transfer in the management of defects of long bones after sequestrectomy in children. J Bone Joint Surg Br 87:1259–1263

16.

Guo F (1981) Observations of the blood supply to the fibula. Arch Orthop Trauma Surg 98:147–151
Ethics declarations
Conflict of interest
The authors declare that they have no conflict of interest.
Research involving human participants and/or animals
Retrospective study.
Informed consent
Yes.
About this article
Cite this article
Agarwal, A. Fibular donor site following non vascularized harvest: clinico-radiological outcome at minimal five year follow-up. International Orthopaedics (SICOT) 43, 1927–1931 (2019). https://doi.org/10.1007/s00264-018-4086-5
Received:

Accepted:

Published:

Issue Date:
Keywords
Non vascularized graft

Fibula

Children

Ankle valgus

Regeneration