Abstract
Purpose and hypothesis
Subsidence is a known reason for early failure of total hip arthroplasty (THA). In particular, cementless THA might be vulnerable to migration. The present study analysed femoral stem subsidence after primary cementless THA. Prosthetic and anatomical risk factors for early femoral stem subsidence were evaluated.
Methods
Two hundred thirty-one consecutive patients who underwent primary cementless THA in a single centre were retrospectively analysed. Post-operative results were evaluated in consideration of prosthetic and anatomical properties in correlation with subsidence on standing pelvic anteroposterior radiographs. Stem type and design, demographic data, BMI, canal flare index (CFI) and canal fill ratio (CFR) were evaluated.
Results
The subsidence rate was significantly higher in collarless femoral stems [3.1 mm (SD 2.8 mm) vs. 1.9 mm (SD 1.5 mm); p = 0.013] while the anatomical type of the proximal femur as described by the canal flare index did not influenced subsidence (p = 0.050). Also, the canal fill ratio showed no significant correlation with subsidence at any level.
Conclusions
In the present study, stem subsidence was significantly higher in the collarless group compared to collared stems. No anatomical parameter (CFI and CFR) could be identified as risk factor for subsidence. Neither age nor BMI influenced subsidence in this cohort. Still, subgroup analysis indicated a sex-dependent role of BMI. Prospective studies of large cohorts should address the problem of subsidence in the future.
Level of evidence
Retrospective therapeutic study, Level IV.
Access options
Buy single article
Instant access to the full article PDF.
USD 39.95
Price excludes VAT (USA)
Tax calculation will be finalised during checkout.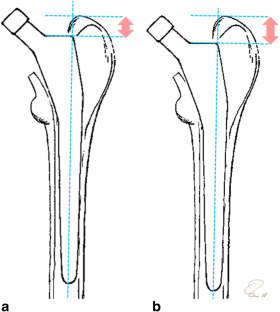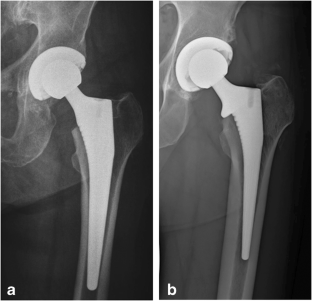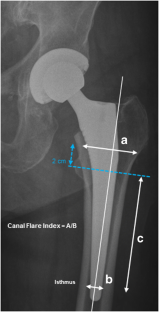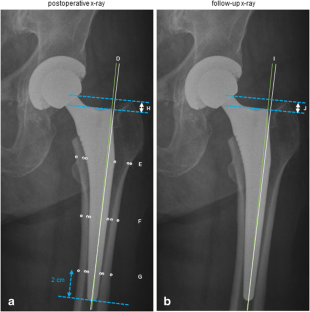 References
Campbell D, Mercer G, Nilsson KG et al (2011) Early migration characteristics of a hydroxyapatite-coated femoral stem: an RSA study. Int Orthop 35(4):483–488. https://doi.org/10.1007/s00264-009-0913-z

Kärrholm J, Borssén B, Löwenhielm G et al (1994) Does early micromotion of femoral stem prostheses matter? 4–7-year stereoradiographic follow-up of 84 cemented prostheses. J Bone Joint Surg Br. 76(6):912–917

Al-Najjim M, Khattak U, Sim J et al (2016) Differences in subsidence rate between alternative designs of a commonly used uncemented femoral stem. J Orthop 5;13(4):322–326. https://doi.org/10.1016/j.jor.2016.06.026

Ström H, Nilsson O, Milbrink J et al (2007) Early migration pattern of the uncemented CLS stem in total hip arthroplasties. Clin Orthop Relat Res 454:127–132

Selvaratnam V, Shetty V, Sahni V (2015) Subsidence in collarless Corail hip replacement. Open Orthop J 29(9):194–197. https://doi.org/10.2174/1874325001509010194

Sudhahar TA, Morapudi S, Branes K (2009) Evaluation of subsidence between collarless and collared Corail femoral cement less total hip replacement. J. Orthopaedics 6(2):e3 URL: http://www.jortho.org/2009/6/2/e3

Ström H, Mallmin H, Milbrink J et al (2003) The cone hip stem: a prospective study of 13 patients followed for 5 years with RSA. Acta Orthop Scand 74(5):525–530

Noble PC, Alexander JW, Lindahl LJ et al (1988) The anatomic basis of femoral component design. Clin Orthop Relat Res 235:148–165

Meding JB, Ritter MA, Keating EM et al (1997) Comparison of collared and collarless femoral components in primary uncemented total hip arthroplasty. J Arthroplast 12(3):273–280

Froimson MI, Garino J, Machenaud A et al (2007) Minimum 10-year results of a tapered, titanium, hydroxyapatite-coated hip stem: an independent review. J Arthroplasty 22(1):1–7

Jameson SS, Baker PN, Mason J et al (2013) Independent predictors of failure up to 7.5 years after 35 386 single-brand cementless total hip replacements: a retrospective cohort study using National Joint Registry data. Bone Joint J 95-B(6):747–757. https://doi.org/10.1302/0301-620X.95B6.31378

Demey G, Fary C, Lustig S et al (2011) Does a collar improve the immediate stability of uncemented femoral hip stems in total hip arthroplasty? A bilateral comparative cadaver study. J Arthroplasty 26(8):1549–1555. https://doi.org/10.1016/j.arth.2011.03.030

Faisal M, Thomas G, Young SK (2011) Subsidence of the Corail femoral component in the elderly. A retrospective radiological review. Hip Int 21(3):325–329. https://doi.org/10.5301/HIP.2011.8409

Kelley SS, Fitzgerald RH Jr, Rand JA, Ilstrup DM (1993) A prospective randomized study of a collar versus a collarless femoral prosthesis. Clin Orthop Relat Res (294):114–122

Ishii S, Homma Y, Baba T et al (2016) Does the canal fill ratio and femoral morphology of Asian females influence early radiographic outcomes of total hip arthroplasty with an uncemented proximally coated, tapered-wedge stem? J Arthroplast 31(7):1524–1528. https://doi.org/10.1016/j.arth.2016.01.016

Vidalain JP (2011) Twenty-year results of the cementless Corail stem. Int Orthop 35(2):189–194. https://doi.org/10.1007/s00264-010-1117-2

Ström H, Nilsson O, Milbrink J et al (2007) The effect of early weight bearing on migration pattern of the uncemented CLS stem in total hip arthroplasty. J Arthroplast 22(8):1122–1129

Albrektsson T, Brånemark PI, Hansson HA et al (1981) Osseointegrated titanium implants. Requirements for ensuring a long-lasting, direct bone-to-implant anchorage in man. Acta Orthop Scand 52(2):155–170

Galante J, Rostoker W, Lueck R et al (1971) Sintered fiber metal composites as a basis for attachment of implants to bone. J Bone Joint Surg Am 53(1):101–114

Engh CA, O'Connor D, Jasty M, McGovern TF et al (1992) Quantification of implant micromotion, strain shielding, and bone resorption with porous-coated anatomic medullary locking femoral prostheses. Clin Orthop Relat Res 285:13–29

Burke DW, O'Connor DO, Zalenski EB et al (1991) Micromotion of cemented and uncemented femoral components. J Bone Joint Surg Br 73(1):33–37

Callaghan JJ, Fulghum CS, Glisson RR et al (1992) The effect of femoral stem geometry on interface motion in uncemented porous-coated total hip prostheses. Comparison of straight-stem and curved-stem designs. J Bone Joint Surg Am 74(6):839–848

Hua J, Walker PS (1994) Relative motion of hip stems under load. An in vitro study of symmetrical, asymmetrical, and custom asymmetrical designs. J Bone Joint Surg Am 76(1):95–103

Cameron HU, Pilliar RM, MacNab I (1973) The effect of movement on the bonding of porous metal to bone. J Biomed Mater Res 7(4):301–311

Haddad RJ Jr, Cook SD, Thomas KA (1987) Biological fixation of porous-coated implants. J Bone Joint Surg Am 69(9):1459–1466 Review

Pilliar RM, Lee JM, Maniatopoulos C (1986) Observations on the effect of movement on bone ingrowth into porous-surfaced implants. Clin Orthop Relat Res 208:108–113

Boese CK, Bredow J, Dargel J, Eysel P et al (2016) Calibration marker position in digital templating of total hip arthroplasty. J Arthroplast 31(4):883–887. https://doi.org/10.1016/j.arth.2015.10.009
Acknowledgements
We thank Dr. N. Venkatesh Kumar for measurements and data acquisition.
Ethics declarations
Conflict of interest
The authors declare that they have no conflict of interest.
Ethical approval
This article does not contain any studies with human participants or animals performed by any of the authors.
About this article
Cite this article
Ries, C., Boese, C.K., Dietrich, F. et al. Femoral stem subsidence in cementless total hip arthroplasty: a retrospective single-centre study. International Orthopaedics (SICOT) 43, 307–314 (2019). https://doi.org/10.1007/s00264-018-4020-x
Received:

Accepted:

Published:

Issue Date:

DOI: https://doi.org/10.1007/s00264-018-4020-x
Keywords