Abstract
Purpose
Since its development in 1999, the SIGN nail has been used in over 190,000 surgeries spanning 55 countries. To date, however, evaluation of SIGN nail outcomes has been limited to small prospective studies or large retrospective studies using SIGN's online database. This study uses the experience of a single, independent Cambodian surgical clinic to characterize common complications, provide commentary on ways to reduce the risk of those complications, and determine whether several observed nail fractures were due to metallurgic defects.
Methods
Clinic medical records were queried to identify complications in patients with SIGN nails. Data was abstracted including age, sex, mechanism of injury, and latency between injury, primary implantation, and presentation with a complication. Two nails that fractured in vivo were analyzed by light microscopy, scanning electron microscopy, and polarized light microscopy after chemical etching.
Results
Fifty-four complications in 51 patients were identified. The most common complications were non-union (n = 26, 48%), infection (n = 16, 30%), flexion limitation (n = 11, 20%), nail fracture (n = 4, 7%), delayed union (n = 4, 7%), and malunion (n = 4, 7%). Other complications included broken or floating screws. Fractography revealed that two of the fractured nails most likely failed by fatigue followed by fast fracture at the site of non-union. We found no evidence of intrinsic nail defects. We identified multiple inconsistencies between SIGN's database and independent clinic records.
Conclusions
Non-union and infection were common relative to all complications. Based on radiographic review, risk for non-union and malunion can be minimized by selecting an appropriate nail diameter, using multiple interlocking screws, and employing the correct implant and approach for fracture morphology when using SIGN nails. Nail fractures were unlikely to be caused by metallurgical flaws. Further study is necessary to determine the appropriate management of non-unions based on radiographic and clinical factors.
Access options
Buy single article
Instant access to the full article PDF.
US$ 39.95
Tax calculation will be finalised during checkout.
Subscribe to journal
Immediate online access to all issues from 2019. Subscription will auto renew annually.
US$ 119
Tax calculation will be finalised during checkout.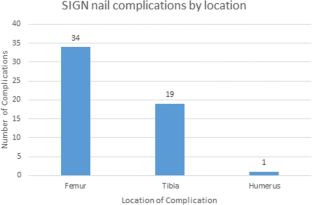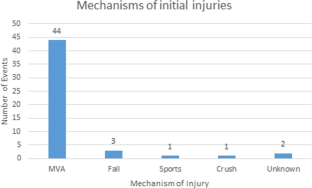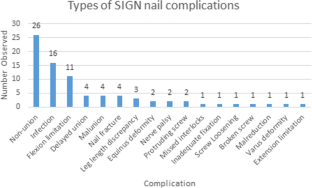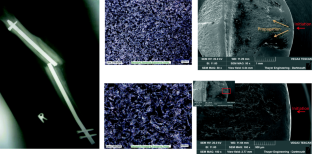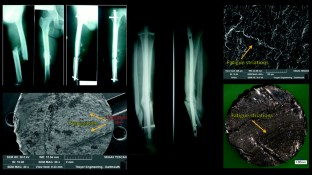 References
1.

Phillips J, Zirkle LG, Gosselin RA (2012) Achieving locked intramedullary fixation of long bone fractures: technology for the developing world. Int Orthop 36:2007–2013

2.

Clough JF, Zirkle LG, Schmitt RJ (2010) The role of SIGN in the development of a global orthopaedic trauma database. Clin Orthop Relat Res 468:2592–2597

3.

Sekimpi P, Okike K, Zirkle L, Jawa A (2011) Femoral fracture fixation in developing countries: an evaluation of the Surgical Implant Generation Network (SIGN) intramedullary nail. J Bone Joint Surg Am 93:1811–1818

4.

Ikem IC, Ogunlusi JD, Ine HR (2007) Achieving interlocking nails without using an image intensifier. Int Orthop 31:487–490

5.

Khan I, Javed S, Khan GN, Aziz A (2013) Outcome of intramedullary interlocking SIGN nail in tibial diaphyseal fracture. J Coll Physicians Surg Pak 23:203–207

6.

Panti JPL, Mario G, Arada EC (2013) Clinical outcomes of patients with isolated femoral shaft fractures treated with S.I.G.N interlock nails versus Cannulated Interlock Intramedullary nails. J Orthop Traumatol 10:182–187

7.

Ikpeme I, Ngim N, Udosen A et al (2011) External jig-aided intramedullary interlocking nailing of diaphyseal fractures: experience from a tropical developing centre. Int Orthop 35:107–111

8.

Young S, Lie SA, Hallan G et al (2011) Low infection rates after 34,361 intramedullary nail operations in 55 low- and middle-income countries: validation of the Surgical Implant Generation Network (SIGN) online surgical database. Acta Orthop 82:737–743

9.

Young S, Lie SA, Hallan G et al (2013) Risk factors for infection after 46,113 intramedullary nail operations in low- and middle-income countries. World J Surg 37:349–355

10.

Audigé L, Goldhahn S, Daigl M et al (2014) How to document and report orthopedic complications in clinical studies? A proposal for standardization. Arch Orthop Trauma Surg 134:269–275

11.

Horan TC, Mary A, Dudeck MA (2008) CDC/NHSN surveillance definition of health care–associated infection and criteria for specific types of infections in the acute care setting. Am J Infect Control 36:309–332

12.

Brinker MR, O'Connor DP (2009) Nonunions: evaluation and treatment. In: Browner BD (ed) Skeletal trauma: basic science, management, and reconstruction. Elsevier Health Sciences, pp 615–708

13.

Matityahu A, Elliott I, Marmor M et al (2014) Time intervals in the treatment of fractured femurs as indicators of the quality of trauma systems. Bull World Health Organ 92:40–50

14.

Young S, Sven Y, Banza LN et al (2013) Complications after intramedullary nailing of femoral fractures in a low-income country. Acta Orthop 84:460–467

15.

Lynch JR, Taitsman LA, Barei DP, Nork SE (2008) Femoral nonunion: risk factors and treatment options. J Am Acad Orthop Surg 16:88–97

16.

Hak DJ, Fitzpatrick D, Bishop JA et al (2014) Delayed union and nonunions: epidemiology, clinical issues, and financial aspects. Injury 45(Suppl 2):S3–S7

17.

Donegan DJ, Akinleye S, Taylor RM et al (2016) Intramedullary nailing of tibial shaft fractures: size matters. J Orthop Trauma 30:377–380

18.

Court-Brown CM, Keating JF, McQueen MM (1992) Infection after intramedullary nailing of the tibia. Incidence and protocol for management. J Bone Joint Surg Br 74:770–774

19.

Malik MHA, Harwood P, Diggle P, Khan SA (2004) Factors affecting rates of infection and nonunion in intramedullary nailing. J Bone Joint Surg Br 86:556–560

20.

Jenny JY, Jenny G, Kempf I (1994) Infection after reamed intramedullary nailing of lower limb fractures. A review of 1,464 cases over 15 years. Acta Orthop Scand 65:94–96

21.

Wolinsky PR, McCarty E, Shyr Y, Johnson K (1999) Reamed intramedullary nailing of the femur: 551 cases. J Trauma 46:392–399

22.

(2012) WHO | Implementation of the 5-year WHO strategy in Cambodia

23.

Road Traffic Accident and Victim Information System (RTAVIS) (2004) Cambodia road traffic accident and victim information system annual report 2004—executive summary

24.

Roehler DR, Ear C, Parker EM et al (2015) Fatal motorcycle crashes: a growing public health problem in Cambodia. Int J Inj Control Saf Promot 22:165–171

25.

Agarwal-Harding KJ, Meara JG, Greenberg SLM et al (2015) Estimating the global incidence of femoral fracture from road traffic collisions: a literature review. J Bone Joint Surg Am 97:e31

26.

Bucholz RW, Ross SE, Lawrence KL (1987) Fatigue fracture of the interlocking nail in the treatment of fractures of the distal part of the femoral shaft. J Bone Joint Surg Am 69:1391–1399

27.

SIGN fracture care international diversity creates equality of fracture care. In: SIGN Fracture Care International. https://signfracturecare.org/about/about-sign-founder/. Accessed 6 Sep 2017

28.

Gosselin RA, Merja H, Lew Z (2009) Cost-effectiveness of replacing skeletal traction by interlocked intramedullary nailing for femoral shaft fractures in a provincial trauma hospital in Cambodia. Int Orthop 33:1445–1448
Acknowledgments
The authors would like to thank SIGN Fracture Care International and Dr. Lewis Zirkle for providing data and contextual information for this study.
Ethics declarations
All procedures performed in studies involving human participants were in accordance with the ethical standards of the institutional and/or national research committee and with the 1964 Helsinki declaration and its later amendments or comparable ethical standards. For this type of study, formal consent is not required. This article does not contain any studies with animals performed by any of the authors. The Dartmouth Biomedical Engineering Center performed implant analysis pro bono and SIGN allowed use of a subset of its database without charges.
Conflict of interest
The authors declare that they have no conflict of interest.
About this article
Cite this article
Woelber, E., Martin, A., Van Citters, D. et al. Complications in patients with intramedullary nails: a case series from a single Cambodian surgical clinic. International Orthopaedics (SICOT) 43, 433–440 (2019). https://doi.org/10.1007/s00264-018-3966-z
Received:

Accepted:

Published:

Issue Date:
Keywords
SIGN nail

Non-union

Nail fracture