Abstract
Background
Severe flexible flatfoot deformity in children and adolescents is a complex problem. Calcaneal lengthening remains the gold standard for surgical correction at this institution. However, in a minority of patients, inadequate correction of valgus is noted at surgery and a further calcaneal shift osteotomy is done.
Methods
We have conducted a retrospective review of ten patients who received 15 combined minimally invasive calcaneal shift and calcaneal lengthening osteotomies, which were all performed by the senior author. All patients had failed conservative treatment. We describe our technique for double calcaneal osteotomy combining minimally invasive surgery (MIS) for the medial calcaneal shift with traditional open calcaneal lengthening osteotomy for treating children and adolescents with severe flexible flatfoot deformity.
Results
The average shift achieved was 8.07 mm. The average improvement in Meary's angle was 14.99°. All of them had radiological and clinical union at 12 weeks. None of the patients developed sural nerve injury, wound breakdown, or infection of the MIS incision.
Conclusion
In double calcaneal osteotomies, the MIS calcaneal medial shift technique can be used safely with potentially lower risks of wound complications and sufficient medial shift, compared to conventional open extensive surgery.
Implications
MIS calcaneal shift osteotomy has an advantage over open conventional open technique in cases where the skin is under tension like in combined calcaneal lengthening osteotomy. With experience, the procedure can be faster than an open procedure.
This is a preview of subscription content, log in to check access.
Access options
Buy single article
Instant access to the full article PDF.
US$ 39.95
Price includes VAT for USA
Subscribe to journal
Immediate online access to all issues from 2019. Subscription will auto renew annually.
US$ 199
This is the net price. Taxes to be calculated in checkout.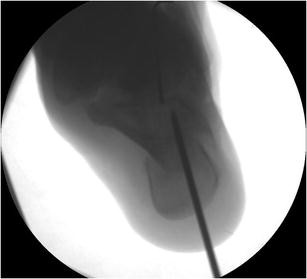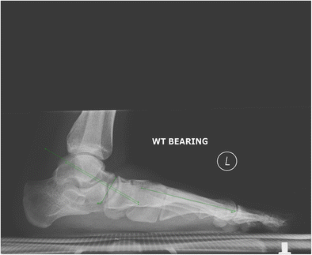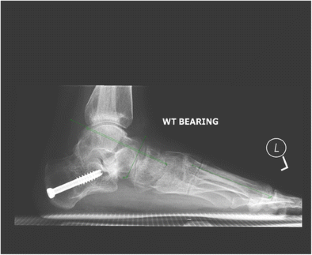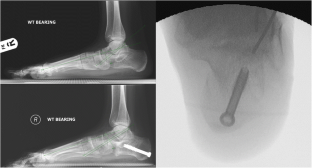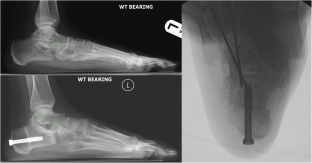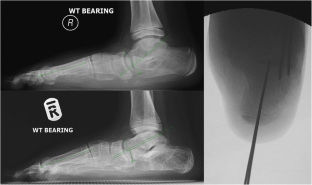 References
1.

Sullivan AJ (1999) Pediatric flatfoot: evaluation and management. J Am Acad Orthop Surg 7:44–53

2.

Van Aman SE, Schon LC (2006) Subtalar arthroereisis as adjunct treatment for type II posterior tibial tendon deficiency. Tech Foot Ankle Surg 5:117–125

3.

Coughlin MJ, Saltzman CL, Anderson RB (2013) Mann's surgery of the foot and ankle, 9th ed. Elsevier Saunders, Philadelphia

4.

Pomeroy GC, Manoli A (1997) A new operative approach for flatfoot secondary to posterior tibial tendon insufficiency: a preliminary report. Foot Ankle Int 18:206–212

5.

Rathjen KE, Mubarak SJ (1998) Calcaneal-cuboid-cuneiform osteotomy for the correction of valgus foot deformities in children. J Pediatr Orthop 18:775–782

6.

Viegas GV (2003) Reconstruction of the pediatric flexible planovalgus foot by using an Evans calcaneal osteotomy and augmentative medial split tibialis anterior tendon transfer. J Foot Ankle Surg 42:199–207

7.

Tennant JN, Carmont M, Phisitkul P (2014) Calcaneus osteotomy. Curr Rev Musculoskelet Med 7:271–276. https://doi.org/10.1007/s12178-014-9237-8

8.

McCall RE, Lillich JS, Harris JR, Johnston FA (1985) The Grice extraarticular subtalar arthrodesis: a clinical review. J Pediatr Orthop 5:442–445

9.

Mosca VS (1995) Calcaneal lengthening for valgus deformity of the hindfoot. Results in children who had severe, symptomatic flatfoot and skewfoot. J Bone Joint Surg Am 77:500–512

10.

De Pellegrin M, Moharamzadeh D, Strobl WM et al (2014) Subtalar extra-articular screw arthroereisis (SESA) for the treatment of flexible flatfoot in children. J Child Orthop 8:479–487

11.

Schindelin J, Arganda-Carreras I, Frise E et al (2012) Fiji: an open-source platform for biological-image analysis. Nat Methods 9:676–682

12.

Bolt PM, Coy S, Toolan BC (2007) A comparison of lateral column lengthening and medial translational osteotomy of the calcaneus for the reconstruction of adult acquired flatfoot. Foot Ankle Int 28:1115–1123. https://doi.org/10.3113/FAI.2007.1115

13.

DiDomenico LA, Haro AA, Cross DJ (2011) Double calcaneal osteotomy using single, dual-function screw fixation technique. J Foot Ankle Surg 50:773–775

14.

Frankel JP, Turf RM, Kuzmicki LM (1995) Double calcaneal osteotomy in the treatment of posterior tibial tendon dysfunction. J Foot Ankle Surg 34:254–261

15.

Kheir E, Borse V, Sharpe J et al (2015) Medial displacement calcaneal osteotomy using minimally invasive technique. Foot Ankle Int 36:248–252

16.

Kendal AR, Khalid A, Ball T et al (2015) Complications of minimally invasive calcaneal osteotomy versus open osteotomy. Foot Ankle Int 36:685–690

17.

Geng X, Xu J, Ma X et al (2015) Anatomy of the sural nerve with an emphasis on the incision for medial displacement calcaneal osteotomy. J Foot Ankle Surg 54:341–344. https://doi.org/10.1053/j.jfas.2014.07.008
Ethics declarations
Conflict of interest
The authors declare that they have no conflict of interest.
Informed consent
Informed consent was obtained from all individual participants included in the study.
About this article
Cite this article
Mourkus, H., Prem, H. Double calcaneal osteotomy with minimally invasive surgery for the treatment of severe flexible flatfeet. International Orthopaedics (SICOT) 42, 2123–2129 (2018). https://doi.org/10.1007/s00264-018-3910-2
Received:

Accepted:

Published:

Issue Date:
Keywords
Calcaneal lengthening

Calcaneal osteotomy

Calcaneal osteotomies

Minimal invasive surgery

Flatfoot deformity

Flexible flatfoot