Abstract
Background
Function after revision total hip arthroplasty (THA) in failed metal-on-metal (MoM) hip resurfacing arthroplasty (HRA) is variable, but post-operative complication rates are reportedly high. We hypothesized HRA conversion to THA using the direct anterior approach (DAA) would be associated with optimal outcome.
Methods
Seventeen MoM-HRAs in 15 patients (seven males, eight females) were revised through the DAA. The mean age was 45 years (28–59 yrs). The most common indications for revision were aseptic loosening of the acetabular component or of the femoral component and femoral neck fracture. In 16 hips, a conversion to a ceramic-on-ceramic (CoC) (13 hips) or to a metal-on polyethylene (MOP) (2), or to a large-head MoM (1) THA was done. An isolated femoral revision was done in one hip.
Results
After 6.7 ± 3 years, no hip had required a re-revision. The Postel-Merle d'Aubigne (PMA) functional score improved from 9 (4–14) to 16 (12–18) (p < 0.001). An intra-operative fracture of the greater trochanter (one hip) and dysesthesia of the lateral femoral cutaneous nerve (four hips) were reported. Mean serum chromium concentration decreased from 33.2 μg/L (11.8–62 μg/L) pre-operatively to 5.8 μg/L (0.4–35.5 μg/L) post-operatively (p < 0.001), and mean serum cobalt concentration decreased from 35.8 μg/L (6.3–85.5 μg/L) to 4.7 μg/L (0.26–25.7 μg/L) (p = 0.003).
Conclusion
Revision of failed MoM-HRA using the DAA resulted in an acceptable clinical outcome, no specific complication and no further surgery. A consistent decline in serum ion levels may be expected following HRA conversion to THA.
Access options
Buy single article
Instant access to the full article PDF.
USD 39.95
Price excludes VAT (USA)
Tax calculation will be finalised during checkout.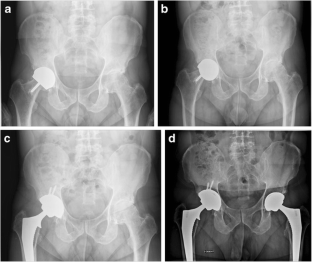 References
Krantz N, Miletic B, Migaud H et al (2012) Hip resurfacing in patients under thirty years old: an attractive option for young and active patients. Int Orthop 36:1789–1794

Murray DW, Grammatopoulos G, Pandit H et al (2012) The ten-year survival of the Birmingham hip resurfacing: an independent series. J Bone Joint Surg Br 94:1180–1186

Marshall DA, Pykerman K, Werle J et al (2014) Hip resurfacing versus total hip arthroplasty: a systematic review comparing standardized outcomes. Clin Orthop Relat Res 472:2217–2230

McBryde CW, Theivendran K, Thomas AM et al (2010) The influence of head size and sex on the outcome of Birmingham hip resurfacing. J Bone Joint Surg Am 92:105–112

National Joint Registry for England, Wales, Northern Ireland and the Isle of Man (2016) National Joint Registry 13th Annual Report. Retrieved from http://www.njrreports.org.uk/Portals/4/PDFdownloads/NJR%2013th%20Annual%20Report%202016.pdf

Matharu GS, Judge A, Murray DW et al (2016) Prevalence of and risk factors for hip resurfacing revision: a cohort study into the second decade after the operation. J Bone Joint Surg Am 98:1444–1452

Grammatopolous G, Pandit H, Kwon YM et al (2009) Hip resurfacings revised for inflammatory pseudotumour have a poor outcome. J Bone Joint Surg Br 91:1019–1024

Ball ST, Le Duff MJ, Amstutz HC (2007) Early results of conversion of a failed femoral component in hip resurfacing arthroplasty. J Bone Joint Surg Am 89:735–741

Desloges W, Catelas I, Nishiwaki T et al (2012) Do revised hip resurfacing arthroplasties lead to outcomes comparable to those of primary and revised total hip arthroplasties? Clin Orthop Relat Res 470:3134–3141

Gross TP, Liu F (2014) Outcomes after revision of metal-on-metal hip resurfacing arthroplasty. J Arthroplast 29:219–223

Siguier T, Siguier M, Brumpt B (2004) Mini-incision anterior approach does not increase dislocation rate: a study of 1037 total hip replacements. Clin Orthop Relat Res 426:164–173

DeLee JG, Charnley J (1976) Radiological demarcation of cemented sockets in total hip replacement. Clin Orthop Relat Res (121):20-32

Gruen TA, McNeice GM, Amstutz HC (1979) "Modes of failure" of cemented stem-type femoral components: a radiographic analysis of loosening. Clin Orthop Relat Res 141:17–27

Engh CA, Bobyn JD, Glassman AH (1987) Porous-coated hip replacement. The factors governing bone ingrowth, stress shielding, and clinical results. J Bone Joint Surg Br 69:45–55

Brooker AF, Bowerman JW, Robinson RA et al (1973) Ectopic ossification following total hip replacement: incidence and a method of classification. J Bone Joint Surg Am 55:1629–1632

Matharu GS, Pandit HG, Murray DW (2017) Poor survivorship and frequent complications at a median of 10 years after metal-on-metal hip resurfacing revision. Clin Orthop Relat Res 475:304–314

Takamura KM, Amstutz HC, Lu Z et al (2014) Wear analysis of 39 conserve plus metal-on-metal hip resurfacing retrievals. J Arthroplast 29:410–415

Furnes O, Paxton E, Cafri G et al (2014) Distributed analysis of hip implants using six national and regional registries: comparing metal-on-metal with metal-on-highly cross-linked polyethylene bearings in cementless total hip arthroplasty in young patients. J Bone Joint Surg Am 96:25–33

Migaud H, Putman S, Krantz N et al (2011) Cementless metal-on-metal versus ceramic-on-polyethylene hip arthroplasty in patients less than fifty years of age: a comparative study with twelve to fourteen-year follow-up. J Bone Joint Surg Am 93:137–142

De Smet K, De Haan R, Calistri A et al (2008) Metal ion measurement as a diagnostic tool to identify problems with metal-on-metal hip resurfacing. J Bone Joint Surg Am 90:202–208

Mast NH, Laude F (2011) Revision total hip arthroplasty performed through the Hueter interval. J Bone Joint Surg Am 93:143–148

Hannemann F, Hartmann A, Schmitt J et al (2013) European multidisciplinary consensus statement on the use and monitoring of metal-on-metal bearings for total hip replacement and hip resurfacing. Orthop Traumatol Surg Res 99:263–271

US Food and Drug Administration. Medical Devices. Metal on Metal Hip implants. Information for Orthopaedic Surgeons. http://www.fda.gov/MedicalDevices/ProductsandMedicalProcedures/ImplantsandProsthetics/MetalonMetalHipImplants/

Sidaginamale RP, Joyce TJ, Lord JK et al (2013) Blood metal ion testing is an effective screening tool to identify poorly performing metal-on-metal bearingsurfaces. Bone Joint Res 2:84–95

Ball ST, Severns D, Linn M et al (2013) What happens to serum metal ion levels after a metal-on-metal bearing is removed? J Arthroplast 28:53–55

Lainiala O, Reito A, Elo P et al (2015) Revision of metal-on-metal hip prostheses results in marked reduction of blood cobalt and chromium ion concentrations. Clin Orthop Relat Res 473:2305–2313

Urban RM, Tomlinson MJ, Hall DJ et al (2004) Accumulation in liver and spleen of metal particles generated at nonbearing surfaces in hip arthroplasty. J Arthroplast 19:94–101
Ethics declarations
Conflict of interest
The authors declare that they have no conflict of interest.
Informed consent
Informed consent was obtained from all individual participants included in the study.
About this article
Cite this article
Bouveau, V., Haen, TX., Poupon, J. et al. Outcomes after revision of metal on metal hip resurfacing to total arthroplasty using the direct anterior approach. International Orthopaedics (SICOT) 42, 2543–2548 (2018). https://doi.org/10.1007/s00264-018-3858-2
Received:

Accepted:

Published:

Issue Date:

DOI: https://doi.org/10.1007/s00264-018-3858-2
Keywords