Abstract
Purpose
Pain in and around the metatarsal heads, the metatarsal phalangeal joints and the surrounding soft tissues is called metatarsalgia. Non-operative treatment of metatarsalgia includes foot orthoses. Foot orthoses may be classified as standard or custom-made. A systematic review was carried out to determine whether custom-made foot orthoses are effective for treating forefoot pain.
Methods
The MEDLINE, CINAHL, The Cochrane Library and PEDro databases were searched for relevant articles reporting patients undergoing treatment for forefoot pain by means of custom-made foot orthoses. Two reviewers independently reviewed all titles and abstracts and extracted the available data. The study eligibility criteria were randomised controlled clinical trials that included participants with forefoot pain treated with custom-made foot orthoses and that reported levels of forefoot pain after the use of orthoses. The data consisted of patient demographics, pathologies related to forefoot pain, type of foot orthoses used, follow-up period and clinical outcomes.
Results
Nine studies were selected which had a total of 487 participants. The pathologies evaluated were rheumatoid arthritis, hallux abductus valgus and isolated and secondary metatarsalgia. The use of custom-made foot orthoses was the intervention that exerted the most significant reduction of the level of pain in the forefoot in most of the studies.
Conclusions
The use of custom-made foot orthoses improved the level of forefoot pain in rheumatoid arthritis, hallux abductus valgus and secondary metatarsalgia as it increases sole pressures.
Access options
Buy single article
Instant access to the full article PDF.
US$ 39.95
Tax calculation will be finalised during checkout.
Subscribe to journal
Immediate online access to all issues from 2019. Subscription will auto renew annually.
US$ 119
Tax calculation will be finalised during checkout.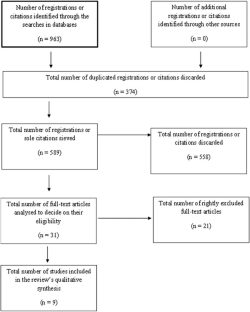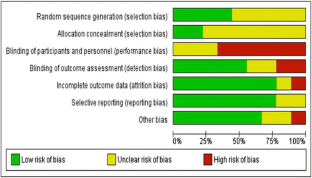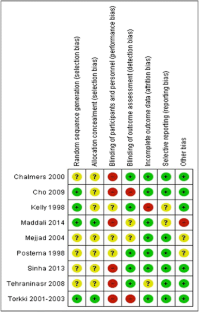 References
1.

Hawke F, Burns J, Radford J, du Toit V (2008) Custom foot orthoses for the treatment of foot pain: a systematic review. Cochrane Database Syst Rev 3:Art. No.:CD006801. https://doi.org/10.1186/1757-1146-1-S1-O46

2.

Benvenuti F, Ferrucci L, Guralnik JM et al (1995) Foot pain and disability in older persons: an epidemiologic survey. J Am Geriatr Soc 43:479–484

3.

Postema K, Burm PE, Zande ME, Limbeek JV (1998) Primary metatarsalgia: the influence of a custom moulded insole and a rockerbar on plantar pressure. Prosthetics Orthot Int 22:35–44. https://doi.org/10.3109/03093649809164455

4.

Moreno-de-la-Fuente JL (2009) Podología general y biomecánica 2nd edn. Masson/Elservier, Barcelona

5.

Viladot Pericé A 1922-2001 (2001) Patología del antepié. Springer Verlag Ibérica, Barcelona

6.

Kelly A, Winson I (1998) Use of ready-made insoles in the treatment of lesser metatarsalgia: a prospective randomized controlled trial. Foot Ankle Int 19:217–220

7.

Levy Benasuly AE, Cortés Barragán JM (2003) Ortopodología y aparato locomotor :ortopedia de pie y tobillo. Masson, Barcelona

8.

Boismal P, Castells Nat M, Fluvià Creus J et al (2004) Manual de técnicas en ortopodología. Ediciones Especializadas Europeas, Barcelona

9.

Chalmers AC, Busby C, Goyert J et al (2000) Metatarsalgia and rheumatoid arthritis—a randomized, single blind, sequential trial comparing 2 types of foot orthoses and supportive shoes. J Rheumatol 27:1643–1647

10.

Mejjad O, Vittecoq O, Pouplin S et al (2004) Foot orthotics decrease pain but do not improve gait in rheumatoid arthritis patients. Jt Bone Spine 71:542–545. https://doi.org/10.1016/j.jbspin.2003.09.007

11.

Cho NS, Hwang JH, Chang HJ (2009) Randomized controlled trial for clinical effects of varying types of insoles combined with specialized shoes in patients with rheumatoid arthritis of the foot. Clin Rehabil 23:512–521. https://doi.org/10.1177/0269215508101737

12.

Bongi SM, Del Rosso A, Mikhaylova S et al (2014) A comparison of two podiatric protocols for metatarsalgia in patients with rheumatoid arthritis and osteoarthritis. Clin Exp Rheumatol 32:855–863

13.

Tehraninasr A, Saeedi H, Forogh B et al (2008) Effects of insole with toe-separator and night splint on patients with painful hallux valgus: a comparative study. Prosthetics Orthot Int 32:79–83. https://doi.org/10.1080/03093640701669074

14.

Sinha S, Song HR, Kim HJ et al (2013) Medial arch orthosis for paediatric flatfoot. J Orthop Surg (Hong Kong) 21:37–43

15.

Torkki M, Malmivaara A, Seitsalo S et al (2003) Hallux valgus: immediate operation versus 1 year of waiting with or without orthoses: a randomized controlled trial of 209 patients. Acta Orthop Scand 74:209–215. https://doi.org/10.1080/00016470310013987

16.

Higgins JPT, Green S (2011) Manual Cochrane de revisiones sistemáticas de intervenciones. Cochrane 1–639. Available from www.cochrane-handbook.org

17.

Moher D, Liberati A, Tetzlaff J, Altman DG (2009) Preferred reporting items for systematic reviews and meta-analyses: the PRISMA statement. PLoS Med 6:e1000097. https://doi.org/10.1371/journal.pmed.1000097

18.

Urrútia G, Bonfill X (2010) Declaraci??n PRISMA: una propuesta para mejorar la publicaci??n de revisiones sistem??ticas y metaan??lisis. Med Clin (Barc) 135:507–511. https://doi.org/10.1016/j.medcli.2010.01.015

19.

Clarke M, Oxman AD (ed) (2003) Manual del Revisor Cochrane 4.1.6. The Cochrane Library, Oxford

20.

The Cochrane Collaboration (2012) Collecting Data / Cochrane Training. http://training.cochrane.org/resource/collecting-data. Accesed 26 Jun 2017
Ethics declarations
Conflict of interest
The authors declare that they have no conflict of interest.
Ethical approval
This article does not contain any studies with human participants or animals performed by any of the authors.
Appendix 1
Appendix 1
Search strategies applied in the different databases consulted:
MEDLINE con PubMed
1.

foot [MeSH Terms]

2.

forefoot, human [MeSH Terms]

3.

foot bones [MeSH Terms]

4.

foot joints [MeSH Terms]

5.

sesamoid bones [MeSH Terms]

6.

pain [MeSH Terms]

7.

pain* [Text Word]

8.

OR/1-5

9.

OR/6-7

10.

8 AND 9

11.

foot injuries [MeSH Terms]

12.

foot diseases [MeSH Terms]

13.

foot deformities [MeSH Terms]

14.

arthritis [MeSH Terms]

15.

arthrosis [Text Word]

16.

tendinopathy [MeSH Terms]

17.

fractures, bone [MeSH Terms]

18.

neuroma [MeSH Terms]

19.

sesamoiditis [Text Word]

20.

morton neuroma [Text Word] OR mortons neuroma [Text Word] OR intermetatarsal neuroma [Text Word]

21.

OR/14-19

22.

8 AND 21

23.

OR/11-13, 20

24.

OR/10, 22-23

25.

orthotic devices [MeSH Terms]

26.

insole* [Text Word]

27.

in-sole* [Text Word]

28.

innersole* [Text Word]

29.

in-shoe [Text Word]

30.

sole [Text Word] OR soles [Text Word]

31.

orthos* [Text Word]

32.

orthotic* [Text Word]

33.

orthopedic* [Text Word]

34.

orthopaedic [Text Word]

35.

OR/25-34

36.

24 AND 35

37.

randomized controlled trial [Publication Type]

38.

controlled clinical trial [Publication Type]

39.

randomized [Title/Abstract]

40.

placebo [Title/Abstract]

41.

clinical trials as topic [mh:noexp]

42.

randomly [Title/Abstract]

43.

trial [Title]

44.

OR/37-43

45.

animals [MeSH Terms] NOT humans [MeSH Terms]

46.

44 NOT 45

47.

36 AND 46
CINAHL
1.

Foot [MeSH Terms]

2.

forefoot

3.

Foot Bones [MeSH Terms]

4.

foot joint OR foot joints

5.

Sesamoid Bones [MeSH Terms]

6.

OR/1-5

7.

Pain [MeSH Terms]

8.

pain*

9.

OR/7-8

10.

6 AND 9

11.

Foot Injuries [MeSH Terms]

12.

Foot Diseases [MeSH Terms]

13.

Foot Deformities [MeSH Terms]

14.

OR/11-13

15.

morton neuroma OR mortons neuroma OR intermetatarsal neuroma

16.

OR/14-15

17.

arthritis [MeSH Terms]

18.

arthrosis

19.

Tendinopathy [MeSH Terms]

20.

Fractures [MeSH Terms]

21.

Neuroma [MeSH Terms]

22.

sesamoiditis

23.

OR/17-22

24.

6 AND 23

25.

OR/16, 24

26.

Orthoses [MeSH Terms]

27.

insole*

28.

in-sole*

29.

innersole*

30.

in- shoe

31.

sole OR soles

32.

orthos*

33.

orthotic*

34.

orthopedic*

35.

orthopaedic

36.

OR/26–35

37.

25 AND 36
The Cochrane Library
1.

MeSH descriptor: [Foot] explode all trees

2.

MeSH descriptor: [Forefoot, Human] explode all trees

3.

MeSH descriptor: [Foot Bones] explode all trees

4.

MeSH descriptor: [Foot Joints] explode all trees

5.

MeSH descriptor: [Foot Bones] explode all trees

6.

MeSH descriptor: [Pain] explode all trees

7.

pain*:ti,ab,kw

8.

#1 or #2 or #3 or #4 or #5

9.

#6 or #7

10.

#8 and #9

11.

MeSH descriptor: [Foot Injuries] explode all trees

12.

MeSH descriptor: [Foot Diseases] explode all trees

13.

MeSH descriptor: [Foot Deformities] explode all trees

14.

MeSH descriptor: [Arthritis] explode all trees

15.

arthrosis:ti,ab,kw

16.

MeSH descriptor: [Tendinopathy] explode all trees

17.

MeSH descriptor: [Fractures, Bone] explode all trees

18.

MeSH descriptor: [Neuroma] explode all tres

19.

sesamoiditis:ti,ab,kw

20.

morton neuroma:ti,ab,kw or mortons neuroma:ti,ab,kw or intermetatarsal neuroma:ti,ab,kw

21.

#14 or #15 or #16 or #17 or #18 or #19

22.

#8 and #21

23.

#11 or #12 or #13 or #20

24.

#10 or #22 or #23

25.

MeSH descriptor: [Orthotic Devices] explode all trees

26.

insole*:ti,ab,kw

27.

in-sole*:ti,ab,kw

28.

innersole*:ti,ab,kw

29.

in-shoe:ti,ab,kw

30.

sole:ti,ab,kw or soles:ti,ab,kw

31.

orthos*:ti,ab,kw

32.

orthotic*:ti,ab,kw

33.

orthopedic*:ti,ab,kw

34.

orthopaedic:ti,ab,kw

35.

#25 or #26 or #27 or #28 or #29 or #30 or #31 or #32 or #33 or #34

36.

#24 and #35
PEDro
Therapy: "orthoses, taping, splinting"

Problema: "pain"

Body part: "foot and ankle"

Method: "clinical trial"
About this article
Cite this article
Arias-Martín, I., Reina-Bueno, M. & Munuera-Martínez, P.V. Effectiveness of custom-made foot orthoses for treating forefoot pain: a systematic review. International Orthopaedics (SICOT) 42, 1865–1875 (2018). https://doi.org/10.1007/s00264-018-3817-y
Received:

Accepted:

Published:

Issue Date:
Keywords
Pain

Foot

Forefoot

Foot orthoses