Abstract
Purpose
Recently, there has been increasing interest in the use of dual mobility systems in the treatment of hip instability. The aim of this study was to investigate the re-revision rate of dual mobility cup compared to different surgical concepts when used for first-time hip revisions due to recurrent dislocations.
Methods
The data were derived from the Lithuanian Arthroplasty Register. For survival analysis, we used both re-revision for all reasons and for dislocations as an end-point. Cox proportional hazards models were used to analyze the influence of various covariates (age, gender, and implant concept).
Results
A total of 1388 revisions were recorded from 2011 to 2015, of which 362 were performed due to recurrent dislocation. Of the revisions, 247 were performed using dual mobility cups, while 115 were performed using a variety of other surgical constructs including constrained acetabular cups, conventional cups, femoral head exchanges, stem exchanges or anti-luxation rings. There were 27 re-revisions of which 15 were for additional dislocations. There were only 2% re-revisions due to dislocation with dual mobility vs 9% when using other surgical constructs. Cox regression adjusting for age and gender showed that in the short-term, dual mobility cup had a lower risk of revision due to dislocation as well as for all reasons compared to the other surgical constructs.
Conclusion
In revision of total hip arthroplasties for dislocation, significantly lower short-term re-revision rate was observed for patients revised with dual mobility cup.
This is a preview of subscription content, log in to check access.
Access options
Buy single article
Instant access to the full article PDF.
US$ 39.95
Price includes VAT for USA
Subscribe to journal
Immediate online access to all issues from 2019. Subscription will auto renew annually.
US$ 199
This is the net price. Taxes to be calculated in checkout.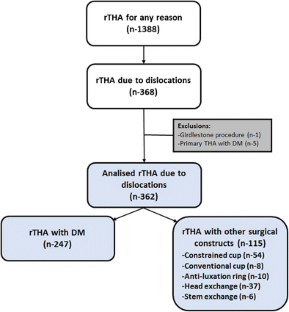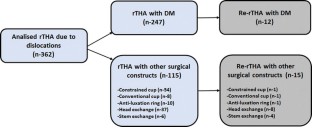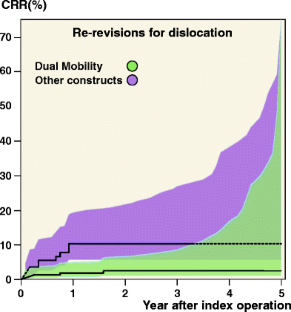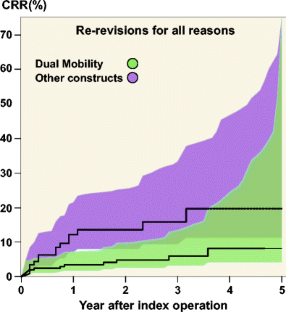 References
1.

Parvizi J, Picinic E, Sharkey PF (2008) Revision total hip arthroplasty for instability: surgical techniques and principles. J Bone Joint Surg Am 90(5):1134–1142

2.

Enocson A, Hedbeck CJ, Tidermark J, Pettersson H, Ponzer S, Lapidus LJ (2009) Dislocation of total hip replacement in patients with fractures of the femoral neck. Acta Orthop 80:184–189

3.

Zagra L, Caboni E (2017) Total hip arthroplasty instability treatment without dual mobility cups: brief overview and experience of other options. Int Orthop 41(3):661–668

4.

Bousquet G, Argenson C, Godeneche JL, Cisterne JP, Gazielly DF, Girardin P, Debiesse JL (1986) Recovery after aseptic loosening of cemented total hip arthroplasties with Bousquet's cementless prosthesis. Apropos of 136 cases. Rev Chir Orthop Reparatrice Appar Mot 72(2):70–74

5.

De Martino I, Triantafyllopolous GK, Sculco PK, Sculco TP (2014) Dual mobility cups in total hip arthroplasty. World J Orthop 5:180

6.

Philippot R, Adam P, Reckhaus M, Delangle F, Verdot F, Curvale G, Farizon F (2009) Prevention of dislocation in total hip revision surgery using a dual mobility design. Orthop Traumatol Surg Res 95:407

7.

Guyen O, Pibarot V, Vaz G, Chevillotte C, Béjui-Hugues J (2009) Use of a dual mobility socket to manage total hip arthroplasty instability. Clin Orthop Relat Res 467:465

8.

Massin P, Besnier L (2010) Acetabular revision of total hip arthroplasty using a press-fit dual mobility cup. Orthop Traumatol Surg Res 96:9

9.

Civinini R, Carulli C, Matassi F, Nistri L, Innocenti M (2012) A dual-mobility cup reduces risk of dislocation in isolated acetabular revisions. Clin Orthop Relat Res 470:3542

10.

Hailer NP, Weiss RJ, Stark A, Kärrholm J (2012) Dual-mobility cups for revision to instability are associated with a low rate of re-revisions due to dislocation. 228 patients from the Swedish hip Arthroplasty register. Acta Orthop 83:566

11.

Vasukutty NL, Middleton RG, Matthews EC, Young PS, Uzoigwe CE, Minhas TH (2012) The double-mobility acetabular component in revision total hip replacement. The United Kingdom experience. J Bone Joint Surg Br 94:603–608

12.

Wegrzyn J, Tebaa E, Jacquel A, Carret JP, Béjui-Hugues J, Pibarot V (2015) Can dual mobility cups prevent dislocation in all situations after revision Total hip Arthroplasty? J Arthroplast 30(4):631–640

13.

Caton JH, Ferreira A (2017) Dual-mobility cup: a new French revolution. Int Orthop 41(3):433–437

14.

Prudhon JL, Steffann F, Ferreira A, Verdier R, Aslanian T, Caton J (2014) Cementless dual-mobility cup in total hip arthroplasty revision. Int Orthop 38(12):2463–2468

15.

Hamadouche M, Ropars M, Rodaix C, Musset T, Gaucher F, Biau D, Courpied JP, Huten D (2017) Five to thirteen year results of a cemented dual mobility socket to treat recurrent dislocation. Int Orthop 41(3):513–519

16.

Viste A, Desmarchelier R, Fessy MH (2017) Dual mobility cups in revision total hip arthroplasty. Int Orthop 41(3):535–542

17.

Mohaddes M, Cnudde P, Rolfson O, Wall A, Kärrholm J (2017) Use of dual-mobility cup in revision hip arthroplasty reduces the risk for further dislocation: analysis of seven hundred and ninety one first-time revisions performed due to dislocation, reported to the Swedish hip Arthroplasty register. Int Orthop 41(3):583–588

18.

Sadoghi P, Leithner A, Labek G (2013) Overcoming boundaries of worldwide joint arthroplasty registers: the European Arthroplasty register minimal dataset. J Arthroplast 28(8):1327–1328

19.

Tarasevičius S, Čebatorius A, Valavičienė R, Stučinskas J, Leonas L, Robertsson O (2014) First outcome results after total knee and hip replacement from the Lithuanian arthroplasty register. Medicina (Kaunas) 50(2):87–91

20.

Dorey F, Nasser S, Amstutz H (1993) The need for confidence intervals in the presentation of orthopaedic data. J Bone Joint Surg Am 75(12):1844–1852

21.

StataCorp (2013) Stata statistical software: release 13. StataCorp LP, College Station

22.

Saragaglia D, Ruatti S, Refaie R (2013) Relevance of a press-fit dual mobility cup to deal with recurrent dislocation of conventional total hip arthroplasty: a 29-case series. Eur J Orthop Surg Traumatol 23(4):431–436

23.

Leiber-Wackenheim F, Brunschweiler B, Ehlinger M, Gabrion A, Mertl P (2011) Treatment of recurrent THR dislocation using of a cementless dual-mobility cup: a 59 cases series with a mean 8 years' follow-up. Orthop Traumatol Surg Res 97(1):8–13

24.

Stedman RC, Lim D, Husain A, Courtney PM, Nelson CL (2016) Single-component revisions are associated with dislocation after revision total hip arthroplasty at intermediate-term follow-up. Hip Int 26(3):233–236

25.

Berend KR, Lombardi AV Jr, Mallory TH, Adams JB, Russell JH, Groseth KL (2005) The long-term outcome of 755 consecutive constrained acetabular components in total hip arthroplasty examining the successes and failures. J Arthroplasty (Suppl 3) 20(7):93–102

26.

Della Valle CJ, Chang D, Sporer S, Berger RA, Rosenberg AG, Paprosky WG (2005) High failure rate of a constrained acetabular liner in revision total hip arthroplasty. J Arthroplasty (Suppl 3) 20(7):103–107

27.

Yun AG, Padgett D, Pellicci P, Dorr LD (2005) Constrained acetabular liners: mechanisms of failure. J Arthroplast 20(4):536–541

28.

Williams JT Jr, Ragland PS, Clarke S (2007) Constrained components for the unstable hip following total hip arthroplasty: a literature review. Int Orthop 31(3):273–277

29.

Boyer B, Philippot R, Geringer J, Farizon F (2012) Primary total hip arthroplasty with dual mobility socket to prevent dislocation: a 22-year follow-up of 240 hips. Int Orthop 36(3):511–518

30.

Hailer NP, Weiss RJ, Stark A, Kärrholm J (2012) The risk of revision due to dislocation after total hip arthroplasty depends on surgical approach, femoral head size, sex, and primary diagnosis. An analysis of 78,098 operations in the Swedish Hip Arthroplasty register. Acta Orthop 83(5):442–448

31.

Berry DJ (2017) Joint registries: what can we learn in 2016. Bone Joint J 99-B(1 supple a):3–7
Funding
This research was funded by a grant (No. MIP-049/2012) from the Research Council of Lithuania.
Ethics declarations
Conflict of interest
All authors declare no conflict of interest.
Ethical approval
All procedures performed in studies involving human participants were in accordance with the ethical standards of the institutional and/or national research committee and with the 1964 Helsinki declaration and its later amendments or comparable ethical standards. The study was approved by the ethical committee (No. BE-2-17).
Informed consent
Informed consent was obtained from all individual participants included in the study.
About this article
Cite this article
Stucinskas, J., Kalvaitis, T., Smailys, A. et al. Comparison of dual mobility cup and other surgical construts used for three hundred and sixty two first time hip revisions due to recurrent dislocations: five year results from Lithuanian arthroplasty register. International Orthopaedics (SICOT) 42, 1015–1020 (2018). https://doi.org/10.1007/s00264-017-3702-0
Received:

Accepted:

Published:

Issue Date:
Keywords
Arthroplasty

Revision

Dislocation

Dual mobility

Register