Abstract
Purpose
Lateral epicondylitis (LE), a common disease, especially in middle age, causes decreased productivity and economic losses. The first-line treatment for LE is conservative and consists of topical and oral anti-inflammatory drugs, ice application, and brace use. If the first-line treatment fails, second-line treatment modalities, which are generally invasive, are offered. Second-line therapeutic regimens include saline, corticosteroid, or platelet-rich plasma injections. Dry needling is relatively new. We hypothesized that dry needling would be at least as effective as first-line treatment for LE. We compared the outcomes of first-line treatment and dry needling.
Methods
The study allocated 110 patients into groups using online randomization software. After completing the Patient-rated Tennis Elbow Evaluation (PRTEE), patients in group I received dry needling, whereas those in group II received first-line treatment, consisting of ibuprofen 100 mg twice a day and a proximal forearm brace. The patients were evaluated after three weeks and six months.
Results
The study ultimately analyzed 92 patients. Although both treatment methods were effective at three weeks, dry needling was significantly more effective than the first-line treatment at six months.
Conclusion
Because of the low complication rate, dry needling is a safe method, and it might be an effective treatment option for LE.
Access options
Buy single article
Instant access to the full article PDF.
USD 39.95
Price excludes VAT (USA)
Tax calculation will be finalised during checkout.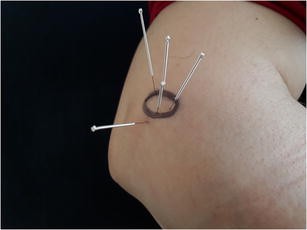 References
Dwyer AJ, Govindaswamy R, Elbouni T, Chambler AF (2010) Are "knife and fork" good enough for day case surgery of resistant tennis elbow? Int Orthop 34:57–61

Okçu G, Erkan S, Sentürk M, Ozalp RT, Yercan HS (2012) Evaluation of injection techniques in the treatment of lateral epicondylitis: a prospective randomized clinical trial. Acta Orthop Traumatol Turc 46:26–29

Stenhouse G, Sookur P, Watson M (2013) Do blood growth factors offer additional benefit in refractory lateral epicondylitis? A prospective, randomized pilot trial of dry needling as a stand-alone procedure versus dry needling and autologous conditioned plasma. Skelet Radiol 42:1515–1520

Kalichman L, Vulfsons S (2010) Dry needling in the management of musculoskeletal pain. J Am Board Fam Med 23:640–646. doi:10.3122/jabfm.2010.05.090296

Krey D, Borchers J, McCamey K (2015) Tendon needling for treatment of tendinopathy: a systematic review. Phys Sportsmed 43:80–86. doi:10.1080/00913847.2015.1004296

Ozkut AT, Kilinçoğlu V, Ozkan NK, Eren A, Ertaş M (2007) Extracorporeal shock wave therapy in patients with lateral epicondylitis. Acta Orthop Traumatol Turc 41:207–210

Tsikopoulos K, Tsikopoulos I, Simeonidis E, Papathanasiou E, Haidich AB, Anastasopoulos N, Natsis K (2016) The clinical impact of platelet-rich plasma on tendinopathy compared to placebo or dry needling injections: a meta-analysis. Phys Ther Sport 17:87–94

Ozden AV, Alptekin HK, Esmaeilzadeh S, Cihan C, Aki S, Aksoy C, Oncu J (2016) Evaluation of the sympathetic skin response to the dry needling treatment in female myofascial pain syndrome patients. J Clin Med Res 8:513–518. doi:10.14740/jocmr2589w

Saylor-Pavkovich E (2016) Strength exercises combined with dry needling with electrical stimulation improve pain and function in patients with chronic rotator cuff tendinopathy: a retrospective case series. Int J Sports Phys Ther 11:409–422

Mishra AK, Skrepnik NV, Edwards SG, Jones GL, Sampson S, Vermillion DA, Ramsey ML, Karli DC, Rettig AC (2014) Efficacy of platelet-rich plasma for chronic tennis elbow: a double-blind, prospective, multicenter, randomized controlled trial of 230 patients. Am J Sports Med 42:463–471. doi:10.1177/0363546513494359

Urbaniak GC, Plouse S. Research randomizer (version 4.0). Available at: https://www.randomizer.org. Accessed 23 Jan 2016

De Smedt T, De Jong A, Van Leemput W, Lieven D, Van Glabbeek F (2007) Lateral epicondylitis in tennis: update on aetiology, biomechanics and treatment. Br J Sports Med 41:816–819

Rabago D, Best TM, Zgierska AE, Zeisig E, Ryan M, Crane D (2009) A systematic review of four injection therapies for lateral epicondylosis: prolotherapy, polidocanol, whole blood and platelet-rich plasma. Br J Sports Med 43:471–481

Hong QN, Durand MJ, Loisel P (2004) Treatment of lateral epicondylitis: where is the evidence? Joint Bone Spine 71:369–373

Rothschild B (2013) Mechanical solution for a mechanical problem: tennis elbow. World J Orthop 18:103–106

Sayegh ET, Strauch RJ (2015) Does nonsurgical treatment improve longitudinal outcomes of lateral epicondylitis over no treatment? A meta-analysis. Clin Orthop Relat Res 473:1093–1107

Cagnie B, Dewitte V, Barbe T, Timmermans F, Delrue N, Meeus M (2013) Physiologic effects of dry needling. Curr Pain Headache Rep 17:348. doi:10.1007/s11916-013-0348-5

Dunning J, Butts R, Mourad F, Young I, Flannagan S, Perreault T (2014) Dry needling: a literature review with implications for clinical practice guidelines. Phys Ther Rev 19:252–265

Cox J, Varatharajan S, Côté P et al (2016) Effectiveness of acupuncture therapies to manage musculoskeletal disorders of the extremities: a systematic review. J Orthop Sports Phys Ther 46:409–429. doi:10.2519/jospt.2016.6270

Dommerholt J (2011) Dry needling-peripheral and central considerations. J Man Manip Ther 19:223–227. doi:10.1179/106698111X13129729552065

Tekin L, Akarsu S, Durmuş O, Cakar E, Dinçer U, Kıralp MZ (2013) The effect of dry needling in the treatment of myofascial pain syndrome: a randomized double-blinded placebo-controlled trial. Clin Rheumatol 32:309–315. doi:10.1007/s10067-012-2112-3

Eftekharsadat B, Babaei-Ghazani A, Zeinolabedinzadeh V (2016) Dry needling in patients with chronic heel pain due to plantar fasciitis: a single-blinded randomized clinical trial. Med J Islam Repub Iran 30:401

Ziaeifar M, Arab AM, Karimi N, Nourbakhsh MR (2014) The effect of dry needling on pain, pressure pain threshold and disability in patients with a myofascial trigger point in the upper trapezius muscle. J Bodyw Mov Ther 18:298–305. doi:10.1016/j.jbmt.2013.11.004

Langevin HM, Bouffard NA, Churchill DL, Badger GJ (2007) Connective tissue fibroblast response to acupuncture: dose-dependent effect of bidirectional needle rotation. J Altern Complement Med 13:355–360
Acknowledgements
The study was carried out in İstanbul Medeniyet University Göztepe Training and Research Hospital Orthopedics and Traumatology Department.
Funding
No funding was received for the study.
Ethics declarations
Conflict of interest
Each author certifies that he or she has no commercial associations that might pose a conflict of interest in connection with this article.
Ethical approval
Institutional Review Board approval was obtained (from İstanbul Medeniyet University Göztepe Training and Research Hospital No: 2016/0199) for the study.
About this article
Cite this article
UYGUR, E., AKTAŞ, B., ÖZKUT, A. et al. Dry needling in lateral epicondylitis: a prospective controlled study. International Orthopaedics (SICOT) 41, 2321–2325 (2017). https://doi.org/10.1007/s00264-017-3604-1
Received:

Accepted:

Published:

Issue Date:

DOI: https://doi.org/10.1007/s00264-017-3604-1
Keywords