Abstract
Purpose
The purpose of this study is to assess safety and feasibility of intradiscal bone marrow concentrate (BMC) injections to treat low back discogenic pain as an alternative to surgery with three year minimum follow-up.
Methods
A total of 26 patients suffering from degenerative disc disease and candidates for spinal fusion or total disc replacement surgery were injected with 2 ml autologous BMC into the nucleus pulposus of treated lumbar discs. A sample aliquot of BMC was characterized by flow cytometry and CFU-F assay to determine progenitor cell content. Improvement in pain and disability scores and 12 month post-injection MRI were compared to patient demographics and BMC cellularity.
Results
After 36 months, only six patients progressed to surgery. The remaining 20 patients reported average ODI and VAS improvements from 56.7 ± 3.6 and 82.1 ± 2.6 at baseline to 17.5 ± 3.2 and 21.9 ± 4.4 after 36 months, respectively. One year MRI indicated 40% of patients improved one modified Pfirrmann grade and no patient worsened radiographically. Cellular analysis showed an average of 121 million total nucleated cells per ml, average CFU-F of 2713 per ml, and average CD34+ of 1.82 million per ml in the BMC. Patients with greater concentrations of CFU-F (>2000 per ml) and CD34+ cells (>2 million per ml) in BMC tended to have significantly better clinical improvement.
Conclusions
There were no adverse events related to marrow aspiration or injection, and this study provides evidence of safety and feasibility of intradiscal BMC therapy. Patient improvement and satisfaction with this surgical alternative supports further study of the therapy.
Access options
Buy single article
Instant access to the full article PDF.
USD 39.95
Price excludes VAT (USA)
Tax calculation will be finalised during checkout.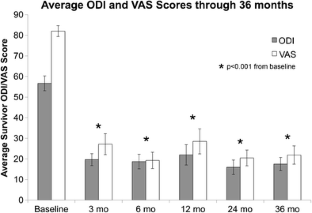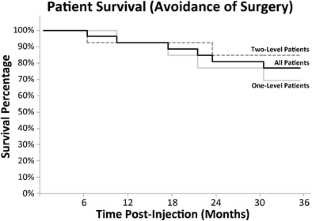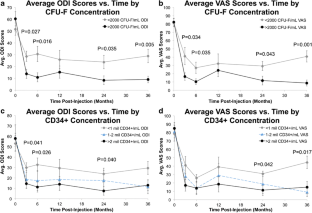 References
Dagenais S, Caro J, Haldeman S A Systematic review of low back pain cost of illness studies in the United States and internationally. Spine J 8:8–20. doi:10.1016/j.spinee.2007.10.005

Luo X, Pietrobon R, Sun SX et al (2004) Estimates and patterns of direct health care expenditures among individuals with back pain in the United States. Spine (Phila Pa 1976) 29:79–86. doi:10.1097/01.BRS.0000105527.13866.0F

McHenry HM (2009) Human evolution. In: Evolution: the first four billion years. The Belknap Press of Harvard University Press, Cambridge, MA, pp 256–263

Sylvester AD (2006) Locomotor decoupling and the origin of hominin bipedalism. J Theor Biol 242:581–590. doi:10.1016/j.jtbi.2006.04.016

Plomp KA, Viðarsdóttir US, Weston DA et al (2015) The ancestral shape hypothesis: an evolutionary explanation for the occurrence of intervertebral disc herniation in humans. BMC Evol Biol 15:68. doi:10.1186/s12862-015-0336-y

Peng B-G (2013) Pathophysiology, diagnosis, and treatment of discogenic low back pain. World J Orthop 4:42–52. doi:10.5312/wjo.v4.i2.42

Phillips FM, Slosar PJ, Youssef JA et al (2013) Lumbar spine fusion for chronic low back pain due to degenerative disc disease. Spine (Phila Pa 1976) 38:E409–E422. doi:10.1097/BRS.0b013e3182877f11

Jacobs WCH, van der Gaag NA, Kruyt MC et al (2013) Total disc replacement for chronic Discogenic low back pain. Spine (Phila Pa 1976) 38:24–36. doi:10.1097/BRS.0b013e3182741b21

Rajaee SS, Bae HW, Kanim LEA, Delamarter RB (2012) Spinal fusion in the United States. Spine (Phila Pa 1976) 37:67–76. doi:10.1097/BRS.0b013e31820cccfb

Weishaupt D, Zanetti M, Hodler J, Boos N (1998) MR imaging of the lumbar spine: prevalence of intervertebral disk extrusion and sequestration, nerve root compression, end plate abnormalities, and osteoarthritis of the facet joints in asymptomatic volunteers. Radiology 209:661–666. doi:10.1148/radiology.209.3.9844656

Zigler J, Delamarter R, Spivak JM et al (2007) Results of the prospective, randomized, multicenter Food and Drug Administration investigational device exemption study of the ProDisc-L total disc replacement versus circumferential fusion for the treatment of 1-level degenerative disc disease. Spine (Phila Pa 1976) 32:1155–1162; discussion 1163. doi:10.1097/BRS.0b013e318054e377

Gornet MF, Burkus JK, Dryer RF, Peloza JH (2011) Lumbar disc arthroplasty with maverick disc versus stand-alone interbody fusion: a prospective, randomized, controlled, multicenter investigational device exemption trial. Spine (Phila Pa 1976) 36:E1600–E1611. doi:10.1097/BRS.0b013e318217668f

Sakai D, Andersson GBJ (2015) Stem cell therapy for intervertebral disc regeneration: obstacles and solutions. Nat Rev Rheumatol 11:243–256. doi:10.1038/nrrheum.2015.13

Pettine KA, Murphy MB, Suzuki RK, Sand TT (2014) Percutaneous injection of autologous bone marrow concentrate cells significantly reduces lumbar discogenic pain through 12 months. Stem Cells. doi:10.1002/stem.1845

Pettine K, Suzuki R, Sand T, Murphy M (2016) Treatment of discogenic back pain with autologous bone marrow concentrate injection with minimum two year follow-up. Int Orthop 40:135–140. doi:10.1007/s00264-015-2886-4

Yim RL-H, Lee JT-Y, Bow CH et al (2014) A systematic review of the safety and efficacy of mesenchymal stem cells for disc degeneration: insights and future directions for regenerative therapeutics. Stem Cells Dev 23:2553–2567. doi:10.1089/scd.2014.0203

Acosta FL, Metz L, Adkisson HD et al (2011) Porcine intervertebral disc repair using allogeneic juvenile articular chondrocytes or mesenchymal stem cells. Tissue Eng Part A 17:3045–3055. doi:10.1089/ten.tea.2011.0229

Hernigou P, Poignard A, Beaujean F, Rouard H (2005) Percutaneous autologous bone-marrow grafting for nonunions. J Bone Jt Surg 87:1430–1437

Murphy MB, Moncivais K, Caplan AI (2013) Mesenchymal stem cells: environmentally responsive therapeutics for regenerative medicine. Exp Mol Med 45:e54

Murphy MB, Terrazas JA, Buford DA (2016) Bone marrow concentrate and platelet-rich plasma acquisition and preparation: why technique matters. Tech Reg Anesth Pain Manag 19:19-25. doi: 10.1053/j.trap.2016.09.004

Pettine KA, Murphy MB, Suzuki RK, Sand TT (2015) Percutaneous injection of autologous bone marrow concentrate cells significantly reduces lumbar discogenic pain through 12 months. Stem Cells 33:146–156

Griffith JF, Wang Y-XJ, Antonio GE et al (2007) Modified Pfirrmann grading system for lumbar intervertebral disc degeneration. Spine (Phila Pa 1976) 32:E708–E712. doi:10.1097/BRS.0b013e31815a59a0

Hernigou P, Homma Y, Flouzat Lachaniette CH et al (2013) Benefits of small volume and small syringe for bone marrow aspirations of mesenchymal stem cells. Int Orthop 37:2279–2287. doi:10.1007/s00264-013-2017-z

Murphy MB, Blashki D, Buchanan RM et al (2011) Multi-composite bioactive osteogenic sponges featuring mesenchymal stem cells, platelet-rich plasma, nanoporous silicon enclosures, and peptide amphiphiles for rapid bone regeneration. J Funct Biomater 2:39–66. doi:10.3390/jfb2020039

Blashki D, Murphy MB, Ferrari M et al (2016) Mesenchymal stem cells from cortical bone demonstrate increased clonal incidence, potency, and developmental capacity compared to their bone marrow-derived counterparts. J Tissue Eng. doi:10.1177/2041731416661196

Vergroesen P-PA, Kingma I, Emanuel KS et al (2015) Mechanics and biology in intervertebral disc degeneration: a vicious circle. Osteoarthr Cartil 23:1057–1070. doi:10.1016/j.joca.2015.03.028

Pandit JJ, Andrade J, Bogod DG et al (2014) 5th National Audit Project (NAP5) on accidental awareness during general anaesthesia: summary of main findings and risk factors. Br J Anaesth 113:549–559. doi:10.1093/bja/aeu313

Sivakamasundari V, Lufkin T (2013) Stemming the degeneration: IVD stem cells and stem cell regenerative therapy for degenerative disc disease. Adv Atem Cells. doi:10.5171/2013.724547

Murphy MB, Blashki D, Buchanan RM, Tasciotti E (2010) Engineering a better way to heal broken bones. Chem Eng Prog 106:37–43
Ethics declarations
Conflict of interest
KP has no financial disclosures. RS, TS, and MM are employees of Celling Biosciences, a medical device manufacturer who provided devices for bone marrow concentration in the current study.
Funding
There is no funding source.
Informed consent
All enrolled subjected provided informed consent according to written consent form approved by Institutional Review Board. The clinical study was approved by Western Institutional Review Board protocol number 20120085.
About this article
Cite this article
Pettine, K.A., Suzuki, R.K., Sand, T.T. et al. Autologous bone marrow concentrate intradiscal injection for the treatment of degenerative disc disease with three-year follow-up. International Orthopaedics (SICOT) 41, 2097–2103 (2017). https://doi.org/10.1007/s00264-017-3560-9
Received:

Accepted:

Published:

Issue Date:

DOI: https://doi.org/10.1007/s00264-017-3560-9
Keywords