Abstract
Purpose
Fat emboli syndrome is a rare but well-described complication of long-bone fractures classically characterised by a triad of respiratory failure, mental status changes and petechial rash. In this paper, we present the case of a patient who sustained bilateral femoral fractures and subsequently developed FES. Our aim was to review and summarise the current literature regarding the pathophysiology and management of fat emboli syndrome (FES) and propose an algorithm for treating patients with bilateral femoral fractures to reduce the risk of FES.
Methods
A literature analysis was performed to determine implications in the clinical setting.
Results
Currently, there exists little high-quality evidence to guide the orthopaedic surgeon in identifying patients at highest risk of FES or in preventing FES in patients with multiple long-bone fractures. However, the literature does suggest that the risk is directly related to the volume of marrow displaced and inversely related to both the time to fracture stabilisation and the respiratory reserve of the patient. Based on these correlations, we propose an algorithm for treating patients with bilateral femoral fractures, taking into consideration haemodynamic and pulmonary stability.
Conclusions
Our algorithm for managing bilateral femoral fractures prioritises early stabilisation with external fixation, staged intramedullary nailing and conversion to plate fixation if FES develops. This protocol is meant to be the basis of future investigations of optimal treatment strategies.
Access options
Buy single article
Instant access to the full article PDF.
USD 39.95
Price includes VAT (USA)
Tax calculation will be finalised during checkout.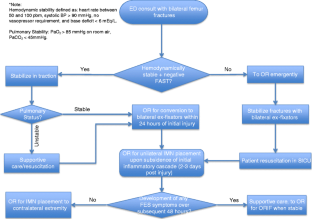 References
1.

Akoh CC, Schick C, Otero J, Karam M (2014) Fat embolism syndrome after femur fracture fixation: a case report. Iowa Orthop J 34:55–62

2.

Talbot M, Schemitsch EH (2006) Fat embolism syndrome: history, definition, epidemiology. Injury 37(Suppl 4):S3–S7

3.

Bone LB, Johnson KD, Weigelt J, Scheinberg R (1989) Early versus delayed stabilization of femoral fractures: a prospective randomized study. Clin Orthop Relat Res 71(3):336–340

4.

Gossling HR, Donohue TA (1979) The fat embolism syndrome. JAMA 241(25):2740–2742

5.

Sevitt S (1977) The significance and pathology of fat embolism. Ann Clin Res 9(3):173–180

6.

Gossling HR, Pellegrini VD (1982) Fat embolism syndrome: a review of the pathophysiology and physiological basis of treatment. Clin Orthop Relat Res. (165): 68-82

7.

Hofmann S, Huemer G, Salzer M (1998) Pathophysiology and management of the fat embolism syndrome. Anaesthesia 53(Suppl 2):35–37

8.

Fabian TC, Hoots AV, Stanford DS, Patterson CR, Mangiante EC (1990) Fat embolism syndrome: prospective evaluation in 92 fracture patients. Crit Care Med 18(1):42–46

10.

Byrick RJ, Korley RE, Mckee MD, Schemitsch EH (2001) Prolonged coma after unreamed, locked nailing of femoral shaft fracture. Anesthesiology 94(1):163–165

11.

Gurd AR, Wilson RI (1972) Fat-embolism syndrome. Lancet 2(7770):231–232

12.

Schonfeld SA, Ploysongsang Y, Dilisio R et al (1983) Fat embolism prophylaxis with corticosteroids. A prospective study in high-risk patients. Ann Intern Med 99(4):438–443

13.

Lindeque BG, Schoeman HS, Dommisse GF, Boeyens MC, Vlok AL (1987) Fat embolism and the fat embolism syndrome. A double-blind therapeutic study. J Bone Joint Surg Br 69(1):128–131

14.

Christie J, Robinson CM, Pell AC, Mcbirnie J, Burnett R (1995) Transcardiac echocardiography during invasive intramedullary procedures. J Bone Joint Surg Br 77(3):450–455

15.

Husebye EE, Lyberg T, Røise O (2006) Bone marrow fat in the circulation: clinical entities and pathophysiological mechanisms. Injury 37(Suppl 4):S8–18

16.

Charash WE, Fabian TC, Croce MA (1994) Delayed surgical fixation of femur fractures is a risk factor for pulmonary failure independent of thoracic trauma. J Trauma 37(4):667–672

17.

Johnson KD, Cadambi A, Seibert GB (1985) Incidence of adult respiratory distress syndrome in patients with multiple musculoskeletal injuries: effect of early operative stabilization of fractures. J Trauma 25(5):375–384

18.

Mellor A, Soni N (2001) Fat embolism. Anaesthesia 56(2):145–154

19.

Tachakra SC, Potts D, Idowu A (1990) Early operative fracture management of patients with multiple injuries. Br J Surg 77(10):1194

20.

Aoki N, Soma K, Shindo M, Kurosawa T, Ohwada T (1998) Evaluation of potential fat emboli during placement of intramedullary nails after orthopedic fractures. Chest 113(1):178–181

21.

Volgas DA, Burch T, Stannard JP, Ellis T, Bilotta J, Alonso JE (2010) Fat embolus in femur fractures: a comparison of two reaming systems. Injury 41(Suppl 2):S90–S93

22.

Shah S, Desai P, Mounasamy V (2015) Retrograde nailing of femoral fractures: a retrospective study. Eur J Orthop Surg Traumatol 25(6):1093–1097. doi:10.1007/s00590-015-1658-6

23.

Giannoudis PV, Cohen A, Hinsche A, Stratford T, Matthews SJ, Smith RM (2000) Simultaneous bilateral femoral fractures: systemic complications in 14 cases. Int Orthop 24(5):264–267. doi:10.1007/s002640000161

24.

White T, Petrisor BA, Bhandari M (2006) Prevention of fat embolism syndrome. Injury 37(Suppl 4):S59–S67

25.

Bonnevialle P, Cauhepe C, Alqoh F, Bellumore Y, Rongières M, Mansat M (2000) Risks and results after simultaneous intramedullary nailing in bilateral femoral fractures: a retrospective study of 40 cases (French). Rev Chir Orthop Reparatrice Appar Mot 86(6):598–607

26.

Zalavras C, Velmahos GC, Chan L, Demetriades D, Patzakis MJ (2005) Risk factors for respiratory failure following femoral fractures: the role of multiple intramedullary nailing. Injury 36(6):751–757

27.

Kontakis GM, Tossounidis T, Weiss K, Pape HC, Giannoudis PV (2006) Fat embolism: special situations bilateral femoral fractures and pathologic femoral fractures. Injury 37(Suppl 4):S19–S24

28.

Cox G, Jones E, Mcgonagle D et al. (2011) Reamer-irrigator-aspirator indications and clinical results: a systematic review. Int Orthop, (7): p. 951-956.

29.

Streubel PN, Desai P, Suk M (2010) Comparison of RIA and conventional reamed nailing for treatment of femur shaft fractures. Injury 41(Suppl 2):S51–S56

30.

Schemitsch EH, Jain R, Turchin DC et al (1997) Pulmonary effects of fixation of a fracture with a plate compared with intramedullary nailing. A canine model of fat embolism and fracture fixation. J Bone Joint Surg Am 79(7):984–996

31.

Bosse MJ, Mackenzie EJ, Riemer BL et al (1997) Adult respiratory distress syndrome, pneumonia, and mortality following thoracic injury and a femoral fracture treated either with intramedullary nailing with reaming or with a plate. A comparative study. J Bone Joint Surg Am 79(6):799–809
Ethics declarations
Conflict of interest
The authors declare that they have no conflict of interest.
Funding
There is no funding source.
Ethical approval
This article does not contain any studies with human participants or animals performed by any of the authors.
About this article
Cite this article
Dunn, R.H., Jackson, T., Burlew, C.C. et al. Fat emboli syndrome and the orthopaedic trauma surgeon: lessons learned and clinical recommendations. International Orthopaedics (SICOT) 41, 1729–1734 (2017). https://doi.org/10.1007/s00264-017-3507-1
Received:

Accepted:

Published:

Issue Date:
Keywords
Fat emboli syndrome

Bilateral femur fractures

Damage control orthopaedics

Complication

Femur shaft fracture