Abstract
Purpose
Total ankle arthroplasty (TAA) and ankle arthrodesis (AA) are the main surgical treatment options for end-stage ankle arthritis. Although the superiority of each modality remains debated, there remains a lack of high-quality evidence-based studies, such as randomized controlled clinical trials, and meta-analyses of comparative studies. We performed a meta-analysis of comparative studies to determine whether there is a significant difference between these two procedures in terms of (i) clinical scores and patient satisfaction, (ii) re-operations, and (iii) complications.
Methods
We conducted a comprehensive search in the MEDLINE, EMBASE, and Cochrane library databases. Only retrospective or prospective comparative studies were included in this meta-analysis. The literature search, data extraction, and quality assessment were conducted by two independent reviewers. The primary outcomes were clinical scores and patient satisfaction. We also investigated the prevalence of complications and the re-operation rate.
Results
Ten comparative studies were included (four prospective and six retrospective studies). There were no significant differences between the two procedures in the American Orthopaedic Foot and Ankle Society ankle–hindfoot score, Short Form-36 physical component summary and mental component summary scores, visual analogue scale for pain, and patient satisfaction rate. The risk of re-operation and major surgical complications were significantly increased in the TAA group.
Conclusions
The meta-analysis revealed that TAA and AA could achieve similar clinical outcomes, whereas the incidence of re-operation and major surgical complication was significantly increased in TAA. Further studies of high methodological quality with long-term follow-up are required to confirm our conclusions.
Access options
Buy single article
Instant access to the full article PDF.
US$ 39.95
Tax calculation will be finalised during checkout.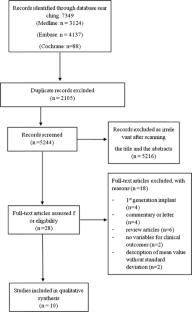 References
1.

Yu JJ, Sheskier S (2014) Total ankle replacement—evolution of the technology and future applications. Bull Hosp Jt Dis 72:120–128

2.

Haddad SL, Coetzee JC, Estok R, Fahrbach K, Banel D, Nalysnyk L (2007) Intermediate and long-term outcomes of total ankle arthroplasty and ankle arthrodesis: a systematic review of the literature. J Bone Joint Surg Am 89:1899–1905

3.

Jordan RW, Chahal GS, Chapman A (2014) Is end-stage ankle arthrosis best managed with total ankle replacement or arthrodesis?: a systematic review. Adv Orthop 2014:986285

4.

Park JS, Mroczek KJ (2011) Total ankle arthroplasty. Bull NYU Hosp Jt Dis 69:27–35

5.

Moher D, Liberati A, Tetzlaff J, Altman DG, PRISMA Group (2009) Preferred reporting items for systematic reviews and meta-analyses: the PRISMA statement. BMJ 339:b2535

6.

Daniels TR, Younger AS, Penner M, Wing K, Dryden PJ, Wong H, Glazebrook M (2014) Intermediate-term results of total ankle replacement and ankle arthrodesis: a COFAS multicenter study. J Bone Joint Surg Am 96:135–142

7.

Saltzman CL, Mann RA, Ahrens JE, Amendola A, Anderson RB, Berlet GC, Brodsky JW, Chou LB, Clanton TO, Deland JT, Deorio JK, Horton GA, Lee TH, Mann JA, Nunley JA, Thordarson DB, Walling AK, Wapner KL, Coughlin MJ (2009) Prospective controlled trial of STAR total ankle replacement versus ankle fusion: initial results. Foot Ankle Int 30:579–596

8.

Younger AS, Wing KJ, Glazebrook M, Daniels TR, Dryden PJ, Lalonde KA, Wong H, Qian H, Penner M (2015) Patient expectation and satisfaction as measures of operative outcome in end-stage ankle arthritis: a prospective cohort study of total ankle replacement versus ankle fusion. Foot Ankle Int 36:123–134

9.

Krause FG, Windolf M, Bora B, Penner MJ, Wing KJ, Younger AS (2011) Impact of complications in total ankle replacement and ankle arthrodesis analyzed with a validated outcome measurement. J Bone Joint Surg Am 93:830–839

10.

Saltzman CL, Kadoko RG, Suh JS (2010) Treatment of isolated ankle osteoarthritis with arthrodesis or the total ankle replacement: a comparison of early outcomes. Clin Orthop Surg 2:1–7

11.

Kitaoka HB, Alexander IJ, Adelaar RS, Nunley JA, Myerson MS, Sanders M (1994) Clinical rating systems for the ankle-hindfoot, midfoot, hallux, and lesser toes. Foot Ankle Int 15:349–353

12.

Brazier JE, Harper R, Jones NM, O'Cathain A, Thomas KJ, Usherwood T, Westlake L (1992) Validating the SF-36 health survey questionnaire: new outcome measure for primary care. BMJ 305:160–164

13.

Scott J, Huskisson EC (1976) Graphic representation of pain. Pain 2:175–184

14.

Stang A (2010) Critical evaluation of the Newcastle-Ottawa scale for the assessment of the quality of nonrandomized studies in meta-analyses. Eur J Epidemiol 25:603–605

15.

Coester LM, Saltzman CL, Leupold J, Pontarelli W (2001) Long-term results following ankle arthrodesis for post-traumatic arthritis. J Bone Joint Surg Am 83-A:219–228

16.

Fuentes-Sanz A, Moya-Angeler J, Lopez-Oliva F, Forriol F (2012) Clinical outcome and gait analysis of ankle arthrodesis. Foot Ankle Int 33:819–827

17.

Brodsky JW, Polo FE, Coleman SC, Bruck N (2011) Changes in gait following the Scandinavian Total Ankle Replacement. J Bone Joint Surg Am 93:1890–1896

18.

Noelle S, Egidy CC, Cross MB, Gebauer M, Klauser W (2013) Complication rates after total ankle arthroplasty in one hundred consecutive prostheses. Int Orthop 37:1789–1794

19.

SooHoo NF, Zingmond DS, Ko CY (2007) Comparison of reoperation rates following ankle arthrodesis and total ankle arthroplasty. J Bone Joint Surg Am 89:2143–2149

20.

Esparragoza L, Vidal C, Vaquero J (2011) Comparative study of the quality of life between arthrodesis and total arthroplasty substitution of the ankle. J Foot Ankle Surg 50:383–387

21.

Jastifer J, Coughlin MJ, Hirose C (2015) Performance of total ankle arthroplasty and ankle arthrodesis on uneven surfaces, stairs, and inclines: a prospective study. Foot Ankle Int 36:11–17

22.

Gougoulias N, Khanna A, Maffulli N (2010) How successful are current ankle replacements?: a systematic review of the literature. Clin Orthop Relat Res 468:199–208

23.

Labek G, Klaus H, Schlichtherle R, Williams A, Agreiter M (2011) Revision rates after total ankle arthroplasty in sample-based clinical studies and national registries. Foot Ankle Int 32:740–745

24.

Braito M, Dammerer D, Kaufmann G, Fischler S, Carollo J, Reinthaler A, Huber D, Biedermann R (2014) Are our expectations bigger than the results we achieve?: a comparative study analysing potential advantages of ankle arthroplasty over arthrodesis. Int Orthop 38:1647–1653

25.

Schuh R, Hofstaetter J, Krismer M, Bevoni R, Windhager R, Trnka HJ (2012) Total ankle arthroplasty versus ankle arthrodesis. Comparison of sports, recreational activities and functional outcome. Int Orthop 36:1207–1214

26.

Dalat F, Trouillet F, Fessy MH, Bourdin M, Besse JL (2014) Comparison of quality of life following total ankle arthroplasty and ankle arthrodesis: retrospective study of 54 cases. Orthop Traumatol Surg Res 100:761–766
Ethics declarations
Conflict of interest
The authors declare no conflict of interest.
Additional information
Hyun Jung Kim and Dong Hun Suh contributed equally to this work as co-first authors.
Appendix 1
Appendix 1
Search Protocol. An electronic literature search was performed by using the Medline, EMBASE, and Cochrane library databases. Keywords were selected based on the Cochrane acronym and PICO (Population, Intervention, Comparator, Outcome) format of the research question. The following keywords were used along with the Boolean search function: ankle, arthroplasty, arthrodesis, ankle replacement, and ankle fusion.
About this article
Cite this article
Kim, H.J., Suh, D.H., Yang, J.H. et al. Total ankle arthroplasty versus ankle arthrodesis for the treatment of end-stage ankle arthritis: a meta-analysis of comparative studies. International Orthopaedics (SICOT) 41, 101–109 (2017). https://doi.org/10.1007/s00264-016-3303-3
Received:

Accepted:

Published:

Issue Date:
Keywords
Ankle

Arthritis

Arthrodesis

Arthroplasty

Meta-analysis

Comparative study