Abstract
Purpose
To evaluate the incidence of complications in distal femur reconstructions with modular prostheses, comparing fixed vs rotating hinge knee.
Methods
Retrospective analysis of implant survival, complications, and functional results of the Rizzoli series on distal femur megaprosthesis. Between 1983 and 2010, 687 distal femur tumour modular prostheses were implanted: 491 fixed hinge and 196 rotating hinge knee prostheses.
Failures of the prostheses were classified in five types: type 1, soft tissue failure; type 2, aseptic loosening; type 3, structural failure; type 4, infection; type 5, tumour progression.
Results
Failure rate was 27 % (185/687). Implant survival to all types of failure was 70 % at ten years and 50 % at 20 years with no significant difference between fixed and rotating hinge knee prostheses (p = 0.0928). When excluding type 5 and type 1 failures, the overall survival was 78 % and 58 % at ten and 20 years. There was not a significant difference in implant survival to aseptic loosening (p = 0.5) and infection (p = 0.2) between fixed and rotating hinge knee prostheses. All cases of breakage of prosthetic components occurred in fixed hinge knee prostheses. Functional results, evaluated in 536 pts, were satisfactory in 91.4 % of cases with a mean score of 23.3 with a significantly better function for rotating hinge knee prostheses (p < 0.001).
Conclusions
The most frequent cause of failure was infection followed by aseptic loosening. Even if better results were expected for rotating hinge knee prostheses, there is no significant difference in overall implant survival. No cases of breakage of prosthetic components occurred in rotating hinge knee prosthesis. Functional results were significantly better for the rotating hinge knee prostheses.
Level of Evidence: Therapeutic study, level IV (case series).
Access options
Buy single article
Instant access to the full article PDF.
USD 39.95
Price excludes VAT (USA)
Tax calculation will be finalised during checkout.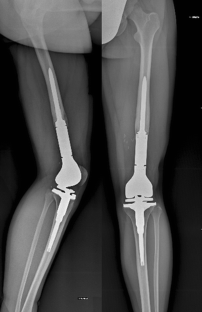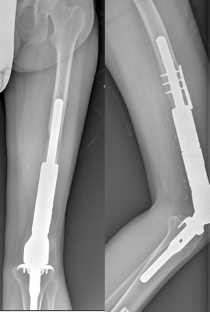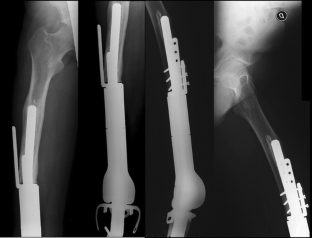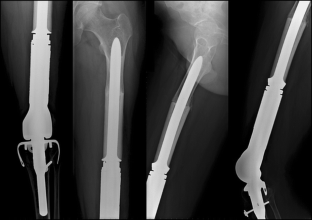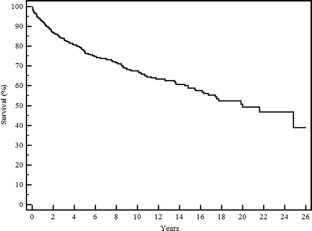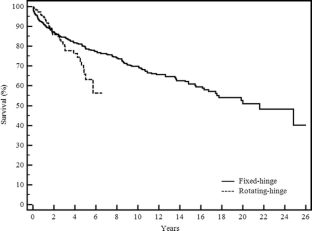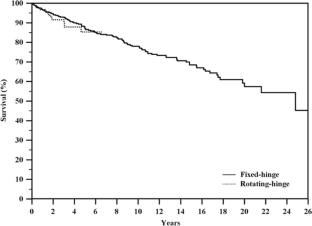 References
Bickels J, Wittig JC, Kollender Y (2002) Distal femur resection with endoprosthetic reconstruction. Clin Orthop Relat Res 400:225–235

Frink SJ, Rutledge J, Lewis VO, Lin PP, Yasko AW (2005) Favorable long-term results of prosthetic arthroplasty of the knee for distal femur neoplasms. Clin Orthop Relat Res 438:65–70

Natarajan MV, Sivaseelam A, Ayyappan S, Bose JC, Sampath KM (2005) Distal femoral tumours treated by resection and custom mega-prosthetic replacement. Int Orthop 29:309–13

Schwartz AJ, Kabo JM, Eilber FC, Eilber FR, Eckardt JJ (2010) Cemented distal femoral endoprostheses for musculoskeletal tumor: improved survival of modular versus custom implants. Clin Orthop Relat Res 468:2198–2210

Horowitz SM, Glasser DB, Lane JM, Healey JH (1993) Prosthetic and extremity survivorship after limb salvage for sarcoma: how long do the reconstructions last? Clin Orthop 293:280–286

Sharma S, Turcotte RE, Isler MH, Wong C (2006) Cemented rotatinghinge endoprosthesis for limb salvage of distal femur tumors. Clin Orthop Relat Res 450:28–32

Unwin PS, Cannon SR, Grimer RJ et al (1996) Aseptic loosening in cemented custom-made prosthetic replacement for bone tumours of the lower limb. J Bone Joint Surg 78B:5–13

Griffin AM, Parsons JA, Davis AM, Bell RS, Wunder JS (2005) Uncemented tumor endoprostheses at the knee: root causes of failure. Clin Orthop Relat Res 438:71–9

Ahlmann ER, Menendez LR, Kermani C, Gotha H (2006) Survivorship and clinical outcome of modular endoprosthetic reconstruction for neoplastic disease of the lower limb. J Bone Joint Surg Br 88(6):790–5

Grimer RJ, Carter SR, Tillman RM, Sneath RS, Walker PS, Unwin PS, Shewell PC (1999) Endoprosthetic replacement of the proximal tibia. J Bone Joint Surg Br 81:488–94

Capanna R, Ruggieri P, Biagini R, Ferraro A, DeCristofaro R, McDonald D, Campanacci M (1991) The effect of quadriceps excision on functional results after distal femoral resection and prosthetic replacement of bone tumors. Clin Orthop Relat Res (267):186–96

Mittermayer F, Windhager R, Dominkus M, Krepler P, Schwameis E, Sluga M, Kotz R, Strasser G (2002) Revision of the Kotz type of tumour endoprosthesis for the lower limb. J Bone Joint Surg Br 84:401–406

Torner F, Segur JM, Ullot R, Soldado F, Domenech P, DeSena L, Knorr J (2016) Non-invasive expandable prosthesis in musculoskeletal oncology paediatric patients for the distal and proximal femur. First results. Int Orthop

Myers GJC, Abudu AT, Carter SR, Tillman RM, Grimer RJ (2007) Endoprosthetic replacement of the distal femur for bone tumors. Long term results. J Bone Joint Surg 89B:521–6

Shih LY, Sim FH, Pritchard DJ, Rock MG, Chao EYS (1993) Segmental total knee arthroplasty after distal femoral resection for tumour. Clin Orthop 292:269–81

Ruggieri P, Mavrogenis AF, Pala E, Abdel-Mota'al M, Mercuri M (2012) Long term results of fixed-hinge megaprostheses in limb salvage for malignancy. Knee 19(5):543–9

Gosheger G, Gebert C, Ahrens H, Streitbuerger A, Winkelmann W, Hardes J (2006) Endoprosthetic reconstruction in 250 patients with sarcoma. Clin Orthop Relat Res 450:164–171

Henderson ER, Groundland JS, Pala E, Dennis JA, Wooten R, Cheong D, Windhager R, Kotz RI, Mercuri M, Funovics PT, Hornicek FJ, Temple HT, Ruggieri P, Letson GD (2011) Failure mode classification for tumor endoprostheses: retrospective review of five institutions and a literature review. J Bone Joint Surg Am 93(5):418–29

Malawer MM (1992) Distal femoral resection for sarcomas of bone. In: Sugarbaker PH, Malawer MM (eds) Musculoskeletal surgery for cancer: principles and techniques. Thiem, New York, pp 243–59

Enneking WF, Spanier SS, Goodman MA (1980) A system for the surgical staging of musculoskeletal sarcoma. Clin Orthop 153:106–120

Kaplan EL, Meier P (1958) Nonparametric estimation from incomplete observations. JASA 53:457–481

Bhangu AA, Kramer MJ, Grimer RJ, O'Donnell RJ (2006) Early distal femoral endoprosthetic survival: cemented stems versus the compress implant. Int Orthop 30:465–472

Flint MN, Griffin AM, Bell RS, Ferguson PC, Wander JC (2006) Aseptic loosening is uncommon with uncemented proximal tibia tumor prostheses. Clin Orthop 450:52–9

Grimer RJ, Belthur M, Chandrasekar C, Carter SR, Tillman (2001) Two-stage revision for infected endoprostheses used in tumor surgery. Clin Orthop Relat Res 395:193–203

Cannon SR (2015) The use of megaprosthesis in the treatment of periprosthetic knee fractures. Int Orthop 39(10):1945–50

Hardes J, Gebert C, Schwappach A, Ahrens H, Streitburger A, Winkelmann W, Gosheger G (2006) Characteristics and outcome of infections associated with tumor endoprostheses. Arch Orthop Trauma Surg 126:289–296

Heisel C, Breusch SJ, Schmid G, Bernd L (2004) Lower limb salvage surgery with MUTARS endoprostheses: 2 to 7 year results. Acta Orthop Belg 70(2):142–147

Ilyas I, Kurar A, Moreau PG, Younge DA (2001) Modular megaprosthesis for distal femoral tumors. Int Orthop 25:375–377

Pala E, Mavrogenis AF, Angelini A, Henderson ER, Letson DG, Ruggieri P (2013) Cemented versus cementless endoprostheses for lower limb salvage surgery. J BUON 18(2):496–503

Choong PFM, Sim FH, Pritchard DJ, Rock MG, Chao EYS (1996) Megaprostheses after resection of distal femoral tumors: a rotating hinge design in 30 patients followed for 2–7 years. Acta Orthopaedica 67:4,345–351

Taylor SJ, Walker PS, Perry JS, Cannon SR, Woledge R (1998) The forces in the distal femur and the knee during walking and other activities measured by telemetry. J Arthroplasty 13:428–37

Cannon SR (1997) Massive prosthesis for malignant bone tumours of the limbs. J Bone Joint Surg Br 79:497–506

Hardes J, Von Eiff C, Streitbuerger A, Balke M, Budny T, Henrichs MP, Hauschild G, Ahrens H (2010) Reduction of periprosthetic infection with silver-coated megaprostheses in patients with bone sarcoma. J Surg Oncol 101(5):389–95

Zeegen EN, Aponte-Tinao LA, Hornicek FJ, Gebhardt MC, Mankin HJ (2004) Survivor analysis of 141 modular metallic endoprostheses at early followup. Clin Orthop Relat Res 420:239–250

Mavrogenis AF, Papagelopoulos PJ, Coll-Mesa L, Pala E, Guerra G, Ruggieri P (2011) Infected tumor prostheses. Orthopaedics 34(12):991–8

Gosheger G, Hardes J, Ahrens H et al (2004) Silver-coated megaendoprostheses in a rabbit model-an analysis of the infection rate and toxicological side effects. Biomaterials 25(24):5547–5556
Ethics declarations
Conflict of Interest
None of the authors have any financial and personal relationships with other people or organizations that could inappropriately influence their work.
About this article
Cite this article
Pala, E., Trovarelli, G., Angelini, A. et al. Distal femur reconstruction with modular tumour prostheses: a single Institution analysis of implant survival comparing fixed versus rotating hinge knee prostheses. International Orthopaedics (SICOT) 40, 2171–2180 (2016). https://doi.org/10.1007/s00264-016-3232-1
Received:

Accepted:

Published:

Issue Date:

DOI: https://doi.org/10.1007/s00264-016-3232-1
Keywords