Abstract
Purpose
The purpose of this study was to evaluate the efficacy and safety of percutaneous pedicle screw fixation at the fractured vertebra in the treatment of thoracolumbar fractures.
Methods
Thirty-two consecutive patients were enrolled in the study. All patients received percutaneous pedicle screw fixation, and they were randomly divided into two groups to undergo either the placement of pedicle screws into the fractured vertebra (fractured group) or not (control group). The operation time and intra-operative blood loss were recorded. Oswestry disability index (ODI) questionnaire and visual analogue scale (VAS) as clinical assessments were quantified. Radiographic follow-up was defined by the vertebral body index (VBI), anterior vertebral body height (AVBH), and Cobb angle (CA).
Results
No significant difference was observed in the operation time and intra-operative blood loss between the two groups. Clinical results (VAS and ODI scores) showed no significant difference during all the follow-up periods. In the fractured group, there were better correction and less loss of AVBH and VBI compared with the control group. However, post-operative correction of the CA immediately after surgery and the correction loss at the final follow-up showed no significant difference between the two groups.
Conclusion
Percutaneous screw fixation combined with intermediate screws at the fractured vertebra could more effectively restore and maintain fractured vertebral height, and is an acceptable, minimally invasive surgical choice for patients with type A thoracolumbar fractures.
Access options
Buy single article
Instant access to the full article PDF.
USD 39.95
Price excludes VAT (USA)
Tax calculation will be finalised during checkout.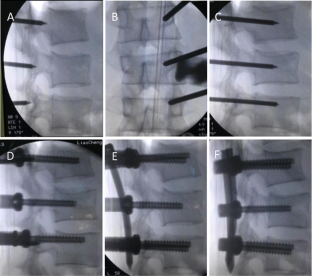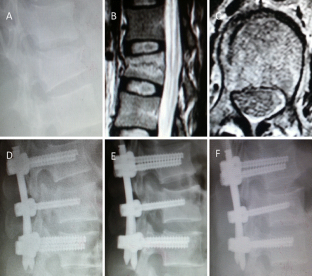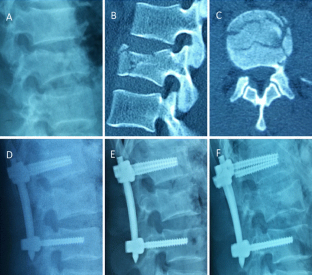 References
Leucht P, Fischer K, Muhr G, Mueller EJ (2009) Epidemiology of traumatic spine fractures. Injury 40:166–172. doi:10.1016/j.injury.2008.06.040

Tian Y, Zhu Y, Yin B, Zhang F, Liu B, Chen W, Zhang Y (2016) Age- and gender-specific clinical characteristics of acute adult spine fractures in China. Int Orthop 40:347–353. doi:10.1007/s00264-015-3025-y

Siebenga J, Leferink VJ, Segers MJ, Elzinga MJ, Bakker FC, Haarman HJ, Rommens PM, ten Duis HJ, Patka P (2006) Treatment of traumatic thoracolumbar spine fractures: a multicenter prospective randomized study of operative versus nonsurgical treatment. Spine 31:2881–2890. doi:10.1097/01.brs.0000247804.91869.1e

McLain RF (2006) The biomechanics of long versus short fixation for thoracolumbar spine fractures. Spine 31:S70–79. doi:10.1097/01.brs.0000218221.47230.dd

Verlaan JJ, Diekerhof CH, Buskens E, van der Tweel I, Verbout AJ, Dhert WJ, Oner FC (2004) Surgical treatment of traumatic fractures of the thoracic and lumbar spine: a systematic review of the literature on techniques, complications, and outcome. Spine 29:803–814

Weber BR, Grob D, Dvorak J, Muntener M (1997) Posterior surgical approach to the lumbar spine and its effect on the multifidus muscle. Spine 22:1765–1772

Kramer M, Katzmaier P, Eisele R, Ebert V, Kinzl L, Hartwig E (2001) Surface electromyography-verified muscular damage associated with the open dorsal approach to the lumbar spine. Eur Spine J 10:414–420

Kim DY, Lee SH, Chung SK, Lee HY (2005) Comparison of multifidus muscle atrophy and trunk extension muscle strength: percutaneous versus open pedicle screw fixation. Spine 30:123–129

Grossbach AJ, Dahdaleh NS, Abel TJ, Woods GD, Dlouhy BJ, Hitchon PW (2013) Flexion-distraction injuries of the thoracolumbar spine: open fusion versus percutaneous pedicle screw fixation. Neurosurg Focus 35, E2. doi:10.3171/2013.6.FOCUS13176

Court C, Vincent C (2012) Percutaneous fixation of thoracolumbar fractures: current concepts. Orthopaedics Traumatology, Surgery Res: OTSR 98:900–909. doi:10.1016/j.otsr.2012.09.014

Mahar A, Kim C, Wedemeyer M, Mitsunaga L, Odell T, Johnson B, Garfin S (2007) Short-segment fixation of lumbar burst fractures using pedicle fixation at the level of the fracture. Spine 32:1503–1507. doi:10.1097/BRS.0b013e318067dd24

Gelb D, Ludwig S, Karp JE, Chung EH, Werner C, Kim T, Poelstra K (2010) Successful treatment of thoracolumbar fractures with short-segment pedicle instrumentation. J Spinal Disord Tech 23:293–301. doi:10.1097/BSD.0b013e3181af20b6

Dick JC, Jones MP, Zdeblick TA, Kunz DN, Horton WC (1994) A biomechanical comparison evaluating the use of intermediate screws and cross-linkage in lumbar pedicle fixation. J Spinal Disord 7:402–407

Anekstein Y, Brosh T, Mirovsky Y (2007) Intermediate screws in short segment pedicular fixation for thoracic and lumbar fractures: a biomechanical study. J Spinal Disord Tech 20:72–77. doi:10.1097/01.bsd.0000211240.98963.f6

Norton RP, Milne EL, Kaimrajh DN, Eismont FJ, Latta LL, Williams SK (2014) Biomechanical analysis of four- versus six-screw constructs for short-segment pedicle screw and rod instrumentation of unstable thoracolumbar fractures. Spine J 14:1734–1739. doi:10.1016/j.spinee.2014.01.035

Baaj AA, Reyes PM, Yaqoobi AS, Uribe JS, Vale FL, Theodore N, Sonntag VK, Crawford NR (2011) Biomechanical advantage of the index-level pedicle screw in unstable thoracolumbar junction fractures. J Neurosurg Spine 14:192–197. doi:10.3171/2010.10.SPINE10222

Wang H, Zhou Y, Li C, Liu J, Xiang L (2014) Comparison of open versus percutaneous pedicle screw fixation using the sextant system in the treatment of traumatic thoracolumbar fractures. J Spinal Disord Tech. doi:10.1097/BSD.0000000000000135

Mumford J, Weinstein JN, Spratt KF, Goel VK (1993) Thoracolumbar burst fractures. The clinical efficacy and outcome of nonoperative management. Spine 18:955–970

Mobbs RJ, Sivabalan P, Li J (2012) Minimally invasive surgery compared to open spinal fusion for the treatment of degenerative lumbar spine pathologies. J Clin Neurosci 19:829–835. doi:10.1016/j.jocn.2011.10.004

Smith JS, Ogden AT, Fessler RG (2008) Minimally invasive posterior thoracic fusion. Neurosurg Focus 25, E9. doi:10.3171/foc/2008/25/8/e9

Assaker R (2004) Minimal access spinal technologies: state-of-the-art, indications, and techniques. Joint Bone Spine 71:459–469. doi:10.1016/j.jbspin.2004.08.006

Vanek P, Bradac O, Konopkova R, de Lacy P, Lacman J, Benes V (2014) Treatment of thoracolumbar trauma by short-segment percutaneous transpedicular screw instrumentation: prospective comparative study with a minimum 2-year follow-up. J Neurosurg Spine 20:150–156. doi:10.3171/2013.11.SPINE13479

Lee JK, Jang JW, Kim TW, Kim TS, Kim SH, Moon SJ (2013) Percutaneous short-segment pedicle screw placement without fusion in the treatment of thoracolumbar burst fractures: is it effective?: comparative study with open short-segment pedicle screw fixation with posterolateral fusion. Acta Neurochir 155:2305–2312. doi:10.1007/s00701-013-1859-x

Jiang XZ, Tian W, Liu B, Li Q, Zhang GL, Hu L, Li Z, He D (2012) Comparison of a paraspinal approach with a percutaneous approach in the treatment of thoracolumbar burst fractures with posterior ligamentous complex injury: a prospective randomized controlled trial. J Int Med Res 40:1343–1356

Bronsard N, Boli T, Challali M, de Dompsure R, Amoretti N, Padovani B, Bruneton G, Fuchs A, de Peretti F (2013) Comparison between percutaneous and traditional fixation of lumbar spine fracture: intraoperative radiation exposure levels and outcomes. Orthopaedics Traumatology, Surgery Research: OTSR 99:162–168. doi:10.1016/j.otsr.2012.12.012

Li H, Yang L, Xie H, Yu L, Wei H, Cao X (2015) Surgical outcomes of mini-open Wiltse approach and conventional open approach in patients with single-segment thoracolumbar fractures without neurologic injury. J Biomed Res 29:76–82. doi:10.7555/jbr.29.20140083

Phan K, Rao PJ, Mobbs RJ (2015) Percutaneous versus open pedicle screw fixation for treatment of thoracolumbar fractures: Systematic review and meta-analysis of comparative studies. Clin Neurol Neurosurg 135:85–92. doi:10.1016/j.clineuro.2015.05.016

Heintel TM, Berglehner A, Meffert R (2013) Accuracy of percutaneous pedicle screws for thoracic and lumbar spine fractures: a prospective trial. Eur Spine J 22:495–502. doi:10.1007/s00586-012-2476-8

McLain RF, Sparling E, Benson DR (1993) Early failure of short-segment pedicle instrumentation for thoracolumbar fractures. A preliminary report. J Bone Joint Surg Am 75:162–167

Gurwitz GS, Dawson JM, McNamara MJ, Federspiel CF, Spengler DM (1993) Biomechanical analysis of three surgical approaches for lumbar burst fractures using short-segment instrumentation. Spine 18:977–982

Tian JW, Wang L, Xia T, Liu CY, Zhao QH, Dong SH (2011) Posterior short-segmental fixation combined with intermediate screws vs conventional intersegmental fixation for monosegmental thoracolumbar fractures. Orthopedics 34:e389–396. doi:10.3928/01477447-20110627-08

von Jako R, Finn MA, Yonemura KS, Araghi A, Khoo LT, Carrino JA, Perez-Cruet M (2011) Minimally invasive percutaneous transpedicular screw fixation: increased accuracy and reduced radiation exposure by means of a novel electromagnetic navigation system. Acta Neurochir 153:589–596. doi:10.1007/s00701-010-0882-4

Bourgeois AC, Faulkner AR, Bradley YC, Pasciak AS, Barlow PB, Gash JR, Reid WS Jr (2015) Improved accuracy of minimally invasive transpedicular screw placement in the lumbar spine with 3-dimensional stereotactic image guidance: a comparative meta-analysis. J Spinal Disord Tech 28:324–329. doi:10.1097/bsd.0000000000000152
About this article
Cite this article
Li, K., Li, Z., Ren, X. et al. Effect of the percutaneous pedicle screw fixation at the fractured vertebra on the treatment of thoracolumbar fractures. International Orthopaedics (SICOT) 40, 1103–1110 (2016). https://doi.org/10.1007/s00264-016-3156-9
Received:

Accepted:

Published:

Issue Date:

DOI: https://doi.org/10.1007/s00264-016-3156-9
Keywords