Abstract
Background
The two prevalent fixation methods in the treatment of syndesmosis injuries, the rigid screw fixation and flexible Endobutton fixation, are not without issues; thus, we have designed a novel bionic fixation method which combines the features of both rigid and flexible fixations. The aim of this study was to compare the biomechanical properties of the bionic fixation to the screw and Endobutton fixations.
Methods
Six normal fresh-frozen legs from amputation surgery were used. After initial tests of intact syndesmosis, screw, bionic and Endobutton fixations were performed sequentially for each specimen. Axial loading as well as rotation torque were applied, in five different ankle positions: neutral position, dorsiflexion, plantar flexion, varus, and valgus. The displacement of the syndesmosis and the tibial strain were analysed using a biomechanical testing system.
Results
Whether receiving axial loading or rotation torque, in most situations (neutral position, dorsiflexion, varus, plantar flexion with low loading, valgus with high loading, internal and external rotation), the bionic group and Endobutton group had comparable displacements, and there was no significant difference among the intact, bionic, and Endobutton groups; whereas the displacements of the screw group were smaller than any of the other three groups. Results of the tibial strain were similar with that of the displacement.
Conclusions
The bionic fixation at least equals the performance of Endobutton fixation; it also allows more physiologic movement of the syndesmosis when compared to the screw fixation and may serve as a viable option for the fixation of the tibiofibular syndesmosis.
Access options
Buy single article
Instant access to the full article PDF.
US$ 39.95
Tax calculation will be finalised during checkout.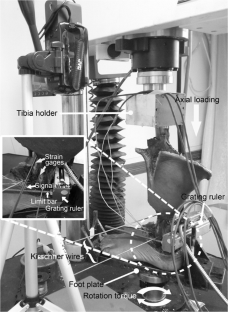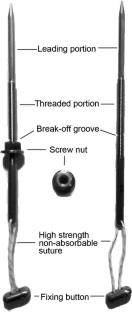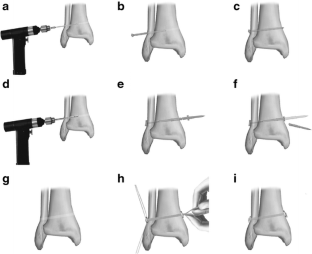 References
1.

Grass R, Herzmann K, Biewener A, Zwipp H (2000) Injuries of the inferior tibiofibular syndesmosis. Unfallchirurg 103:520–532

2.

van Staa TP, Dennison EM, Leufkens HG, Cooper C (2001) Epidemiology of fractures in England and Wales. Bone 29:517–522

3.

Egol KA, Pahk B, Walsh M, Tejwani NC, Davidovitch RI, Koval KJ (2010) Outcome after unstable ankle fracture: effect of syndesmotic stabilization. J Orthop Trauma 24:7–11

4.

Zhang Y (2012) Clinical epidemiology of orthopedic trauma. Thieme, Stuttgart, pp 267–282

5.

Sagi HC, Shah AR, Sanders RW (2012) The functional consequence of syndesmotic joint malreduction at a minimum 2-year follow-up. J Orthop Trauma 26:439–443

6.

Day GA, Swanson CE, Hulcombe BG (2001) Operative treatment of ankle fractures: a minimum ten-year follow-up. Foot Ankle Int 22:102–106

7.

van den Bekerom MP, de Leeuw PA, van Dijk CN (2009) Delayed operative treatment of syndesmotic instability. Curr Concepts Rev Inj 40:1137–1142

8.

Miyamoto W, Takao M (2011) Management of chronic disruption of the distal tibiofibular syndesmosis. World J Orthop 2:1–6

9.

Hunt KJ (2013) Syndesmosis injuries. Curr Rev Musculoskelet Med 6:304–312

10.

McBryde A, Chiasson B, Wilhelm A, Donovan F, Ray T, Bacilla P (1997) Syndesmotic screw placement: a biomechanical analysis. Foot Ankle Int 18:262–266

11.

Beumer A, Campo MM, Niesing R, Day J, Kleinrensink GJ, Swierstra BA (2005) Screw fixation of the syndesmosis: a cadaver model comparing stainless steel and titanium screws and three and four cortical fixation. Injury 36:60–64

12.

Wang Q, Whittle M, Cunningham J, Kenwright J (1996) Fibula and its ligaments in load transmission and ankle joint stability. Clin Orthop Relat Res 330:261–270

13.

Bell DP, Wong MK (2006) Syndesmotic screw fixation in Weber C ankle injuries—should the screw be removed before weight bearing? Injury 37:891–898

14.

Klitzman R, Zhao H, Zhang LQ, Strohmeyer G, Vora A (2010) Suture-button versus screw fixation of the syndesmosis: a biomechanical analysis. Foot Ankle Int 31:69–75

15.

den Daas A, van Zuuren WJ, Pelet S, van Noort A, van den Bekerom MP (2012) Flexible stabilization of the distal tibiofibular syndesmosis: clinical and biomechanical considerations: a review of the literature. Strateg Trauma Limb Reconstr 7:123–129

16.

Bartonicek J (2003) Anatomy of the tibiofibular syndesmosis and its clinical relevance. Surg Radiol Anat 25:379–386

17.

Forsythe K, Freedman KB, Stover MD, Patwardhan AG (2008) Comparison of a novel FiberWire-button construct versus metallic screw fixation in a syndesmotic injury model. Foot Ankle Int 29:49–54

18.

Hermans JJ, Beumer A, de Jong TA, Kleinrensink GJ (2010) Anatomy of the distal tibiofibular syndesmosis in adults: a pictorial essay with a multimodality approach. J Anat 217:633–645

19.

Scranton PE, Jr., McMaster JG, Kelly E (1976) Dynamic fibular function: a new concept. Clin Orthop Relat Res 118:76–81

20.

Beumer A, Valstar ER, Garling EH, Niesing R, Ranstam J, Lofvenberg R, Swierstra BA (2003) Kinematics of the distal tibiofibular syndesmosis: radiostereometry in 11 normal ankles. Acta Orthop Scand 74:337–343

21.

Brown OL, Dirschl DR, Obremskey WT (2001) Incidence of hardware-related pain and its effect on functional outcomes after open reduction and internal fixation of ankle fractures. J Orthop Trauma 15:271–274

22.

Hopkinson WJ, St Pierre P, Ryan JB, Wheeler JH (1990) Syndesmosis sprains of the ankle. Foot Ankle 10:325–330

23.

Schepers T (2012) Acute distal tibiofibular syndesmosis injury: a systematic review of suture-button versus syndesmotic screw repair. Int Orthop 36:1199–1206

24.

Wang C, Ma X, Wang X, Huang J, Zhang C, Chen L (2013) Internal fixation of distal tibiofibular syndesmotic injuries: a systematic review with meta-analysis. Int Orthop 37:1755–1763

25.

Tian M, Zhang M, Guo X, Li S (2013) Letter regarding article by Wang et al., "Internal fixation of distal tibiofibular syndesmotic injuries: a systematic review with meta-analysis". Int Orthop 37:2537

26.

Degroot H, Al-Omari AA, El Ghazaly SA (2011) Outcomes of suture button repair of the distal tibiofibular syndesmosis. Foot Ankle Int 32:250–256
Acknowledgments
This study was supported by the Medical Science Research Key Project of Hebei Province, China (ZL20140115). And we thank Xiaolin Zhang, professor of Hebei Medical University, for statistical help in the analysis.
Disclosure
The authors have no financial or other conflicts of interest to disclose.
About this article
Cite this article
Wang, L., Wang, B., Xu, G. et al. Biomechanical comparison of bionic, screw and Endobutton fixation in the treatment of tibiofibular syndesmosis injuries. International Orthopaedics (SICOT) 40, 307–314 (2016). https://doi.org/10.1007/s00264-015-2920-6
Received:

Accepted:

Published:

Issue Date:
Keywords
Syndesmosis

Ankle fracture

Biomechanical

Surgical fixation