Abstract
Purpose
As ambulatory surgery becomes increasingly common, there is growing interest in assessing, monitoring, and tracking complications that occur secondary to outpatient procedures. We sought to determine the rates of 14- and 30-day acute care visits for surgical site infection after outpatient hand surgery, and to identify associated factors.
Methods
Using the California State Ambulatory Surgery database for 2010 and 2011, we identified 44,305 patients undergoing common outpatient hand surgery procedures. Cases were linked to the State Emergency Department and the State Inpatient databases for postoperative acute care visits (e.g. hospitalizations, emergency department or ambulatory surgical visits) related to surgical site infection.
Results
Postoperative acute care visits for surgical site infection occurred in 1.7 per 1,000 hand surgery procedures (0.17 %) at 14 days, and 3.3 per 1,000 (0.33 %) at 30 days. Thirty-day infection rates were lowest after ganglion cyst (0.15 %) and deQuervain surgery (0.25 %), and highest following cubital tunnel release (0.56 %) and trapeziometacarpal arthroplasty (0.49 %). Fifty-three percent of postoperative visits were treated in the emergency department setting, 37 % in the inpatient setting, and 10 % required an additional outpatient surgical procedure. Patients with government-funded insurance—Medicaid in particular—and those residing in rural areas had higher odds of postoperative acute care visits for surgical site infection. Diabetes, obesity, and tobacco use were not associated with increased risk for infection leading to an acute care visit.
Conclusion
The rates of postoperative acute care visits for surgical site infection after ambulatory hand procedures are low but not negligible—particularly given how common hand surgery is, and the fact that many of these events entail hospitalizations or additional ambulatory procedures. Reasons for the increased risk of acute care visits for infection among publicly insured and rural patients merit additional research.
This is a preview of subscription content, log in to check access.
Access options
Buy single article
Instant access to the full article PDF.
US$ 39.95
Price includes VAT for USA
Subscribe to journal
Immediate online access to all issues from 2019. Subscription will auto renew annually.
US$ 199
This is the net price. Taxes to be calculated in checkout.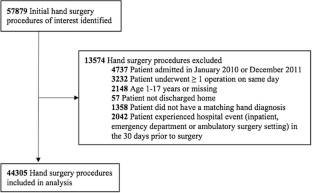 References
1.

Broex EC, van Asselt AD, Bruggeman CA, van Tiel FH (2009) Surgical site infections: how high are the costs? J Hosp Infect 72(3):193–201. doi:10.1016/j.jhin.2009.03.020

2.

de Lissovoy G, Fraeman K, Hutchins V, Murphy D, Song D, Vaughn BB (2009) Surgical site infection: incidence and impact on hospital utilization and treatment costs. Am J Infect Control 37(5):387–397. doi:10.1016/j.ajic.2008.12.010

3.

Quinn A, Hill AD, Humphreys H (2009) Evolving issues in the prevention of surgical site infections. Surgeon 7(3):170–172

4.

Whitehouse JD, Friedman ND, Kirkland KB, Richardson WJ, Sexton DJ (2002) The impact of surgical-site infections following orthopedic surgery at a community hospital and a university hospital: adverse quality of life, excess length of stay, and extra cost. Infect Control Hosp Epidemiol 23(4):183–189. doi:10.1086/502033

5.

Shapiro S (1995) Microsurgical carpal tunnel release. Neurosurgery 37(1):66–70

6.

Owens PL, Barrett ML, Raetzman S, Maggard-Gibbons M, Steiner CA (2014) Surgical site infections following ambulatory surgery procedures. JAMA 311(7):709–716. doi:10.1001/jama.2014.4

7.

Milstein A (2009) Ending extra payment for "never events"–stronger incentives for patients' safety. N Engl J Med 360(23):2388–2390. doi:10.1056/NEJMp0809125

8.

Rosenthal MB (2007) Nonpayment for performance? Medicare's new reimbursement rule. N Engl J Med 357(16):1573–1575. doi:10.1056/NEJMp078184

9.

Department of Health and Human Services (DHHS) National Action Plan to Prevent Healthcare-Associated Infections: Roadmap to Elimination. DHHS website. http://www.hhs.gov/ash/initiatives/hai/infection.html. Accessed 3 November 2014

10.

Department of Health and Human Services (DHHS) National Action Plan to Prevent Healthcare-Associated Infections: Road Map to Elimination: Ambulatory Surgical Centers. DHHS website. http://www.hhs.gov/ash/initiatives/hai/ambulatory_surgical_centers.html. 3 November 2014

11.

Cullen KA, Hall MJ, Golosinskiy A (2009) Ambulatory surgery in the United States, 2006. Natl Health Stat Report 11:1–25

12.

Schaefer MK, Jhung M, Dahl M, Schillie S, Simpson C, Llata E, Link-Gelles R, Sinkowitz-Cochran R, Patel P, Bolyard E, Sehulster L, Srinivasan A, Perz JF (2010) Infection control assessment of ambulatory surgical centers. JAMA 303(22):2273–2279. doi:10.1001/jama.2010.744

13.

Bachoura A, Guitton TG, Smith RM, Vrahas MS, Zurakowski D, Ring D (2011) Infirmity and injury complexity are risk factors for surgical-site infection after operative fracture care. Clin Orthop Relat Res 469(9):2621–2630. doi:10.1007/s11999-010-1737-2

14.

Gradl G, de Witte PB, Evans BT, Hornicek F, Raskin K, Ring D (2014) Surgical site infection in orthopaedic oncology. J Bone Joint Surg Am 96(3):223–230. doi:10.2106/JBJS.L.01514

15.

Nota SP, Braun Y, Ring D, Schwab JH (2015) Incidence of surgical site infection after spine surgery: what Is the impact of the definition of infection? Clin Orthop Relat Res 473(5):1612–1619. doi:10.1007/s11999-014-3933-y

16.

Pryor KO, Fahey TJ 3rd, Lien CA, Goldstein PA (2004) Surgical site infection and the routine use of perioperative hyperoxia in a general surgical population: a randomized controlled trial. JAMA 291(1):79–87. doi:10.1001/jama.291.1.79

17.

Takeishi K, Yamashita Y, Tsujita E, Maeda T, Tsutsui S, Matsuda H, Shirabe K, Ishida T, Maehara Y (2014) Risk factors for organ/space surgical site infection after hepatectomy for hepatocellular carcinoma. Am Surg 80(11):1173–1175

18.

Rasouli MR, Restrepo C, Maltenfort MG, Purtill JJ, Parvizi J (2014) Risk factors for surgical site infection following total joint arthroplasty. J Bone Joint Surg Am 96(18):e158. doi:10.2106/JBJS.M.01363

19.

Bykowski MR, Sivak WN, Cray J, Buterbaugh G, Imbriglia JE, Lee WP (2011) Assessing the impact of antibiotic prophylaxis in outpatient elective hand surgery: a single-center, retrospective review of 8,850 cases. J Hand Surg [Am] 36(11):1741–1747. doi:10.1016/j.jhsa.2011.08.005

20.

Harness NG, Inacio MC, Pfeil FF, Paxton LW (2010) Rate of infection after carpal tunnel release surgery and effect of antibiotic prophylaxis. J Hand Surg [Am] 35(2):189–196. doi:10.1016/j.jhsa.2009.11.012

21.

Hashemi K, Blakeley CJ (2004) Wound infections in day-case hand surgery: a prospective study. Ann R Coll Surg Engl 86(6):449–450. doi:10.1308/147870804687

22.

Zwiebel S, Becker D (2014) Risk of postoperative infection following carpal tunnel release in patients with diabetes mellitus: a review of 658 surgeries. Plast Reconstr Surg 134(4 Suppl 1):37. doi:10.1097/01.prs.0000455366.67857.24

23.

Grayson MJ, Saldana MJ (1987) Toxic shock syndrome complicating surgery of the hand. J Hand Surg [Am] 12(6):1082–1084

24.

Rigopoulos N, Dailiana ZH, Varitimidis S, Hantes M, Bargiotas K, Malizos KN (2008) Compartmental infections of the hand. Scand J Plast Reconstr Surg Hand Surg 42(1):38–42. doi:10.1080/02844310701553967

25.

Smith PA, Hankin FM, Louis DS (1986) Postoperative toxic shock syndrome after reconstructive surgery of the hand. J Hand Surg [Am] 11(3):399–402

26.

Agency for Healthcare Research and Quality (AHRQ) Healthcare Cost and Utilization Project (HCUP) Databases. AHRQ website. http://www.hcup-us.ahrq.gov/databases.jsp. Accessed 1 November 2014.

27.

Martin CT, Pugely AJ, Gao Y, Ilgenfritz RM, Weinstein SL (2014) Incidence and risk factors for early wound complications after spinal arthrodesis in children: analysis of 30-day follow-up data from the ACS-NSQIP. Spine (Phila Pa 1976) 39(18):1463–1470. doi:10.1097/BRS.0000000000000446

28.

Hayward RA, Hofer TP (2001) Estimating hospital deaths due to medical errors: preventability is in the eye of the reviewer. JAMA 286(4):415–420

29.

Simborg DW (1981) DRG creep: a new hospital-acquired disease. N Engl J Med 304(26):1602–1604. doi:10.1056/NEJM198106253042611

30.

Curtin CM, Hernandez-Boussard T (2014) Readmissions after treatment of distal radius fractures. J Hand Surg [Am] 39(10):1926–1932. doi:10.1016/j.jhsa.2014.07.041

31.

Bruijnzeel H, Neuhaus V, Fostvedt S, Jupiter JB, Mudgal CS, Ring DC (2012) Adverse events of open A1 pulley release for idiopathic trigger finger. J Hand Surg [Am] 37(8):1650–1656. doi:10.1016/j.jhsa.2012.05.014

32.

Manoso MW, Cizik AM, Bransford RJ, Bellabarba C, Chapman J, Lee MJ (2014) Medicaid status is associated with higher surgical site infection rates after spine surgery. Spine (Phila Pa 1976) 39(20):1707–1713. doi:10.1097/BRS.0000000000000496

33.

LaPar DJ, Bhamidipati CM, Mery CM, Stukenborg GJ, Jones DR, Schirmer BD, Kron IL, Ailawadi G (2010) Primary payer status affects mortality for major surgical operations. Ann Surg 252(3):544–550. doi:10.1097/SLA.0b013e3181e8fd75, discussion 550-541

34.

Menendez ME, Ring D (2014) Minorities are less likely to receive autologous blood transfusion for major elective orthopaedic surgery. Clin Orthop Relat Res 472(11):3559–3566. doi:10.1007/s11999-014-3793-5

35.

Menendez ME, van Dijk CN, Ring D (2014) Who leaves the hospital against medical advice in the orthopaedic setting? Clin Orthop Relat Res 473(3):1140–1149. doi:10.1007/s11999-014-3924-z

36.

Taubman SL, Allen HL, Wright BJ, Baicker K, Finkelstein AN (2014) Medicaid increases emergency-department use: evidence from Oregon's Health Insurance Experiment. Science 343(6168):263–268. doi:10.1126/science.1246183

37.

Mondelli M, Padua L, Reale F, Signorini AM, Romano C (2004) Outcome of surgical release among diabetics with carpal tunnel syndrome. Arch Phys Med Rehabil 85(1):7–13
Additional information
Level of evidence: Level III, Prognostic study
Appendix 1. Coding definitions for SSIs
Appendix 1. Coding definitions for SSIs
ICD-9-CM Diagnosis codes
686.0: Pyoderma
686.00: Pyoderma, unspecified
686.09: Other pyoderma
686.1: Pyogenic granuloma of skin and subcutaneous tissue
686.8: Other specified local infections of skin and subcutaneous tissue
998.5: Postoperative infection, not elsewhere classified
998.51: Infected postoperative seroma
998.59: Other postoperative infection
682.3: Cellulitis of arm
682.4: Cellulitis of hand
711.03: Pyogenic arthritis, forearm
711.63: Arthropathy associated with mycoses, forearm
711.64: Arthropathy associated with mycoses, hand
730.03: Acute osteomyelitis of forearm
730.04: Acute osteomyelitis of hand
730.23: Unspecified osteomyelitis of forearm
730.24: Unspecified osteomyelitis of hand
730.93: Unspecified infection of bone, forearm
730.94: Unspecified infection of bone, hand
CPT Procedure codes
10060: Incision and drainage of abscess (e.g., carbuncle, suppurative hidradenitis, cutaneous or subcutaneous abscess, cyst, furuncle, or paronychia); simple or single
10061: Incision and drainage of abscess (e.g., carbuncle, suppurative hidradenitis, cutaneous or subcutaneous abscess, cyst, furuncle, or paronychia); complicated or multiple
10180: Incision and drainage, complex, postoperative wound infection
11000: Debridement of extensive eczematous or infected skin; up to 10% of body surface
11001: Debridement of extensive eczematous or infected skin; each additional 10% of the body surface, or part thereof
20000: Incision of soft tissue abscess; superficial (musculoskeletal system)
20005: Incision of soft tissue abscess; deep or complicated (musculoskeletal system)
ICD-9-CM Procedure codes
86.04: Other incision with drainage of skin and subcutaneous tissue
86.22: Excisional debridement of wound, infection, or burn
About this article
Cite this article
Menendez, M.E., Lu, N., Unizony, S. et al. Surgical site infection in hand surgery. International Orthopaedics (SICOT) 39, 2191–2198 (2015). https://doi.org/10.1007/s00264-015-2849-9
Received:

Accepted:

Published:

Issue Date:
Keywords
Surgical site infection

Hand surgery

Complication

Patient safety

Quality improvement