Abstract
Purpose
The aim of this study is evaluation of the efficacy of the use of platelet rich plasma (PRP) in management of femoral neck fractures.
Materials and methods
This is a prospective study that was conducted between February 2010 and March 2013. A total of 60 patients were included in this study, categorized randomly into two groups. Group A included fracture neck femur treated by closed reduction and internal fixation with three cannulated screws and group B by addition of PRP to internal fixation. We planned to compare time of healing, need for revision and incidence of complications between the two groups.
Results
Union occurred in 53 patients (88.33 %) in both groups, 25 cases (83.3 %) in group A and 28 cases (93.3 %) in group B, including three cases (5 %) with avascular necrosis (AVN): two in group A (6.7 %) and one case in group B (3.3 %).Revision surgery was done for six cases (20 %) in group A and for two cases (6.7 %) in group B. In both groups, all united cases had good to excellent clinical outcome as regards Harris hip score (HHS) at the end of the follow up.
Conclusion
Despite advances in surgical techniques and medical care, the risk of nonunion and avascular necrosis (AVN) after treatment of femoral neck fractures have not been changed appreciably in the last 50 years. Results of this study generally showed that both the median clinical and radiographic healing time were lower in group B compared to group A.
Access options
Buy single article
Instant access to the full article PDF.
USD 39.95
Price excludes VAT (USA)
Tax calculation will be finalised during checkout.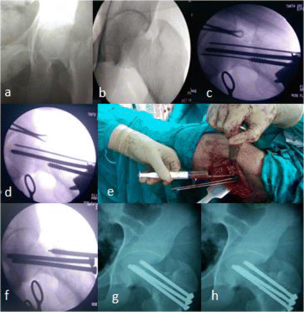 References
Whitman DH, Berry RL, Green DM (1997) Platelet gel: an autologous alternative to fibrin glue with applications in oral and maxillofacial surgery. J Oral Maxillofac Surg 55(11):1294–1299

Peerbooms JC, Colaris JW, Gosens T et al (2012) No positive bone healing after using platelet rich plasma in a skeletal defect. An observational prospective cohort study. Int Orthop 36(10):2113–2119

Lu-Yao GL, Keller RB, Littenberg B et al (1994) Outcomes after displaced fractures of the femoral neck. A meta-analysis of one hundred and six published reports. J Bone Joint Surg Am 76:15–25

Garden RS (1961) Low-angle fixation in fractures of the femoral neck. JBJS 43:647–663

Filardo G, Kon E, Ruiz MTP et al (2012) Platelet-rich plasma intra-articular injections for cartilage degeneration and osteoarthritis: single- versus double-spinning approach. Knee Surg Sports Traumatol Arthrosc 20:2082–2091

Warden V, Hurley AC, Volicer L (2003) Development and psychometric evaluation of the pain assessment in advanced dementia (PAINAD) scale. J Am Med Dir Assoc 4:9–15

Yoo MC, Chung DW, Hahn CS (1992) Free vascularized fibula grafting for the treatment of osteonecrosis of the femoral head. Clin Orthop Relat Res 277:128–138

Parker MJ, Raghavan R, Gurusamy K (2007) Incidence of fracture-healing complications after femoral neck fractures. Clin Orthop Relat Res 458:175–179

Stravrakis TA, Lyras DN, Psillakis IG (2009) Fractures of the femoral neck treated with hemi arthroplasty. Folia Med 51:134–145

Wong RW, Rabie AB (2003) Statin collagen grafts used to repair defects in the parietal bone of rabbits. Br J Oral Maxillofac Surg 41:244–248

Haidukewych GJ, Rothwell WS, Jacofsky DJ (2004) Operative treatment of femoral neck fractures in patients between the ages of fifteen and fifty years. JBJS (Am) 86:1711–1716

Leighton R (2008) Classification and treatment and treatment of femoral neck nonunions in young patients. J Bone Joint Surg Br 90:124–128

Shih CH, Wang KC (1991) Femoral neck fractures. 121 cases treated by Knowles pinning. Clin Orthop Relat Res 271:195–200

Rodríguez-Merchán EC (2002) In situ fixation of nondisplaced intracapsular fractures of the proximal femur. Clin Orthop Relat Res 399:42–51

Ort PJ, LaMont J (1984) Treatment of femoral neck fractures with a sliding compression screw and two Knowles pins. Clin Orthop Relat Res 190:158–162

Altan E, Aydin K, Ugras S et al (2014) The effect of platelet-rich plasma on osteochondral defects treated with mosaicplastynt. Orthopedics 38(6):1321–1328

Gerber C, Strehle J, Ganz R (1993) The treatment of the fractures of the femoral neck. Clin Orthop 292:77–86

Cserhati P, Kazar G, Manninger J et al (1996) Non-operative or operative treatment for undisplaced femoral neck fractures: a comparative study of 122 non-operative and 125 operatively treated cases. Injury 27:583–588

Swiontkowski MF (1994) Current concept review: intracapsuler fractures of the hip. JBJS 76A:129–138

Barnes R, Brown JT, Garden RS, Nicoll EA (1976) Subcapital fractures of the femur. A prospective review. J Bone Joint Surg Br 58:2–24

Zuckerman JD, Skovron ML, Koval KJ, Aharonoff G, Frankel VH (1995) Postoperative complications and mortality associated with operative delay in older patients who have a fracture of the hip. J Bone Joint Surg Am 77:1551–1556

Aggarwal AK, Shashikanth VS, Marwaha N (2014) Platelet-rich plasma prevents blood loss and pain and enhances early functional outcome after total knee arthroplasty: a prospective randomised controlled study. Int Orthop 38(2):387–395

Peerbooms JC, Wolf GS, Colaris JW, Bruijn DJ, Verhaar JA (2009) No positive effect of autologous platelet gel after total knee arthroplasty. Acta Orthop 80:557–562

Berghoff W, Pietrzak W, Rhodes R (2006) Platelet-rich plasma application during closure following total knee arthroplasty. Orthopedics 29(7):590–598
Acknowledgments
The author would like to extend his appreciation to all technicians and physicians in the clinical pathology department at his institute for their magnificent help.
Role of the funding source
The author did not receive any fund for this research.
Competing interest
The author has no competing interests to declare.
About this article
Cite this article
Samy, A.M. The role of platelet rich plasma in management of fracture neck femur: new insights. International Orthopaedics (SICOT) 40, 1019–1024 (2016). https://doi.org/10.1007/s00264-015-2844-1
Received:

Accepted:

Published:

Issue Date:

DOI: https://doi.org/10.1007/s00264-015-2844-1
Keywords