Abstract
Purpose
Metatarsalgia is one of the most frequent pathological conditions of the foot and ankle. Numerous studies exist on plantar-pressure characteristics in various types of shoes. However, to the best of our knowledge, plantar-pressure distribution and clinical effects in sandals has not as yet been the the focus of any study.
Methods
Twenty-two patients (42 feet) with central metatarsalgia were assessed. Time and distance until symptom occurrence in terms of metatarsalgia were evaluated for normal walking shoes (WS), standard sandals (SS) and anatomically shaped, custom-made sandals with a metatarsal pad (AS). Pain intensity was measured with the visual analogue (VAS), and clinical assessment was performed with the American Orthopaedic Foot and Ankle Society (AOFAS) score for the respective shoes. Additionally, plantar-pressure distribution was assessed with the emed-at platform (Novel GmbH) and the F-scan insole system (Tekscan Inc.), respectively.
Results
The average walking distance until symptoms occurred was 1,894 m [standard deviation (SD) 1,196 m) for WS, 1,812 m (SD 1,079 m) for SS and 3,407 m (SD 1,817 m) for AS (p < 0.01). Mean duration until occurrence of symptoms was 22.3 min (SD 14.9 min) for the WS, 21.8 min (SD 13.4 min) for the SS and 42.0 min (SD 23.0 min) for the AS (p < 0.01). Plantar-pressure parameters were significantly reduced in the forefoot region for the AS compared with the other walking devices.
Conclusions
The results of this study reveal that a modified standard sandal can significantly influence the onset of metatarsalgia, as increased walking time and distance in these patients was observed.
Access options
Buy single article
Instant access to the full article PDF.
US$ 39.95
Tax calculation will be finalised during checkout.
Subscribe to journal
Immediate online access to all issues from 2019. Subscription will auto renew annually.
US$ 119
Tax calculation will be finalised during checkout.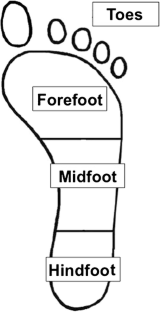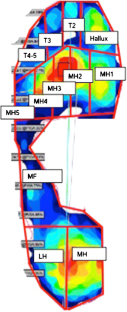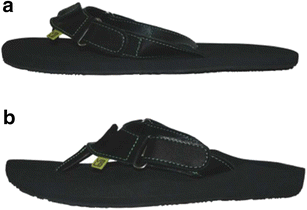 References
1.

Espinosa N, Brodsky JW, Maceira E (2010) Metatarsalgia. J Am Acad Orthop Surg 18:474–485

2.

Espinosa N, Maceira E, Myerson MS (2008) Current concept review: metatarsalgia. Foot Ankle Int 29:871–879

3.

Doxey G (1985) Management of metatarsalgia with foot orthotics. J Orthop Sports Phys Ther 6:324–333

4.

Kang JH, Chen MD, Chen SC, Hsi WL (2006) Correlations between subjective treatment responses and plantar pressure parameters of metatarsal pad treatment in metatarsalgia patients: a prospective study. BMC Musculoskelet Disord 7:95

5.

Cornwall MW, McPoil TG (1995) Footwear and foot orthotic effectiveness research: a new approach. J Orthop Sports Phys Ther 21:337–344

6.

Nawoczenski DA (1999) Nonoperative and operative intervention for hallux rigidus. J Orthop Sports Phys Ther 29:727–735

7.

Chang BC, Wang JY, Huang BS, Lin HY, Lee WC (2012) Dynamic impression insole in rheumatoid foot with metatarsal pain. Clin Biochem 27:196–201

8.

Postema K, Burm PE, Zande ME, Limbeek J (1998) Primary metatarsalgia: the influence of a custom moulded insole and a rockerbar on plantar pressure. Prosthetics Orthot Int 22:35–44

9.

Stolwijk NM, Louwerens JW, Nienhuis B, Duysens J, Keijsers NL (2011) Plantar pressure with and without custom insoles in patients with common foot complaints. Foot & ankle international/American Orthopaedic Foot and Ankle Society [and] Swiss Foot and Ankle Society 32:57–65

10.

Teyhen DS, Stoltenberg BE, Eckard TG, Doyle PM, Boland DM, Feldtmann JJ, McPoil TG, Christie DS, Molloy JM, Goffar SL (2011) Static foot posture associated with dynamic plantar pressure parameters. J Orthop Sports Phys Ther 41:100–107

11.

Schuh R, Trnka HJ, Sabo A, Reichel M, Kristen KH (2011) Biomechanics of postoperative shoes: plantar pressure distribution, wearing characteristics and design criteria: a preliminary study. Arch Orthop Trauma Surg 131:197–203

12.

Mueller MJ (1995) Use of an in-shoe pressure measurement system in the management of patients with neuropathic ulcers or metatarsalgia. J Orthop Sports Phys Ther 21:328–336

13.

Chard A, Greene A, Hunt A, Vanwanseele B, Smith R (2013) Effect of thong style flip-flops on children′s barefoot walking and jogging kinematics. Journal of foot and ankle research 6:8

14.

Penkala S (2009) Footwear choices for children: knowledge, application and relationships to health outcomes. PhD Thesis, Australia: University of Sydney, Faculty of Health Sciences;.

15.

Hawker GA, Mian S, Kendzerska T, French M (2011) Measures of adult pain: Visual Analog Scale for Pain (VAS Pain), Numeric Rating Scale for Pain (NRS Pain), McGill Pain Questionnaire (MPQ), Short-Form McGill Pain Questionnaire (SF-MPQ), Chronic Pain Grade Scale (CPGS), Short Form-36 Bodily Pain Scale (SF-36 BPS), and Measure of Intermittent and Constant Osteoarthritis Pain (ICOAP). Arthritis care & research 63(Suppl 11):S240–S252

16.

Hunt KJ, Hurwit D (2013) Use of patient-reported outcome measures in foot and ankle research. J Bone Joint Surg Am 95(118):111–119

17.

Landorf KB, Radford JA, Hudson S (2010) Minimal Important Difference (MID) of two commonly used outcome measures for foot problems. Journal of foot and ankle research 3:7

18.

Kitaoka HB, Alexander IJ, Adelaar RS, Nunley JA, Myerson MS, Sanders M (1994) Clinical rating systems for the ankle-hindfoot, midfoot, hallux, and lesser toes. Foot & ankle international/American Orthopaedic Foot and Ankle Society [and] Swiss Foot and Ankle Society 15:349–353

19.

Brown M, Rudicel S, Esquenazi A (1996) Measurement of dynamic pressures at the shoe-foot interface during normal walking with various foot orthoses using the FSCAN system. Foot & ankle international/American Orthopaedic Foot and Ankle Society [and] Swiss Foot and Ankle Society 17:152–156

20.

Grondal L, Brostrom E, Wretenberg P, Stark A (2006) Arthrodesis versus Mayo resection: the management of the first metatarsophalangeal joint in reconstruction of the rheumatoid forefoot. J Bone Joint Surg Br Vol 88:914–919

21.

Woodburn J, Helliwell PS (1996) Relation between heel position and the distribution of forefoot plantar pressures and skin callosities in rheumatoid arthritis. Ann Rheum Dis 55:806–810

22.

Woodburn J, Helliwell PS (1996) Observations on the F-Scan in-shoe pressure measuring system. Clin Biochem 11:301–304

23.

Quesada P, Rash G, Jarboe N (1997) Assessment of pedar and F-Scan revisited. Clin Biomech (Bristol, Avon), 12:S15.

24.

Schuh R, Hofstaetter JG, Hofstaetter SG, Adams SB Jr, Kristen KH, Trnka HJ (2011) Plantar pressure distribution after tibiotalar arthrodesis. Clin Biomech 26:620–625

25.

Schuh R, Salzberger F, Wanivenhaus AH, Funovics PT, Windhager R, Trnka HJ (2013) Kinematic changes in patients with double arthrodesis of the hindfoot for realignment of planovalgus deformity. Journal of orthopaedic research : official publication of the Orthopaedic Research Society 31:517–524

26.

Orlin MNM, McPoil TG (2000) Plantar pressure assessment. Phys Ther 80:399–409

27.

Putti ABA GP, Cochrane LA, Abboud RJ (2008) Normal pressure values and repeatability of the Emed ST4 system. Gait and posture 27:501–505

28.

Rao S, Baumhauer JF, Becica L, Nawoczenski DA (2009) Shoe inserts alter plantar loading and function in patients with midfoot arthritis. J Orthop Sports Phys Ther 39:522–531

29.

Janisse DJ, Janisse E (2008) Shoe modification and the use of orthoses in the treatment of foot and ankle pathology. J Am Acad Orthop Surg 16:152–158

30.

Sobhani S, van den Heuvel E, Bredeweg S, Kluitenberg B, Postema K, Hijmans JM, Dekker R (2014) Effect of rocker shoes on plantar pressure pattern in healthy female runners. Gait & posture 39:920–925

31.

Willems TM, De Ridder R, Roosen P (2012) The effect of a long-distance run on plantar pressure distribution during running. Gait & posture 35:405–409
About this article
Cite this article
Schuh, R., Seegmueller, J., Wanivenhaus, A.H. et al. Comparison of plantar-pressure distribution and clinical impact of anatomically shaped sandals, off-the-shelf sandals and normal walking shoes in patients with central metatarsalgia. International Orthopaedics (SICOT) 38, 2281–2288 (2014). https://doi.org/10.1007/s00264-014-2508-6
Received:

Accepted:

Published:

Issue Date:
Keywords
Metatarsalgia

Plantar pressure

Thong-type sandal