Abstract
Purpose
Bone morphogenetic protein (BMP)-2 and -7 are used in patients with long-bone fractures, nonunions and spinal fusions. It is unknown whether their potential systemic bioavailability following local bone administration might affect skeletal metabolism. To answer this question, we examined effects of systemically administered BMP-2 and -7 on bone in a newly developed rat model with a low level of calciotropic hormones.
Methods
Removal of thyroid and parathyroid glands (TPTx) in rats resulted in a decreased level of calciotropic hormones and subsequent bone loss assessed by micro computed tomography (micro-CT) and measurement of serum bone formation and resorption markers, including osteocalcin, C-telopeptide, osteoprotegerin and receptor activator of nuclear factor kappa-B ligand. Results were complemented with in vitro studies on osteoblast and osteoclast activity by both BMP-2 and -7. The doses used were calculated from published pharmacodynamic studies and bioavailability results from preclinical BMP-2 and -7 studies.
Results
TPTx resulted in bone loss, which was restored by systemic administration of 10–70 μg/kg of BMP-2 and 10–250 μg/kg of BMP-7. BMP-2 showed a higher capacity for enhancing trabecular microarchitecture, whereas BMP-7 augmented trabecular thickness. In vitro experiments revealed that BMP-2 and -7 when uncoupled increased the number and activity of both osteoblasts and osteoclasts.
Conclusions
Surprisingly, both BMP-2 and -7 showed an increased bone volume in an in vivo environment of low calciotropic hormones. Locally administered BMP-2 and -7 from bone devices might become partially available in circulation but will not mediate systemic bone loss.
Access options
Buy single article
Instant access to the full article PDF.
US$ 39.95
Tax calculation will be finalised during checkout.
Subscribe to journal
Immediate online access to all issues from 2019. Subscription will auto renew annually.
US$ 119
Tax calculation will be finalised during checkout.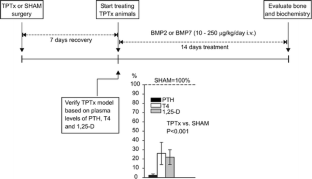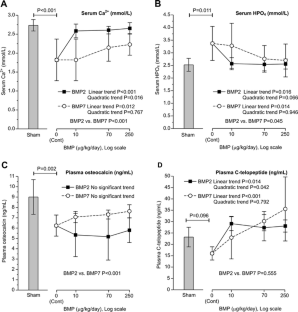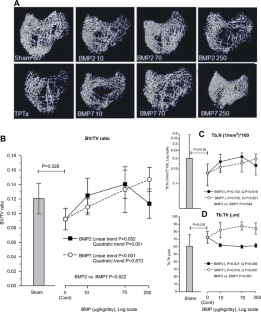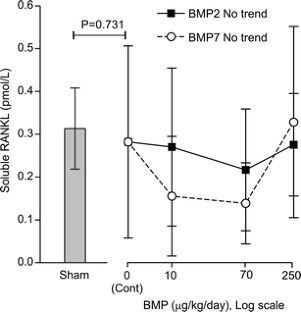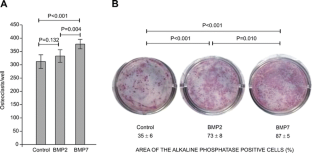 References
1.

Vukicevic S, Stavljenic A, Pecina M (1995) Discovery and clinical applications of bone morphogenetic proteins. Eur J Clin Chem Clin Biochem 33:661–671

2.

Jelic M, Pecina M, Haspl M, Kos J, Taylor K, Maticic D, McCartney J, Yin S, Rueger D, Vukicevic S (2001) Regeneration of articular cartilage chondral defects by osteogenic protein-1 (bone morphogenetic protein-7) in sheep. Growth Factors 19:101–113

3.

Jelic M, Grgurevic L, Vukicevic S (2014) Scaffold-free endogenous healing of the articular cartilage lesion. In: Doral MN and Karlsson J (eds) Sport injuries: prevention, diagnosis, treatment and rehabilitation, 2nd ed. Springer-Verlag

4.

Pecina M, Jelic M, Martinovic S, Haspl M, Vukicevic S (2002) Articular cartilage repair: the role of bone morphogenetic proteins. Int Orthop 26:131–136

5.

Govender S, Csimma C, Genant HK, Valentin-Orpan A, BMP-2 Evaluation in surgery for Tibial Trauma (BESTT) study group et al (2002) Recombinant human bone morphogenetic protein-2 for treatment of open tibial fractures: a prospective, controlled, randomized study of 450 patients. J Bone Joint Surg Am 84-A:2123–2134

6.

Friedlaender GE, Perry CR, Cole JD, Cook SD, Cierny G, Muschler GF, Zych GA, Calhoun JH, LaForte AJ, Yin S (2001) Osteogenic protein-1 (bone morphogenetic protein-7) in the treatment of tibial nonunions. J Bone Joint Surg Am 83-A:151–158

7.

Fu R, Selph S, McDonagh M, Peterson K, Tiwari A, Chou R, Helfand M (2013) Effectiveness and harms of recombinant human bone morphogenetic protein-2 in spinal fusion: a systematic review and meta-analysis. Ann Intern Med 158:890–902

8.

Simmonds MC, Brown JV, Heirs MK, Higgins JP, Mannion RJ, Rodgers MA, Stewart LA (2013) Safety and effectiveness of recombinant human bone morphogenetic protein-2 for spinal fusion: a meta-analysis of individual-participant data. Ann Intern Med 158:877–889

9.

Ekrol I, Hajducka C, Court-Brown C, McQueen MM (2008) A comparison of rhBMP-7 (OP-1) and autogenous graft for metaphyseal defects after osteotomy of distal radius. Injury 39:S73–S82

10.

McGee MA, Findlay DM, Howie DW, Carbone A, Ward P, Stamenkov R, Page TT, Bruce WJ, Wildenauer CI, Toth C (2004) The use of OP-1 in femoral impaction grafting in a sheep model. J Orthop Res 22:1008–1015

11.

Peric M, Dumic-Cule I, Grcevic D, Matijasic M, Verbanac D, Grgurevic L, Trkulja V, Bagi C, Vukicevic S (2014) The rational use of animal models in the evaluation of novel bone regenerative therapies. Bone. doi:10.1016/j.bone.2014.07.010

12.

Dumic-Cule I, Draca N, Luetic AT, Jezek D, Rogic D, Grgurevic L, Vukicevic S (2014) TSH prevents bone resorption and with calcitriol synergistically stimulates bone formation in rats with low levels of calciotropic hormones. Horm Metab Res 46:305–312

13.

Livak KJ, Schmittgen TD (2001) Analysis of relative gene expression dana using real-time quantitative PCR and the 2(−Delta Delta C(T)). Methods 25:402–408

14.

Holick MF (2007) Vitamin D deficiency. N Engl J Med 357:266–281

15.

Vukicevic S, Oppermann H, Verbanac D, Jankolija M, Popek I, Curak J, Brkljacic J, Pauk M, Erjavec I, Francetic I, Dumic-Cule I, Jelic M, Durdevic D, Vlahovic T, Novak R, Kufner V, Bordukalo Niksic T, Kozlovic M, Banic Tomisic Z, Bubic-Spoljar J, Bastalic I, Vikic-Topic S, Peric M, Pecina M, Grgurevic L (2014) The clinical use of bone morphogenetic proteins revisited: a novel biocompatible carrier device OSTEOGROW for bone healing. Int Orthop 38:635–647

16.

Suzuki J, Otsuka F, Takeda M, Kenichi I, Tomoko M, Mimura Y, Ogura T, Doihara H, Makino H (2005) Functional role of the bone morphogenetic protein system in thyrotropin signaling in porcine thyroid cells. Biochem Biophys Res Commun 327:1124–1130

17.

Kamiya N, Ye L, Kobayashi T, Lucas DJ, Mochida Y, Yamauchi M, Kronenberg HM, Feng JQ, Mishina Y (2008) Disruption of BMP signaling in osteoblasts through type IA receptor (BMPRIA) increases bone mass. J Bone Miner Res 23:2007–2017

18.

Boyle WJ, Simonet WS, Lacey DL (2003) Osteoclast differentiation and activation. Nature 423:337–342

19.

Sanchez-Fernandez MA, Gallois A, Riedl T, Jurdic P, Hoflack B (2008) Osteoclasts control osteoblast chemotaxis via PDGF-BB/PDGF receptor beta signaling. PLoS One 3:e3537

20.

Simic P, Culej JB, Orlic I, Grgurevic L, Draca N, Spaventi R, Vukicevic S (2006) Systemically administered bone morphogenetic protein-6 restores bone in aged ovariectomized rats by increasing bone formation and suppressing bone resorption. J Biol Chem 281:25509–25521
Acknowledgments
This work was supported in part by the Croatian Science Foundation, project 08/5 BONE6-BIS. We acknowledge Djurdja Car and Mirjana Marija Renic for providing animal care in all rat studies.
About this article
Cite this article
Dumic-Cule, I., Brkljacic, J., Rogic, D. et al. Systemically available bone morphogenetic protein two and seven affect bone metabolism. International Orthopaedics (SICOT) 38, 1979–1985 (2014). https://doi.org/10.1007/s00264-014-2425-8
Received:

Accepted:

Published:

Issue Date:
Keywords
Bone morphogenetic protein 2

Bone morphogenetic protein 7

Micro-CT

Bone volume