Abstract
Purpose
The purpose of this prospective randomised trial was to assess whether an intramedullary nail is superior to a sliding hip screw in the treatment of multifragmentary intertrochanteric fractures
Methods
Eighty patients with a 31-A2.2 or A2.3 Arbeitsgemeinschaft für Osteosynthesefragen/Orthopaedic Trauma Association (AO/OTA) intertrochanteric fracture were randomly allocated to fixation with either the Gamma nail or the AMBI sliding hip screw device.
Results
All patients were followed up at one, three, six and 12 months postoperatively, except for nine who died. There was no statistical difference in Parker mobility score between groups. The Gamma nail group had significantly higher Barthel Index and EuroQol-5D (EQ-5D) scores than the AMBI group at 12 months. At the same time, the EQ-5D score had returned to its pre-operative values in the Gamma nail group but not in the AMBI group. There were no differences in mortality, radiation time and hospital stay. Duration of the operation, incision length and hip pain occurrence were significantly less in the Gamma nail group.
Conclusions
Few failures occur when unstable 31-A2.2 and A2.3 AO/OTA fractures are fixed with a sliding hip screw. Nevertheless, an intramedullary nail seems superior in reconstituting patients to their pre-operative state.
Access options
Buy single article
Instant access to the full article PDF.
USD 39.95
Price excludes VAT (USA)
Tax calculation will be finalised during checkout.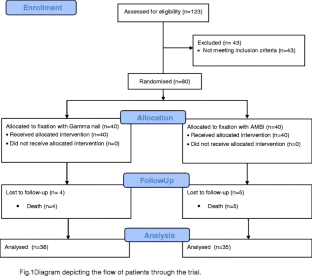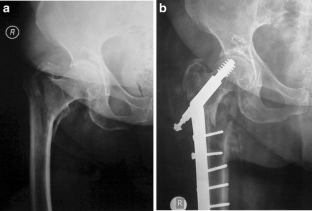 Similar content being viewed by others
References
Ahrengart L, Törnkvist H, Fornander P, Thorngren KG, Pasanen L, Wahlström P et al (2002) A randomized study of the compression hip screw and Gamma nail in 426 fractures. Clin Orthop Relat Res 401:209–222

Adams CI, Robinson CM, Court-Brown CM, McQueen MM (2001) Prospective randomized controlled trial of an intramedullary nail versus dynamic screw and plate for intertrochanteric fractures of the femur. J Orthop Trauma 15(6):394–400

Anesthesiologists HoDotASo (1963) New classification of physical status. Anesthesiology 24(1):111

Andruszkow H, Frink M, Frömke C, Matityahu A, Zeckey C, Mommsen P, Suntardjo S, Krettek C, Hildebrand F (2012) Tip apex distance, hip screw placement, and neck shaft angle as potential risk factors for cutout failure of hip screws after surgical treatment of intertrochanteric fractures. Int Orthop 36(11):2347–2354

Anglen JO, Weinstein JN (2008) American Board of Orthopaedic Surgery Research Committee. Nail or plate fixation of intertrochanteric hip fractures: changing pattern of practice. A review of the American Board of Orthopaedic Surgery Database. J Bone joint Surg (Am) 90(4):700–707

Aune AK, Ekeland A, Odegaard B, Grøgaard B, Alho A (1994) Gamma nail vs compression screw for trochanteric femoral fractures. 15 reoperations in a prospective, randomized study of 378 patients. Acta Orthop Scand 65(2):127–130

Barton MT, Gleeson R, Topliss C, Greenwood R, Harries W, Chesser JST (2010) A comparison of the Long Gamma Nail with the Sliding Hip Screw for the treatment of AO/OTA 31-A2 fractures of the proximal femur - A prospective randomized trial. J Bone joint Surg (Am) 92:792–798

Baumgaertner MR, Curtin SL, Lindskog DM (1995) The value of the tip-apex distance in predicting failure of fixation of peritrochanteric fractures of the hip. J Bone joint Surg 77A:1058

Baumgaertner MR, Curtin SL, Lindskog DM (1998) Intramedullary versus extramedullary fixation for the treatment of intertrochanteric hip fractures. Clin Orthop Relat Res 348:87–94

Benum P, Grontvedt T, Braten M et al (1992) Gamma nail versus CHS in intertrochanteric and subtrochanteric femoral fractures: a preliminary report of a prospective randomized study. Acta Orthop Scand 63(suppl 247):7–8

Bhandari M, Schemitsch E, Jönsson A, Zlowodzki M, Haidukewych GJ (2009) Gamma nails revisited: gamma nails versus compression hip screws in the management of intertrochanteric fractures of the hip: a meta-analysis. J Orthop Trauma 23(6):460–464

Bridle SH, Patel AD, Bircher M, Calvert PT (1991) Fixation of intertrochanteric fractures of the femur. A randomised prospective comparison of the gamma nail and the dynamic hip screw. J Bone Joint Surg Br 73(2):330–334

Butt MS, Krikler SJ, Nafie S, Ali MS (1995) Comparison of dynamic hip screw and gamma nail: a prospective, randomized, controlled trial. Injury 26(9):615–618

Chirodian N, Arch B, Parker M (2005) Sliding hip screw fixation of trochanteric hip fractures: Outcome of 1024 procedures. Injury 36:793–800

D'Arrigo C, Carcangiu A, Perugia D, Scapellato S, Alonzo R, Frontini S, Feretti A (2012) Intertrochanteric fractures: comparison between two different locking nails. Int Orthop 36(12):2545–2551

Ekström W, Karlsson-Thur C, Larsson S, Ragnarsson B, Alberts KA (2007) Functional outcome in treatment of unstable trochanteric and subtrochanteric fractures with the proximal femoral nail and the Medoff sliding plate. J Orthop Trauma 21(1):18–25

Forte M, Beth B, Kane R, Durham S, Bhandari M, Feldman R et al (2008) Geographic variation in device use for intertrochanteric hip fractures. J Bone joint Surg (Am) 90:691–699

Geller JA, Saifi C, Morrison TA, Macaulay W (2010) Tip-apex distance of intramedullary devices as a predictor of cutout failure in the treatment of peritrochanteric elderly hip fractures. Int Orthop 34(5):719–722

Gotfried Y (2004) The lateral trochanteric wall: a key element in the reconstruction of unstable pertrochanteric hip fractures. Clin Orthop Relat Res 425:82–86

Gun II, Shin YW, Song YJ (2005) Potentially unstable intertrochanteric fractures. J Orthop Trauma 19(1):5–9

Haidukewych GJ, Israel TA, Berry DJ (2001) Reverse obliquity fractures of the intertrochanteric region of the femur. J Bone joint Surg (Am) 83-A(5):643–650

Hardy DC, Descamps PY, Krallis P, Fabeck L, Smets P, Bertens CL et al (1998) Use of an intramedullary hip-screw compared with a compression hip-screw with a plate for intertrochanteric femoral fractures. A prospective, randomized study of one hundred patients. J Bone joint Surg (Am) 80(5):618–30

Harrington P, Nihal A, Singhania AK, Howell FR (2002) Intramedullary hip screw versus sliding hip screw for unstable intertrochanteric femoral fractures in the elderly. Injury 33(1):23–28

Hernandez-Vaquero D, Perez-Hernandez D, Suirez-Vazquez A, Garcia-Garcia J, Garcia-Sandoval MA (2005) Reverse oblique intertrochanteric femoral fractures treated with the gamma nail. Int Orthop 29(3):164–167

Hsueh KK, Fang CK, Chen CM, Su YP, Wu HF, Chiu FY (2010) Risk factors in cutout of sliding hip screw in intertrochanteric fractures: an evaluation of 937 patients. Int Orthop 34(8):1273–1276

Huang Y, Zhang C, Luo Y (2013) A comparative biomechanical study of proximal femoral nail (InterTAN) and proximal femoral nail antirotation for intertrochanteric fractures Int Orthop PMID 24091417

Kim WY, Han CH, Park JI (2001) Failure of intertrochanteric fracture fixation with a dynamic hip screw in relation to preoperative fracture stability and osteoporosis. Int Orthop 25(6):360–362

Leung KS, So WS, Shen WY, Hui PW (1992) Gamma nails and dynamic hip screws for peritrochanteric fractures. A randomised prospective study in elderly patients. J Bone joint Surg (Br) 74(3):345–351

Liu M, Yang Z, Pei F, Huang F, Chen S, Xiang Z (2010) A meta-analysis of the Gamma nail and dynamic hip screw in treating peritrochanteric fractures. Int Orthop 34(3):323–328

Lorich DG, Geller DS, Nielson JH (2004) Osteoporotic Pertrochanteric Hip Fractures: Management and Current Controversies. J Bone joint Surg (Am) 86(2):398–410

Mahoney FI, Barthel D (1965) Functional evaluation: the Barthel Index. Maryland State Med J 14:56–61

Miedel R, Ponzer S, Törnkvist H, Söderqvist A, Tidermark J (2005) The standard Gamma nail or the Medoff sliding plate for unstable trochanteric and subtrochanteric fractures. A randomised, controlled trial. J Bone joint Surg (Br) 87(1):68–75

Moher D, Schulz KF, Altman DG (2001) The CONSORT statement: revised recommendations for improving the quality of reports of parallel-group randomized trials. Ann Intern Med 134:657–662

Müller ME, Nazarian S, Koch P et al (1990) The comprehensive classification of fractures of long bones. Springer, Berlin

National Clinical Guideline Centre (2011) The management of hip fracture in adults. Royal College of Physicians, London

Pajarinen J, Lindahl J, Michelsson O, Savolainen V, Hirvensalo E (2005) Pertrochanteric femoral fractures treated with a dynamic hip screw or a proximal femoral nail: A Randomised study comparing postoperative rehabilitation. J Bone Joint Surg Br 87-B(1):76–81

Pajarinen J, Lindahl J, Savolainen V, Michelsson O, Hirvensalo E (2004) Femoral shaft medialisation and neck-shaft angle in unstable pertrochanteric femoral fractures. Int Orthop 28(6):347–353

Palm H., Jacobsen S., Sonne-Holm S., Gebuhr P., Hip Fracture Study Group (2007) Integrity of the lateral femoral wall in intertrochanteric hip fractures: an important predictor of a reoperation. J Bone joint Surg (Am) 89(3):470–475

Parker MJ, Palmer CR (1993) A new mobility score for predicting mortality after hip fracture. J Bone joint Surg (Br) 75(5):797–798

Parker MJ, Handoll HH (2008) Gamma and other cephalocondylic intramedullary nails versus extramedullary implants for extracapsular hip fractures in adults. Cochrane Database Syst Rev 16(3), CD000093

Parker MJ (1996) Trochanteric hip fractures. Fixation failure commoner with femoral medialization, a comparison of 101 cases. Acta Orthop Scand 67(4):329–332

Saudan M, Lübbeke A, Sadowski C, Riand N, Stern R, Hoffmeyer P (2002) Pertrochanteric fractures: is there an advantage to an intramedullary nail?: a randomized, prospective study of 206 patients comparing the dynamic hip screw and proximal femoral nail. J Orthop Trauma 16(6):386–393

Shen J, Hu F, Zhang L, Tang P, Bi Z (2013) Preoperative classification assessment reliability and influence on the length of intertrochanteric fracture operations. Int Orthop 37(4):681–687

Tidermark J, Zethraeus N, Svensson O, Tuornkvist H, Ponzer S (2002) Femoral neck fractures in the elderly: Functional outcome and QoL according to EuroQol. Qual Life Res 11(5):473–481

Utrilla AL, Reig JS, Muñoz FM, Tufanisco CB (2005) Trochanteric gamma nail and compression hip screw for trochanteric fractures: a randomized, prospective, comparative study in 210 elderly patients with a new design of the gamma nail. J Orthop Trauma 19(4):229–233
Acknowledgments
The authors thank the Medical School of Kapodistrian University of Athens for their guidance, where this paper forms part of the corresponding author's PhD thesis.
Conflict of interest
None.
About this article
Cite this article
Aktselis, I., Kokoroghiannis, C., Fragkomichalos, E. et al. Prospective randomised controlled trial of an intramedullary nail versus a sliding hip screw for intertrochanteric fractures of the femur. International Orthopaedics (SICOT) 38, 155–161 (2014). https://doi.org/10.1007/s00264-013-2196-7
Received:

Accepted:

Published:

Issue Date:

DOI: https://doi.org/10.1007/s00264-013-2196-7
Keywords