Abstract
Purpose
The purpose of this study was to determine whether platelet-rich plasma (PRP) might prevent blood loss and postoperative pain and expedite wound healing following total knee arthroplasty (TKA).
Methods
Forty consecutive patients with knee arthritis who were matched for age, sex and body mass index (BMI) were randomly allocated to either receive or not receive PRP application over the wound, including capsule, medial and lateral recesses, during TKA. Postoperative haemoglobin, blood loss, blood transfusion, visual analogue scale (VAS) score, wound score, Knee Society Score (KSS) and Western Ontario and McMaster Osteoarthritis Index (WOMAC) score were recorded and evaluated.
Results
The platelet-rich plasma and control groups comprised 17 and 23 patients, respectively. The PRP group recorded significantly less reduction in haemoglobin and need for blood transfusion (p = 0.00 and p = 0.001, respectively), experienced less pain (p = 0.00) and required fewer narcotics than the control (p = 0.00). There was significant difference in range of motion (ROM) at three months (p = 0.01), no significant difference in wound scores (p = 0.311) and significant difference in KSS and WOMAC scores at 12 weeks (p = 0.00, 0.00). However no significant difference was found at six months.
Conclusions
PRP has significant effect in preventing blood loss, postoperative pain and need for narcotics after TKA and has a positive effect on short-term clinical outcome.
Access options
Buy single article
Instant access to the full article PDF.
USD 39.95
Price excludes VAT (USA)
Tax calculation will be finalised during checkout.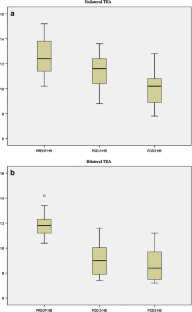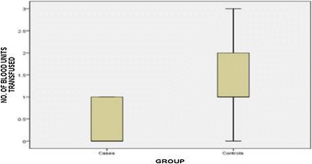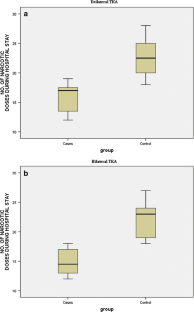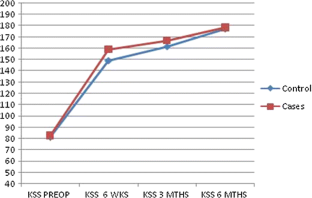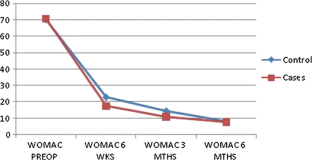 References
Masri BA, Laskin RS, Windsor RE, Haas SB (1996) Knee closure in total knee replacement: a randomized prospective trial. Clin Orthop 331:81–86

Jones CA, Voaklander DC, Suarez-Alma ME (2003) Determinants of function after total knee arthroplasty. Phys Ther 83:696–706

Bierbaum BE, Callaghan JJ, Galante JO, Rubash HE, Tooms RE, Welch RB (1999) An analysis of blood management in patients having a total hip or knee arthroplasty. J Bone Joint Surg Am 81:2–10

Iwai T, Tsuji S, Tomita T, Sugamoto K, Hideki Y, Hamada M (2013) Repeat-dose intravenous tranexamic acid further decreases blood loss in total knee arthroplasty. Int Orthop 37(3):441–445

Ishida K, Tsumura N, Kitagawa A, Hamamura S, Fukuda K, Dogaki Y, Kubo S, Matsumoto T, Matsushita T, Chin T, Iguchi T, Kurosaka M, Kuroda R (2011) Intra-articular injection of tranexamic acid reduces not only blood loss but also knee joint swelling after total knee arthroplasty. Int Orthop 35(11):1639–1645

Eppley BL, Woodell JE, Higgins J (2004) Platelet quantification and growth factor analysis from platelet-rich plasma: implications for wound healing. Plast Reconstr Surg 114:1502–1508

Gardner MJ, Demetrakopoulos D, Klepchick P, Mooar P (2006) The efficacy of autologous platelet gel in pain control and blood loss in total knee arthroplasty: an analysis of the haemoglobin, narcotic requirement and range of motion. Int Orthop 31:309–313

Berghoff W, Pietrzak W, Rhodes R (2006) Platelet-rich plasma application during closure following total knee arthroplasty. Orthopedics 29(7):590–598

Bellamy N, Buchanan W, Goldsmith CH, Campbell J, Still LW (1988) Validation study of WOMAC: A health status instrument for measuring clinically important patient relevant outcomes to antirheumatic drug therapy in patients with osteoarthritis of the hip and the knee. J Rheumatol 15:1833–1840

Insall JN, Dorr LD, Scott RD, Scott WN (1989) Rationale of the knee society clinical rating system. Clin Orthop Relat Res 248:13–14

Bin Li Y, Wen HW, Qian Q, Lin X, Zhao H (2009) The effect of tourniquet use on hidden blood loss in total knee arthroplasty. Int Orthop 33:1263–1268

Cheung A, Goh SK, Tang A, Keng T (2008) Complications of total knee arthroplasty. Curr Orthop 22:274–283

Berman AT, Geissele AE, Bosacco SJ (1988) Blood loss with total knee arthroplasty. Clin Orthop Relat Res 234:137–138

Everts P, Devilee R, Mahoney C, Eeftinck-Schattenenkerk M, Knape J, Van Zundert A (2006) Platelet gel and fibrin sealant reduce allogeneic blood transfusions in total knee arthroplasty. Acta Anaesthesiol Scand 50:593–599

Diamond PT, Conaway MR, Mody SH, Kiran B (2006) Influence of Hemoglobin Levels on Inpatient Rehabilitation Outcomes after Total Knee Arthroplasty. J Arthroplasty 21:15–17

Peerbooms JC, Wolf GS, Colaris JW, Bruijn DJ, Verhaar JA (2009) No positive effect of autologous platelet gel after total knee arthroplasty. Acta Orthop 80:557–562

Horstmann WG, Slappendel R, Van-Hellemondt GG, Wymenga AW, Jack N, Everts P (2011) Autologous platelet gel in total knee arthroplasty: a prospective randomized study. Knee Surg Sports Traumatol Arthrosc 19:115–121

Marx RE (2001) Platelet-rich plasma (PRP): what is PRP and what is not PRP? Implant Dent 10:225–228

Mehta S, Watson JT (2008) Platelet rich concentrate: basic science and current clinical applications. J Orthop Trauma 22:432–438

Blom AW, Brown J, Taylor AH, Pattison G, Whitehouse S, Bannister GC (2004) Infection after total knee arthroplasty. J Bone Joint Surg Br 86:688–691

Gatha NM, Clarke HD, Fuchs R, Scuderi GR, Insall JN (2004) Factors affecting postoperative range of motion after total knee arthroplasty. J Knee Surg 17:196–202

Marx RE (2004) Platelet-rich plasma: evidence to support its use. J Oral Maxillofac Surg 62:489–496
Conflict of interest
None.
About this article
Cite this article
Aggarwal, A.K., Shashikanth, V.S. & Marwaha, N. Platelet-rich plasma prevents blood loss and pain and enhances early functional outcome after total knee arthroplasty: a prospective randomised controlled study. International Orthopaedics (SICOT) 38, 387–395 (2014). https://doi.org/10.1007/s00264-013-2136-6
Received:

Accepted:

Published:

Issue Date:

DOI: https://doi.org/10.1007/s00264-013-2136-6
Keywords