Abstract
Purpose
Avulsion of the abductors from the hip can be an infrequent but debilitating complication after total hip arthroplasty performed through a trans-gluteal approach. This can result in intractable pain, limp, Trendelenberg lurch and instability of the hip. There have been various methods described for repairing or reconstruction of this abductor muscle complex including direct trans-osseous repair, muscle transfers, muscle and tendon sling, bone tendon allograft reconstruction and endoscopic repair techniques.
Methods
In a prospective study at our institution we evaluated the results of a surgical technique in 12 patients using a trans-osseous repair of gluteus medius and minimus insertions augmented by a Graft Jacket® allograft acellular human dermal matrix (Graft Jacket®; Wright Medical Technology, Arlington, TN) over the anterior and anterolateral aspects of the greater trochanter. Diagnosis of hip abductor avulsions was made by evaluation of the history of presenting complaint, clinical examination and confirmed by ultrasound or MRI scans.
Results
Evaluation of results included pain scoring, gait evaluation, Trendelenberg test, and the Harris hip score. There was a significant improvement in pain (VAS mean values 8.25 to 2.33; p value < 0.0001), limp and gait along with abductor strength. The Trendelenberg test became negative in all but one. At the mean follow up of 22 months Harris hip scores improved from 34.05 to 81.26 (p value <0.0001).
Conclusion
Overall this procedure appears to be safe and associated with high patient satisfaction, without the morbidity of any tendon or muscle transfers.
Access options
Buy single article
Instant access to the full article PDF.
US$ 39.95
Tax calculation will be finalised during checkout.
Subscribe to journal
Immediate online access to all issues from 2019. Subscription will auto renew annually.
US$ 119
Tax calculation will be finalised during checkout.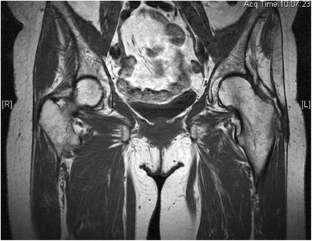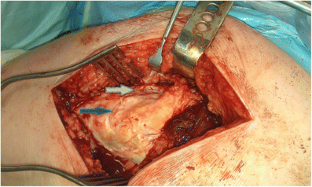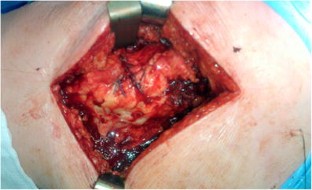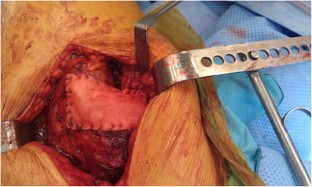 References
1.

Lachiewz PF (2011) Abductor tendon tears of the hip: evaluation and management. J Am Accad Northup Surg 19(7):385–391

2.

Kagan A 2nd (1999) Rotator cuff tears of the hip. Clin Orthop Relat Res 368:135–140

3.

Miozzari HH, Dora C, Clark JM, Nozzle HP (2010) Late repair of abductor avulsion after the trans gluteal approach for hip arthroplasty. J Arthroplasty 25(3):450–457

4.

Lubbeke A, Kampfen S, Sem R, Hoffmeyer P (2008) Results of surgical repair of abductor avulsion after primary total hip arthroplasty. J Arthroplasty 23(5):694–698

5.

Voos JE, Shindle MK, Pruett A, Asnis PD, Kelly BT (2009) Endoscopic repair of gluteus medius tendon tears of the hip. Am J Sports Med 37(4):743–747

6.

Fehm MN, Huddleston JI, Burke DW, Geller JA, Malchau H (2010) Repair of a deficient abductor mechanism with Achilles tendon allograft after total hip replacement. J Bone Joint Surg Am 92(13):2305–2311

7.

Whiteside LA, Nayfeh T, Katerberg BJ (2006) Gluteus maximus flap transfer for greater trochanter reconstruction in revision THA. Clin Orthop Relat Res 453:203–210

8.

Kohl S, Evangelopoulos DS, Siebenrock KA, Beck M (2012) Hip abductor defect repair by means of a vastus lateralis muscle shift. J arthroplasty. 27(4):625–629

9.

Beck M, Leunig M, Ellis T, Granz R (2004) Advancement of the vastus lateralis muscle for the treatment of hip abductor discontinuity. J Arthroplasty 19:476

10.

Hardinge K (1982) The direct lateral approach to the hip. J Bone Joint Surg Br 64(1):17–19

11.

No authors listed. National Joint Registry. http://www.njrcentre.org.uk/. Accessed 24 July 2012

12.

Krackow KA, Thomas SC, Jones LC (1986) A new stitch for ligament-tendon fixation. Brief note. J Bone Joint Surg [Am] 68:764–766

13.

Bunker TD, Esler CN, Leach WJ (1997) Rotator-cuff tear of the hip. J Bone Joint Surg Br 79:618–620

14.

Weber M, Berry DJ (1997) Abductor avulsion after primary total hip arthroplasty. Results of repair. J Arthroplasty 12:202

15.

Schuh A, Zeiler G (2003) Rupture of the gluteus medius tendon. Zentralbl Chir 128:139

16.

Davies JF, Geiger PB, Davies JA, Yahr D, Kroner JM. (2009). Results of open surgical treatment of abductor tendon tears of the hip. 76th Annual Meeting Proceedings. Rosemont, IL, American Academy of Orthopaedic Surgeons, p 463

17.

Whiteside LA (2012) Surgical technique—transfer of the anterior portion of the gluteus maximus muscle for abductor deficiency of the hip. Clin Orthop Relat Res 470:503–510

18.

Bond JL, Dopirak RM, Higgins J, Burns J, Snyder SJ (2008) Arthroscopic replacement of massive, irreparable rotator cuff tears using a graft jacket allograft: technique and preliminary results. Arthroscopy 24:403–409

19.

Wong I, Burns J, Snyder S (2010) Arthroscopic Graft Jacket® repair of rotator cuff tears. J Shoulder Elbow Surg 19:104–109

20.

Barber FA, Burns JP, Deutsch A, Labbe MR, Litchfield RB (2012) A prospective, randomized evaluation of acellular human dermal matrix augmentation for arthroscopic rotator cuff repair. Arthroscopy 28(1):8–15

21.

Snyder SJ, Arnoczky SP, Bond JL, Dopirak R (2009) Histologic evaluation of a biopsy specimen obtained 3 months after rotator cuff augmentation with Graft Jacket® matrix. Arthroscopy 25(3):329–333

22.

Ide J, Kikukawa K, Hirose J, Iyama K, Sakamoto H, Mizuta H (2009) Reconstruction of large rotator-cuff tears with acellular dermal matrix grafts in rats. J Shoulder Elbow Surg 18:288–295

23.

Song L, Olsen RE, Spalazzi JP, Davisson T (2010) Biomechanical evaluation of acellular collagen matrix augmented Achilles tendon repair in sheep. J Foot Ankle Surg 49:438–441
Conflict of interest
The authors declare that they have no conflict of interest.
About this article
Cite this article
Rao, B.M., Kamal, T.T., Vafaye, J. et al. Surgical repair of hip abductors. A new technique using Graft Jacket® allograft acellular human dermal matrix. International Orthopaedics (SICOT) 36, 2049–2053 (2012). https://doi.org/10.1007/s00264-012-1630-6
Received:

Accepted:

Published:

Issue Date:
Keywords
Rotator Cuff

Great Trochanter

Rotator Cuff Repair

Gluteus Medius

Abductor Muscle