Abstract
Purpose
This trial was designed to evaluate the impact of physical characteristics such as body mass index, body weight and height on distal stem migration of a cementless femoral component, as the influence of obesity on the outcome of THA is still debated in literature and conflicting results have been found.
Methods
In this retrospective cohort study, migration patterns for 102 implants were analysed using the Einzel-Bild-Roentgen-Analyse (EBRA-FCA, femoral component analysis). In all cases the Vision 2000 stem was implanted and combined with the Duraloc acetabular component (DePuy, Warsaw, Indiana).
Results
The mean follow-up was 93 months. EBRA-FCA evaluations revealed a mean subsidence of 1.38 mm after two years, 2.06 mm after five and 2.24 mm after seven years. Five stems loosened aseptically. Correlation between increased migration over the whole period and aseptic loosening was highly significant (p < 0.001). Surgical technique had a significant influence on migration and stem stability (p = 0.002) but physical patient characteristics such as body weight over 75 kg and height over 165 cm also significantly influenced stem subsidence towards progressive migration (p = 0.001, p < 0.001). However, a high BMI did not trigger progressive stem migration (p = 0.87). Being of the male gender raised the odds for increased migration (p = 0.03).
Conclusion
Physical characteristics such as body weight and height showed significant influence on migration patterns of this cementless femoral component. The operating surgeon should be aware that body weight above 75 kg and height over 165 cm may trigger increased stem migration and the surgeon should aim to fit these prostheses as tightly as possible. However this study demonstrates that a high BMI does not trigger progressive stem migration. Further investigations are needed to confirm our findings.
Access options
Buy single article
Instant access to the full article PDF.
USD 39.95
Price excludes VAT (USA)
Tax calculation will be finalised during checkout.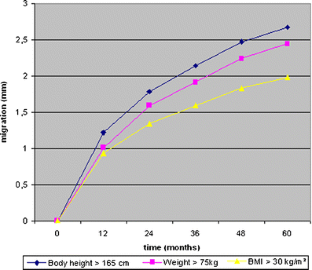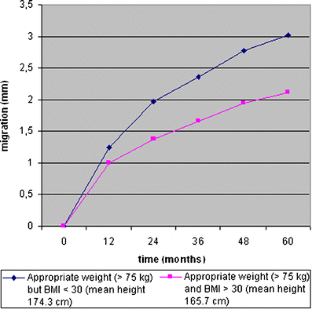 References
Clohisy JC, Calvert G, Tull F, McDonald D, Maloney WJ (2004) Reasons for revision hip surgery: a retrospective review. Clin Orthop Relat Res 429:188–192

Böhm P, Bischel O (2001) Femoral revision with the Wagner SL revision stem: evaluation of one hundred and twenty-nine revisions followed for a mean of 4.8 years. J Bone Joint Surg Am 83:1023–1031

Sundfeldt M, Carlsson LV, Johansson CB, Thomsen P, Gretzer C (2006) Aseptic loosening, not only a question of wear: a review of different theories. Acta Orthop 77:177–197

Münger P, Röder C, Ackermann-Liebrich U, Busato A (2006) Patient-related risk factors leading to aseptic stem loosening in total hip arthroplasty: a case-control study of 5,035 patients. Acta Orthop 77:567–574

Andrew JG, Palan J, Kurup HV, Gibson P, Murray DW, Beard DJ (2005) Obesity in total hip replacement. J Bone Joint Surg Br 90:424–429

Moran M, Walmsley P, Gray A, Brenkel IJ (2005) Does body mass index affect the early outcome of primary total hip arthroplasty. J Arthroplasty 20:866–869

Jackson MP, Sexton SA, Yeung E, Walter WL, Walter WK, Zicat BA (2009) The effect of obesity on the mid-term survival and clinical outcome of cementless total hip replacement. J Bone Joint Surg Br 91:1296–1300

Haverkamp D, de Man FH, de Jong PT, van Stralen RA, Marti RK (2008) Is the long-term outcome of cemented THA jeopardized by patients being overweight? Clin Orthop Relat Res 466:1162–1168

McLaughlin JR, Lee KR (2006) The outcome of total hip replacement in obese and non-obese patients at 10- to 18-years. J Bone Joint Surg Br 88:1286–1292

Ibrahim T, Hobson S, Beiri A, Esler CN (2005) No influence of body mass index on early outcome following total hip arthroplasty. Int Orthop 29:359–361

Young NL, Cheah D, Waddell JP, Wright JG (1998) Patient characteristics that affect the outcome of total hip arthroplasty: a review. Can J Surg 41:188–195

Surin VV, Sundholm K (1983) Survival of patients and prostheses after total hip arthroplasty. Clin Orthop Relat Res 177:148–153

Olsson SS, Jernberger A, Tryggö D (1981) Clinical and radiological long-term results after Charnley-Müller total hip replacement. A 5 to 10 year follow-up study with special reference to aseptic loosening. Acta Orthop Scand 52:531–542

Chandler HP, Reineck FT, Wixson RL, McCarthy JC (1981) Total hip replacement in patients younger than thirty years old. A five-year follow-up study. J Bone Joint Surg Am 63:1426–1434

Friedl G, Radl R, Stihsen C, Rehak P, Aigner R, Windhager R (2009) The effect of a single infusion of zoledronic acid on early implant migration in total hip arthroplasty. A randomized, double-blind, controlled trial. J Bone Joint Surg Am 91:274–281

Onsten I, Akesson K, Besjakov J, Obrant KJ (1995) Migration of the Charnley stem in rheumatoid arthritis and osteoarthritis. A roentgen stereophotogrammetric study. J Bone Joint Surg Br 77:18–22

Krismer M, Bauer R, Tschupik J, Mayrhofer P (1995) EBRA: a method to measure migration of acetabular components. J Biomech 28:1225–1236

Biedermann R, Krismer M, Stöckl B, Mayrhofer P, Ornstein E, Franzén H (1999) Accuracy of EBRA-FCA in the measurement of migration of femoral components of total hip replacement. Einzel-Bild-Roentgen-Analyse-femoral component analysis. J Bone Joint Surg Br 81:266–272

Fender D, van der Meulen JH, Gregg PJ (2003) Relationship between outcome and annual surgical experience for the charnley total hip replacement. Results from a regional hip register. J Bone Joint Surg Br 85:187–190

Malchau H, Herberts P, Ahnfelt L (1993) Prognosis of total hip replacement in Sweden. Follow-up of 92,675 operations performed 1978–1990. Acta Orthop Scand 64:497–506

Søballe K, Christensen F, Luxhøj T (1987) Hip replacement in obese patients. Acta Orthop Scand 58:223–225

Dickob M, Martini T (1996) The cementless PM hip arthroplasty. Four-to-seven-year results. J Bone Joint Surg Br 78:195–199

Röder C, Parvizi J, Eggli S, Berry DJ, Müller ME, Busato A (2003) Demographic factors affecting long-term outcome of total hip arthroplasty. Clin Orthop Relat Res 417:62–73

Röder C, Eggli S, Münger P, Melloh M, Busato A (2008) Patient characteristics differently affect early cup and stem loosening in THA: a case-control study on 7,535 patients. Int Orthop 32:33–38

Selvik G (1989) Roentgen stereophotogrammetry. A method for the study of the kinematics of the skeletal system. Acta Orthop Scand Suppl 232:1–51
About this article
Cite this article
Stihsen, C., Radl, R., Keshmiri, A. et al. Subsidence of a cementless femoral component influenced by body weight and body mass index. International Orthopaedics (SICOT) 36, 941–947 (2012). https://doi.org/10.1007/s00264-011-1360-1
Received:

Accepted:

Published:

Issue Date:

DOI: https://doi.org/10.1007/s00264-011-1360-1
Keywords