Abstract
Osteosynthesis of comminuted posterior acetabular wall fractures is a challenging task for surgeons. We report a series of eight cases of such fractures where the comminuted fragments were excised and the defect in the posterior acetabular wall was reconstructed with iliac crest strut graft. The graft was buttressed with a reconstruction plate on its posterior aspect. The patients were followed up every week until radiological signs of union were seen. Subsequent follow-up was after six months, one year and annually. Patients were evaluated clinically by Merle d'Aubigne and Postel score and radiologically by Matta score at their final follow-up. All fractures united radiologically after an average follow-up of 3.2 months. The clinical outcome after mean follow-up of 3.34 years (minimum two years and maximum five years) was as follows: two (25%) were excellent, two (25%) were very good, three (37.5%) were good and one (12.5%) was fair. Radiological grading at last follow-up showed excellent in one (12.5%), good in four (50%) and fair in three (37.5%) patients. No complication in the form of infection, heterotopic ossification, neurovascular injury or graft resorption was noticed. To conclude, excision of the small comminuted fragments and reconstruction of the wall using iliac crest strut graft is a viable alternative technique for reconstruction of the comminuted posterior acetabular wall fracture. The medium-term clinical and radiological results of this technique are satisfactory.
Access options
Buy single article
Instant access to the full article PDF.
USD 39.95
Price excludes VAT (USA)
Tax calculation will be finalised during checkout.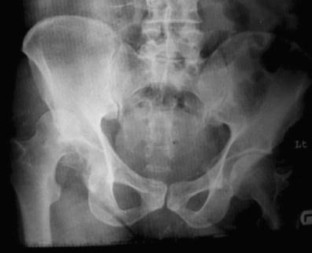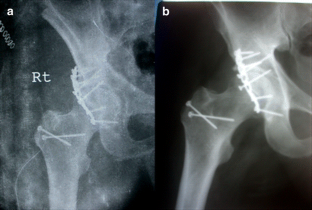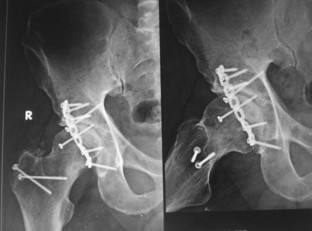 References
Baumgaertner MR (1999) Fractures of the posterior wall of the acetabulum. J Am Acad Orthop Surg 7:54–65

Brumback RJ, Holt ES, McBride MS (1990) Acetabular depression fracture accompanying posterior fracture dislocation of the hip. J Orthop Trauma 4:42–46

Daum WJ (1993) Traumatic posterior acetabular defects reconstructed with iliac crest autograft: a report of two cases. Clini Orthop Rel Res 291:188–192

Ebraheim NA, Patil V, Liu J, Sanford CG, Haman SP (2007) Reconstruction of comminuted posterior wall fractures using the buttress technique: a review of 32 fractures. Int Orthop 31(5):671–675

Giannoudis PV, Tzioupis C, Moed BR (2007) Two-level reconstruction of comminuted posterior-wall fractures of the acetabulum. J Bone Joint Surg Br 89:503–509

Goulet J, Rouleau J, Mason D, Goldstein S (1994) Comminuted fractures of the posterior wall of the acetabulum: a biomechanical evaluation of fixate on methods. J Bone Joint Surg Am 76(10):1457–1463

Gupta RK, Singh H, Dev B, Kansay R, Gupta P, Garg S (2009) Results of operative treatment of acetabular fractures from the Third World—how local factors affect the outcome. Int Orthop 33:347–352

Im GI, Shin YW, Song YJ (2005) Fractures to the posterior wall of the acetabulum managed with screws alone. J Trauma 58(2):300–303

Letournel E, Judet R (1993) Fractures of the acetabulum. Springer, Berlin Heidelberg New York

Mast J, Jakob R, Ganz R (1989) Planning and reduction technique in fracture surgery. Springer, Berlin Heidelberg

Matta JM (1996) Fractures of the acetabulum: accuracy of reduction and results in patients managed operatively within three weeks after the injury. J Bone Joint Surg Am 78:1632–1645

Merle d'Aubigne R, Postel M (1954) Functional results of hip arthroplasty with acrylic prosthesis. J Bone Joint Surg Am 36:451–475

Rommens PM, Giménez MV, Hessmann MH (2000) Is the posterior wall avulsion the simplest acetabular fracture? Eur J Trauma 26:144–154

Stockle U, Hoffmann R, Nittinger M, Sudkamp NP, Haas NP (2000) Screw fixation of acetabular fractures. Int Orthop 24(3):143–147
About this article
Cite this article
Sen, R.K., Tripathy, S.K., Aggarwal, S. et al. Posterior wall reconstruction using iliac crest strut graft in severely comminuted posterior acetabular wall fracture. International Orthopaedics (SICOT) 35, 1223–1228 (2011). https://doi.org/10.1007/s00264-010-1177-3
Received:

Revised:

Accepted:

Published:

Issue Date:

DOI: https://doi.org/10.1007/s00264-010-1177-3
Keywords