Abstract
The aim of this study was to compare osteotomy for malunited distal radius fracture with embedment of a corticospongious graft into a periosteal flap of the recipient bone (test) with the standard procedure (control) with respect to graft resorption. A retrospective assessor-blind analysis of consecutive patients (test: n = 19, control: n = 30) was performed. Ulnar tilt, palmar tilt and capitate-ulna distance were assessed from radiographs taken before, two to four days after and over three months after the surgery to determine loss of correction achieved by the surgery and estimate graft resorption during the postoperative period. In both unadjusted and adjusted comparisons, loss of correction of all parameters was lower in the test group (P < 0.05). The odds of "none to mild" resorption were greater in the test group with an adjusted odds ratio of 5.43 (95% confidence interval: 1.32–26.5, P = 0.025). Total graft collapse occurred in five of 30 controls and in none of 19 test patients. Graft embedment into the periosteum may improve its preservation.
Access options
Buy single article
Instant access to the full article PDF.
US$ 39.95
Tax calculation will be finalised during checkout.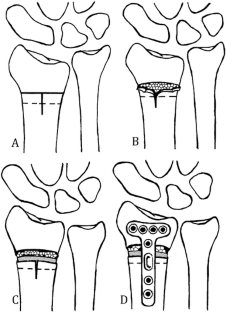 References
1.

af Ekenstam F, Hagert CG, Engkvist O, Törnvall AH, Wilbrand H (1985) Corrective osteotomy of malunited fractures of the distal end of the radius. Scand J Plast Reconstr Surg 19(2):175–187

2.

Altissimi M, Antenucci R, Fiacca C, Mancini GB (1986) Long-term results of conservative treatment of fractures of the distal radius. Clin Orthop 206:202–210

3.

Aro HT, Koivunen T (1991) Minor axial shortening of the radius affects outcome of Colles' fracture treatment. J Hand Surg [Am] 16(3):392–398

4.

Bilić R, Zdravković V (1988) Planning corrective osteotomy of the distal end of the radius. 1. Improved method. Unfallchirurg 91(12):571–574

5.

Bilić R, Zdravković V (1988) Planning corrective osteotomy of the distal end of the radius. 2. Computer-aided planning and postoperative follow-up. Unfallchirurg 91(12):575–580

6.

Bilić R, Zdravković V, Boljević Z (1994) Osteotomy for deformity of the radius. Computer-assisted three-dimensional modelling. J Bone Joint Surg Br 76(1):150–154

7.

Bilić R, Ruzić L, Zdravković V, Boljević Z, Kovjanić J (1995) Reliability of different methods of determination of radial shortening. Influence of ulnar and palmar tilt. J Hand Surg [Br] 20(1):97–101

8.

Bilić R, Kovjanić J, Kolundžić R (2005) Quantification of changes in graft dimension after corrective osteotomy of the distal end of the radius. Acta Chir Orthop Traumatol Cech 72(6):375–380

9.

Croitoru H, Ellis RE, Prihar R, Small CF, Pichora DR (2001) Fixation-based surgery: a new technique for distal radius osteotomy. Comput Aided Surg 6(3):160–169

10.

Fernandez DL (1982) Correction of post-traumatic wrist deformity in adults by osteotomy, bone-grafting, and internal fixation. J Bone Joint Surg Am 64(8):1164–1178

11.

Fernandez DL (1988) Radial osteotomy and Bowers arthroplasty for malunited fractures of the distal end of the radius. J Bone Joint Surg Am 70(10):1538–1551

12.

Fernandez DL, Capo JT, Gonzalez E (2001) Corrective osteotomy for symptomatic increased ulnar tilt of the distal end of the radius. J Hand Surg [Am] 26(4):722–732

13.

Flinkkilä T, Raatikainen T, Kaarela O, Hämäläinen M (2000) Corrective osteotomy for malunion of the distal radius. Arch Orthop Trauma Surg 120(1-2):23–26

14.

Jupiter JB, Ruder J, Roth DA (1992) Computer-generated bone models in the planning of osteotomy of multidirectional distal radius malunions. J Hand Surg [Am] 17(3):406–415

15.

Mann FA, Wilson AJ, Gilula LA (1992) Radiographic evaluation of the wrist: what does the hand surgeon want to know? Radiology 184(1):15–24

16.

Möllenhoff G, Walz M, Muhr G, Rehn J (1991) Post-traumatic correction osteotomy of the distal forearm. Which factors modify the results? Unfallchirurg 94(10):514–519

17.

Posner MA, Ambrose L (1991) Malunited Colles' fractures: correction with a biplanar closing wedge osteotomy. J Hand Surg [Am] 16(6):1017–1026

18.

Ring D, Roberge C, Morgan T, Jupiter JB (2002) Osteotomy for malunited fractures of the distal radius: a comparison of structural and nonstructural autogenous bone grafts. J Hand Surg [Am] 27(2):216–222

19.

Roesgen M, Hierholzer G (1988) Corrective osteotomy of the distal radius after fracture to restore the function of wrist joint, forearm, and hand. Arch Orthop Trauma Surg 107(5):301–308

20.

Shea K, Fernandez DL, Jupiter JB, Martin C (1997) Corrective osteotomy for malunited, volarly displaced fractures of the distal end of the radius. J Bone Joint Surg Am 79(12):1816–1826

21.

Villar RN, Marsh D, Rushton N, Greatorex RA (1987) Three years after Colles' fracture. A prospective review. J Bone Joint Surg Br 69(4):635–638

22.

Warwick D, Prothero D, Field J, Bannister G (1993) Radiological measurement of radial shortening in Colles' fracture. J Hand Surg [Br] 18(1):50–52
About this article
Cite this article
Kovjanić, J., Bilić, R., Kolundzic, R. et al. Corrective osteotomy of the malunited distal radius fracture: use of periosteal bed may reduce the extent of postoperative graft resorption. International Orthopaedics (SICOT) 34, 525–529 (2010). https://doi.org/10.1007/s00264-009-0823-0
Received:

Accepted:

Published:

Issue Date:
Keywords
Test Group

Corrective Osteotomy

Distal Radial Fracture

Radial Bone

Graft Volume