Abstract
In this prospective study, our aim was to compare the functional results and radiographic outcomes of fusion and Bryan Cervical Disc replacement in the treatment of two-level cervical disc disease. A total of 65 patients with two-level cervical disc disease were randomly assigned to two groups, those operated on with Bryan Cervical Disc replacement (31) and those operated on with anterior cervical fusion with an iliac crest autograft and plate (34). Clinical evaluation was carried out using the visual analogue scale (VAS), the Short Form 36 (SF-36) and the neck disability index (NDI) during a two year follow-up. Radiological evaluation sought evidence of range of motion, stability and subsidence of the prosthesis. Substantial reduction in NDI scores occurred in both groups, with greater percent improvement in the Bryan group (P = 0.023). The arm pain VAS score improvement was substantial in both groups. Bryan artificial cervical disc replacement seems reliable and safe in the treatment of patients with two-level cervical disc disease.
Résumé
Cette étude prospective a pour but de comparer les résultats fonctionnels et radiographiques des patients ayant bénéficié soit d'une fusion, soit d'une athrodèse, soit d'une prothèse discale dans le traitement des lésions dégénératives des disques cervicaux portant sur deux niveaux. 65 patients présentant de telles lésions ont été randomisés en deux groupes, ceux traités par la prothèse discale de Bryan (31) et ceux traités par ostéosynthèse antérieure avec autogreffe illiaque et plaque (34). L'évaluation clinique a été réalisée en utilisant le score douleur VAS, (échelle analogique), le score SF-36, la raideur de la nuque index NDI, après deux ans de recul. L'évaluation radiologique permet de mettre en évidence les secteurs de mobilité de stabilité et la migration de la prothèse. Une diminution significative du score NDI est observée dans les deux groupes avec un pourcentage plus important d'amélioration dans le groupe des prothèses de type Bryan (p = 0.023). Le score douleur est nettement amélioré dans les deux groupes néanmoins il semble que la prothèse de type Bryan permet d'avoir des résultats beaucoup plus fiables et beaucoup plus sûrs dans le traitement de ces patients présentant des lésions discales dégénératives cervicales sur deux niveaux.
Access options
Buy single article
Instant access to the full article PDF.
USD 39.95
Price excludes VAT (USA)
Tax calculation will be finalised during checkout.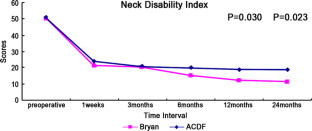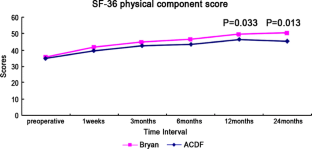 References
Anderson PA, Sasso RC, Rouleau JP (2004) The Bryan Cervical Disc: wear properties and early clinical results. Spine J 4(6 Suppl):303S–309S

Auerbach JD, Wills BP, McIntosh TC (2007) Evaluation of spinal kinematics following lumbar total disc replacement and circumferential fusion using in vivo fluoroscopy. Spine 32(5):527–536

Bertagnoli R, Yue JJ, Pfeiffer F (2005) Early results after ProDisc-C cervical disc replacement. J Neurosurg Spine 2:403–410

Bohlman HH, Emery SE, Goodfellow DB (1993) Robinson anterior cervical discectomy and arthrodesis for cervical radiculopathy. Long-term follow-up of one hundred and twenty-two patients. J Bone Joint Surg Am 75:1298–1307

Caspar W, Geisler FH, Pitzen T et al (1998) Anterior cervical plate stabilization in one- and two-level degenerative disease: overtreatment or benefit? J Spinal Disord 11:1–11

DiAngelo D, Foley K, Vossel K et al (2000) Anterior cervical plating reverses load transfer through multilevel strut-grafts. Spine 25:783–795

Duggal N, Pickett GE, Mitsis DK et al (2004) Early clinical and biomechanical results following cervical arthroplasty. Neurosurg Focus 17:E9

Goffin J, Casey A, Kehr P et al (2002) Preliminary clinical experience with the Bryan Cervical Disc Prosthesis. Neurosurgery 51:840–845

Goffin J, Van Calenbergh V, van Loon J et al (2003) Intermediate follow-up after treatment of degenerative disc disease with the Bryan Cervical Disc Prosthesis: single-level and bi-level. Spine 28:2673–2678

Hilibrand AS, Robbins M (2004) Adjacent segment degeneration and adjacent segment disease: the consequences of spinal fusion? Spine J 4(6 Suppl):190S–194S

Lafuente J, Casey ATH, Petzold A et al (2005) The Bryan cervical disc prosthesis as an alternative to arthrodesis in the treatment cervical spondylosis: 46 consecutive cases. J Bone Joint Surg Br 87(4):508–512

Silber JS, Anderson DG, Daffner SD et al (2003) Donor site morbidity after anterior iliac crest bone harvest for single-level anterior cervical discectomy and fusion. Spine 28:134–139

Mehren C, Suchomel P, Grochulla F et al (2006) Heterotopic ossification in total cervical artificial disc replacement. Spine 31:2802–2806

Pickett GE, Sekhon LH, Sears WR et al (2006) Complications with cervical arthroplasty. J Neurosurg Spine 4:98–105

Reitman CA, Hipp JA, Nguyen L et al (2004) Changes in segmental intervertebral motion adjacent to cervical arthrodesis: a prospective study. Spine 29:E221–E226

Sasso RC, Smucker JD, Hacker RJ et al (2007) Artificial disc versus fusion: a prospective, randomized study with 2-year follow-up on 99 patients. Spine 32:2933–2940

Peng-Fei S, Yu-Hua J (2008) Cervical disc prosthesis replacement and interbody fusion: a comparative study. Int Orthop 32(1):103–106

St John TA, Vaccaro AR, Sah AP et al (2003) Physical and monetary costs associated with autogenous bone graft harvesting. Am J Orthop 32:18–23

Wigfield C, Gill S, Nelson R et al (2002) Influence of an artificial cervical joint compared with fusion on adjacent-level motion in the treatment of degenerative cervical disease. J Neurosurg 96(1 Suppl):17–21
About this article
Cite this article
Cheng, L., Nie, L., Zhang, L. et al. Fusion versus Bryan Cervical Disc in two-level cervical disc disease: a prospective, randomised study. International Orthopaedics (SICOT) 33, 1347–1351 (2009). https://doi.org/10.1007/s00264-008-0655-3
Received:

Revised:

Accepted:

Published:

Issue Date:

DOI: https://doi.org/10.1007/s00264-008-0655-3
Keywords