Abstract
Lung metastases from giant cell tumours (GCT) of the spine have not been specifically addressed in the literature. We reviewed our cases and compared the incidence, treatment, and outcomes with those from the extremities. Between 1970 and 2006, we identified seven cases (three females and four males) of lung metastases from a total of 51 cases of GCT of the spine (13.7%). Four of the seven patients had presented to our institution with a spine recurrence after previous treatments and the rest developed recurrences later. The treatments for the lung nodules consisted of metastectomy in two and chemotherapy in six patients. At the latest follow-up (ranging from 18 to 126 months), two had died of the disease, two had no evidence of the disease, and three were alive with disease. Our series shows a higher metastatic rate from spine GCT as compared to those from the extremities, but the overall behaviour and treatment outcomes of the lung metastases are similar. When there is a recurrence of GCT, with or without metastases, the local and possibly the metastases should be biopsied to confirm the original diagnosis. Progression of benign GCT into an aggressive sarcoma has been documented, and the method of management should be altered.
Résumé
Les métastases pulmonaires des tumeurs à cellules géantes (GCT) du rachis n'ont jamais été bien étudiées de façon spécifique dans la littérature. Nous avons revu nos observations et comparé l'incidence de ces complications et de leurs traitements avec celles observées au niveau des extrémités. Matériel et méthode: entre 1970 et 2006, nous avons identifié 7 cas (3 femmes et 4 hommes) de métastases pulmonaires sur 51 tumeurs à cellules géantes du rachis (13,7%). 4 de ces 7 patients ont présenté une récidive au niveau de la colonne après traitement et les autres présentaient une récidive beaucoup plus tardive. Résultats: le traitement de ces nodules pulmonaires a consisté en une métastatectomie dans deux cas, une chimiothérapie dans 6 cas. Au plus long suivi (18 à 26 mois), deux patients sont décédés de cette pathologie, 2 semblent indemnes de toute récidive et 3 sont toujours vivant avec la tumeur. En conclusion, notre série montre qu'il existe un taux élevé de métastases dans les tumeurs à cellules géantes du rachis comparée à celle des extrémités mais, le devenir clinique et le traitement des métastases pulmonaires est identique.
Access options
Buy single article
Instant access to the full article PDF.
USD 39.95
Price excludes VAT (USA)
Tax calculation will be finalised during checkout.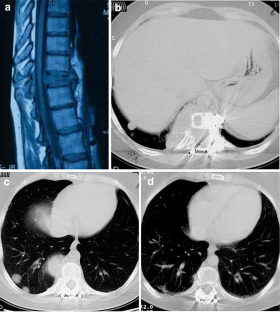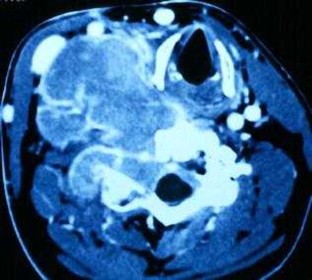 References
Bertoni F, Present D, Sudanese A, Baldini N, Bacchini P, Campanacci M (1988) Giant-cell tumor of bone with pulmonary metastases. Six case reports and a review of the literature. Clin Orthop Relat Res 237:275–285

Cheng JC, Johnston JO (1997) Giant cell tumor of bone. Prognosis and treatment of pulmonary metastases. Clin Orthop Relat Res 338:205–214

Cohen DM, Dahlin DC, MacCarty CS (1964) Vertebral giant cell tumor and variants. Cancer 17:461–472

Dominkus M, Ruggieri P, Bertoni F, Briccoli A, Picci P, Rocca M, Mercuri M (2006) Histologically verified lung metastases in benign giant cell tumours-14 cases from a single institution. Int Orthop 30(6):499–504

Enneking WF (1983) Giant cell tumor. Musculoskeletal tumor surgery. Churchill Livingstone, New York

Feigenberg SJ, Marcus RB Jr (2002) Whole lung radiotherapy for giant cell tumors of bone with pulmonary metastases. Clin Orthop Relat Res 401:202–208

Goldenberg RR, Campbell CJ, Bonfiglio M (1970) Giant-cell tumor of bone: an analysis of two hundred and eighteen cases. J Bone Joint Surg [Am] 52-A:619–624

Kay RM, Eckardt JJ, Seeger LL, Mirra JM, Hak DJ (1994) Pulmonary metastasis of benign giant cell tumor of bone. Six histologically confirmed cases, including one of spontaneous regression. Clin Orthop Relat Res 302:219–230

Larsson S-E, Lorentzon R, Boquist L (1975) Giant-cell tumor of bone: a demographic, clinical and histo-pathological study of all cases recorded in the Swedish Cancer Registry for the years 1958 through 1968. J Bone Joint Surg [Am] 57-A:167–173

Lausten GS, Jensen PK, Schiodt T, Lund B (1996) Local recurrences in giant cell tumour of bone. Long-term follow up of 31 cases. Int Orthop 20(3):172–176

McGough RL, Rutledge J, Lewis VO, Lin PP, Yasko AW (2005) Impact severity of local recurrence in giant cell tumor of bone. Clin Orthop Relat Res 438:116–122

Osaka S, Toriyama M, Taira K, Sano S, Saotome K (1997) Analysis of giant cell tumor of bone with pulmonary metastases. Clin Orthop Relat Res 335:253–61

Rock MG, Pritchard DJ, Unni KK (1984) Metastases from histologically benign giant cell tumor of bone. J Bone Joint Surg [Am] 66-A:269–274

Rock M (1990) Curettage of giant cell tumor on bone. Factors influencing local recurrences and metastases. Chir Organi Mov 75(Suppl 1):204–205

Sanerkin NG (1980) Malignancy, aggressiveness, and recurrence in giant cell tumor of bone. Cancer 46(7):1641–1649

Sanjay BK, Sim FH, Unni KK, McLeod RA, Klassen RA (1993) Giant-cell tumours of the spine. J Bone Joint Surg [Br] 75-B:148–154

Siebenrock KA, Unni KK, Rock MG (1998) Giant-cell tumor of bone metastasising to the lungs. A long-term follow-up. J Bone Joint Surg [Br] 80-B:43–47

Takanami I, Takeuchi K, Naruke M, Kodaira S (1998) Aggressive surgery for treating a pulmonary metastasis of a benign giant cell tumor of the bone: results in four cases. J Thorac Cardiovasc Surg 116(4):649–651

Tubbs WS, Brown LR, Beabout JW, Rock MG, Unni KK (1992) Benign giant-cell tumor of bone with pulmonary metastases: clinical findings and radiologic appearance of metastases in 13 cases. AJR Am J Roentgenol 158(2):331–334

Unni KK (1996) Dahlin's bone tumors: general aspects and data on 11,087 cases, 5th edn. Lippincot-Raven, Philadelphia, pp 263–283
About this article
Cite this article
Donthineni, R., Boriani, L., Ofluoglu, O. et al. Metastatic behaviour of giant cell tumour of the spine. International Orthopaedics (SICOT) 33, 497–501 (2009). https://doi.org/10.1007/s00264-008-0560-9
Received:

Revised:

Accepted:

Published:

Issue Date:

DOI: https://doi.org/10.1007/s00264-008-0560-9
Keywords