Abstract
The repair of subcutaneous tendon ruptures can be stimulated by a single application of one of several growth factors [e.g. platelet-derived growth factor (PDGF), transforming growth factor (TGF)-beta, insulin-like growth factor (IGF)-1, vascular endothelial growth factor (VEGF), bone morphogenetic proteins (BMPs) like growth differentiation factor (GDF)-5, -6, -7] or by a thrombocyte concentrate (PRP). The response to these measures is dependent on the mechanical microenvironment, which is crucial for repair. So far, almost all research has been limited to rodent models, mostly using the rat Achilles tendon. Ruptured human Achilles tendons appear to be mechanically loaded in spite of immobilisation. This suggests that the mechanical microenvironment might be favourable for the clinical use of growth factors or platelets for this indication. New methods to quantitate human Achilles tendon repair have been developed.
Résumé
La réparation de rupture tendineuse sous cutanée peut être améliorée par une simple application d'un ou de plusieurs facteurs de croissance (PDGF, TGF-beta, IGF-1, VEGF, BMPs, GDF like -5, -6, -7) ou par un concentré de plaquettes (PRP). Ce modèle a surtout été utilisé, au niveau du tendon d'Achille des rats. Cette étude nous montre que le micro environnement mécanique peut être amélioré par l'utilisation de facteurs de croissance et de concentrés de plaquettes. De nouvelles méthodes permettant de quantifier l'importance de la réparation du tendon d'Achille humain ont été développées.
This is a preview of subscription content,
to check access.
Access this article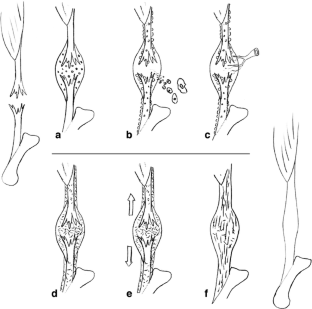 Similar content being viewed by others
References
Ackermann PW, Li J, Lundeberg T, Kreicbergs A (2003) Neuronal plasticity in relation to nociception and healing of rat achilles tendon. J Orthop Res 21:432–441

Akizuki KH, Gartman EJ, Nisonson B, Ben-Avi S, McHugh MP (2001) The relative stress on the Achilles tendon during ambulation in an ankle immobiliser: implications for rehabilitation after Achilles tendon repair. Br J Sports Med 35:329–333, discussion 333–324

Almeida-Silveira MI, Lambertz D, Perot C, Goubel F (2000) Changes in stiffness induced by hindlimb suspension in rat Achilles tendon. Eur J Appl Physiol 81:252–257

Aspenberg P, Forslund C (1999) Enhanced tendon healing with GDF 5 and 6. Acta Orthop Scand 70:51–54

Aspenberg P, Virchenko O (2004) Platelet concentrate injection improves Achilles tendon repair in rats. Acta Orthop Scand 75:93–99

Batten ML, Hansen JC, Dahners LE(1996) Influence of dosage and timing of application of platelet-derived growth factor on early healing of the rat medial collateral ligament.J Orthop Res 14(5):736–741

Benum P, Berg V, Fretheim OJ (1984) The strain on sutured Achilles tendons in walking cast. An EMG analysis. Eur Surg Res 16(Suppl 2):14–21

Chan PB, Fu S, Qin L, Lee K, Rolf CG, Chan K(2000) Effects of basic fibroblast growth factor (bFGF) on early stages of tendon healing: a rat patellar tendon model.Acta Orthop Scand 71(5):513–518

Eliasson P, Fahlgren A, Pasternak B, Aspenberg P (2007) Unloaded rat Achilles tendons continue to grow, but lose viscoelasticity. J Appl Physiol, e-pub ahead of print

Forslund C, Aspenberg P(1998) OP-1 has more effect than mechanical signals in the control of tissue differentiation in healing rat tendons.Acta Orthop Scand 69(6):622–626

Forslund C, Aspenberg P (2002) CDMP-2 induces bone or tendon-like tissue depending on mechanical stimulation. J Orthop Res 20:1170–1174

Forslund C, Aspenberg P (2003) Improved healing of transected rabbit Achilles tendon after a single injection of cartilage-derived morphogenetic protein-2. Am J Sports Med 31:555–559

Forslund C, Aspenberg P (2001) Tendon healing stimulated by injected CDMP-2. Med Sci Sports Exerc 33:685–687

Forslund C, Bylander B, Aspenberg P (2003) Indomethacin and celecoxib improve tendon healing in rats. Acta Orthop Scand 74:465–469

Forslund C, Rueger D, Aspenberg P (2003) A comparative dose-response study of cartilage-derived morphogenetic protein (CDMP)-1, -2 and -3 for tendon healing in rats. J Orthop Res 21:617–621

Hildebrand KA, Woo SL, Smith DW, Allen CR, Deie M, Taylor BJ, Schmidt CC(1998) The effects of platelet-derived growth factor-BB on healing of the rabbit medial collateral ligament. An in vivo study.Am J Sports Med 26(4):549–554

Kashiwagi K, Mochizuki Y, Yasunaga Y, Ishida O, Deie M, Ochi M(2004) Effects of transforming growth factor-beta 1 on the early stages of healing of the Achilles tendon in a rat model.Scand J Plast Reconstr Surg Hand Surg 38(4):193–197

Kurtz CA, Loebig TG, Anderson DD, DeMeo PJ, Campbell PG(1999) Insulin-like growth factor I accelerates functional recovery from Achilles tendon injury in a rat model.Am J Sports Med 27(3):363–369

Lin TW, Cardenas L, Soslowsky LJ (2004) Biomechanics of tendon injury and repair. J Biomech 37:865–877

Matsumoto F, Trudel G, Uhthoff HK, Backman DS (2003) Mechanical effects of immobilization on the Achilles' tendon. Arch Phys Med Rehabil 84:662–667

Nilsson-Helander K, Thomee R, Gravare-Silbernagel K, Thomee P, Faxen E, Eriksson BI, Karlsson J (2007) The Achilles tendon Total Rupture Score (ATRS): development and validation. Am J Sports Med 35:421–426

Rickert M, Jung M, Adiyaman M, Richter W, Simank HG (2001) A growth and differentiation factor-5 (GDF-5)-coated suture stimulates tendon healing in an Achilles tendon model in rats. Growth Factors 19:115–126

Sipe JB, Zhang J, Waits C, Skikne B, Garimella R, Anderson HC (2004) Localization of bone morphogenetic proteins (BMPs)-2, -4, and -6 within megakaryocytes and platelets. Bone 35:1316–1322

Spiro RC, Liu L, Heidaran MA, Thompson AY, Ng CK, Pohl J, Poser JW (2000) Inductive activity of recombinant human growth and differentiation factor-5. Biochem Soc Trans 28:362–368

Virchenko O, Aspenberg P (2006) How can one platelet injection after tendon injury lead to a stronger tendon after 4 weeks? Interplay between early regeneration and mechanical stimulation. Acta Orthop 77:806–812

Virchenko O, Fahlgren A, Skoglund B, Aspenberg P (2005) CDMP-2 injection improves early tendon healing in a rabbit model for surgical repair. Scand J Med Sci Sports 15:260–264

Virchenko O, Grenegard M, Aspenberg P (2006) Independent and additive stimulation of tendon repair by thrombin and platelets. Acta Orthop 77:960–966

Virchenko O, Skoglund B, Aspenberg P (2004) Parecoxib impairs early tendon repair but improves later remodeling. Am J Sports Med 32:1743–1747

Yamamoto N, Ohno K, Hayashi K, Kuriyama H, Yasuda K, Kaneda K (1993) Effects of stress shielding on the mechanical properties of rabbit patellar tendon. J Biomech Eng 115:23–28

Yasuda K, Hayashi K (1999) Changes in biomechanical properties of tendons and ligaments from joint disuse. Osteoarthritis Cartilage 7:122–129

Zhang F, Liu H, Stile F, Lei MP, Pang Y, Oswald TM, Beck J, Dorsett-Martin W, Lineaweaver WC (2003) Effect of vascular endothelial growth factor on rat Achilles tendon healing.Plast Reconstr Surg 112(6):1613–1619
Acknowledgement
Dr. Olena Virchenko helped making Table 1.
About this article
Cite this article
Aspenberg, P. Stimulation of tendon repair: mechanical loading, GDFs and platelets. A mini-review. International Orthopaedics (SICO 31, 783–789 (2007). https://doi.org/10.1007/s00264-007-0398-6
Received:

Revised:

Accepted:

Published:

Issue Date:

DOI: https://doi.org/10.1007/s00264-007-0398-6
Keywords