Abstract
The treatment of fractures of the distal third of the tibia has evolved with the development of improved imaging and surgical techniques. The outcome of treatment using conventional fixation is poor. We report a study on indirect reduction in 26 patients. All cases achieved radiological union and full weight bearing. The good to excellent results suggest that this method should be considered in metaphyseal fractures where intra-medullary nails are not suitable.
Résumé
Le traitement des fractures de la partie distale du tibia avec troisième fragment peut être amélioré avec le développement des techniques d'imagerie et de traitements chirurgicaux. Le devenir du traitement, utilisant une fixation conventionnelle est peu satisfaisante. Nous rapportons une étude sur la réduction indirecte de cette fracture chez 26 patients. Tous les cas sont consolidés sur le plan radiographique, avec appui total. Les excellents résultats suggèrent que cette méthode peut être utilisée dans les fractures métaphysaires dans lesquelles l'enclouage centro médullaire n'est pas possible.
Access options
Buy single article
Instant access to the full article PDF.
US$ 39.95
Tax calculation will be finalised during checkout.
Subscribe to journal
Immediate online access to all issues from 2019. Subscription will auto renew annually.
US$ 119
Tax calculation will be finalised during checkout.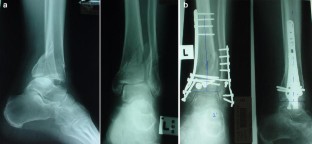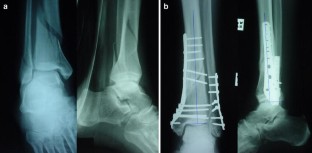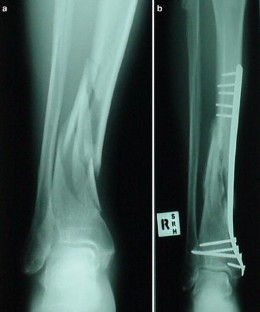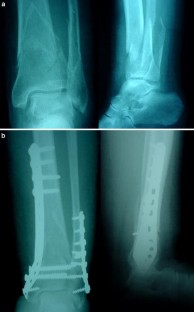 References
1.

Borrelli J Jr, Prickett W, Song E, Becker D, Ricci W (2002) Extraosseous blood supply of the tibia and the effects of different plating techniques: a human cadaveric study. J Orthop Trauma 16(10):691–695

2.

Brumback RJ, McGarvey WC (1995) Fractures of the tibial plafond. Evolving treatment concepts for the pilon fracture. Orthop Clin North Am 26(2):273–285

3.

Oh C-W, Kyung H-S, Park I-H, Kim P-T, Ihn JC (2003) Distal tibia metaphyseal fractures treated by percutaneous plate osteosynthesis. Clin Orthop 408:286–291

4.

Oh C-W, Park B-C, Kyung H-S, Kim SJ, Kim HS, Lee SM, Ihn JC (2003) Percutaneous plating for unstable tibial fractures. J Orthop Sci 8(2):166–169

5.

Collange C, Sanders R, DiPasquale T (2000) Treatment of complex tibial periarticular fractures using percutaneous techniques. Clin Orthop 375:69–77

6.

Dogra AS, Ruiz AL, Thompson NS, Nolan PC (2000) Dia-metaphyseal distal tibial fractures—treatment with a shortened intramedullary nail: a review of 15 cases. Injury 31(10):799–804

7.

Farouk O, Krettek C, Miclau T, Schandelmaier P, Tscherne H (1999) The topography of the perforating vessels of the deep femoral artery. Clin Orthop 368:255–259

8.

Helfet DL, Suk M (2004) Minimally invasive percutaneous plate osteosynthesis of fractures of the distal tibia. AAOS 53:471–475

9.

Johner R, Wruhs O (1983) Classification of tibial shaft fractures and correlation with results after rigid internal fixation. Clin Orthop 178:7–25

10.

Karladani AH, Granhed H, Karrholm J, Styf J (2001) The influence of fracture etiology and type on fracture healing: a review of 104 consecutive tibial shaft fractures. Arch Orthop Trauma Surg 121(6):325–328

11.

Kretteck C (1997) Concepts of minimally invasive plate osteosynthesis. Injury 28(Suppl 1):805–809

12.

Leunig M, Hertel R, Siebenrock KA, Ballmer FT, Mast JW, Ganz R (2000) The evolution of indirect reduction techniques for the treatment of fractures. Clin Orthop 375:7–14

13.

Maffulli N, Toms AD, McMurtie A, Oliva F (2004) Percutaneous plating distal tibial fractures. Int Orthop 28(3):159–162

14.

Milnar SA, Davis TR, Muir KR, Greenwood DC, Doherty M (2002) Long-term outcome after tibial shaft fracture: is malunion important? J Bone Joint Surg 84A(6):971–980

15.

Rhinlander F (1968) The normal microcirculation of diaphyseal cortex and its response to fracture. J Bone joint Surg 50(4):784–800

16.

Robinson CM, McLaughlan GJ, McLean IP, Court-Brown CM (1995) Distal metaphyseal fractures of the tibia with minimal involvement of the ankle. Classification and treatment by locked intramedullary nailing. J Bone Joint Surg 77(5):781–787

17.

Ruedi TP, Murphy WM (2000) AO principles of fracture management. Thieme, Stuttgart New York, p 45

18.

Ruedi T, Webb JK, Allgower M (1976) Experience with the dynamic compression plate (DCP) in 418 recent fractures of the tibial shaft. Injury 7(4):252–257

19.

Schutz M, Sudkamp NP (2003) Revolution in plate osteosynthesis: new internal fixator systems. J Orthop Sci 8(2):252–258

20.

Stromsoe K, Eikvar K, Ovre S, Hvaal K (1999) Miniinvasive plate osteosynthesis of distal tibial fractures. Tidsskr Nor Laegeforen 119(29):4316–4318

21.

Tornetta P, Weiner L, Bergman M, Watnik N, Steuer J, Kelley M, Yang E (1993) Pilon fractures: treatment with combined internal and external fixation. J Orthop Trauma 7(6):489–496

22.

Tscherne H (1983) Management of wounds in fractures with soft tissue injuries. Z Kinderchir 38(1):34–39

23.

Whiteside L, Lesker PA (1978) The effects of periosteal and subperiosteal dissection. J Bone Joint Surg 60A:26–30
About this article
Cite this article
Pai, V., Coulter, G. & Pai, V. Minimally invasive plate fixation of the tibia. International Orthopaedics (SICO 31, 491–496 (2007). https://doi.org/10.1007/s00264-006-0228-2
Received:

Revised:

Accepted:

Published:

Issue Date:
Keywords
Soft Tissue Injury

Distal Tibia

Tibial Shaft Fracture

Distal Tibial Fracture

Distal Nature