Abstract
From January 1996 to January 2001, arthroscopic synovectomies were performed in 28 knees with haemophilic arthropathy. The mean follow-up period was 5 years and 11 months. Six portals (two anterior, two suprapatellar, two posterior) and a posterior trans-septal portal were used in all cases. The average Hospital for Special Surgery (HSS) knee score increased from 56.4 to 71.5 points at the last follow-up. The average frequency of haemarthrosis reduced from five times per month before operation to once per month. The amount of factor replacement decreased from a mean of 4,633 U to 1,505 U. Progression of arthritis was observed radiographically in three cases at the last follow-up. An arthroscopic synovectomy of the knee using appropriate arthroscopic portals is a useful method in treating haemophilic patients as it decreases bleeding episodes, amount of factor replacement and knee pain.
Résumé
De janvier 1996 à janvier 2001, des synovectomies arthroscopiques ont été exécutées dans 28 genoux avec une arthropathie hémophilique. Le suivi moyen était 5 années et 11 mois. Six abords (deux antérieurs, deux supra-rotuliens, deux postérieurs) et un abord trans-septal postérieur ont été utilisé dans tous les cas. Le score moyen du genou de l'Hôpital pour Chirurgie Spéciale (HSS) a augmenté de 56,4 à 71,5 points au dernier examen. La fréquence moyenne d'hémarthrose s'est réduite de cinq fois par mois avant l'opération à une fois par mois aprés. La quantité moyenne de remplacement de facteur a diminué de 4,633 à 1,505 unités. Dans l'évaluation radiographique, la progression de l'arthrite a été observée dans trois cas au dernier suivi. Une synovectomie arthroscopique du genou qui utilise des abords arthroscopiques appropriés est une méthode utile pour traiter les malades hémophiliques, diminuant les épisodes de saignement, la quantité de facteur et les douleurs du genou.
Access options
Buy single article
Instant access to the full article PDF.
US$ 39.95
Tax calculation will be finalised during checkout.
Subscribe to journal
Immediate online access to all issues from 2019. Subscription will auto renew annually.
US$ 119
Tax calculation will be finalised during checkout.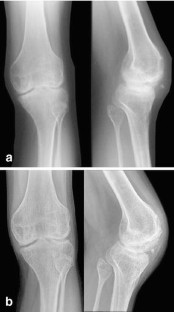 References
1.

Ahn JH, Ha CW (2000) Posterior trans-septal portal for arthroscopic surgery of the knee joint. Arthroscopy 16:774–779

2.

Arnold WD, Hilgartner MW (1977) Hemophilic arthropathy: current concepts of pathogenesis and management. J Bone Joint Surg Am 59:287–305

3.

Clark M (1978) Knee synovectomy in hemophilia. Orthopedics 1:285–290

4.

Hilgartner MW (2002) Current treatment of hemophilic arthropathy. Curr Opin in Pediatr 14:46–49

5.

Kay L, Stainsby D, Buzzard B (1981) The role of synovectomy in the management of recurrent haemarthroses in haemophilia. Br J Haematol 49:53–60

6.

Klein KS, Aland CM, Kim HC, Eisele J, Saidi P (1987) Long term follow-up of arthroscopic synovectomy for chronic hemophilic synovitis. Arthroscopy 3:231–236

7.

Limbird TJ, Dennis SC (1987) Synovectomy and continuous passive motion in hemophiliac patients. Arthroscopy 3:74–79

8.

McCollough N, Enis J, Lovitt J (1979) Synovectomy or total replacement of the knee in hemophilia. J Bone Joint Surg Am 61:69–75

9.

Montane I, McCollough N, ChunYet Lian E (1986) Synovectomy of the knee for hemophilic arthropathy. J Bone Joint Surg Am 68:210–216

10.

Petterson H, Ahlberg A, Nilsson IM (1980) A radiographic classification of hemophilic arthropathy. Clin Orthop 149:153–159

11.

Pietrogrande V, Dioguardi N, Mannucci P (1972) Short term evaluation of synovectomy in haemophilia. Br Med J 2:378–381

12.

Rodriguez-Merchan EC, Magallon M, Galindo E, Lopez-Cabarcos C (1997) Hemophilic synovitis of the knee and the elbow. Clin Orthop 343:47–53

13.

Sneppen O, Beck H, Holsteen V (1978) Synovectomy as a prophylactic measure in recurrent haemophilic haemarthrosis. Acta Paediatr Scand 67:491–495

14.

Storti E, Traldi A, Tosatti E, Davoli P (1969) Synovectomy a new approach to haemophilic arthropathy. Acta Haematol 41:193–205

15.

Storti E, Ascari E (1975) Surgical and chemical synovectomy. Ann NY Acad Sci 240:316–327

16.

Storti E, Ascari E, Gamba G (1982) Postoperative complications and joint function after knee synovectomy in haemophiliacs. Br J Haematol 50:544

17.

Triantafyllou SJ, Hanks GA, Handal JA, Greer RB III (1992) Open and arthroscopic synovectomy in hemophilic arthropathy of the knee. Clin Orthop 283:196–204

18.

Wiedel J (1984) Arthroscopic synovectomy in haemophilic arthropathy of the knee. Scand J Haematol 40:263–270

19.

Wiedel J (1996) Arthroscopic synovectomy of the knee in hemophilia: 10–to–15 year followup. Clin Orthop 328:46–53
About this article
Cite this article
Yoon, K.H., Bae, D.K., Kim, H.S. et al. Arthroscopic synovectomy in haemophilic arthropathy of the knee. International Orthopaedics (SICOT) 29, 296–300 (2005). https://doi.org/10.1007/s00264-005-0666-2
Received:

Accepted:

Published:

Issue Date:
Keywords
Factor Replacement

Arthroscopic Synovectomy

Radiation Synovectomy

Posteromedial Portal

Open Synovectomy