Abstract
Peri-acetabular radiolucent lines (RLLs) seen on "early" post-operative radiographs have been identified as a potential predictor of long-term implant performance. This study examines the inter- and intra-observer variation encountered when assessing such radiographs. Four consultant orthopaedic surgeons assessed the presence, extent and width of RLLs in 220 radiographs performed on 50 patients taken one to two weeks, six weeks, six months and one year following surgery. Inter-observer agreement was fair at 7–14 days but improved to moderate to good in films at six and 12 months. Intra-observer agreement was moderate to good at 7–10 days but again improved to good at 6 and 12 months. When only the presence or absence of RLLs was considered, both inter-observer and intra-observer agreement improved for both the six-month and one-year radiographs. This experiment shows that caution must be used for the interpretation of RLLs on hip radiographs taken during the very early post-operative period. We recommend that films taken at least six weeks to six months following surgery should be used for assessment to reduce observer variation. For optimum results, a single experienced observer should do the assessment with a simple classification.
Résumé
Les liserés périacétabulaires (RLL) vu sur les radiographies postopératoires précoces ont été identifiés comme prédictifs de la performance de l'implant à long terme. Cette étude examine la variation inter-et intra-observateurs dans la lecture de telles radiographies. Quatre chirurgiens orthopédistes consultants ont étudié la présence, l'étendue et la largeur des liserés dans 220 radiographies exécutées chez 50 malades à deux semaines, six semaines, six mois et une année après la chirurgie. L'accord inter-observateurs était médiocre entre sept et quatorze jours, mais s'est amélioré dans les films plus tardifs à six et à douze mois. L'accord Intra-Observateur était modéré à bon à sept à dix jours mais encore amélioré à bon à six et douze mois. Quand seulement la présence ou l'absence de liserés ont été considérées, les deux études, inter-observateur et intra-observateur, ont amélioré les radiographies de six mois et d'une année. Cette expérience montre que la prudence doit être utilisée pour l'interprétation des liserés sur des radiographies de la hanche prises précocement pendant la période postopératoire. Nous recommandons que les radiographies prises six semaines à 6 mois après la chirurgie soient utilisé pour l'estimation, en réduisant la variation de l'observateur. Pour les résultats optimum un observateur expérimenté seul devrait faire l'estimation avec une classification simple.
Access options
Buy single article
Instant access to the full article PDF.
US$ 39.95
Tax calculation will be finalised during checkout.
Subscribe to journal
Immediate online access to all issues from 2019. Subscription will auto renew annually.
US$ 119
Tax calculation will be finalised during checkout.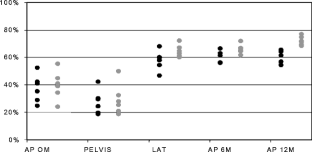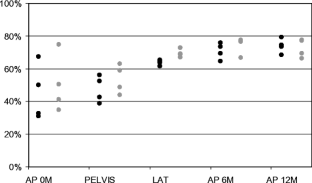 References
1.

Altman, DG (1990) Practical statistics for medial research. Chapman & Hall, London, pp 403–409

2.

Brand RA, Yoder SA, Pederson DR (1985) Interobserver variability in interpreting radiographic lucencies about total hip reconstructions. Clin Orthop 192:237–239

3.

Carlsson AS, Gentz CF (1984) Radiographic versus clinical loosening of the acetabular component in noninfected total hip arthroplasty. Clin Orthop 185:145–150

4.

DeLee J, Charnley J (1976) Radiological demarcation of cemented sockets in total hip replacement. Clin Orthop 121:20–32

5.

Gracia-Cimbrelo E, Diez-Vazquez V, Madero R, Munuera L (1997) Progression of radiolucent lines adjacent to the acetabular component and factors influencing migration after Charnley low-friction total hip arthroplasty. J Bone Joint Surg Am 79:1373–1380

6.

Hodgkinson JP, Maskell AP, Paul A, Wroblewski BM (1993) Flanged acetabular components in cemented CHarnley hip arthroplasty. Ten-year follow up of 350 patients. J Bone Joint Surg Br 75:464–467

7.

Kavanagh BF, Dewitz MA, Ilstrup DM, Stauffer RN, Coventry MB (1989) Charnley total hip arthroplasty with cement, fifteen-year result. J Bone Joint Surg Am 71:1496–1503

8.

Kelly AJ, Lee MB, Wong NS, Smith EJ, Learmonth ID (1996) Poor reproducibiliity on radiographic grading of femoral cementing technique in total hip arthroplasty. J Arthroplast 11:525–528

9.

Kobayashi S, Terayama K (1990) Radiology of low friction arthroplasty of the hip, a comparison of socket fixation technique. J Bone Joint Surg Br 72:439–443

10.

McCaskie AW, Brown AR, Thompson JR, Gregg PJ (1996) Radiological evaluation of the interfaces after cemented total hip replacement. Interobserver and intraobserver agreement. J Bone Joint Surg Br 78:191–194

11.

Ranawat CS, Deshmukh RG, Peters LE, Umlas ME (1995) Prediction of the long-term durability of all-polyethylene cemented sockets. Clin Orthop 317:89–105

12.

Reckling FW, Asher MA, Dillon WL (1997) A longitudinal study of the radiolucent line at the bone–cement interface following total joint-replacement procedures. J Bone Joint Surg Am 59:355–358

13.

Ritter MA, Zhou H, Keating CM, Keating EM, Faris PM, Meding JB, Berend ME (1999) Radiological factors influencing femoral and acetabular failure in cemented Charnley total hip arthroplasties. J Bone Joint Surg Br 81:982–986

14.

Robinson PJA (1997) Radiology's Achilles' heel: error and variation in the interpretation of the Roentgen image. Br J Radiol 70:1085–1098

15.

Schmalzried TP, Kwong LM, Jasty M, Sedlacek RC, Haire TC, O'Connor DO, Bragdon CR, Kabo JM, Malcolm AJ, Harris WH (1992) The mechanism of loosening of cemented acetabular components in total hip arthroplasty. Analysis of specimens retrieved at autopsy. Clin Orthop 274:60–78

16.

Schmalzried TP, Maloney WJ , Jasty M, Kwong LM, Harris WH (1993) Autopsy studies of the bone–cement interface in well-fixed cemented total hip arthroplasties. J Arthroplast 8:179–188

17.

Stauffer RN (1988) Ten-year follow-up study of total hip replacement with particular reference to roentgenographic loosening of the components. J Bone Joint Surg Am 64:983–990
Acknowledgements
We wish to acknowledge the Arthritis an Rheumatism Council who funded the RSA study and Johnson and Johnson and Howmedica/ Stryker Ltd. for continuing support. We also wish to thank our audit nurses Mrs. Ann Suttcliffe and Miss Ann Potter and our radiographers in the Woodend Orthopaedic Department.
About this article
Cite this article
Kneif, D., Downing, M., Ashcroft, G.P. et al. Peri-acetabular radiolucent lines: inter- and intra-observer agreement on post-operative radiographs. International Orthopaedics (SICOT) 29, 152–155 (2005). https://doi.org/10.1007/s00264-005-0644-8
Received:

Accepted:

Published:

Issue Date:
Keywords
Radiolucent Line

Nous Recommandons

Cement Socket

Obturator Oblique View

Radiological Grade System