Abstract
We reviewed the current use of spacers in the management of the infected knee prosthesis. There are two types of temporary spacers: block or non-articulating spacers and articulating or mobile spacers. Generally, spacers improve mobilisation and hasten recovery with shorter hospital stay between stages. Furthermore, spacers facilitate the second-stage procedure by maintaining joint space, and articulating spacers may also maintain range of motion. Last but not the least, the cost of spacers represents only a small fraction of the total expenses for management of infected knee arthroplasties.
Résumé
Nous avons examiné l'usage courant d'espaceurs dans la gestion de la prothèse du genou infectée. Il y a deux types d'espaceurs temporaires: articulants ou non. Généralement les espaceurs améliorent la mobilisation et hâtent la récupération des malades, avec un plus court séjour d'hospitalisation entre les deux étapes. En outre, ils les facilitent le deuxième temps chirurgical en maintenant l'espace articulaire et les espaceurs articulants peuvent aussi maintenir une gamme de mouvement. Dernier avantage, et non le moindre, le coût des espaceurs représente seulement une petite fraction des dépenses totales pour la gestion des arthroplasties du genou infectées.
Access options
Buy single article
Instant access to the full article PDF.
US$ 39.95
Tax calculation will be finalised during checkout.
Subscribe to journal
Immediate online access to all issues from 2019. Subscription will auto renew annually.
US$ 119
Tax calculation will be finalised during checkout.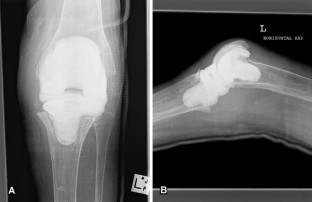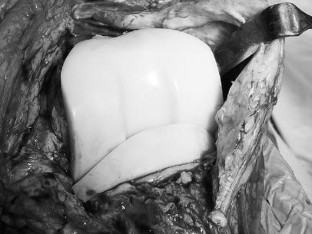 References
1.

Abudu A, Sivardeen KAZ, Grimer RJ, Pynsent PB, Noy M (2002) The outcome of perioperative wound infection after total hip and knee arthroplasty. Int Orthop 26:40–43

2.

Bengtson S, Knutson K (1991) The infected knee arthroplasty. A 6-year follow-up of 357 cases. Acta Orthop Scand 62:301–311

3.

Bengtson S, Knutson K, Lidgren L (1986) Revision of infected knee arthroplasty. Acta Orthop Scand 57:489–494

4.

Booth R.E, Jr, Lotke PA (1989) The results of spacer block technique in revision of infected total knee arthroplasty. Clin Orthop 248:57–60

5.

Calton TF, Fehring TK, Griffin WL (1997) Bone loss associated with the use of spacer blocks in infected total knee arthroplasty. Clin Orthop 345:148–154

6.

Castelli C, Martinelli R, Ferrari R (2002) Preformed all-cement knee spacer in two-stage revision for infected knee replacement. Proceedings of the SICOT XXII World Congress, 327c

7.

Cohen JC, Hozack W, Cuckler JM, Booth RE Jr (1988) Two-stage reimplantation of septic total knee arthroplasty. Report of three cases using an antibiotic-PMMA spacer block. J Arthroplasty 3:369–377

8.

Duncan CP, Beauchamp C (1993) A temporary antibiotic-loaded joint replacement system for management of complex infections involving the hip. Orthop Clin North Am 24:751–759

9.

Duncan CP, Beauchamp C, Masri BA (1992) The antibiotic loaded joint replacement system: a novel approach to the management of the infected knee replacement. J Bone Joint Surg [Br] [Suppl III] 74:296

10.

Emerson RH, Jr, Muncie M., Tarbox TR, Higgins LL (2002) Comparison of a static with a mobile spacer in total knee infection. Clin Orthop 404:132–138

11.

Fehring TK (2003) Techniques for the infected knee: Molded Acrylic Spacer. Proceedings of the Knee Society meeting, New Orleans, LA, USA, p 19

12.

Fehring TK, Odum S, Calton TF, Mason JB (2000) Articulating versus static spacers in revision total knee arthroplasty for sepsis. Clin Orthop 380:9–16

13.

Goksan SB, Freeman MA (1992) One-stage reimplantation for infected total knee arthroplasty. J Bone Joint Surg [Br] 74:78–82

14.

Goldman RT, Scuderi GR, Insall JN (1996) 2-stage reimplantation for infected total knee replacement. Clin Orthop 331:118–124

15.

Haddad FS, Masri BA, Campbell D, McGraw RW, Beauchamp CP, Duncan CP (2000) The Prostalac functional spacer in two-stage revision for infected knee replacements. J Bone Joint Surg [Br] 82:807–812

16.

Haddad FS, Masri BA, Duncan CP (2001) Cement spacers in knee surgery. In: Insall JN, Scott WN (eds) Surgery of the knee, Churchill-Livingstone, Philadelphia 2:1891–1913

17.

Hanssen AD (2003) Techniques for the infected knee: Static spacers for the infected knee replacement. Proceedings of the Knee Society meeting, New Orleans, LA, USA, p. 18

18.

Hanssen AD, Rand JA, Osmon DR (1994) Treatment of the infected total knee arthroplasty with insertion of another prosthesis. The effect of antibiotic-impregnated bone cement. Clin Orthop 309:44–55

19.

Hebert CK, Williams RE, Levy RS, Barrack RL (1996) Cost of treating an infected total knee replacement. Clin Orthop 331:140–145

20.

Hofmann AA (2003) Techniques for the infected knee: 10-year experience in the treatment of infected total knee arthroplasty using an articulating spacer. Proceedings of the Knee Society meeting, New Orleans, LA, USA p. 17

21.

Hofmann AA, Kane KR, Tkach TK, Plaster RL, Camargo MP (1995) Treatment of infected total knee arthroplasty using an articulating spacer. Clin Orthop 321:45–54

22.

Insall JN, Thompson FM, Brause BD (1983) Two-stage reimplantation for the salvage of infected total knee arthroplasty. J Bone Joint Surg [Am] 65:1087–1098

23.

Masri BA, Duncan CP, Campbell D, McGraw RW (2000) Prostalac two-stage exchange for infected knee replacements: a prospective analysis. Proceedings of the 10th combined meeting of the orthopedic associations of the English speaking world, Auckland, NZ, J Bone Joint Surg [Br] [Suppl II] 82:153

24.

McPherson EJ, Lewonowski K, Dorr LD (1995) Techniques in arthroplasty. Use of an articulated PMMA spacer in the infected total knee arthroplasty. J Arthroplasty 10:87–89

25.

Mont MA, Waldman B, Banerjee C, Pacheco IH, Hungerford DS (1997) Multiple irrigation, debridement, and retention of components in infected total knee arthroplasty. J Arthroplasty 12:426–433

26.

Nelson CL, Evans RP, Blaha JD, Calhoun J, Henry SL, Patzakis MJ (1993) A comparison of gentamicin-impregnated polymethylmethacrylate bead implantation to conventional parenteral antibiotic therapy in infected total hip and knee arthroplasty. Clin Orthop 295:96–101

27.

Peersman G, Laskin R, Davis J, Peterson M (2002) Infection in total knee replacement: a retrospective review of 6489 total knee replacements. Clin Orthop 392:15–23

28.

Rand JA, Fitzgerald RH Jr (1989) Diagnosis and management of the infected total knee arthroplasty. Orthop Clin North Am 20:201–210

29.

Rand JA, Bryan RS, Morrey BF, Westholm F (1986) Management of infected total knee arthroplasty. Clin Orthop 205:75–85

30.

Resig S, Saleh KJ, Bershadsky B (2002) The outcome of perioperative wound infection after total hip and knee arthroplasty. Int Orthop 26:257

31.

Salvati EA, Robinson RP, Zeno SM, Koslin BL, Brause BD, Wilson PD (1982) Infection rates after 3175 total hip and total knee replacements performed with and without a horizontal unidirectional filtered air-flow system. J Bone Joint Surg [Am] 64:525–535

32.

Scott IR, Stockley I, Getty CJ (1993) Exchange arthroplasty for infected knee replacements. A new two-stage method. J Bone Joint Surg [Br] 75:28–31

33.

Segawa H, Tsukayama DT, Kyle RF, Becker DA, Gustilo RB (1999) Infection after total knee arthroplasty. A retrospective study of the treatment of eighty-one infections. J Bone Joint Surg [Am] 81:1434–1445

34.

Spika IA, Castelli C, Ferrari R, Federici A, Grandizio M, Matamala PA, Asuncion MJ, Pitto RP (2004) Articulating spacers in two-stage revision of the infected total knee replacement. Proceedings of the 63rd Annual Meeting of the Australian Orthopaedic Association, J Bone Joint Surg [Br] [Suppl] (in press)

35.

Whiteside LA (1994) Treatment of infected total knee arthroplasty. Clin Orthop 321:169–172

36.

Wilde AH, Ruth JT (1988) Two-stage reimplantation in infected total knee arthroplasty. Clin Orthop 236:23–35

37.

Windsor RE, Bono JV (1994) Infected Total Knee Replacements. J Am Acad Orthop Surg 2:44–53

38.

Windsor RE, Insall JN, Urs WK, Miller DV, Brause BD (1990) Two-stage reimplantation for the salvage of total knee arthroplasty complicated by infection. Further follow-up and refinement of indications. J Bone Joint Surg [Am] 72:272–278
About this article
Cite this article
Pitto, R.P., Spika, I.A. Antibiotic-loaded bone cement spacers in two-stage management of infected total knee arthroplasty. International Orthopaedics (SICOT) 28, 129–133 (2004). https://doi.org/10.1007/s00264-004-0545-2
Accepted:

Published:

Issue Date:
Keywords
Total Knee Arthroplasty

Tibial Component

Partial Weight Bearing

Cement Spacer

Block Spacer