Abstract
Background
High hepatitis B virus (HBV) DNA level is an independent risk factor for postoperative HBV-associated liver cancer recurrence. We sought to examine whether HBV DNA level and antiviral therapy are associated with survival outcomes in patients with advanced hepatocellular carcinoma (HCC) treated with anti-programmed cell death protein 1 (PD-1)based immunotherapy.
Methods
This single-institution retrospective analysis included 217 patients with advanced HBV-related HCC treated from 1 June 2018, through 30 December 2020. Baseline information was compared between patients with low and high HBV DNA levels. Overall survival (OS) and progression-free survival (PFS) were compared, and univariate and multivariate analyses were applied to identify potential risk factors for oncologic outcomes.
Results
The 217 patients included in the analysis had a median survival time of 20.6 months. Of these HBV-associated HCC patients, 165 had known baseline HBV DNA levels. Baseline HBV DNA level was not significantly associated with OS (P = 0.59) or PFS (P = 0.098). Compared to patients who did not receive antiviral therapy, patients who received antiviral therapy had significantly better OS (20.6 vs 11.1 months, P = 0.020), regardless of HBV DNA levels. Moreover, antiviral status (adjusted HR = 0.24, 95% CI 0.094–0.63, P = 0.004) was an independent protective factor for OS in a multivariate analysis of patients with HBV-related HCC.
Conclusions
HBV viral load does not compromise the clinical outcome of patients with HBV-related HCC treated with anti-PD-1-based immunotherapy. The use of antiviral therapy significantly improves survival time of HBV-related HCC patients.
Access options
Buy single article
Instant access to the full article PDF.
USD 39.95
Price excludes VAT (USA)
Tax calculation will be finalised during checkout.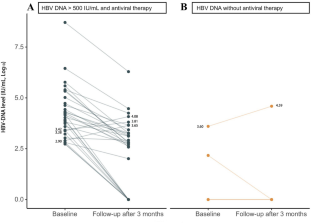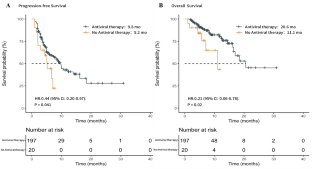 Data availability
The raw data supporting the conclusions of this article will be made available by the authors upon request.
Abbreviations
AASLD:

American Association for the Study of Liver Diseases

AFP:

Alpha-fetoprotein

ALT:

Alanine aminotransferase

BCLC:

Barcelona Clinic Liver Cancer

CI:

Confidence interval

CR:

Complete response

DCR:

Disease control rate

ECOG PS:

Eastern Cooperative Oncology Group Performance Status

HBV:

Hepatitis B virus

HBeAg:

Hepatitis B e antigen

HBsAg:

Hepatitis B surface antigen

HCC:

Hepatocellular carcinoma

OS:

Overall survival

PCR:

Polymerase chain reaction

PD:

Progressive disease

PD-1:

Programmed cell death protein 1

PFS:

Progression-free survival

PR:

Partial response

RECIST:

Response Evaluation Criteria in Solid Tumors

SD:

Stable disease
References
Sung H, Ferlay J, Siegel RL et al (2021) Global cancer statistics 2020: GLOBOCAN Estimates of incidence and mortality worldwide for 36 cancers in 185 countries. CA Cancer J Clin 71(3):209–249

Chen JL, Lin XJ, Zhou Q, Shi M, Li SP, Lao XM (2016) Association of HBV DNA replication with antiviral treatment outcomes in the patients with early-stage HBV-related hepatocellular carcinoma undergoing curative resection. Chin J Cancer 35:28. Published 2016 Mar 18

Sohn W, Paik YH, Kim JM et al (2014) HBV DNA and HBsAg levels as risk predictors of early and late recurrence after curative resection of HBV-related hepatocellular carcinoma. Ann Surg Oncol 21(7):2429–2435

Matsumoto A, Tanaka E, Rokuhara A et al (2005) Efficacy of lamivudine for preventing hepatocellular carcinoma in chronic hepatitis B: a multicenter retrospective study of 2795 patients. HEPATOL RES 32:173–184

Yang Y, Wen F, Li J et al (2015) A high baseline HBV load and antiviral therapy affect the survival of patients with advanced HBV-related HCC treated with sorafenib. Liver Int 35(9):2147–2154

Chong CCN, Wong GLH, Wong VWS, et al. Antiviral therapy improves post-hepatectomy survival in patients with hepatitis B virus-related hepatocellular carcinoma: a prospective-retrospective study. Aliment Pharm Ther.

Terrault NA, Lok ASF, McMahon BJ et al (2018) Update on prevention, diagnosis, and treatment of chronic hepatitis B: AASLD 2018 hepatitis B guidance. Hepatology 67(4):1560–1599

Johnson PJ, Berhane S, Kagebayashi C et al (2015) Assessment of liver function in patients with hepatocellular carcinoma: a new evidence-based approach-the ALBI grade. J Clin Oncol 33(6):550–558

Thompson JA, Schneider BJ, Brahmer J, et al (2020) NCCN Guidelines insights: management of immunotherapy-related toxicities, version 1.2020. J Natl Compr Canc Netw 18(3):230–241

Llovet JM, Montal R, Sia D, Finn RS (2018) Molecular therapies and precision medicine for hepatocellular carcinoma. Nat Rev Clin Oncol 15(10):599–616

Finn RS, Ikeda M, Zhu AX et al (2020) Phase Ib study of lenvatinib plus pembrolizumab in patients with unresectable hepatocellular carcinoma. J Clin Oncol 38(26):2960–2970

Ringelhan M, Pfister D, O'Connor T, Pikarsky E, Heikenwalder M (2018) The immunology of hepatocellular carcinoma. Nat Immunol 19(3):222–232

Prieto J, Melero I, Sangro B (2015) Immunological landscape and immunotherapy of hepatocellular carcinoma. Nat Rev Gastroenterol Hepatol 12(12):681–700

El-Serag HB (2012) Epidemiology of viral hepatitis and hepatocellular carcinoma. Gastroenterology 142(6):1264-1273.e1

El-Serag HB (2011) Hepatocellular carcinoma. N Engl J Med 365(12):1118–1127

Chen C, Zhang F, Zhou N et al (2019) Efficacy and safety of immune checkpoint inhibitors in advanced gastric or gastroesophageal junction cancer: a systematic review and meta-analysis. Oncoimmunology 8(5):e1581547

Balermpas P, Martin D, Wieland U et al (2017) Human papilloma virus load and PD-1/PD-L1, CD8+ and FOXP3 in anal cancer patients treated with chemoradiotherapy: Rationale for immunotherapy. Oncoimmunology 6(3):e1288331

Rasmussen TA, Rajdev L, Rhodes A et al (2021) Impact of Anti-PD-1 and Anti-CTLA-4 on the human immunodeficiency virus (HIV) reservoir in people living with HIV with cancer on antiretroviral therapy: the AIDS malignancy consortium 095 study. Clin Infect Dis 73(7):e1973–e1981

Ho WJ, Danilova L, Lim SJ et al (2020) Viral status, immune microenvironment and immunological response to checkpoint inhibitors in hepatocellular carcinoma. J Immunother Cancer 8(1):e000394

Ding Z, Dong Z, Chen Z et al (2021) Viral status and efficacy of immunotherapy in hepatocellular carcinoma: a systematic review with meta-analysis. Front Immunol 12:733530

Bertoletti A, Ferrari C (2016) Adaptive immunity in HBV infection. J Hepatol 64(1 Suppl):S71–S83

Lee PC, Chao Y, Chen MH et al (2020) Risk of HBV reactivation in patients with immune checkpoint inhibitor-treated unresectable hepatocellular carcinoma. J Immunother Cancer 8(2):e001072

Boni C, Fisicaro P, Valdatta C et al (2007) Characterization of hepatitis B virus (HBV)-specific T-cell dysfunction in chronic HBV infection. J Virol 81(8):4215–4225

Pfister D, Núñez NG, Pinyol R et al (2021) NASH limits anti-tumor surveillance in immunotherapy-treated HCC. Nature 592(7854):450–456

Yang Y, Wen F, Li J et al (2015) A high baseline HBV load and antiviral therapy affect the survival of patients with advanced HBV-related HCC treated with sorafenib. LIVER INT 35:2147–2154

Li Z, Chen G, Cai Z et al (2018) Genomic and transcriptional Profiling of tumor infiltrated CD8+ T cells revealed functional heterogeneity of antitumor immunity in hepatocellular carcinoma. Oncoimmunology 8(2):e1538436

Li B, Yan C, Zhu J et al (2020) Anti-PD-1/PD-L1 blockade immunotherapy employed in treating hepatitis B virus infection-related advanced hepatocellular carcinoma: a literature review. Front Immunol 11:1037

Zhang S, Gao S, Zhao M et al (2017) Anti-HBV drugs suppress the growth of HBV-related hepatoma cells via down-regulation of hepatitis B virus X protein. CANCER LETT 392:94–104

Ziogas DC, Kostantinou F, Cholongitas E et al (2020) Reconsidering the management of patients with cancer with viral hepatitis in the era of immunotherapy. J Immunother Cancer 8(2):e000943
Acknowledgements
We thank participants and participating clinicians at each study site. Thanks to Dr. Yuqing Liu for her help in managing patients, and Dr. Jiangong Zhang for assisting in analyzing the data in this paper. Many thanks to Dr. Hongle Li for the overall design of this paper. This work was supported by the National Natural Science Foundation of China (Grant No. 81972690) and Medical Science and Technology Research Project of Health Commission of Henan Province (YXKC2021007).
Funding
This work was supported by the National Natural Science Foundation of China (Grant No. 81972690) and Medical Science and Technology Research Project of Health Commission of Henan Province (YXKC2021007). The funding bodies played no role in the design of the study and collection, analysis, and interpretation of data and in writing the manuscript.
Ethics declarations
Conflict of interest
The authors declare that they have no competing financial interests or personal relationships that could have appeared to influence the work reported in this paper.
Ethical approval
This study was approved by the ethics committees of the Affiliated Cancer Hospital of Zhengzhou University & Henan Cancer Hospital, Zhengzhou, China. Due to the retrospective nature of the study and because no patient specimens were used, the requirement for informed consent was waived by the ethics committees.
Consent for publication
Consent to publish has been obtained from all authors.
Additional information
Publisher's Note
Springer Nature remains neutral with regard to jurisdictional claims in published maps and institutional affiliations.
Supplementary Information
Below is the link to the electronic supplementary material.
Rights and permissions
Springer Nature or its licensor holds exclusive rights to this article under a publishing agreement with the author(s) or other rightsholder(s); author self-archiving of the accepted manuscript version of this article is solely governed by the terms of such publishing agreement and applicable law.
About this article
Cite this article
An, M., Wang, W., Zhang, J. et al. Association of hepatitis B virus DNA levels with overall survival for advanced hepatitis B virus-related hepatocellular carcinoma under immune checkpoint inhibitor therapy. Cancer Immunol Immunother 72, 385–395 (2023). https://doi.org/10.1007/s00262-022-03254-w
Received:

Accepted:

Published:

Issue Date:

DOI: https://doi.org/10.1007/s00262-022-03254-w
Keywords
Hepatocellular carcinoma

Immunotherapy

Programmed cell death protein-1

Hepatitis B virus