Abstract
Background
Dendritic cell (DC) therapy counts to the promising strategies how to weaken and eradicate cancer disease. We aimed to develop a good manufacturing practice (GMP) protocol for monocyte-derived DC (Mo-DC) maturation using circulating tumor cells lysates with subsequent experimental T-cell priming in vitro.
Methods
DC differentiation was induced from a population of immunomagnetically enriched CD14 + monocytes out of the leukapheresis samples (n = 6). The separation was provided automatically, in a closed bag system, using CliniMACS Prodigy® separation protocols (Miltenyi Biotec). For differentiation and maturation of CD14 + cells, DendriMACs® growing medium with supplements (GM-CSF, IL-4, IL-6, IL-1B, TNFa, PGE) was used. Immature Mo-DCs were loaded with autologous circulating tumor cell (CTCs) lysates. Autologous CTCs were sorted out by size-based filtration (MetaCell®) of the leukapheresis CD14-negative fraction. A mixture of mature Mo-DCs and autologous non-target blood cells (NTBCs) was co-cultured and the activation effect of mature Mo-DCs on T-cell activation was monitored by means of multimarker gene expression profiling.
Results
New protocols for mMo-DC production using automatization and CTC lysates were introduced including a feasible in vitro assay for mMo-DC efficacy evaluation. Gene expression analysis revealed elevation for following genes in NTBC (T cells) subset primed by mMo-DCs: CD8A, CD4, MKI67, MIF, TNFA, CD86, and CD80 (p ≤ 0.01).
Conclusion
Summarizing the presented data, we might conclude mMo-DCs were generated using CliniMACS Prodigy® machine and CTC lysates in a homogenous manner showing a potential to generate NTBC activation in co-cultures. Identification of the activation signals in T-cell population by simple multimarker-qPCRs could fasten the process of effective mMo-DC production.
Access options
Buy single article
Instant access to the full article PDF.
USD 39.95
Price excludes VAT (USA)
Tax calculation will be finalised during checkout.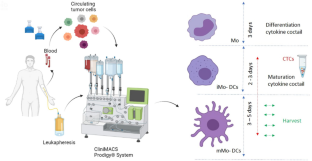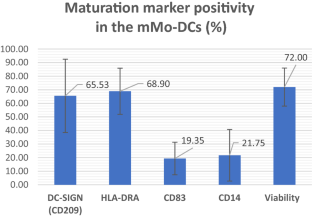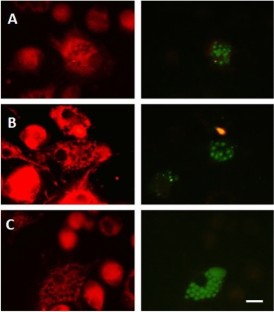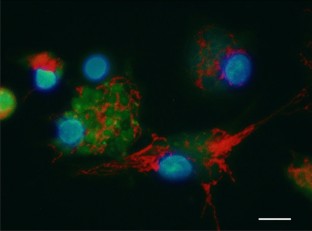 References
Collin M, Bigley V (2018) Human dendritic cell subsets: an update. Immunology 154(1):3–20. https://doi.org/10.1111/imm.12888

Cancel J-C, Crozat K, Dalod M, Mattiuz R (2019) Are conventional type 1 dendritic cells critical for protective antitumor Immunity and How? Front Immunol 10(19):9–9. https://doi.org/10.1038/s41467-019-13368-y (ISSN 1664-3224)

Eisenbarth SC (2019) Dendritic cell subsets in T cell programming: location dictates function. Nat Rev Immunol 19(2):89–103. https://doi.org/10.1038/s41577-018-0088-1.ISSN1474-1733

Cintolo JA, Datta J, Mathew SJ, Czerniecki BJ (2012) Dendritic cell-based vaccines: barriers and opportunities. Future Oncol 8(10):1273–1299. https://doi.org/10.2217/fon.12.125 (ISSN 1479-6694)

Yu J, Sun H, Cao W, Song Y, Jiang Z (2022) Research progress on dendritic cell vaccines in cancer immunotherapy. Exp Hematol Oncol 11(1):3. https://doi.org/10.1186/s40164-022-00257-2

PantelSpeicher KMR (2016) The biology of circulating tumor cells. Oncogene 35(10):1216–1224. https://doi.org/10.1038/onc.2015.192.ISSN0950-9232

Kolostova K, Zhang Y, Hoffman RM, Bobek V (2014) In vitro culture and characterization of human lung cancer circulating tumor cells isolated by size exclusion from an orthotopic nude-mouse model expressing fluorescent protein. J Fluorescence 24(5):1531–1536. https://doi.org/10.1007/s10895-014-1439-3 (ISSN 1053-0509)

Kolostova K, Matkowski R, Jędryka M et al (2015) The added value of circulating tumor cells examination in ovarian cancer staging. Am J Cancer Res 5(11):3363–3375

Nath SC, Harper L, Rancourt DE (2020) Cell-based therapy manufacturing in stirred suspension bioreactor: thoughts for cGMP compliance. Front Bioeng Biotechnol 8(8):1–16. https://doi.org/10.3389/fbioe.2020.599674 (ISSN 2296-4185)

Hopewell EL, Cox C (2020) Manufacturing dendritic cells for immunotherapy: monocyte enrichment. Mol Ther Methods Clin Dev 16(1):155–160. https://doi.org/10.1016/j.omtm.2019.12.017 (ISSN 23290501)

Perez CR, De Palma M (2019) Engineering dendritic cell vaccines to improve cancer immunotherapy. Nat Commun 10(1):1–10. https://doi.org/10.1038/s41467-019-13368-y (ISSN 2041-1723)

Silvestris N, Ciliberto G, De Paoli P, Apolone G, Lavitrano ML, Pierotti MA, Stanta G (2017) Liquid dynamic medicine and N-of-1 clinical trials a change of perspective in oncology research. J Exp Clin Cancer Res 36(1):5. https://doi.org/10.1186/s13046-017-0598-x (ISSN 1756-9966)

Pantel K, Alix-Panabières C (2019) Liquid biopsy and minimal residual disease—latest advances and implications for cure. Nat Rev Clin Oncol 16(7):409–424. https://doi.org/10.1038/s41571-019-0187-3 (ISSN 1759-4774)

Heiser A, Coleman D, Dannull J et al (2002) Autologous dendritic cells transfected with prostate-specific antigen RNA stimulate CTL responses against metastatic prostate tumors. J Clin Investig 109(3):409–417. https://doi.org/10.1172/JCI14364 (ISSN 0021-9738)

Saxena M, Balan S, Roudko V, Bhardwaj N (2018) Towards superior dendritic-cell vaccines for cancer therapy. Nat Biomed Eng 2(6):341–346. https://doi.org/10.1038/s41551-018-0250-x (ISSN 2157-846X)

Koido S, Kashiwaba M, Chen D, Gendler S, Kufe D, Gong J (2000) Induction of antitumor immunity by vaccination of dendritic cells transfected with MUC1 RNA. J Immunol 165(10):5713–5719. https://doi.org/10.4049/jimmunol.165.10.5713 (ISSN 0022-1767)

Wculek SK, Cueto FJ, Mujal AM, Melero I, Krummel MF, Sancho D (2020) Dendritic cells in cancer immunology and immunotherapy. Nat Rev Immunol 20(1):7–24. https://doi.org/10.1038/s41577-019-0210-z (ISSN 1474-1733)

Constantino J, Gomes C, Falcão A, Cruz MT, Neves BM (2016) Antitumor dendritic cell–based vaccines: lessons from 20 years of clinical trials and future perspectives. Transl Res 168:74–95. https://doi.org/10.1016/j.trsl.2015.07.008 (ISSN 19315244)

Amberger DC, Schmetzer HM (2020) Dendritic cells of leukemic origin: specialized antigen-presenting cells as potential treatment tools for patients with Myeloid Leukemia. Transfus Med Hemother 47(6):432–443. https://doi.org/10.1159/000512452 (ISSN 1660-3796)

Sauter B, Albert ML, Francisco L, Larsson M, Somersan S, Bhardwaj N (2000) Consequences of Cell Death. J Exp Med 191(3):423–434. https://doi.org/10.1084/jem.191.3.423 (ISSN 0022-1007)

Podrazil M, Horvath R, Becht E et al (2015) Phase I/II clinical trial of dendritic-cell based immunotherapy (DCVAC/PCa) combined with chemotherapy in patients with metastatic, castration-resistant prostate cancer. Oncotarget 6(20):18192–18205. https://doi.org/10.18632/oncotarget.4145 (ISSN 1949-2553)

Oh SA, Wu DC, Cheung J (2020) PD-L1 expression by dendritic cells is a key regulator of T-cell immunity in cancer. Nat Cancer 1(1):681–691. https://doi.org/10.1038/s43018-020-0075-x

Morita M, Gravel S-P, Hulea L, Larsson O, Pollak M, St-Pierre J, Topisirovic I (2015) MTOR coordinates protein synthesis, mitochondrial activity and proliferation. Cell Cycle 14(4):473–480. https://doi.org/10.4161/15384101.2014.991572 (ISSN 1538-4101)

Szatmari I, Töröcsik D, Agostini M, Nagy T, Gurnell M, Barta E, Chatterjee K, Nagy L (2007) PPARγ regulates the function of human dendritic cells primarily by altering lipid metabolism. Blood 110(9):3271–3280. https://doi.org/10.1182/blood-2007-06-096222 (ISSN 0006-4971)

Pearce EJ, Everts B (2015) Dendritic cell metabolism. Nat Rev Immunol 15(1):18–29. https://doi.org/10.1038/nri3771 (ISSN 1474-1733)

Krawczyk CM, Holowka T, Sun J et al (2010) Toll-like receptor–induced changes in glycolytic metabolism regulate dendritic cell activation. Blood 115(23):4742–4749. https://doi.org/10.1182/blood-2009-10-249540 (ISSN 0006-4971)
Acknowledgements
This study was supported by Krajska zdravotni, a.s, Grant nr.: IGA-KZ-2017-1-16. The figures were created with BioRender.com.
Additional information
Publisher's Note
Springer Nature remains neutral with regard to jurisdictional claims in published maps and institutional affiliations.
Supplementary Information
Below is the link to the electronic supplementary material.
About this article
Cite this article
Kolostova, K., Pospisilova, E., Matkowski, R. et al. Immune activation of the monocyte-derived dendritic cells using patients own circulating tumor cells. Cancer Immunol Immunother 71, 2901–2911 (2022). https://doi.org/10.1007/s00262-022-03189-2
Received:

Accepted:

Published:

Issue Date:

DOI: https://doi.org/10.1007/s00262-022-03189-2
Keywords
Dendritic cells

Immunotherapy

T cells

Personalized medicine

MetaCell

Circulating tumor cells