Abstract
CD133 + cancer stem cells mediate chemoresistance in multiple aggressive cancers, and anti-CD133 chimeric antigen receptor T (CAR-T) cells are designed to selectively target cisplatin-resistant gastric cancer stem cells in this investigation. The relative CD133 expression was detected in gastric cancer patients before and after cisplatin treatment. Anti-CD133 CAR-T cells were incubated with cisplatin-exposed CD133+ BGC-823 cells to evaluate the killing efficacy. At the same time, the canonical T cell activation markers were assayed by fluorescence-activated cell sorting, and the functional cytokine profile was detected with enzyme-linked immunosorbent assays. In addition to the percentage of CD133 positive stem cell-like cells, the volume and weight of subcutaneous tumors in BGC-823, KATO III and MKN-28 xenograft models were measured to evaluate the anti-tumor activity of cisplatin and anti-CD133 CAR-T combination strategy. After cisplatin treatment, both human samples and BGC-823 cells showed up-regulated CD133 expression. Anti-CD133 CAR-T cells exhibited pronounced killing efficiency against cisplatin-exposed CD133+ BGC-823 cells with up-regulated activation markers and cytotoxicity cytokine production. Moreover, cisplatin and anti-CD133 CAR-T combination treatment inhibited tumor progression in three different xenograft models with diminished CD133 positive stem cell-like cell infiltration. These results indicate that cisplatin and anti-CD133 CAR-T combination strategy can simultaneously target normal and stem cell-like gastric cancer cells to improve the treatment outcome.
Access options
Buy single article
Instant access to the full article PDF.
USD 39.95
Price excludes VAT (USA)
Tax calculation will be finalised during checkout.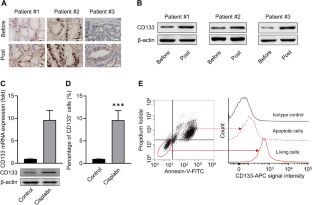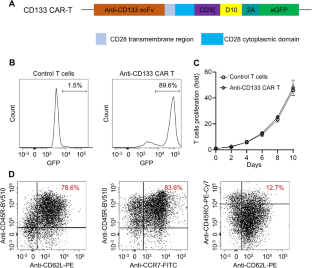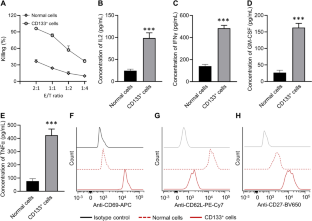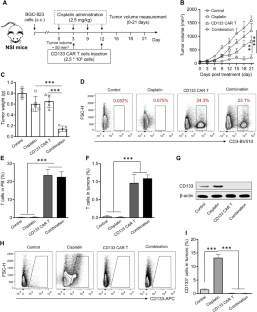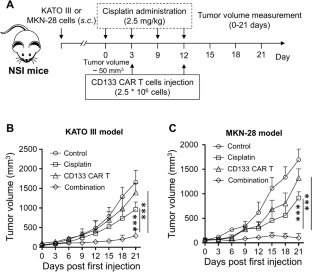 Data availability
Data will be made available upon reasonable request.
References
Avendaño FM, Aguilar MM, Bermudez M, Lizárraga VE, López CC, Ramos PR (2020) Refocusing the use of psychiatric drugs for treatment of gastrointestinal cancers front. Oncol 10:1452

Reutovich M, Krasko O, Sukonko O (2020) Efficacy of adjuvant systemic chemotherapy combined with radical surgery and hyperthermic intraperitoneal chemotherapy in gastric cancer treatment. Indian J Surg Oncol 11:337–343

Huang D, Duan H, Huang H, Tong X, Han Y, Ru G, Qu L, Shou C, Zhao Z (2016) Cisplatin resistance in gastric cancer cells is associated with HER2 upregulation-induced epithelial-mesenchymal transition. Sci. Rephttps://doi.org/10.1038/srep20502

Courtois S, Haykal M, Bodineau C et al (2020) Autophagy induced by Helicobacter pylori infection is necessary for gastric cancer stem cell emergence. Gastric Cancer. https://doi.org/10.1007/s10120-020-01118-9

Sun LF, Yang K, Wang YG et al (2020) The role of HER2 in self-renewal, invasion, and tumorigenicity of gastric cancer stem cells. Front Oncol 10:1608. https://doi.org/10.3389/fonc.2020.01608

Xiao S, Zhou L (2020) Gastric stem cells: physiological and pathological perspectives. Front Cell Dev Biol 8:571536. https://doi.org/10.3389/fcell.2020.571536

Liu L, Yin S, Brobbey C, Gan W (2020) Ubiquitination in cancer stem cell: roles and targeted cancer therapy. STEMedicine 1:e37. https://doi.org/10.37175/stemedicine.v1i3.37

Dzobo K, Ganz C, Thomford NE, Senthebane DA (2020) Cancer Stem cell markers in relation to patient survival outcomes: lessons for integrative diagnostics and next-generation anticancer drug development. OMICS. https://doi.org/10.1089/omi.2020.0185

Kesh K, Garrido VT, Dosch A et al (2020) Stroma secreted IL6 selects for "stem-like" population and alters pancreatic tumor microenvironment by reprogramming metabolic pathways. Cell Death Dis 11:967. https://doi.org/10.1038/s41419-020-03168-4

Lee HY, Hong IS (2020) Targeting Liver Cancer Stem Cells: An Alternative Therapeutic Approach for Liver Cancer. Cancers (Basel). 12https://doi.org/10.3390/cancers12102746

Lu R, Zhao G, Yang Y, Jiang Z, Cai J, Hu H (2019) Inhibition of CD133 overcomes cisplatin resistance through inhibiting PI3K/AKT/mTOR signaling pathway and autophagy in CD133-positive gastric cancer cells. Technol Cancer Res Treat 18:1533033819864311. https://doi.org/10.1177/1533033819864311

Yiming L, Yunshan G, Bo M et al (2015) CD133 overexpression correlates with clinicopathological features of gastric cancer patients and its impact on survival: a systematic review and meta-analysis. Oncotarget 6:42019–42027. https://doi.org/10.18632/oncotarget.5714

Huang Y, Li L, Liu W, Tang T, Chen L (2020) The progress of CAR-T therapy in cancer and beyond. STEMedicine 1:e47. https://doi.org/10.37175/stemedicine.v1i3.47

Liu WT, Liu WB, Gao M, Zhang YY, Gu KS (2019) Expression of ALDH1A1 and CD133 is associated with the prognosis and effect of different chemotherapeutic regimens in gastric cancer. Oncol Lett 18:4573–4582. https://doi.org/10.3892/ol.2019.10798

Wen L, Chen XZ, Yang K, Chen ZX, Zhang B, Chen JP, Zhou ZG, Mo XM, Hu JK (2013) Prognostic value of cancer stem cell marker CD133 expression in gastric cancer: a systematic review. PLoS ONE 8:e59154. https://doi.org/10.1371/journal.pone.0059154

Xia J, Zhang Y, Qian J, Zhu X, Zhang Y, Zhang J, Zhao G (2013) Isolation, identification and expression of specific human CD133 antibodies. Sci Rep 3:3320. https://doi.org/10.1038/srep03320

Dasari S, Tchounwou PB (2014) Cisplatin in cancer therapy: molecular mechanisms of action. Eur J Pharmacol 740:364–378. https://doi.org/10.1016/j.ejphar.2014.07.025

Rancoule C, Guy JB, Vallard A, Ben Mrad M, Rehailia A, Magne N (2017) 50th anniversary of cisplatin. Bull Cancer 104:167–176. https://doi.org/10.1016/j.bulcan.2016.11.011

Galluzzi L, Senovilla L, Vitale I, Michels J, Martins I, Kepp O, Castedo M, Kroemer G (2012) Molecular mechanisms of cisplatin resistance. Oncogene 31:1869–1883. https://doi.org/10.1038/onc.2011.384

Moitra K (2015) Overcoming multidrug resistance in cancer stem cells. Biomed Res Int 2015:635745. https://doi.org/10.1155/2015/635745

Liu YP, Yang CJ, Huang MS et al (2013) Cisplatin selects for multidrug-resistant CD133+ cells in lung adenocarcinoma by activating Notch signaling. Cancer Res 73:406–416. https://doi.org/10.1158/0008-5472.CAN-12-1733

Glumac PM, LeBeau AM (2018) The role of CD133 in cancer: a concise review. Clin Transl Med 7:18. https://doi.org/10.1186/s40169-018-0198-1

Hashimoto K, Aoyagi K, Isobe T, Kouhuji K, Shirouzu K (2014) Expression of CD133 in the cytoplasm is associated with cancer progression and poor prognosis in gastric cancer. Gastric Cancer 17:97–106. https://doi.org/10.1007/s10120-013-0255-9

Rocco A, Liguori E, Pirozzi G et al (2012) CD133 and CD44 cell surface markers do not identify cancer stem cells in primary human gastric tumors. J Cell Physiol 227:2686–2693. https://doi.org/10.1002/jcp.23013

Thakur B, Ray P (2017) Cisplatin triggers cancer stem cell enrichment in platinum-resistant cells through NF-kappaB-TNFalpha-PIK3CA loop. J Exp Clin Cancer Res 36:164. https://doi.org/10.1186/s13046-017-0636-8

Tao K, He M, Tao F, Xu G, Ye M, Zheng Y, Li Y (2018) Development of NKG2D-based chimeric antigen receptor-T cells for gastric cancer treatment. Cancer Chemother Pharmacol 82:815–827. https://doi.org/10.1007/s00280-018-3670-0
Acknowledgment
This work was supported by Shanghai Anticancer Association "Aoxiang" Project (SACA-AX201901).
Ethics declarations
Conflicts of interest
The authors declare that they have no conflict of interest.
Human or animals rights
All the performance was approved by the Ethics Committees of Fudan University, and the written consents were acquired.
Informed consent
All participants in this study were informed and gave written consent.
Additional information
Publisher's Note
Springer Nature remains neutral with regard to jurisdictional claims in published maps and institutional affiliations.
Supplementary Information
Below is the link to the electronic supplementary material.
About this article
Cite this article
Han, Y., Sun, B., Cai, H. et al. Simultaneously target of normal and stem cells-like gastric cancer cells via cisplatin and anti-CD133 CAR-T combination therapy. Cancer Immunol Immunother 70, 2795–2803 (2021). https://doi.org/10.1007/s00262-021-02891-x
Received:

Accepted:

Published:

Issue Date:

DOI: https://doi.org/10.1007/s00262-021-02891-x
Keywords
Cisplatin

CAR-T

CD133

Gastric cancer