Abstract
Faithful tumor mouse models are fundamental research tools to advance the field of immuno-oncology (IO). This is particularly relevant in diseases with low incidence, as in the case of pediatric malignancies, that rely on pre-clinical therapeutic development. However, conventional syngeneic and genetically engineered mouse models fail to recapitulate the tumor heterogeneity and microenvironmental complexity of human pathology that are essential determinants of cancer-directed immunity. Here, we characterize a novel mouse model that supports human natural killer (NK) cell development and engraftment of neuroblastoma orthotopic patient-derived xenograft (O-PDX) for pre-clinical antibody and cytokine testing. Using cytotoxicity assays, single-cell RNA-sequencing, and multi-color flow cytometry, we demonstrate that NK cells that develop in the humanized mice are fully licensed to execute NK cell cytotoxicity, permit human tumor engraftment, but can be therapeutically redirected to induce antibody-dependent cell-mediated cytotoxicity (ADCC). Although these cells share phenotypic and molecular features with healthy controls, we noted that they lacked an NK cell subset, termed activated NK cells, that is characterized by differentially expressed genes that are induced by cytokine activation. Because this subset of genes is also downregulated in patients with neuroblastoma compared to healthy controls, we hypothesize that this finding could be due to tumor-mediated suppressive effects. Thus, despite its technical complexity, this humanized patient-derived xenograft mouse model could serve as a faithful system for future testing of IO applications and studies of underlying immunologic processes.
Access options
Buy single article
Instant access to the full article PDF.
USD 39.95
Price excludes VAT (USA)
Tax calculation will be finalised during checkout.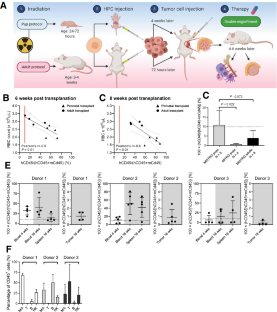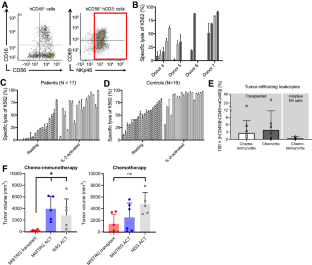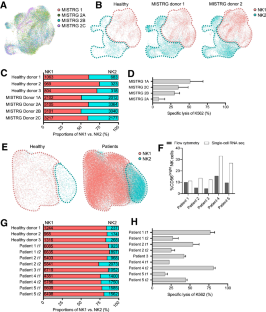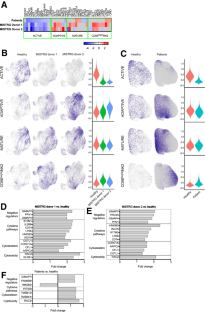 Abbreviations
ACT:

Adoptive cell transfer

ADCC:

Antibody-dependent cell-mediated cytotoxicity

CAR:

Chimeric antigen receptor

E.T :

Effector-to-target

FACS:

Fluorescence-activated cell sorting

GD2:

Disialoganglioside

GEMM:

Genetically engineered mouse model

GM-CSF:

Granulocyte–macrophage colony-stimulating factor

HLA:

Human leukocyte antigen

HPCs:

Hematopoietic progenitor cells

IL:

Interleukin

IO:

Immuno-oncology

KIR:

Killer-cell immunoglobulin-like receptors

MISTRG:

M-CSFH/hIL-3/GM-CSFh/hSIRPAh/mTPOh/hRag2null/Il2Rγcnull

MITRG:

M-CSFH/hIL-3/GM-CSFh/hTPOh/hRag2null/Il2Rγcnull

NK:

Natural killer

NSG:

NOD/scid/Il2RγcNull

O-PDX:

Orthotopic patient-derived xenograft

scRNA-seq:

Single-cell RNA-sequencing
References
Stewart E, Federico SM, Chen X et al (2017) Orthotopic patient-derived xenografts of paediatric solid tumours. Nature 549:96–100. https://doi.org/10.1038/nature23647

Gu Z, Jiang J, Yan Y et al (2017) Evaluation of the correlations between patient-derived xenograft (PDX) model-based mouse trials and cancer patient-based clinical trials. J Clin Oncol 35:e23140-e. https://doi.org/10.1200/JCO.2017.35.15_suppl.e23140

Overwijk WW, Restifo NP (2001) B16 as a mouse model for human melanoma. Curr Protoc Immunol. https://doi.org/10.1002/0471142735.im2001s39

Schreiber RD, Old LJ, Smyth MJ (2011) Cancer immunoediting: integrating immunity's roles in cancer suppression and promotion. Science 331:1565–1570. https://doi.org/10.1126/science.1203486

Calbo J, van Montfort E, Proost N, van Drunen E, Beverloo HB, Meuwissen R, Berns A (2011) A functional role for tumor cell heterogeneity in a mouse model of small cell lung cancer. Cancer Cell 19:244–256. https://doi.org/10.1016/j.ccr.2010.12.021

Alexandrov LB, Nik-Zainal S, Wedge DC et al (2013) Signatures of mutational processes in human cancer. Nature 500:415–421. https://doi.org/10.1038/nature12477

Weiss WA, Aldape K, Mohapatra G, Feuerstein BG, Bishop JM (1997) Targeted expression of MYCN causes neuroblastoma in transgenic mice. EMBO J 16:2985–2995. https://doi.org/10.1093/emboj/16.11.2985

Kopetz S, Lemos R, Powis G (2012) The promise of patient-derived xenografts: the best laid plans of mice and men. Clin Cancer Res 18:5160–5162. https://doi.org/10.1158/1078-0432.CCR-12-2408

Nguyen R, Moustaki A, Norrie JL, Brown S, Akers WJ, Shirinifard A, Dyer MA (2019) Interleukin-15 enhances anti-GD2 antibody-mediated cytotoxicity in an orthotopic PDX model of neuroblastoma. Clin Cancer Res. https://doi.org/10.1158/1078-0432.CCR-19-1045

Traggiai E, Chicha L, Mazzucchelli L, Bronz L, Piffaretti JC, Lanzavecchia A, Manz MG (2004) Development of a human adaptive immune system in cord blood cell-transplanted mice. Science 304:104–107. https://doi.org/10.1126/science.1093933

Shultz LD, Lyons BL, Burzenski LM et al (2005) Human lymphoid and myeloid cell development in NOD/LtSz-scid IL2R gamma null mice engrafted with mobilized human hemopoietic stem cells. J Immunol 174:6477–6489. https://doi.org/10.4049/jimmunol.174.10.6477

Strowig T, Chijioke O, Carrega P, Arrey F, Meixlsperger S, Ramer PC, Ferlazzo G, Munz C (2010) Human NK cells of mice with reconstituted human immune system components require preactivation to acquire functional competence. Blood 116:4158–4167. https://doi.org/10.1182/blood-2010-02-270678

Gille C, Orlikowsky TW, Spring B et al (2012) Monocytes derived from humanized neonatal NOD/SCID/IL2Rgamma(null) mice are phenotypically immature and exhibit functional impairments. Hum Immunol 73:346–354. https://doi.org/10.1016/j.humimm.2012.01.006

Rongvaux A, Takizawa H, Strowig T, Willinger T, Eynon EE, Flavell RA, Manz MG (2013) Human hemato-lymphoid system mice: current use and future potential for medicine. Annu Rev Immunol 31:635–674. https://doi.org/10.1146/annurev-immunol-032712-095921

Rongvaux A, Willinger T, Martinek J et al (2014) Development and function of human innate immune cells in a humanized mouse model. Nat Biotechnol 32:364–372. https://doi.org/10.1038/nbt.2858

Nguyen R, Houston J, Chan WK, Finkelstein D, Dyer MA (2018) The role of interleukin-2, all-trans retinoic acid, and natural killer cells: surveillance mechanisms in anti-GD2 antibody therapy in neuroblastoma. Cancer Immunol Immunother 67:615–626. https://doi.org/10.1007/s00262-017-2108-6

Stewart E, Shelat A, Bradley C et al (2015) Development and characterization of a human orthotopic neuroblastoma xenograft. Dev Biol 407:344–355. https://doi.org/10.1016/j.ydbio.2015.02.002

Crinier A, Milpied P, Escaliere B et al (2018) High-dimensional single-cell analysis identifies organ-specific signatures and conserved NK cell subsets in humans and mice. Immunity 49(971–86):e5. https://doi.org/10.1016/j.immuni.2018.09.009

Butler A, Hoffman P, Smibert P, Papalexi E, Satija R (2018) Integrating single-cell transcriptomic data across different conditions, technologies, and species. Nat Biotechnol 36:411–420. https://doi.org/10.1038/nbt.4096

Hafemeister C, Satija R (2019) Normalization and variance stabilization of single-cell RNA-seq data using regularized negative binomial regression. Genome Biol 20:296. https://doi.org/10.1186/s13059-019-1874-1

Yang C, Siebert JR, Burns R et al (2019) Heterogeneity of human bone marrow and blood natural killer cells defined by single-cell transcriptome. Nat Commun 10:3931. https://doi.org/10.1038/s41467-019-11947-7

Lanier LL, Le AM, Civin CI, Loken MR, Phillips JH (1986) The relationship of CD16 (Leu-11) and Leu-19 (NKH-1) antigen expression on human peripheral blood NK cells and cytotoxic T lymphocytes. J Immunol 136:4480–4486

Barry WE, Jackson JR, Asuelime GE et al (2019) Activated natural killer cells in combination with anti-GD2 antibody dinutuximab improve survival of mice after surgical resection of primary neuroblastoma. Clin Cancer Res 25:325–333. https://doi.org/10.1158/1078-0432.CCR-18-1317

Nguyen R, Wu H, Pounds S et al (2019) A phase II clinical trial of adoptive transfer of haploidentical natural killer cells for consolidation therapy of pediatric acute myeloid leukemia. J Immunother Cancer 7:81. https://doi.org/10.1186/s40425-019-0564-6

Nguyen R, Sahr N, Sykes A et al (2020) Longitudinal NK cell kinetics and cytotoxicity in children with neuroblastoma enrolled in a clinical phase II trial. J Immunother Cancer. https://doi.org/10.1136/jitc-2019-000176

Furman WL, Federico SM, McCarville MB et al (2019) A phase II trial of Hu14.18K322A in combination with induction chemotherapy in children with newly diagnosed high-risk neuroblastoma. Clin Cancer Res 25:6320–6328. https://doi.org/10.1158/1078-0432.CCR-19-1452

Bahrami S, Drablos F (2016) Gene regulation in the immediate-early response process. Adv Biol Regul 62:37–49. https://doi.org/10.1016/j.jbior.2016.05.001

Mace EM, Dongre P, Hsu HT, Sinha P, James AM, Mann SS, Forbes LR, Watkin LB, Orange JS (2014) Cell biological steps and checkpoints in accessing NK cell cytotoxicity. Immunol Cell Biol 92:245–255. https://doi.org/10.1038/icb.2013.96

Song Y, Rongvaux A, Taylor A et al (2019) A highly efficient and faithful MDS patient-derived xenotransplantation model for pre-clinical studies. Nat Commun 10:366. https://doi.org/10.1038/s41467-018-08166-x

Wunderlich M, Chou FS, Link KA, Mizukawa B, Perry RL, Carroll M, Mulloy JC (2010) AML xenograft efficiency is significantly improved in NOD/SCID-IL2RG mice constitutively expressing human SCF, GM-CSF and IL-3. Leukemia 24:1785–1788. https://doi.org/10.1038/leu.2010.158

Park JR, Kreissman SG, London WB et al (2019) Effect of tandem autologous stem cell transplant vs single transplant on event-free survival in patients with high-risk neuroblastoma: a randomized clinical trial. JAMA 322:746–755. https://doi.org/10.1001/jama.2019.11642

Leung W, Handgretinger R, Iyengar R, Turner V, Holladay MS, Hale GA (2007) Inhibitory KIR-HLA receptor-ligand mismatch in autologous haematopoietic stem cell transplantation for solid tumour and lymphoma. Br J Cancer 97:539–542. https://doi.org/10.1038/sj.bjc.6603913

Ruggeri L, Capanni M, Urbani E et al (2002) Effectiveness of donor natural killer cell alloreactivity in mismatched hematopoietic transplants. Science 295:2097–2100. https://doi.org/10.1126/science.1068440
Acknowledgements
We thank Asa Karlstrom, Ph.D., for regulatory support; Nisha Badders, Ph.D., ELS, for editing the manuscript; Mitchell J. Weiss, MD Ph.D., for providing HPCs; William E. Janssen, Ph.D., for providing purity data on HPCs; Jennifer Peters, Ph.D., for acquiring images of the stained tumor slides; Thomas Confer for assisting with the ultrasound studies; Merck Sorono and Children's GMP, LLC for providing hu14.18K322A for our studies; and the NCI Biological Resource Branch for providing IL-2 and IL-15. We thank Adeline Crinier, Bertrand Escalier, and Eric Vivier, Ph.D., for providing the biocomputational datasets of healthy controls. This work was supported, in part, by Cancer Center Support (CA21765) from the National Cancer Institute and grants to RN from the Conquer Cancer ASCO Foundation (12822), to WJA from the National Institutes of Health (R50CA211481), and to MAD from the National Institutes of Health (EY014867 and EY018599 and CA168875). This research was supported by Howard Hughes Medical Institute.
Ethics declarations
Conflict of interest
The authors declare no conflict of interest.
Additional information
Publisher's Note
Springer Nature remains neutral with regard to jurisdictional claims in published maps and institutional affiliations.
Electronic supplementary material
Below is the link to the electronic supplementary material.
About this article
Cite this article
Nguyen, R., Patel, A.G., Griffiths, L.M. et al. Next-generation humanized patient-derived xenograft mouse model for pre-clinical antibody studies in neuroblastoma. Cancer Immunol Immunother 70, 721–732 (2021). https://doi.org/10.1007/s00262-020-02713-6
Received:

Accepted:

Published:

Issue Date:

DOI: https://doi.org/10.1007/s00262-020-02713-6
Keywords
Pediatric oncology

Natural killer cells

Neuroblastoma

Antibody therapy