Abstract
Tumor-associated macrophage and T-cell subsets are implicated in the pathogenesis of diffuse large B-cell lymphoma, follicular lymphoma, and classical Hodgkin lymphoma. Macrophages provide essential mechanisms of tumor immune evasion through checkpoint ligand expression and secretion of suppressive cytokines. However, normal and tumor-associated macrophage phenotypes are less well characterized than those of tumor-infiltrating T-cell subsets, and it would be especially valuable to know whether the polarization state of macrophages differs across lymphoma tumor microenvironments. Here, an established mass cytometry panel designed to characterize myeloid-derived suppressor cells and known macrophage maturation and polarization states was applied to characterize B-lymphoma tumors and non-malignant human tissue. High-dimensional single-cell analyses were performed using dimensionality reduction and clustering tools. Phenotypically distinct intra-tumor macrophage subsets were identified based on abnormal marker expression profiles that were associated with lymphoma tumor types. While it had been proposed that measurement of CD163 and CD68 might be sufficient to reveal macrophage subsets in tumors, results here indicated that S100A9, CCR2, CD36, Slan, and CD32 should also be measured to effectively characterize lymphoma-specific tumor macrophages. Additionally, the presence of phenotypically distinct, abnormal macrophage populations was closely linked to the phenotype of intra-tumor T-cell populations, including PD-1 expressing T cells. These results further support the close links between macrophage polarization and T-cell functional state, as well as the rationale for targeting tumor-associated macrophages in cancer immunotherapies.
Access options
Buy single article
Instant access to the full article PDF.
US$ 39.95
Tax calculation will be finalised during checkout.
Subscribe to journal
Immediate online access to all issues from 2019. Subscription will auto renew annually.
US$ 119
Tax calculation will be finalised during checkout.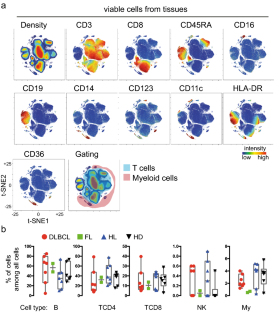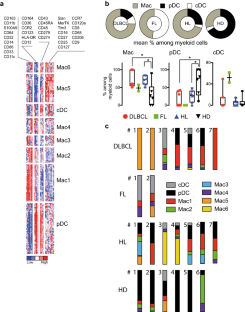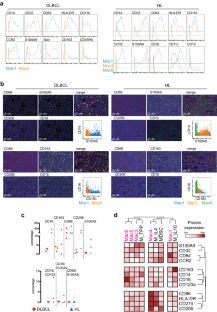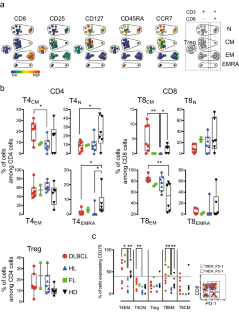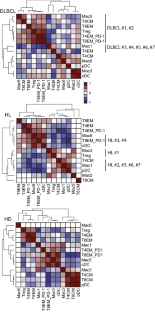 Abbreviations
APC:

Allophycocyanin

BSA:

Bovine serum albumin

cDC:

Classical dendritic cells

CM:

Central memory

CyTOF:

Cytometry by time-of-flight

DC:

Dendritic cell

DLBCL:

Diffuse large B-cell lymphoma

EM:

Effector memory

EMRA:

Effector memory CD45RApos

FITC:

Fluorescein isothiocyanate

FL:

Follicular lymphoma

G-CSF:

Granulocyte-colony stimulating factor

GM-CSF:

Granulocyte macrophage-colony stimulating factor

HL:

Hodgkin lymphoma

IDO:

Indoleamine 2,3-dioxygenase

M_IL10:

Macrophage polarized by IL-10

M_IL4:

Macrophage polarized by IL-4

M_TPP:

Macrophage polarized by TPP

M-CSF:

Macrophage-colony stimulating factor

MDSC:

Myeloid-derived suppressor cells

mIHC:

Multiplex immunohistochemistry

N:

Naive

PBS:

Phosphate-buffered saline

PD-1:

Programmed cell death protein 1

PD-L1:

Programmed death-ligand 1

pDC:

Plasmacytoid dendritic cell

PE:

Phycoerythrin

PFA:

Paraformaldehyde

HD:

Reactive lymphoid hyperplasia

S100A9:

S100 calcium-binding protein A

Slan:

6-Sulfo LacNAc

SPADE:

Spanning-tree progression analysis of density-normalized events

t-SNE:

T-distributed stochastic neighbor embedding

TAM:

Tumor-associated macrophage

TME:

Tumor microenvironment

TPP:

Cocktail including TNFα, Pam3CSK4, and prostaglandin E2

Treg:

Regulatory T cell

viSNE:

Visualization of t-distributed stochastic neighbor embedding
Acknowledgements
We are indebted to the clinicians of the BREHAT (Bretagne Réseau Expertise Hématologie) network and the CeVi collection from the Carnot/CALYM Institute (https://www.calym.org/-Collection-de-cellules-vivantes-CeVi-.html) funded by the ANR (Agence Nationale de la Recherche) for providing samples. The authors acknowledge the Centre de Ressources Biologiques (CRB) of Rennes (BB-0033-00056, https://www.crbsante-rennes.com) [Celine Pangault] and the CeVi network for managing samples.
Funding
This work was supported by research grants: National Institutes of Health/National Cancer Institute (NIH/NCI R00 CA143231, R01 CA226833, U54 CA217450, U01 AI125056), and the Vanderbilt-Ingram Cancer Center (VICC, P30 CA68485) [to Jonathan M. Irish]; Comité pour la recherche translationnelle (CORECT) from the University hospital at Rennes (Grant no. 2015) [to Faustine Lhomme]; and the CeVi collection from the Carnot/CALYM Institute (ANR) [to Camille Laurent and Mikael Roussel]. Mikael Roussel is recipient of a fellowship from the Nuovo-Soldati Fundation (Switzerland). Pauline Gravelle is supported by the CeVi collection from the Carnot/CALYM Institute.
Ethics declarations
Conflict of interest
Jonathan M. Irish was a co-founder and was a board member of Cytobank Inc. and received research support from Incyte Corp, Janssen, and Pharmacyclics. The authors declare that there are no other conflicts of interest.
Research sites
Sample collection was performed in France (Rennes [all samples except HL #1, #2, #3, and #4] and through the CeVi_collection [HL #1, #2, #3, and #4]). CyTOF analysis was performed in Nashville, TN, USA by Mikael Roussel during a postdoctoral position in Jonathan Irish's Lab at Vanderbilt University. Data analysis were performed in both sites (Rennes and Nashville). Multiplex IHC was performed in Toulouse (France).
Ethical approval and ethical standards
Samples were obtained under French legal guidelines and fulfilled the requirements of the University Hospital of Rennes institutional ethics committee for samples collected in Rennes (CRB) [approval number DC-2008-630 and DC-2016-2565] and of the Comité de Protection des Personnes for samples collected through the Cevi collection [approval number DC-2013-1783].
Informed consent
Tissue from patients was acquired with informed consent in accordance with local institutional review and the Declaration of Helsinki. A written consent was obtained from patients before qualification for research in the CRB or the CeVI collection. The consent was for the use of their specimens and data for research and for publication.
Additional information
Publisher's Note
Springer Nature remains neutral with regard to jurisdictional claims in published maps and institutional affiliations.
Electronic supplementary material
Below is the link to the electronic supplementary material.
About this article
Cite this article
Roussel, M., Lhomme, F., Roe, C.E. et al. Mass cytometry defines distinct immune profile in germinal center B-cell lymphomas. Cancer Immunol Immunother 69, 407–420 (2020). https://doi.org/10.1007/s00262-019-02464-z
Received:

Accepted:

Published:

Issue Date:
Keywords
Germinal center

Lymphoma

Tumor-associated macrophages

Mass cytometry