Abstract
Background
Recurrent laryngeal squamous cell carcinomas (LSCCs) are associated with poor outcomes, without reliable biomarkers to identify patients who may benefit from adjuvant therapies. Given the emergence of tumor-infiltrating lymphocytes (TIL) as a biomarker in head and neck squamous cell carcinoma, we generated predictive models to understand the utility of CD4+, CD8+ and/or CD103+ TIL status in patients with advanced LSCC.
Methods
Tissue microarrays were constructed from salvage laryngectomy specimens of 183 patients with recurrent/persistent LSCC and independently stained for CD4+, CD8+, and CD103+ TIL content. Cox proportional hazards regression analysis was employed to assess combinations of CD4+, CD8+, and CD103+ TIL levels for prediction of overall survival (OS), disease-specific survival (DSS), and disease-free survival (DFS) in patients with recurrent/persistent LSCC.
Results
High tumor CD103+ TIL content was associated with significantly improved OS, DSS, and DFS and was a stronger predictor of survival in recurrent/persistent LSCC than either high CD8+ or CD4+ TIL content. On multivariate analysis, an "immune-rich" phenotype, in which tumors were enriched for both CD103+ and CD4+ TILs, conferred a survival benefit (OS hazard ratio: 0.28, p = 0.0014; DSS hazard ratio: 0.09, p = 0.0015; DFS hazard ratio: 0.18, p = 0.0018) in recurrent/persistent LSCC.
Conclusions
An immune profile driven by CD103+ TIL content, alone and in combination with CD4+ TIL content, is a prognostic biomarker of survival in patients with recurrent/persistent LSCC. Predictive models described herein may thus prove valuable in prognostic stratification and lead to personalized treatment paradigms for this patient population.
This is a preview of subscription content, log in to check access.
Access options
Buy single article
Instant access to the full article PDF.
US$ 39.95
Price includes VAT for USA
Subscribe to journal
Immediate online access to all issues from 2019. Subscription will auto renew annually.
US$ 199
This is the net price. Taxes to be calculated in checkout.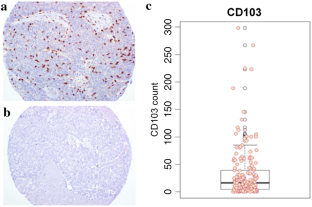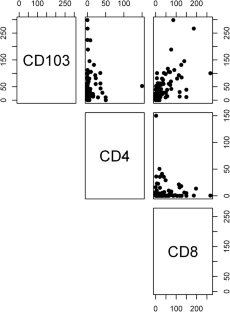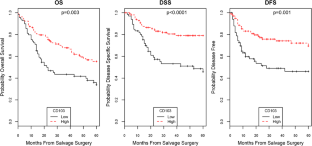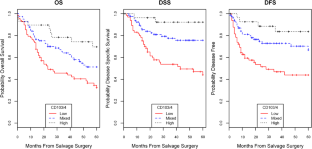 Abbreviations
ACE-27:

Adult Comorbidity Evaluation-27

AJCC:

American Joint Committee on Cancer

CRT:

Chemoradiation

DFS:

Disease-free survival

DSS:

Disease-specific survival

FFPE:

Formalin-fixed paraffin-embedded

HNSCC:

Head and neck squamous cell carcinoma

LSCC:

Laryngeal squamous cell carcinoma

OS:

Overall survival

PD-1:

Programmed cell death protein 1

RT:

Radiation

TIL:

Tumor-infiltrating lymphocyte(s)

TMA:

Tissue microarray
References
1.

Forastiere AA, Zhang Q, Weber RS, Maor MH, Goepfert H, Pajak TF et al (2013) Long-term results of RTOG 91–11: a comparison of three nonsurgical treatment strategies to preserve the larynx in patients with locally advanced larynx cancer. J Clin Oncol 31:845–852

2.

Forastiere AA, Weber RS, Trotti A (2015) Organ preservation for advanced larynx cancer: issues and outcomes. J Clin Oncol 33:3262–3268

3.

Wolf GT, Fisher SG, Hong WK, Hillman R, Spaulding M, Laramore GE et al (1991) Induction chemotherapy plus radiation compared with surgery plus radiation in patients with advanced laryngeal cancer. N Engl J Med 324:1685–1690

4.

van der Putten L, de Bree R, Kuik DJ, Rietveld DH, Buter J, Eerenstein SE et al (2011) Salvage laryngectomy: oncological and functional outcome. Oral Oncol 47:296–301

5.

Birkeland AC, Beesley L, Bellile E, Rosko AJ, Hoesli R, Chinn SB et al (2017) Predictors of survival after total laryngectomy for recurrent/persistent laryngeal squamous cell carcinoma. Head Neck 39:2512–2518

6.

Morris LG, Chandramohan R, West L, Zehir A, Chakravarty D, Pfister DG et al (2017) The molecular landscape of recurrent and metastatic head and neck cancers: insights from a precision oncology sequencing platform. JAMA Oncol 3:244–255

7.

Mann JE, Hoesli R, Michmerhuizen NL, Devenport SN, Ludwig M, Vandenberg TR et al (2017) Surveilling the potential for precision medicine-driven PD-1/PD-L1-targeted therapy in HNSCC. J Cancer 8:332–344

8.

Lei Y, Xie Y, Tan YS, Prince ME, Moyer JS, Nor J et al (2016) Telltale tumor infiltrating lymphocytes (TIL) in oral, head & neck cancer. Oral Oncol 61:159–165

9.

Hoesli R, Birkeland AC, Rosko AJ, Issa M, Chow KL, Michmerhuizen NL et al (2018) Proportion of CD4 and CD8 tumor infiltrating lymphocytes predicts survival in persistent/recurrent laryngeal squamous cell carcinoma. Oral Oncol 77:83–89

10.

Wolf GT, Hudson JL, Peterson KA, Miller HL, McClatchey KN (1986) Lymphocyte subpopulations infiltrating squamous carcinomas of the head and neck: correlations with extent of tumor and prognosis. Otolaryngol Head Neck Surg 95:142–152

11.

Wansom D, Light E, Thomas D, Worden F, Prince M, Urba S et al (2012) Infiltrating lymphocytes and human papillomavirus-16 associated oropharynx cancer. Laryngoscope 122:121–127

12.

Wolf GT, Chepeha DB, Bellile E, Nguyen A, Thomas D, McHugh J, The University of Michigan Head and Neck SPORE Program (2015) Tumor infiltrating lymphocytes (TIL) and prognosis in oral cavity squamous carcinoma: a preliminary study. Oral Oncol 51:90–95

13.

Nguyen N, Bellile E, Thomas D, McHugh J, Rozek L, Virani S et al (2016) Tumor infiltrating lymphocytes and survival in patients with head and neck squamous cell carcinoma. Head Neck 38:1074–1084

14.

Anz D, Mueller W, Golic M, Kunz WG, Rapp M, Koelzer VH et al (2011) CD103 is a hallmark of tumor-infiltrating regulatory T cells. Int J Cancer 129:2417–2426

15.

Ganesan A, Clarke J, Wood O, Garrido-Martin EM, Chee SJ, Mellows T et al (2017) Tissue-resident memory features are linked to the magnitude of cytotoxic T cell responses in human lung cancer. Nature Immunol 18:940–950

16.

Webb JR, Milne K, Watson P, deLeeuw RJ, Nelson BH (2014) Tumor-infiltrating lymphocytes expressing the tissue resident memory marker CD103 are associated with increased survival in high-grade serous ovarian cancer. Clin Cancer Res 20:434–444

17.

Webb JR, Milne K, Nelson BH (2015) PD-1 and CD103 are widely coexpressed on prognostically favorable intraepithelial CD8 T cells in human ovarian cancer. Cancer Immunol Res 3:926–935

18.

American Joint Committee on Cancer (2010) AJCC Cancer Staging Manual. 7th. Springer Press, Chicago

19.

Keck MK, Zuo Z, Khattri A, Stricker TP, Brown CD, Imanguli M et al (2015) Integrative analysis of head and neck cancer identifies two biologically distinct HPV and three non-HPV subtypes. Clin Cancer Res 21:870–881

20.

Mandrekar JN, Mandrekar SJ, Cha SS (2003) Cutpoint determination methods in survival analysis using SAS. In: Proceedings of the 28th SAS users group international conference (SUGI) 261-28

21.

Galon J, Costes A, Sanchez-Cabo F, Kirilovsky A, Mlecnik B, Lagorce-Pages C et al (2006) Type, density, and location of immune cells within human colorectal tumors predict clinical outcome. Science 313:1960–1964

22.

Brambilla E, Le Teuff G, Marguet S, Lantuejoul S, Dunant A et al (2016) Prognostic effect of tumor lymphocytic infiltration in resectable non-small-cell lung cancer. J Clin Oncol 34:1123–1130

23.

Jiang D, Liu Y, Wang H, Wang H, Song Q, Sujie A et al (2017) Tumour infiltrating lymphocytes correlate with improved survival in patients with esophageal squamous cell carcinoma. Sci Rep 7:44823

24.

Chen X, Gao L, Sturgis EM, Liang Z, Zhu Y, Xia X et al (2017) HPV16 DNA and integration in normal and malignant epithelium: implications for the etiology of laryngeal squamous cell carcinoma. Ann Oncol 28:1105–1110

25.

Zhang Y, Koneva LA, Virani S, Arthur AE, Virani A, Hall PB et al (2016) Subtypes of HPV-positive head and neck cancers are associated with HPV characteristics, copy number alterations, PIK3CA mutation, and pathway signatures. Clin Cancer Res 22:4735–4745

26.

Solomon B, Young RJ, Bressel M, Urban D, Hendry S, Thai A et al (2018) Prognostic significance of PD-L1+ and CD8+ immune cells in HPV+ oropharyngeal squamous cell carcinoma. Cancer Immunol Res 6:295–304

27.

Mandal R, Senbabaoglu Y, Desrichard A, Havel JJ, Dalin MG, Riaz N et al (2016) The head and neck cancer immune landscape and its immunotherapeutic implications. JCI Insight 1:e89829

28.

Moskovitz J, Moy J, Ferris RL (2018) Immunotherapy for head and neck squamous cell carcinoma. Curr Oncol Rep 20:22
Funding
J. Chad Brenner received funding from NIH Grants U01-DE025184, P30-CA046592 and R01-CA194536. Thomas E. Carey received funding from NIH Grants U01-DE025184 and R01-CA194536. Jacqueline E. Mann was funded by NIH Grant F31-DE02760001. Joshua D. Smith received funding from NIH Grant T32-DC535615. J. Chad Brenner and Matthew E. Spector also received funding from the American Head and Neck Society.
Ethics declarations
Conflict of interest
All authors declare that they have no potential conflicts of interest relevant to this paper.
Ethical approval and ethical standards
This study was approved by the University of Michigan Hospital and Health Systems Institutional Review Board (HUM00081554).
Informed consent
The patients had provided informed consent to a prospectively maintained clinical epidemiology and tissue database.
Electronic supplementary material
Below is the link to the electronic supplementary material.
About this article
Cite this article
Mann, J.E., Smith, J.D., Birkeland, A.C. et al. Analysis of tumor-infiltrating CD103 resident memory T-cell content in recurrent laryngeal squamous cell carcinoma. Cancer Immunol Immunother 68, 213–220 (2019). https://doi.org/10.1007/s00262-018-2256-3
Received:

Accepted:

Published:

Issue Date:
Keywords
CD103

Resident memory

T-cell

HNSCC

Larynx